Guiding Stars is an international food rating system that points you towards more nutritious food options at your grocery store via a star ranking system.  Foods are rated based on a balance of credits and debits: credited for vitamins, minerals, dietary fibre, whole grains, and Omega-3 fatty acids, and debited for saturated fats, trans fats, added sodium and added sugar. Rated foods are marked with easy-to-follow tags indicating 1, 2, or 3 stars.
Modern Mix Vancouver was invited to submit a favourite recipe to Real Canadian Superstore and No Frills (two of the grocery stores participating in the Guiding Stars program), and have a nutritionist "trade up" the ingredients to more nutritious options.  I submitted a Quiche Lorraine recipe that I've adapted over the years from my trusty Betty Crocker cookbook.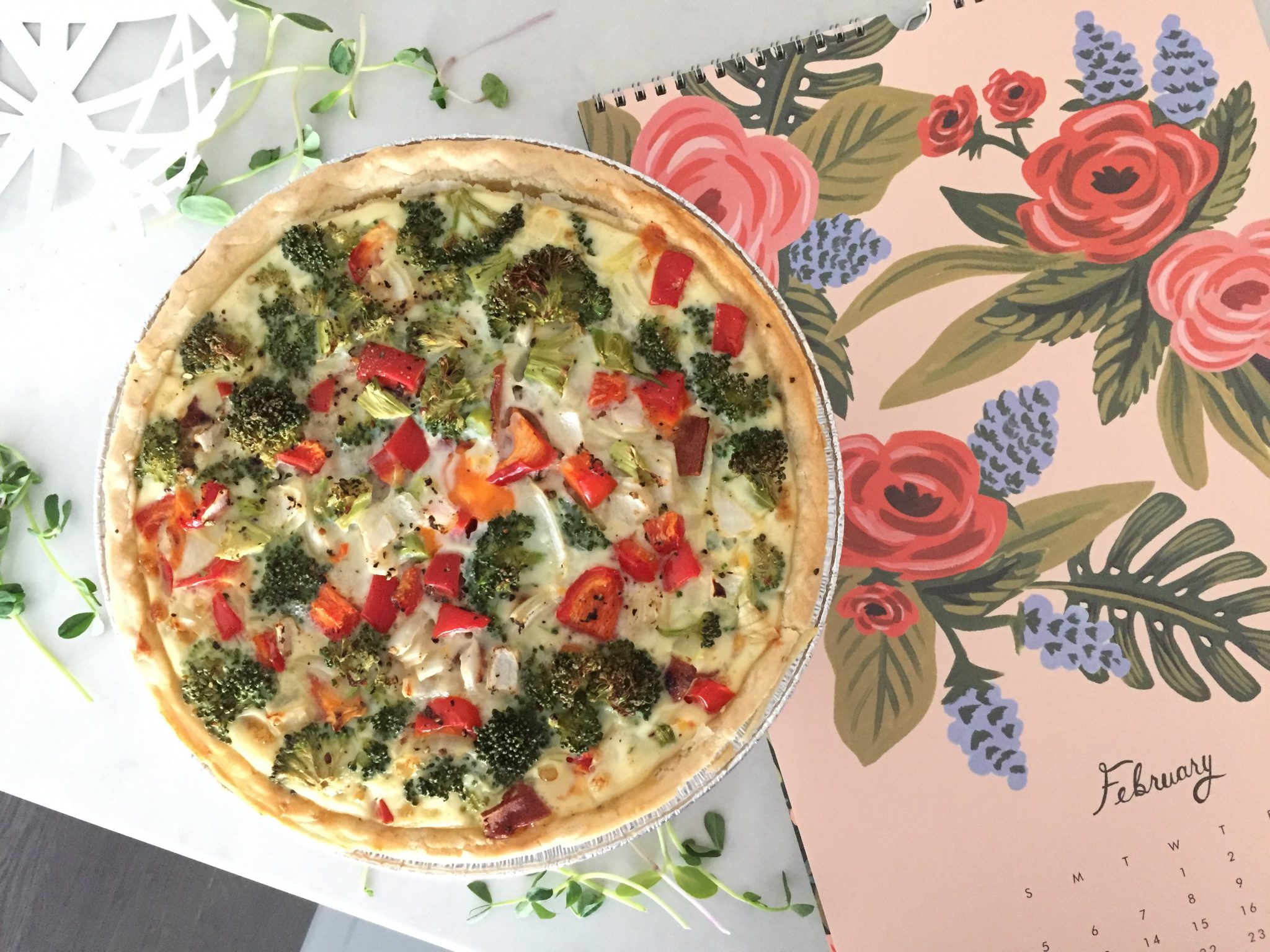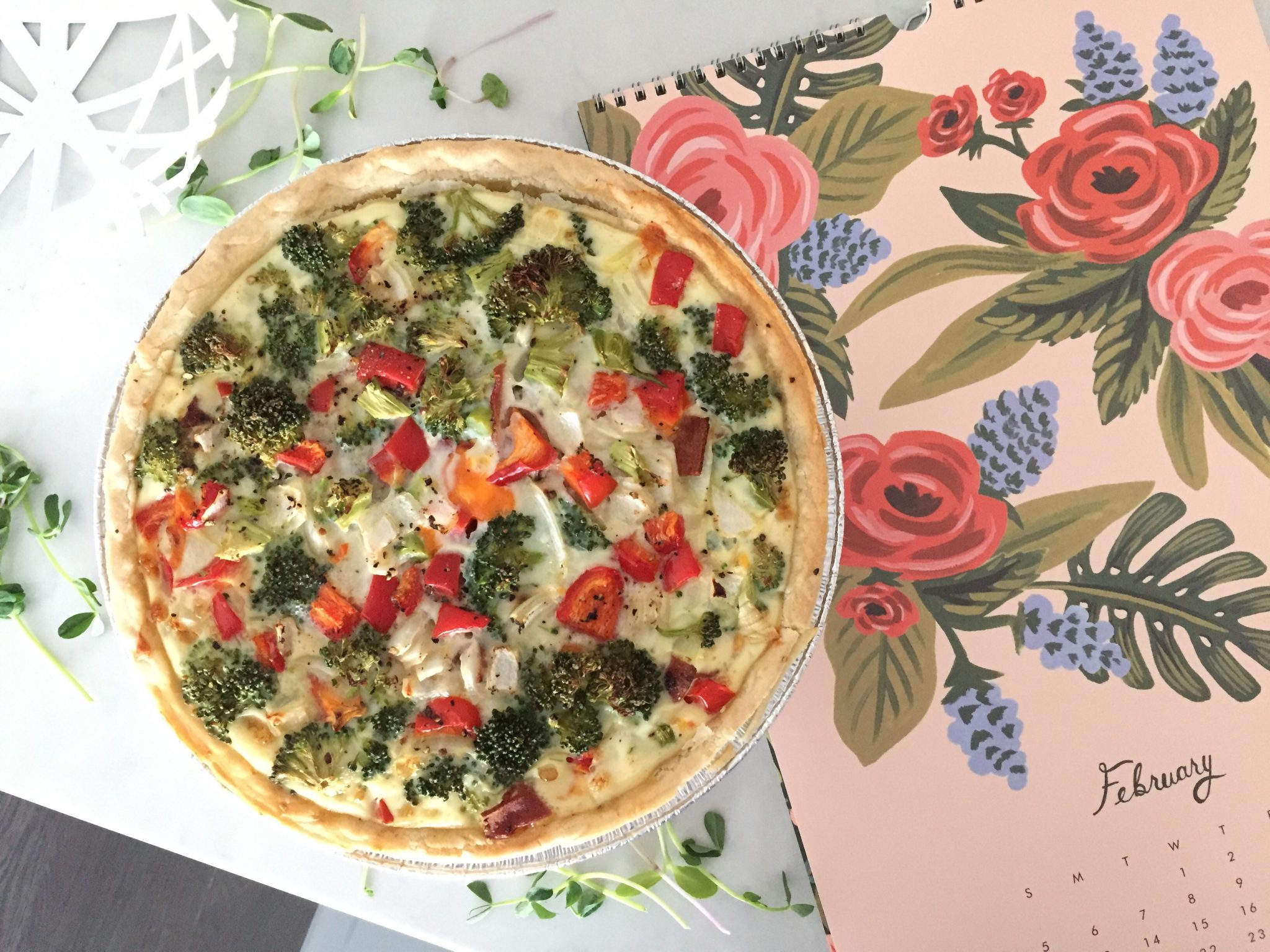 A quiche recipe is a perfect meal to make substitutions to as the ingredients are flexible and versatile.  Within the egg-based filling, quiche uses ingredients that don't require precise or accurate measurements like bacon, ham, cheese, and broccoli.  Some of the suggested substitutions to make Quiche Lorraine healthier includes swapping egg yolk for egg whites, whole wheat flour for white, turkey bacon for regular bacon, and using additional veggies including broccoli and red pepper.  These substitutions are easy to find at a grocery store, and not so drastically different from the original recipe that the taste or flavour would be compromised.
Here's the recipe:
QUICHE INGREDIENTS
Pastry (or use a pre-made frozen pie crust instead).
1 cup whole wheat flour (traded up from white, all-purpose flour)
1/4 teaspoon salt
1/3 cup plus 1 tablespoon shortening
2 – 3 tablespoons cold water
Filling
8 slices of chicken or turkey bacon, crisply cooked, crumbled (1/2 cup) (traded up from regular bacon)
1 cup shredded, low sodium Swiss or Cheddar cheese (traded up from plain Swiss or Cheddar cheese)
1/3 cup finely chopped onion
12 tablespoons of egg white or 4 Omega 3 brown eggs (traded up from white eggs)
2 cups skim milk (traded up from half-and-half)
1/4 teaspoon salt
1/4 teaspoon pepper
1/8 teaspoon ground red pepper (cayenne)
Note: Add in as many veggies you like (broccoli and red pepper would be great!) to up the nutrient profile.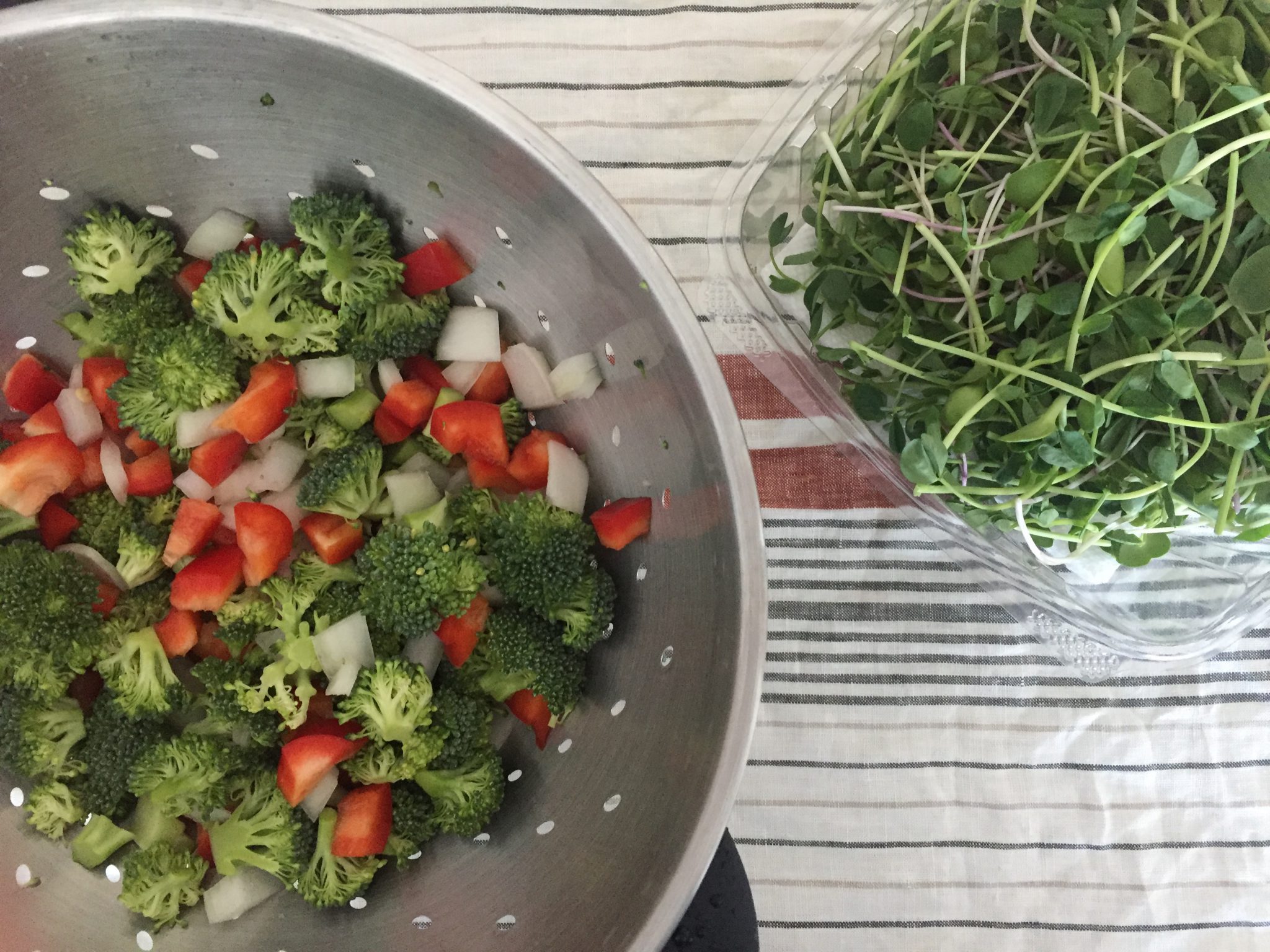 DIRECTIONS
Note: To save time, you can replace Steps 1 to 4 with a pre-made quiche shell. 
In medium bowl, mix flour and salt. Cut in shortening, using pastry blender (or pulling 2 table knives through ingredients in opposite directions), until particles are size of small peas. Sprinkle with cold water, 1 tablespoon at a time, tossing with fork until all flour is moistened and pastry almost cleans side of bowl (1 to 2 teaspoons more water can be added if necessary).
Gather pastry into a ball. Shape into flattened round on lightly floured surface. Wrap in plastic wrap; refrigerate about 45 minutes or until dough is firm and cold, yet pliable. This allows the shortening to become slightly firm, which helps make the baked pastry more flakey. If refrigerated longer, let pastry soften slightly before rolling.
Heat oven to 425° F. With floured rolling pin, roll pastry into round 2 inches larger than upside-down 9-inch quiche dish or glass pie plate. Fold pastry into fourths; place in quiche dish. Unfold and ease into dish, pressing firmly against bottom and side. Trim overhanging edge of pastry 1 inch from rim of pie plate. Fold and roll pastry under, even with plate; flute as desired.
Carefully line pastry with a double thickness of foil, gently pressing foil to bottom and side of pastry. Let foil extend over edge to prevent excessive browning. Bake 10 minutes. Carefully remove foil and bake 2 to 4 minutes longer or until pastry just begins to brown and has become set. If crust bubbles, gently push bubbles down with back of spoon.
Reduce oven temperature to 325° F. Sprinkle bacon, cheese and onion in pie crust. In medium bowl, beat eggs slightly; beat in remaining filling ingredients. Pour into quiche dish.
Bake 45 to 50 minutes or until knife inserted in center comes out clean. Let stand 10 minutes before serving.
===
In Vancouver, Loblaws, Real Canadian Superstore, and No Frills, all participate in the Guiding Stars program.  As you go through each aisle of the store, look for the easy-to-follow Guiding Stars shelf tags indicating 1, 2, or 3 stars.
Win a $150 President's Choice Gift Card from Modern Mix Vancouver
Tweet a recipe (or the title of a recipe, or a link to a recipe) to @GuidingStars and @ModernMixVan asking them to "trade up" the ingredients and you will be entered to win a $150 President's Choice Grocery Gift Card.
One winner will be chosen to have their recipe 'traded up' with healthier ingredients, and a $150 President's Choice Gift Card to help you buy the ingredients! Giveaway open to Canada, contest ends on February 28, 2017.
Enter using Rafflecopter: