The Good Stuff was founded by three friends in Vancouver who love smoothies, but didn't want to decide between wilted spinach or expensive juice.  So, they started their ready-to-blend frozen smoothie delivery company: The Good Stuff.
Each portion of The Good Stuff smoothie is frozen in a compostable cup, sealed with a plastic wrap lid.  To make it, all you have to do is add liquid (dairy milk, almond milk, coconut water, juice, etc.) in the cup, thaw the smoothie for a few minutes, then pour the entire contents into your blender of choice and blend.
Modern Mix Vancouver was delivered a box of The Good Stuff's "Greatest Hits" which included the below six varieties. Almost all of the ingredients used are organic:
The Kitsilano Sunrise – carrot, banana, chard, brazil nuts, maple syrup, tumeric, cinammon, nutmeg, black pepper.
The Madagascar – banana, strawberry, carrot, mango, spinach, goji berries, coconut oil, chia seeds.
The Good Morning – banana, carrot, pineapple, kale, mango, coconut oil, matcha.
The Diesel Monster – yam, banana, kale, chocolate Vega Sport performance protein, peanut butter, cacao nibs, cinnamon.
The Purple Cowboy – banana, carrot, chard, raspberry, blackberry, vanilla Vega Sport performance protein, hemp hearts.
The Easy Greens – apple, cucumber, pear, kale, chard, chia seeds, lemon juice, spearmint.
Once you add in your liquid of choice, you get approximately 500ml of smoothie.  The frozen format is a great idea because you don't have to add additional ice which often dilutes the smoothie flavour.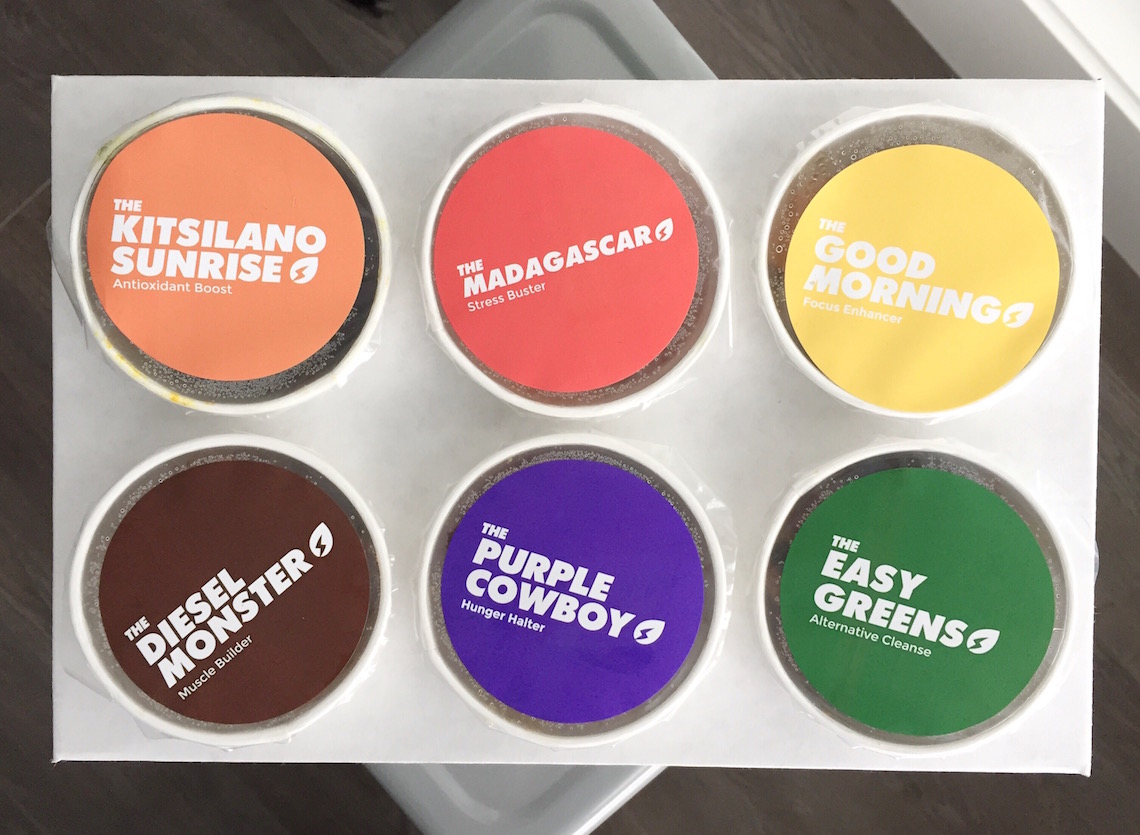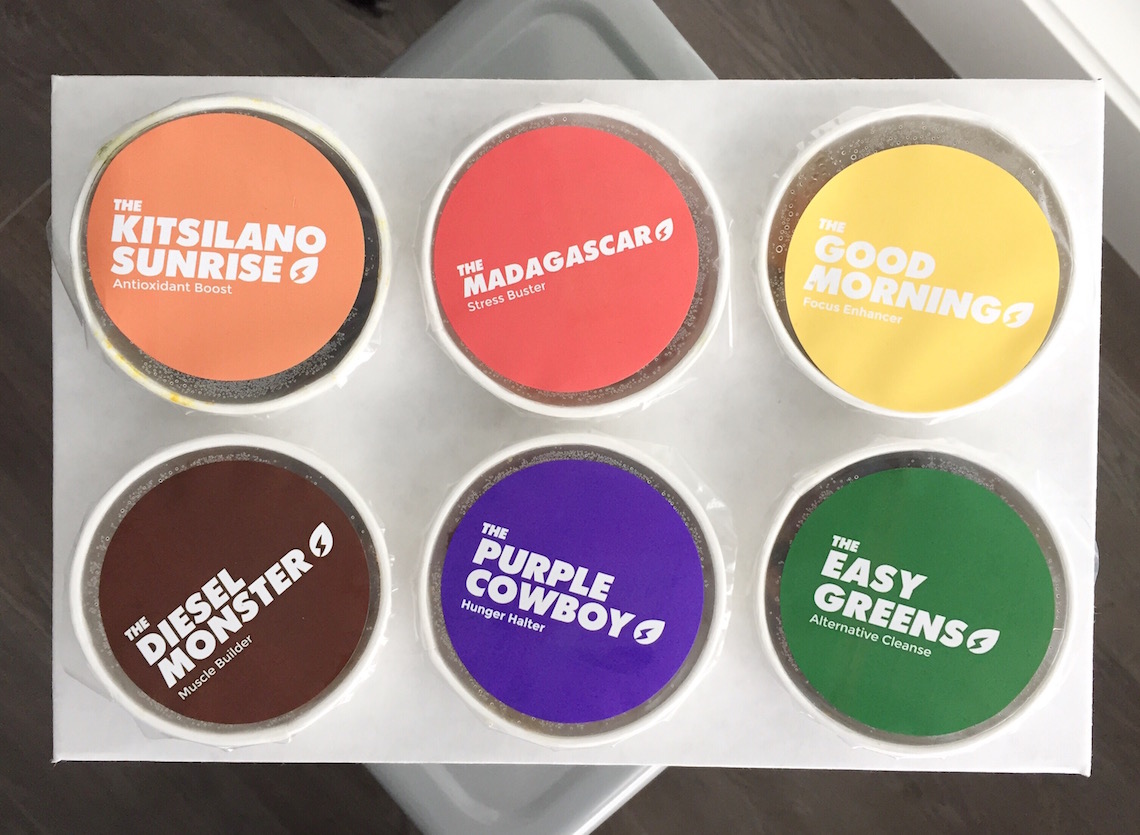 Found both online and in the delivery package are the nutritional labelling for each smoothie blend, which legitimizes the health benefits.  I really appreciate the nutritional information being available, as I've had a not-so-good experience in the past while doing a fad juice cleanse.
The only inconvenience I encountered with The Good Stuff is needing to plan ahead to make sure you have the appropriate liquid in your fridge to match each smoothie.  For example, I wouldn't prefer to put milk into a spinach based smoothie, and coconut water/milk (or kefir!) isn't something I always have at home.  That's why I started off with the Kitsilano Sunrise Smoothie this morning (because I happened to have Happy Planet Creamery milk in the fridge) – I'm about to head out and buy some coconut water so I can blend the others this week!   It also would be great if The Good Stuff's recommendations for liquid type was noted in the ingredient list, so you know what to keep on hand to make the smoothies.
The Good Stuff frozen smoothies begin at $5.95 per portion with a minimum order of 6.  The price is a reasonable compromise between value and convenience – it's more expensive than making your smoothies from scratch at home, but a better deal than going out for an organic juice or smoothie.   Frozen smoothies are delivered within the Vancouver Lower Mainland at a flat delivery rate of $3.95 (or free if you order 10).
Each smoothie will last for up to 3 months if kept frozen.  In January 2017, The Good Stuff opened a storefront near UBC – check them out in person at 4515 W 10th Avenue x Sasamat Street.