As a first stop on a 3-week vacation to Asia, we made a 48-hour stopover in Seoul, South Korea, en route to Thailand.
Originally we were going to fly directly to Bangkok, but seeing that the flight is 16 hours from Vancouver, I thought it'd be nice to break up a long flight and do a quick 48 hour stopover in Seoul and set foot in a country I haven't been to yet.  Especially with the rising prominence of K-fashion, K-beauty, and K-food in Vancouver, I wanted to see this country for myself.  But perhaps not spend too long because the average January temperature in South Korea hovers at around freezing.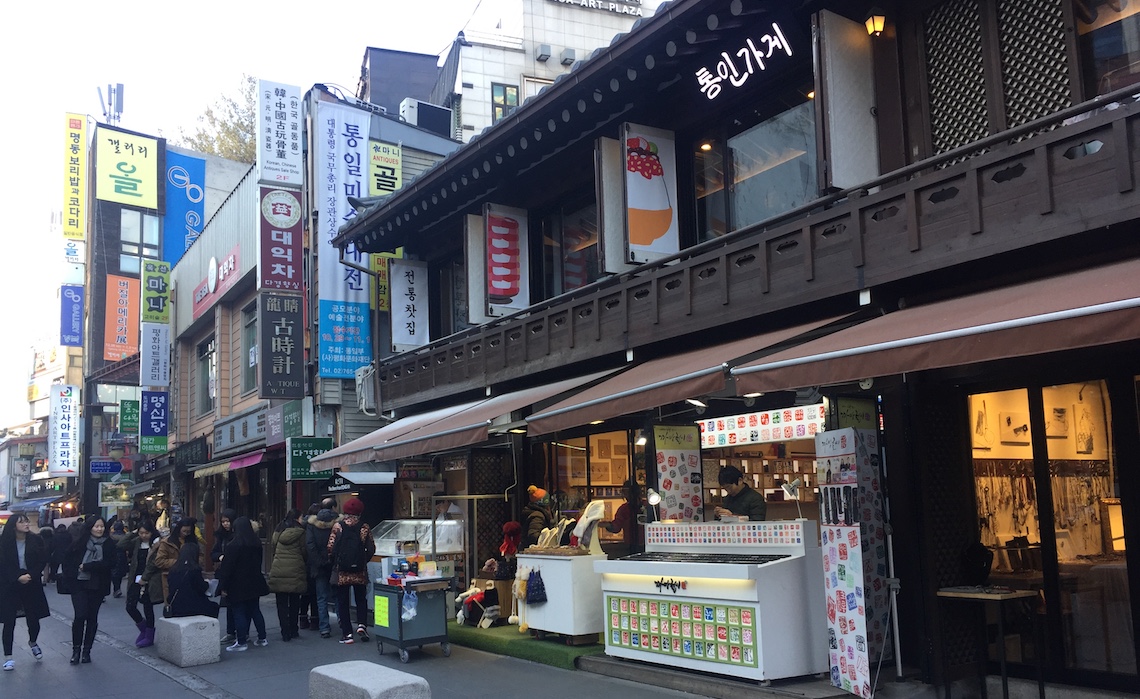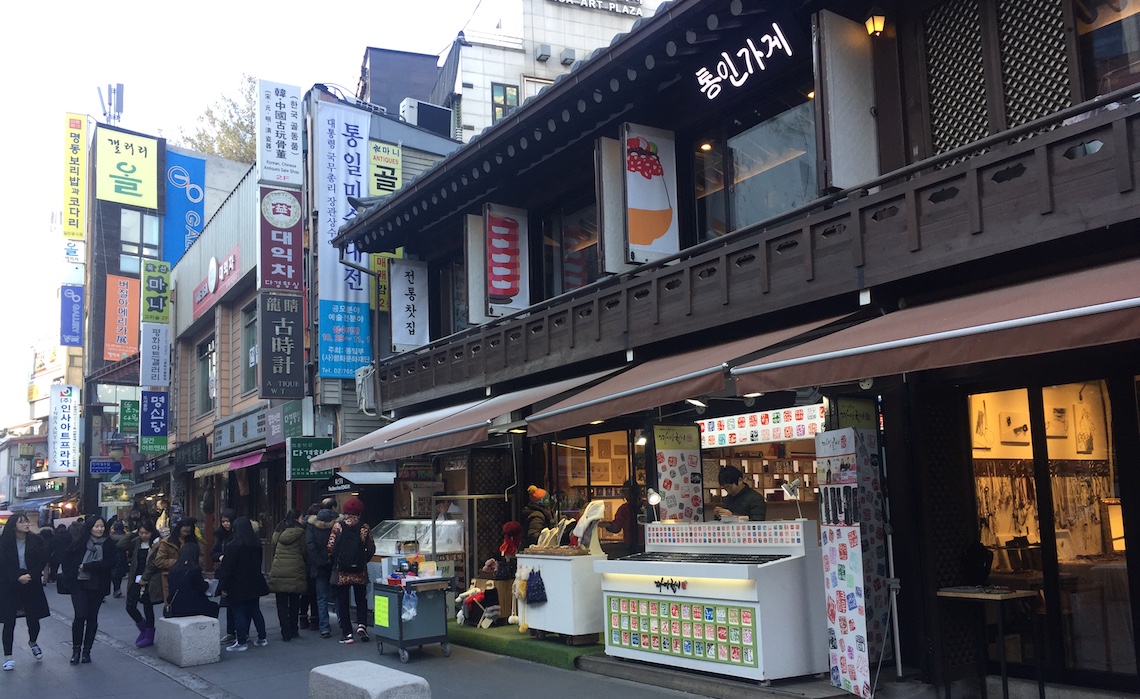 With a population of 10 million, Seoul is a widespread city with many, many neighbourhoods.  There isn't necessarily a main 'downtown' area (like we have in Canadian cities). Rather, sights, shops, restaurants and attractions tend to cluster in different neighbourhoods, which skew towards different lifestyles.  For example, the main shopping district is Myeongdong (think a cross between the flashing lights of NYC's Times Square, and the maze of shopping streets in Soho), while the artsy district is Insadong, and Itaewon is the 'expat' area with modern cuisine from around the world.
By the way, DONG means neighbourhood in Korean, and GUNG means palace!  Two important words to know for putting travel research into context.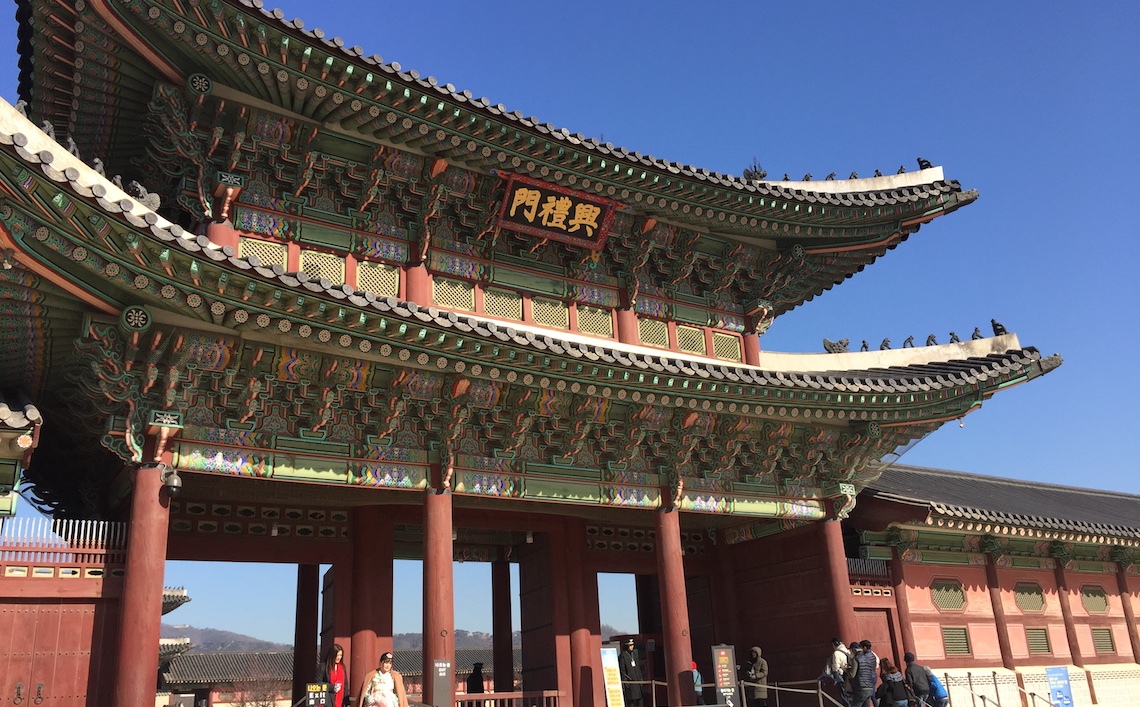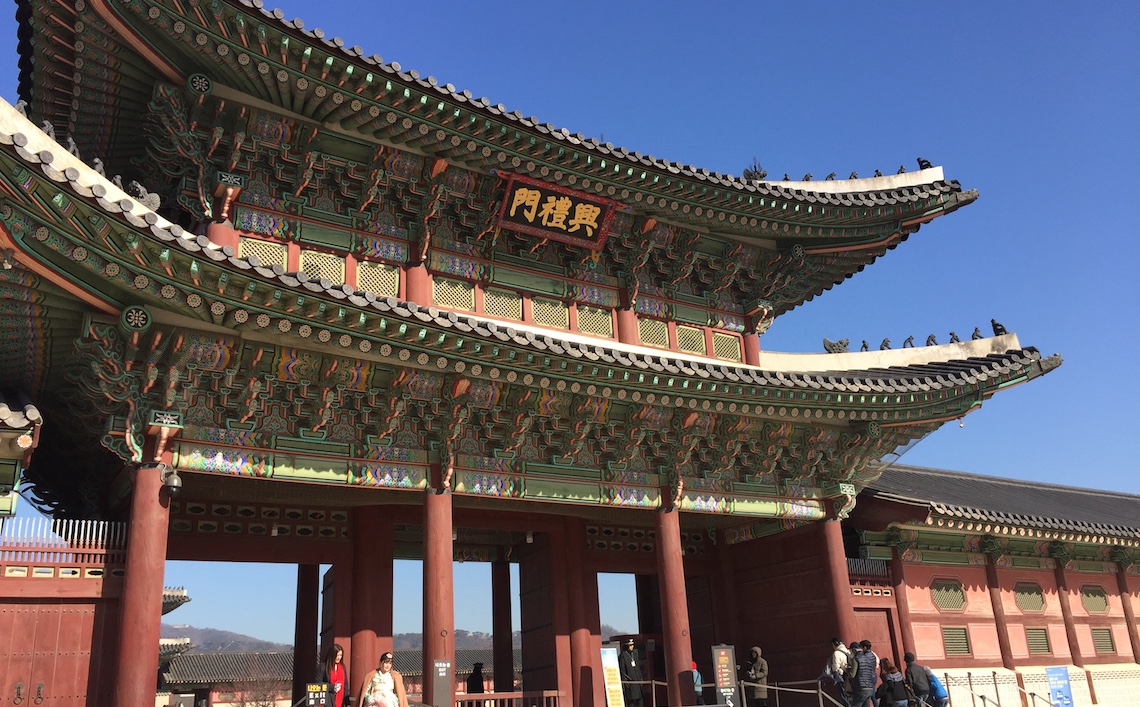 Speaking of Gung's, palaces are a huge thing in Korea.  Gyeongbokgung, Changdeokgung, Deoksugung, Changgyeonggung and Gyeonghuigung are the main palaces.  With 48 hours to spend in Seoul, we figured we only needed to see one to get a feel of things.  We opted to visit Gyeongbokgung, which is the largest palace in the city.  I think we may have caught a portion of the "Changing of the Guards" ceremony (yes, like how they do it at Buckingham Palace in London!).  I can't tell you much about the history of the palaces, but I can say it was a scenic walk through the palace grounds, even in the winter time.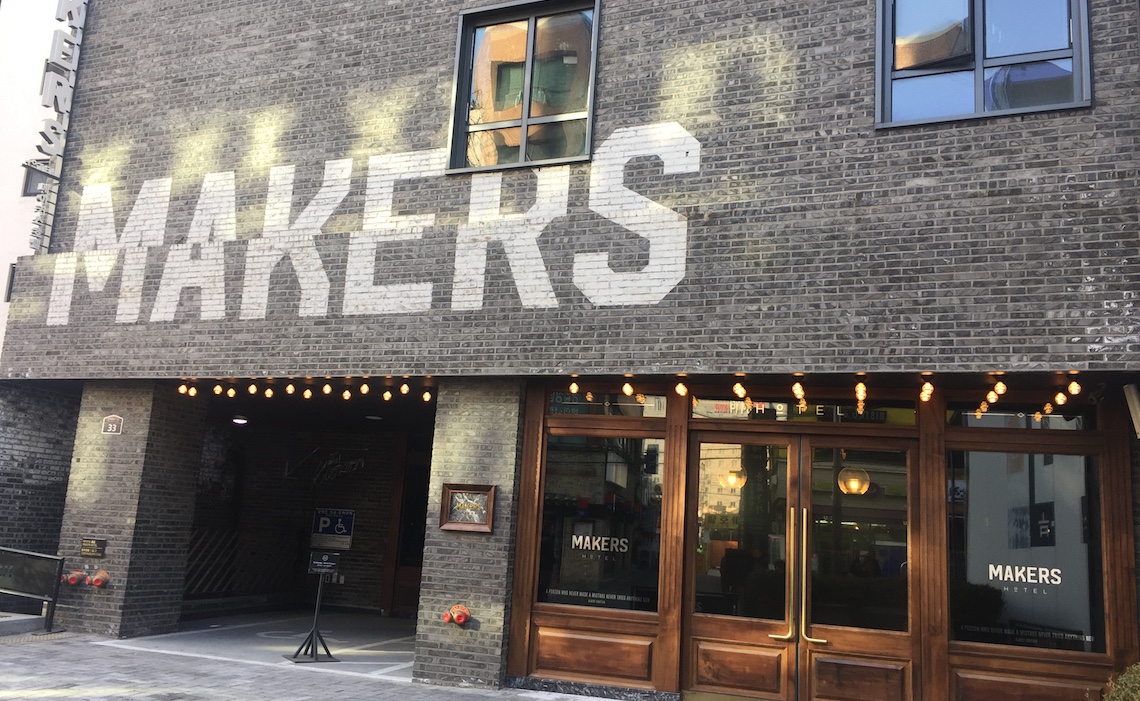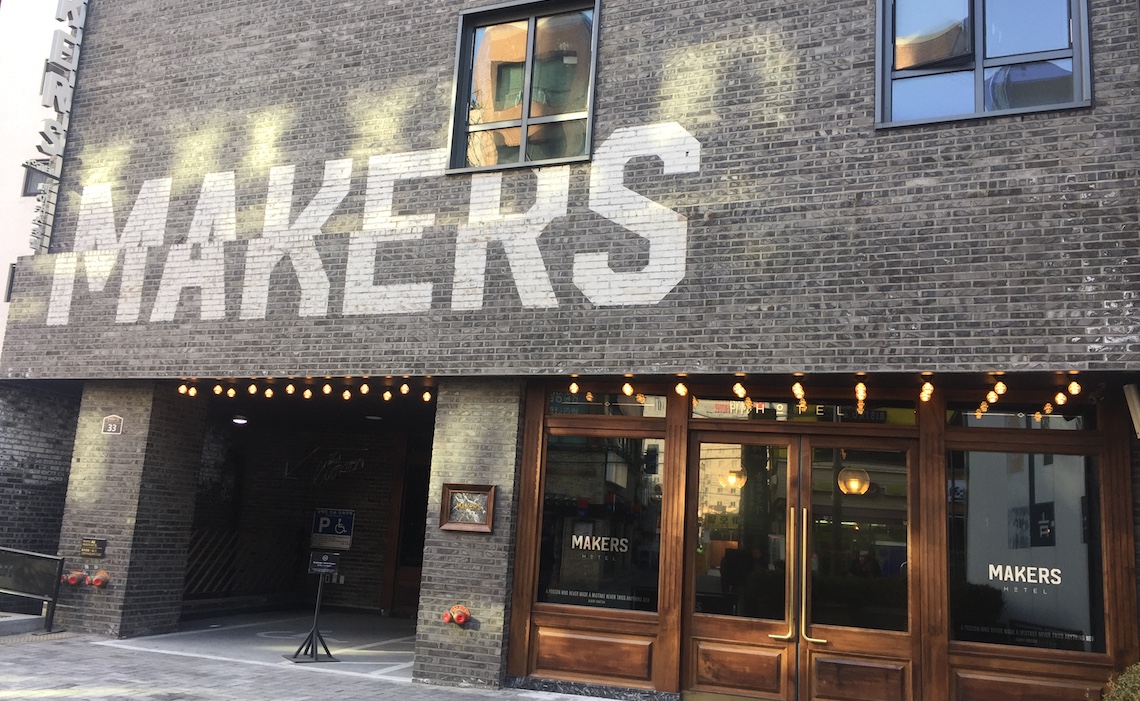 As for accomodations, we stayed near the Insadong district in a boutique hotel called Maker's Hotel.  When booking, we joked about how it's ironic that we are staying at a Korean boutique hotel, that tries to give off a hip, American vibe.  It was good – clean, simple, modern, convenient, and within our price range (we paid $75 CAD per night).  And,easily accessible by public transportation, which is easy to navigate in Seoul.  In fact, on TripAdvisor, the Seoul Public Transportation system was listed as the #1, most highly-rated "attraction" in the city (which seemed odd to me, but I guess people really love their metro system).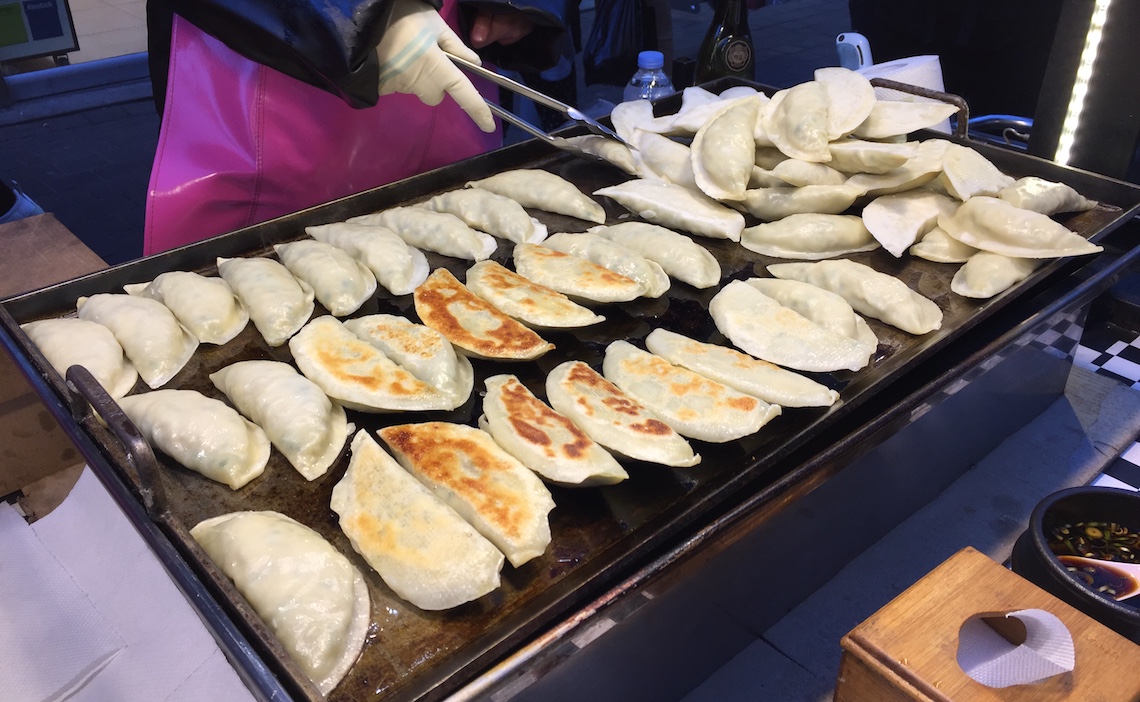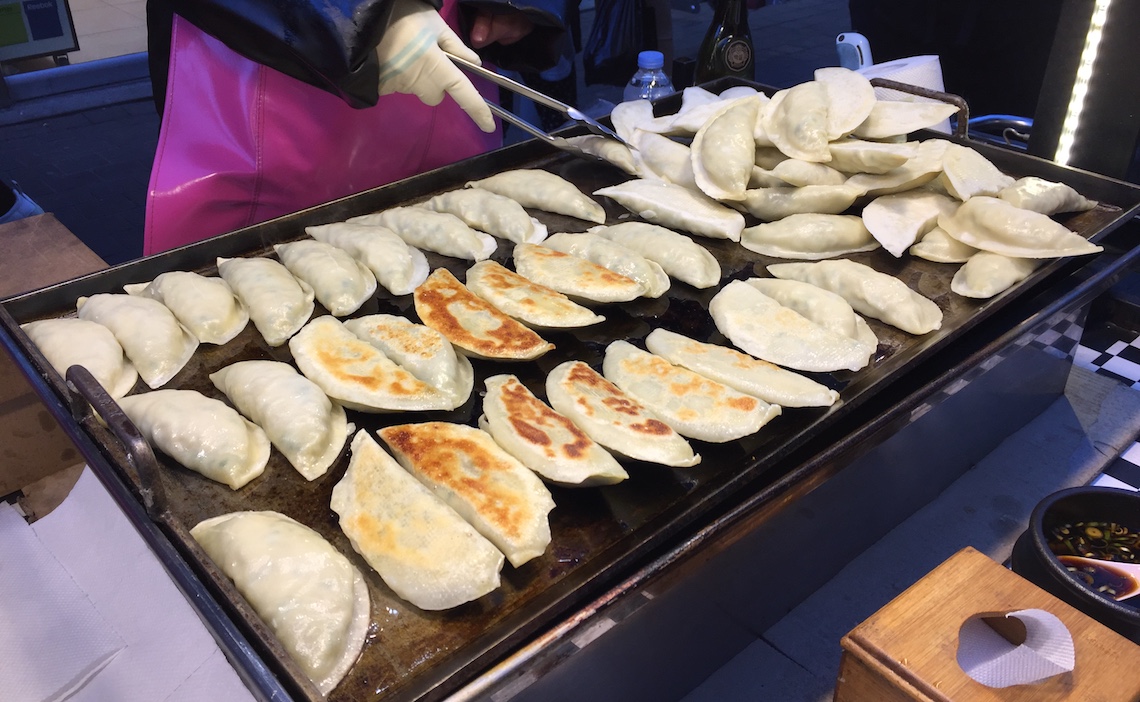 Given that we only had a few meals to spend in Korea, we tried most of the highlights – but nothing too weird or crazy.  Because it was so cold in January (we had temperatures as low as -9 degrees!) we definitely wanted hot food.  Of course we tried BiBimBap, a mix of meat and veggies served in a hot stone bowl, topped with a raw egg which cooks as you scramble it in the bowl.  This is probably the most internationally famous Korean dish.  We also had Korean Mandu (dumplings), and Bulgogi, which is marinated beef, with thin and chewy glass noodles.  Most Korean restaurants serve Kimchi (fermented cabbage) as a side dish.  Sometimes they'll give it to you in a small side bowl, other times, it was a communal bowl, that you get your desired portion out of.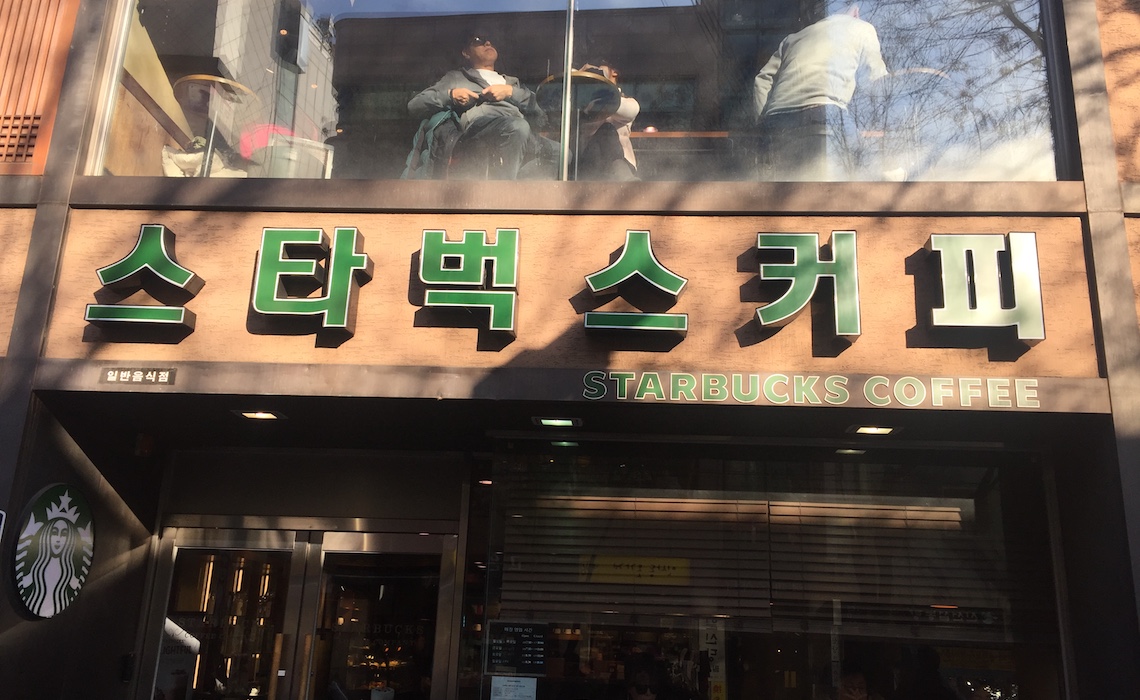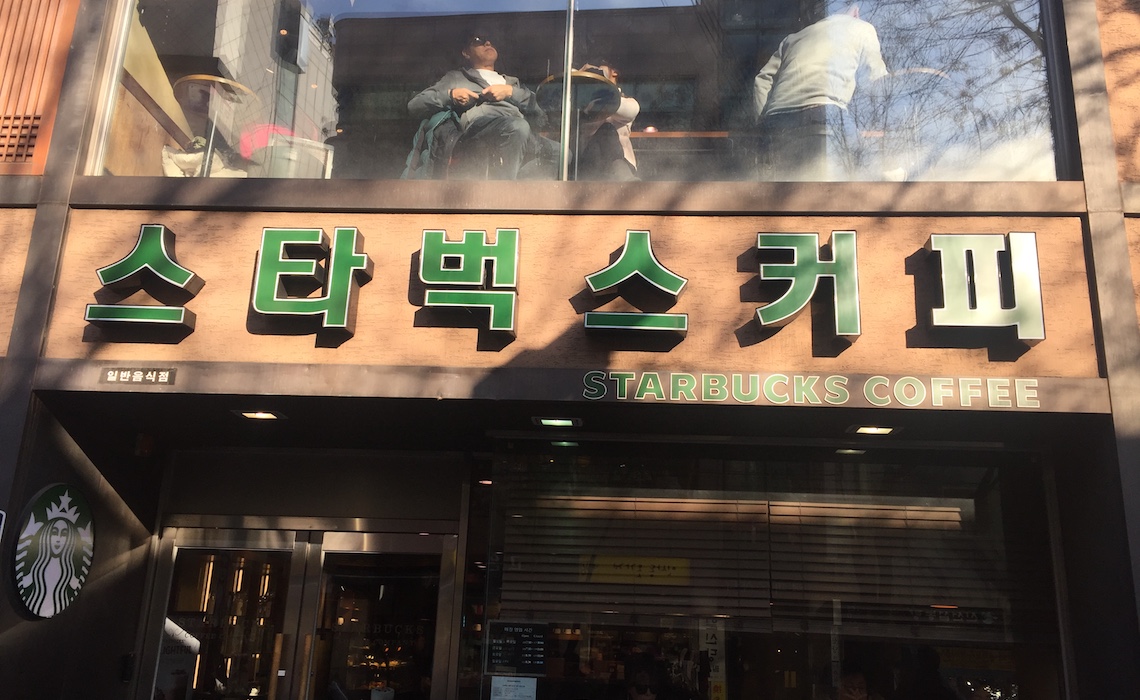 There were also a LOT of cafes around the city.  Cute little independent boutiques, as well as international chains.  We overheard a tour guide say that Seoul is the city with the most number of Starbucks in the world, even more than New York City!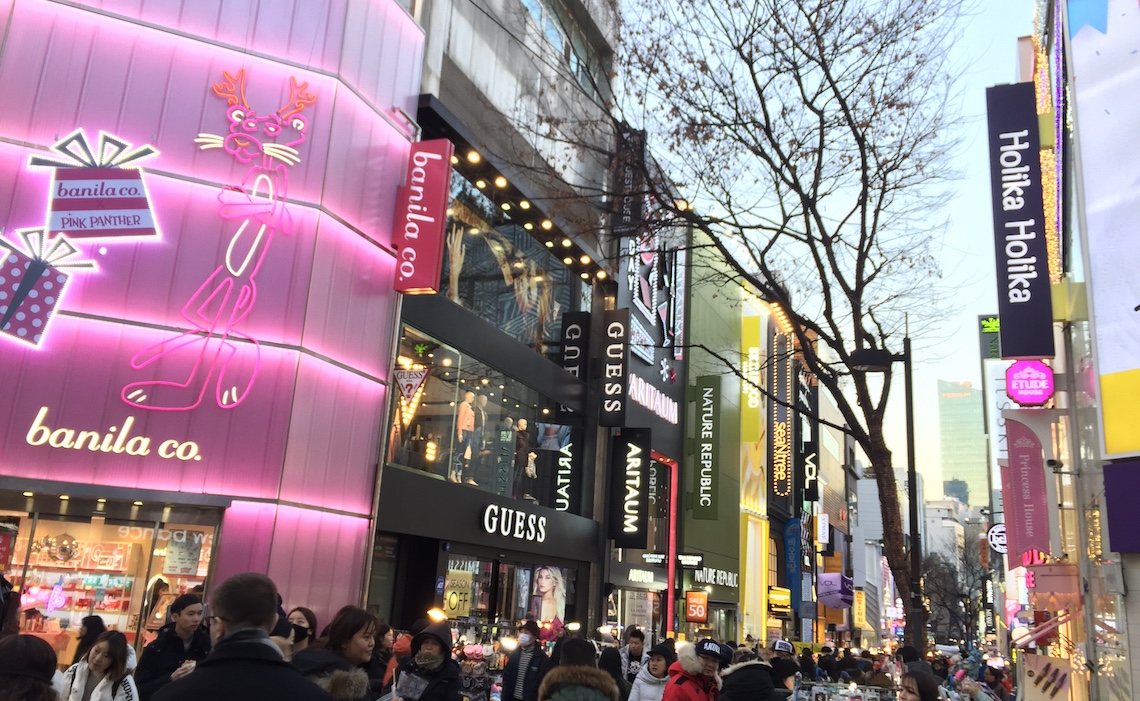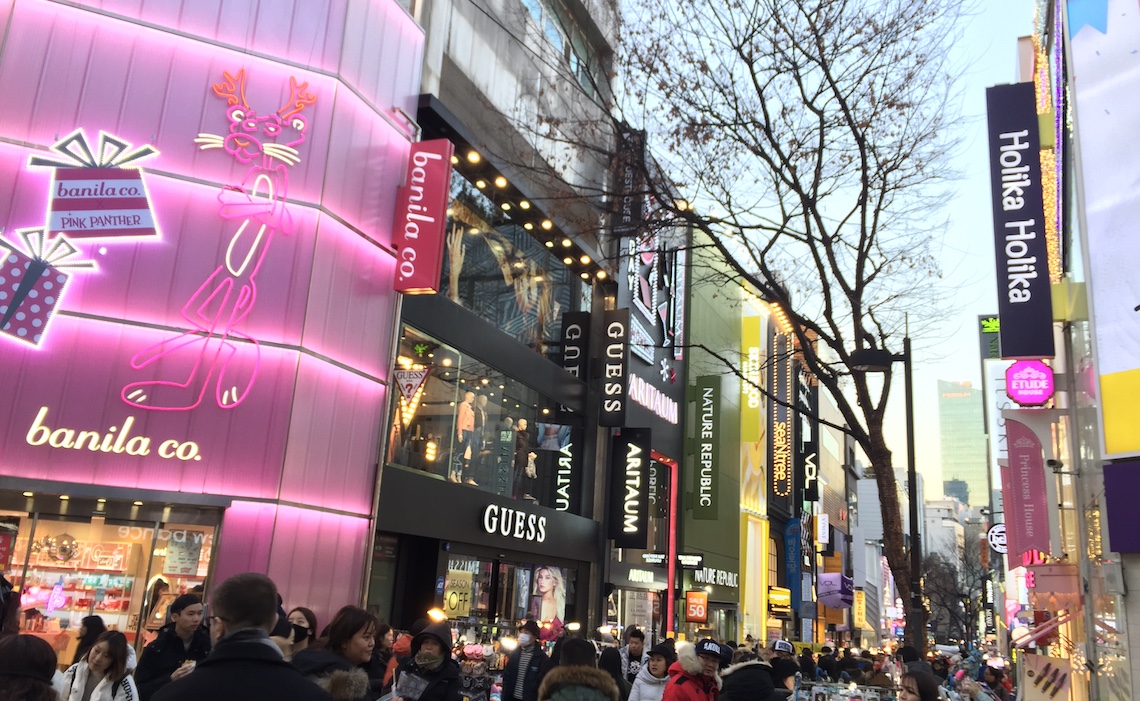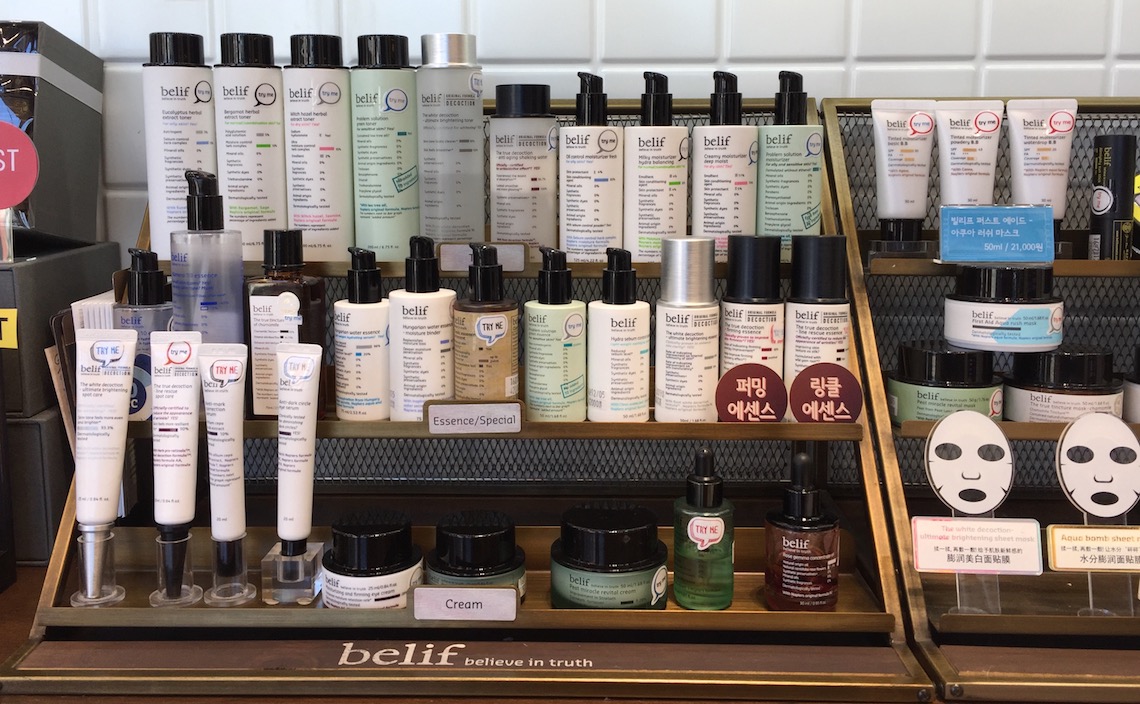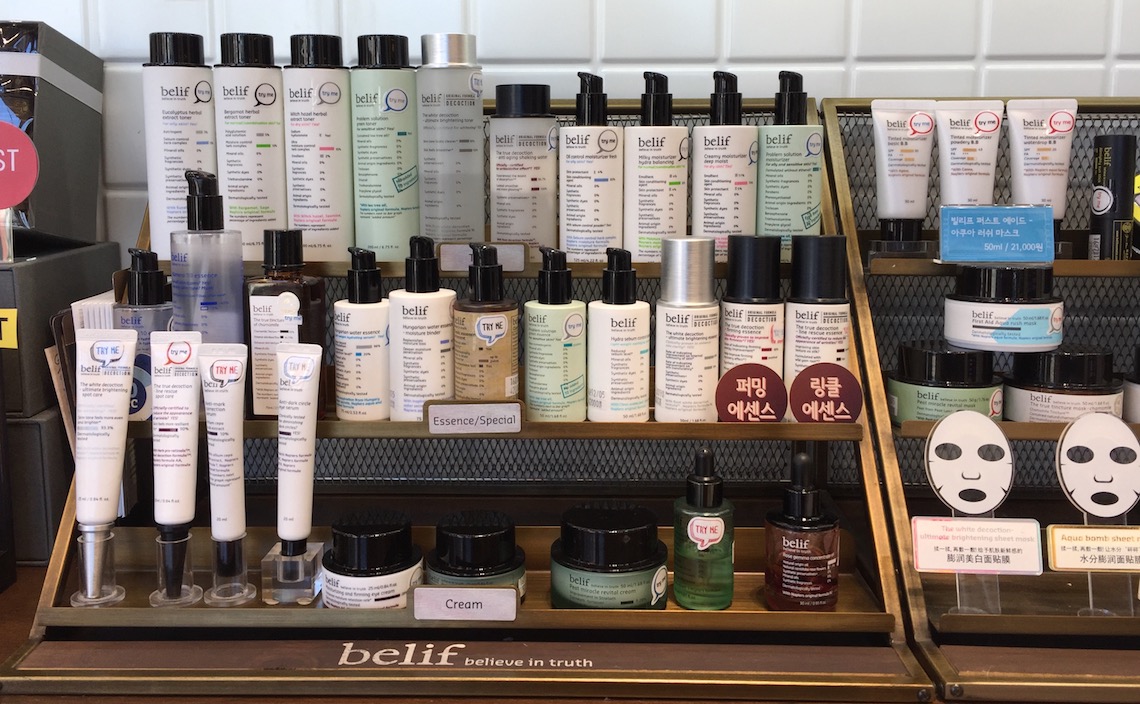 Some people say that Seoul is a shopping mecca for fashion and beauty products, but, above all, I noticed a prominence of beauty boutiques.  In the few hours we wandered the streets of Myeongdong, we kept seeing the same beauty brands over and over again: Nature Republic, The Face Shop, Banila Co., Aritaum, Tony Moly, InnisFree, Missha, Skinfood, seaNtree, Holika Holika, and Belif, to name a few.  Sometimes there were even two of the same stores on the same block!
You can read more about K-beauty skincare brands available in Vancouver, BC in my recent blog post on 6 Must-Try Korean Beauty Brands Gaining Popularity In Canada.  However, among the face masks, essences, gels, serums and lotions, there were quite a few unconventional ingredients that haven't quite made it to mainstream North America yet including: horse oil, abalone, donkey milk, snail, volcanic rock, and egg…!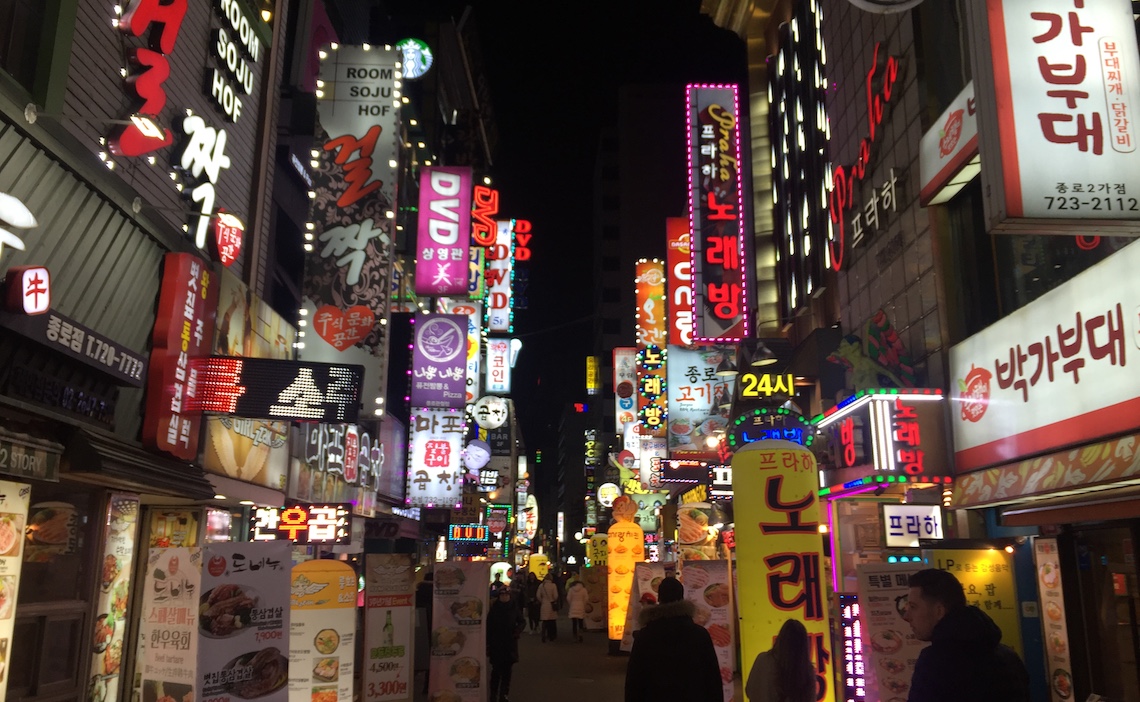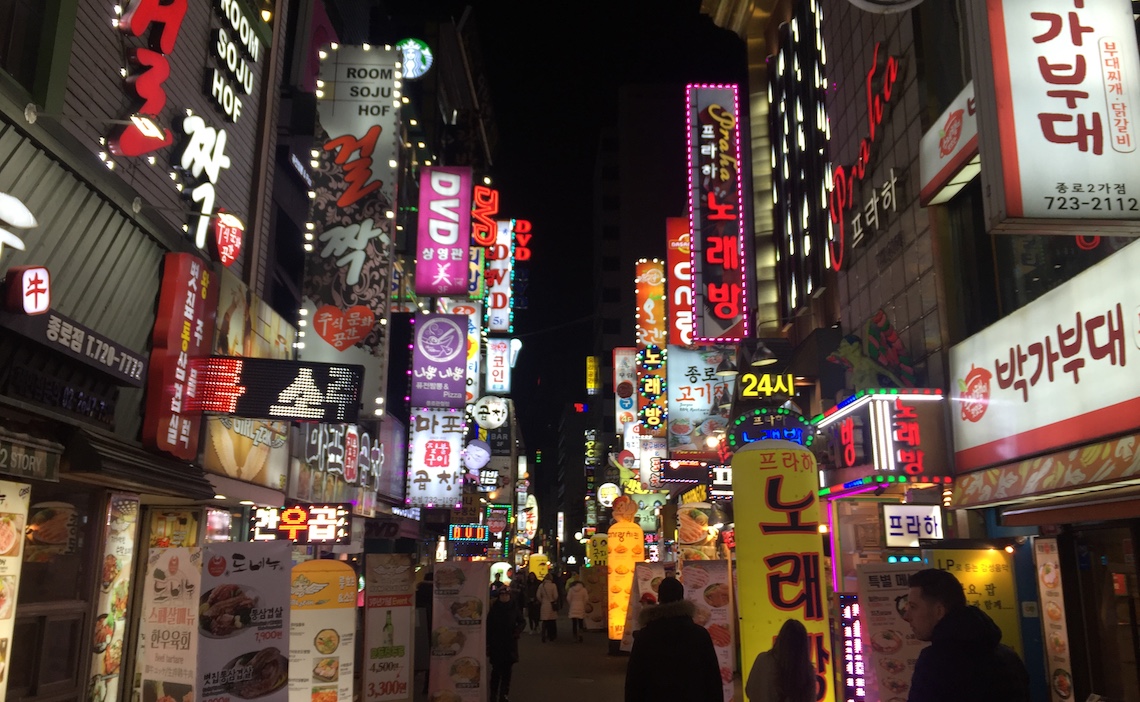 Overall, 48 hours in Seoul was enough to give us a taste of Korea.  If you're like us and only have the time to take a quick peek in the city, two days in Seoul a great starting point for your visit to the rest of Asia.  To maximize your time, make sure you familiarize yourself with different neighbourhoods in the city, book accommodations in a central region, jot down names of attractions you want to visit (the names all start looking the same after a while), and bring walking shoes.
Feel free to comment below if you have any questions about our 48 hours in Seoul!