This January, I'll be ringing in the new year twice.  The firs time was on January 1, 2017, and the second, will be on January 28, 2017, with the Lunar New Year.  Although I grew up in Canada, my family and relatives still make the effort to mark the occasion with a small but elaborate multi-course dinner.  In anticipation of upcoming new year's celebrations, Real Canadian Superstore gifted me a thoughtful selection of Chinese New Years -inspired ingredients, including packaged items like dried Chinese mushrooms, oyster sauce, brown sugar rice cake, and red and gold "lucky" candy.  Real Canadian Superstore and No Frills both surprised and impressed me with their wide range of Chinese New Year goods, you can find everything you need to celebrate the New Year at low prices.
Although this year, I won't be in Vancouver for Chinese New Year as I have a three week vacation booked to South East Asia, I've left an easy Chinese New Year -inspired recipe for Modern Mix Vancouver readers to try at home: Braised Chinese Mushrooms & Sesame Bok Choy.   If you're celebrating Chinese New Year with family and friends, bring this simple, but impressive-looking vegetable dish to the table!
Also, I'm gifting 8 lucky readers each a $10 gift card to Real Canadian Superstore – keep scrolling to enter via Instagram.
Chinese New Year Recipe: Braised Chinese Mushrooms & Sesame Bok Choy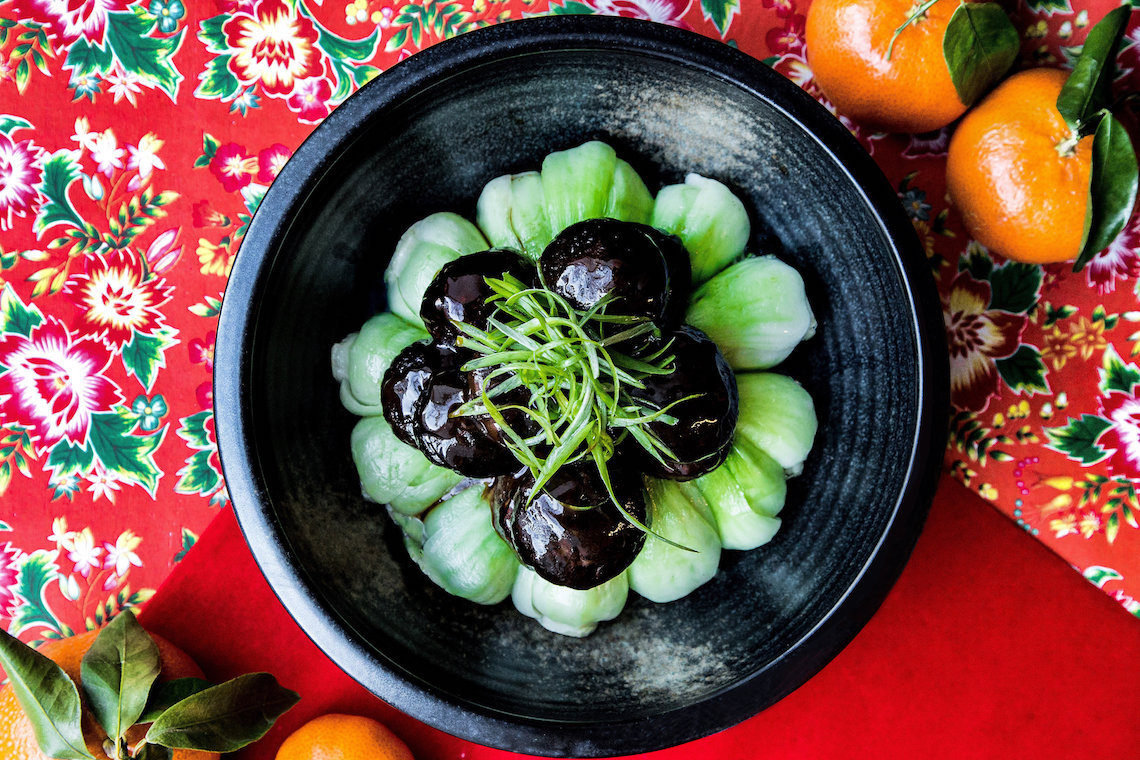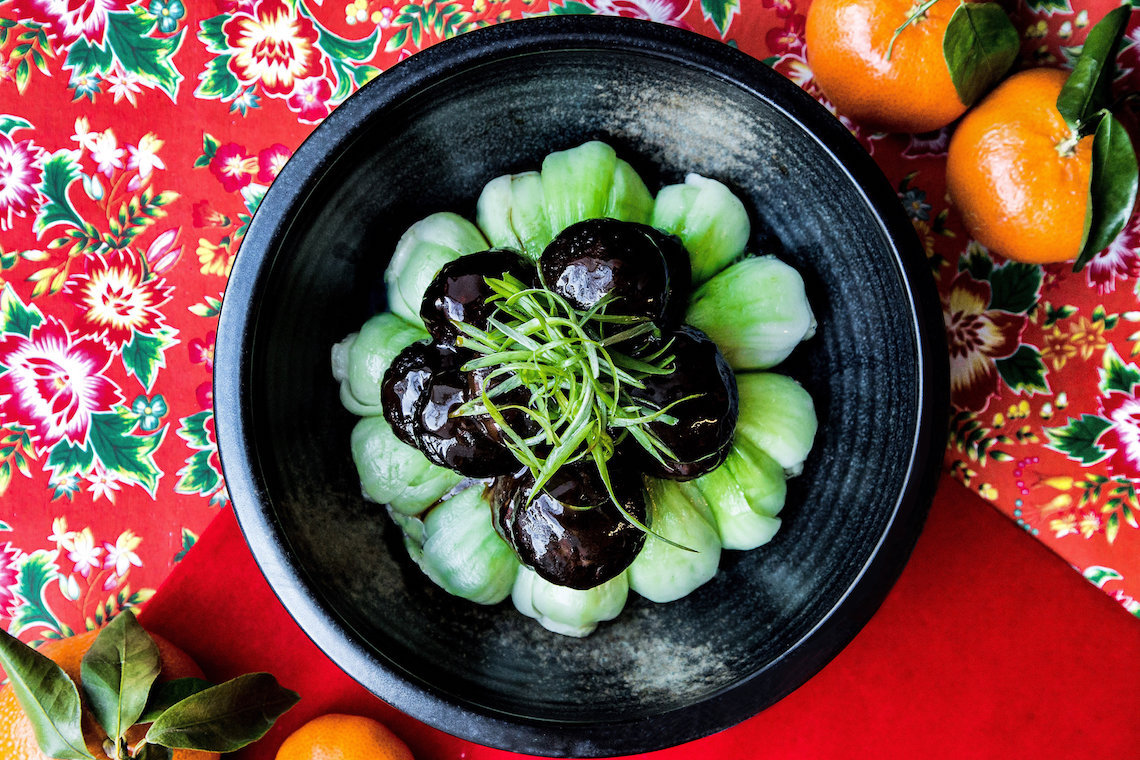 This classic Chinese dish can be made with ease, and features bok choy served with dried flower mushrooms, which are soaked and cooked in a flavour-packed blend of oyster sauce, Chinese rice wine and soy sauce. Serve with steamed rice.
Serves: 8
Prep time: 30 minutes
Cook time: 30 minutes
Difficulty Level: Easy
Per serving: 100 calories, fat 5 g, sodium 370 mg, carbohydrate 12 g, fibre 4 g, sugars 4 g, protein 3 g
INGREDIENTS
2 cups (500 mL) Rooster Brand™ Dried Flower Mushrooms
2 cups (500 mL) boiling water
¾ cup (175 mL) chicken broth
2 tbsp (25 mL) Rooster Brand™ Oyster Sauce
1 tbsp (15 mL) Chinese rice wine (Shao Hsing) or dry sherry
2 tsp (10 mL) Rooster Brand™ Superior Soy Sauce
2 tsp (10 mL) Rooster Brand™ Superior Dark Soy Sauce
2 tsp (10 mL) crushed Chinese rock sugar or granulated sugar
2 tbsp (25 mL) Rooster Brand™ 100% Pure Canola Oil
2 tsp (10 mL) Rooster Brand™ 100% Pure Corn Starch
2 tsp (10 mL) sesame oil
675 g Shanghai bok choy (about 6 heads), halved lengthwise (TIP: if heads are large, cut into quarters for even cooking.)
2 green onions, thinly sliced diagonally
DIRECTIONS
Place mushrooms in large heatproof bowl; add boiling water. Arrange mushrooms stem side up. Cover bowl with plastic wrap; let stand until softened, 30 to 45 minutes. Drain; squeeze out excess liquid from mushrooms. Remove and discard stems.
Meanwhile, stir together broth, oyster sauce, rice wine, soy sauce, dark soy sauce and sugar in small bowl until sugar is dissolved. Set aside.
Heat canola oil in 10-inch (25 cm) skillet over medium-high heat. Add mushrooms; cook, turning often, until lightly browned, 2 to 3 minutes. Add broth mixture; reduce heat to low. Cover and simmer, turning mushrooms occasionally, until tender, 20 to 25 minutes. (If necessary, add water, 1/4 cup at a time, while cooking to prevent mushrooms from drying out.)
Stir together cornstarch, 1 tsp sesame oil and 1/4 cup water in small bowl until smooth; stir into mushroom mixture. Cook, stirring constantly, until sauce is glossy, about 30 seconds.
Meanwhile, bring large saucepan of salted water to a boil. Add bok choy and remaining 1 tsp sesame oil; cook until tender-crisp, 1 to 2 minutes. Drain.
Arrange bok choy in circle along edge of plate with leaves pointing inward; spoon mushroom mixture into centre of circle, over top of leaves. Sprinkle with green onions.
Chef's Tip: You can start soaking the mushrooms the night before. Place mushrooms in large bowl and add 2 cups cold water. Arrange plate directly over surface of water to keep mushrooms submerged; cover bowl with plastic wrap and let soak overnight in fridge.
Instagram Giveaway: 8 x $10 Real Canadian Superstore Gift Cards
We're gifting 8 lucky Instagram followers a chance to each with a $10 Real Canadian Superstore gift card.  Enter below via Instagram: