I am about to go on a tropical winter vacation to South East Asia, and I need a new swimsuit! Shopping for swimwear is something I haven't done in five years, and I don't think I've ever had to buy a swimsuit in the middle of winter.
So where did I go?  I knew for sure there was one store in Vancouver I could rely on for an extensive collection of swimwear options year-round: Swimco, the trusted Canadian swimwear retailer known for their multi-brand beachwear offerings, and knowledgeable 'Fit Experts'.
Fit Experts at Swimco are trained to build relationships with customers while offering them a positive and personalized swimwear shopping experience.  I felt like I particularly lucked out and was paired with Stephanie Daniels at the Oakridge Centre location, a Swimco Fit Expert who has been with the company for nine years!  With her wealth of experience (and an extensive personal swimsuit collection) she's seen every body type, every fit, and every swimwear trend over the past decade.
When you visit a Swimco location, the stores are generally sectioned into youthful and surf-inspired brands (ie. Roxy, Body Glove, or Billabong), style-focused, boutique designer pieces, usually at a premium price point (ie. Robin Piccone, Lablanca, Seafolly, and Moontide), and "mature" styles (think: our parents going on their annual Waikiki vacation) with more conservative fits and patterns.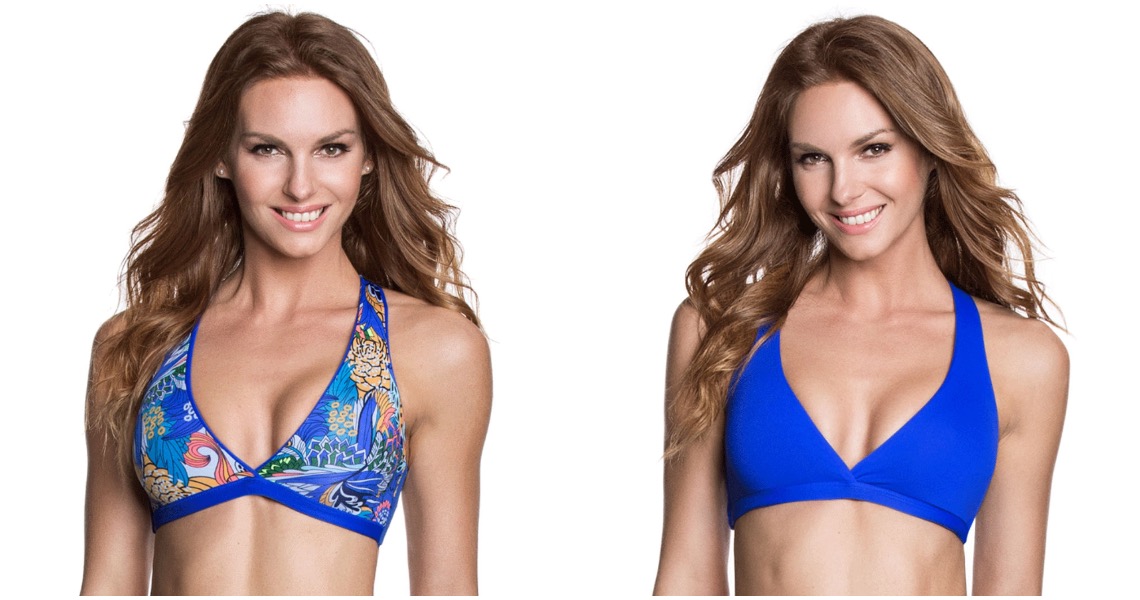 In chatting with Stephanie and the Swimco team, here are some of the current and upcoming swimwear trends that you can keep your eye out for – whether you're planning for a tropical winter vacation, or dreaming of summer:
Unique One-Pieces: These days, one-piece swimsuits are far from conservative.  You can find lots of sexy unique one pieces that have strappy details, interesting and unexpected cut-outs, interesting textures, and embellishments.
Crochet & Macrame: Create a bohemian flair with crochet details, knotted or braided straps, and other intricate woven accents.
Cobalt Blues: This universally flattering colour has been popping up both as an accent colour, and as a solid print.  Columbia swimwear brand Maaji has a reversible halter bikini top that's a bright, solid blue on one side, and a floral print on the reverse.
High Necklines: Rather than a plunging neckline which shows off the bust, try a high neckline instead.  This is surprisingly flattering for women with a narrow build, and offers a secure fit and straps that won't slide down your shoulders.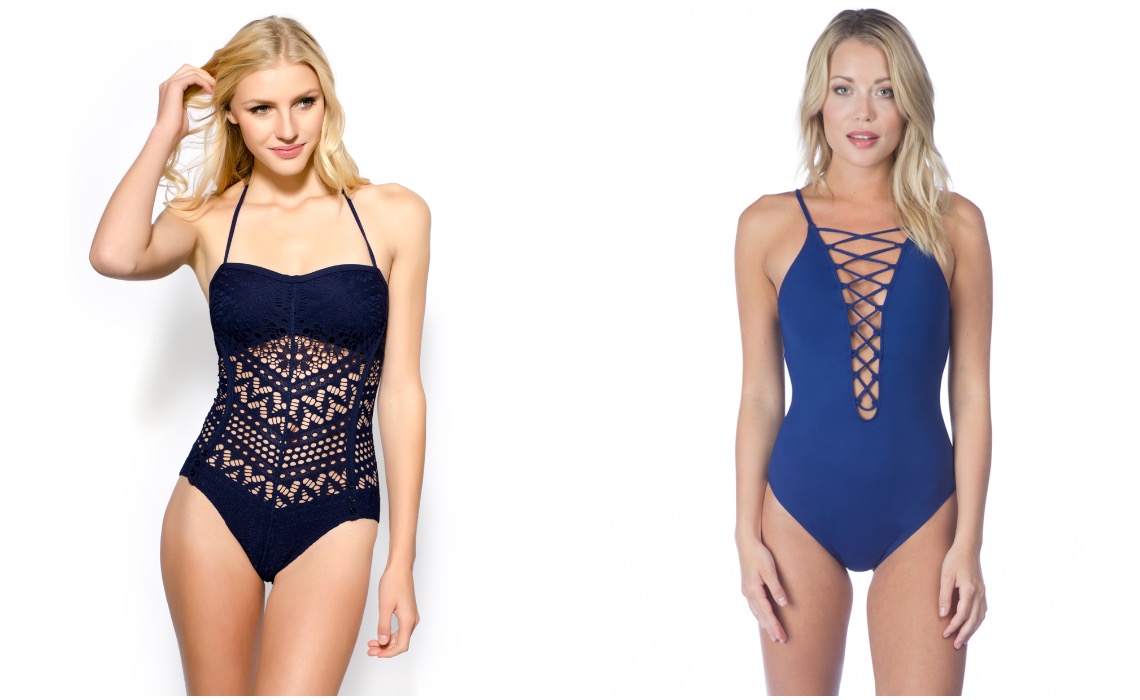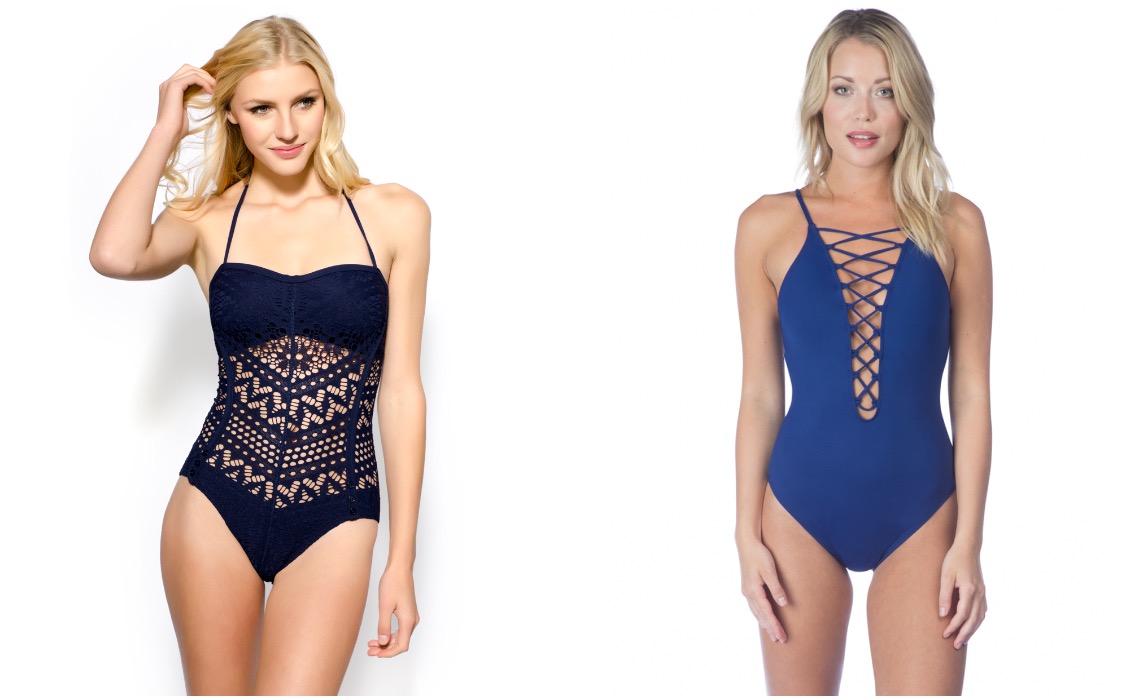 In my fitting with Swimco, I started by trying on one-piece swimsuits to start getting comfortable in the change room.  The last time I wore a one piece bathing suit was when I was a kid! I think there's a misconception that one-piece swimsuits are less sexy than two-piece bikini's.  Not true! Of all the swimwear outfits I tried on, the one-pieces were way more eye-catching and provocative (with their plunging necklines, strategic cut-outs, and frontal lace-ups) than any of the two-piece outfits I tried. I also mistakenly thought that a one-piece swimsuit would hide any body imperfections, but I hated how the material clung to my torso and how my belly button showed through the fabric.  The swimsuit itself was certainly still eyecatching – but it just wasn't something I felt comfortable in.
Next, I tried on a couple of swimsuits in the high neckline style.  The high-neck halter style of the swimsuit puts your shoulders on display, while giving the chest some lift and support.  If you have narrow shoulders like me, and hate how straps constantly fall off your shoulders, the halter-style of a high-neck swimsuit will help keep them in place.
Finally, my winning swimsuit outfit was a navy blue, two-piece crochet bustier bikini from luxury swimwear designer Robin Piccone, the top which fit me like an underwire bra.  I was glad I could pick out something with on-trend crochet detailing, but in a classic colour like navy blue which is more timeless than a print.
"The art to cutting a perfect silhouette: It's not always about what the suit covers but how it frames what remains bare." — Robin Piccone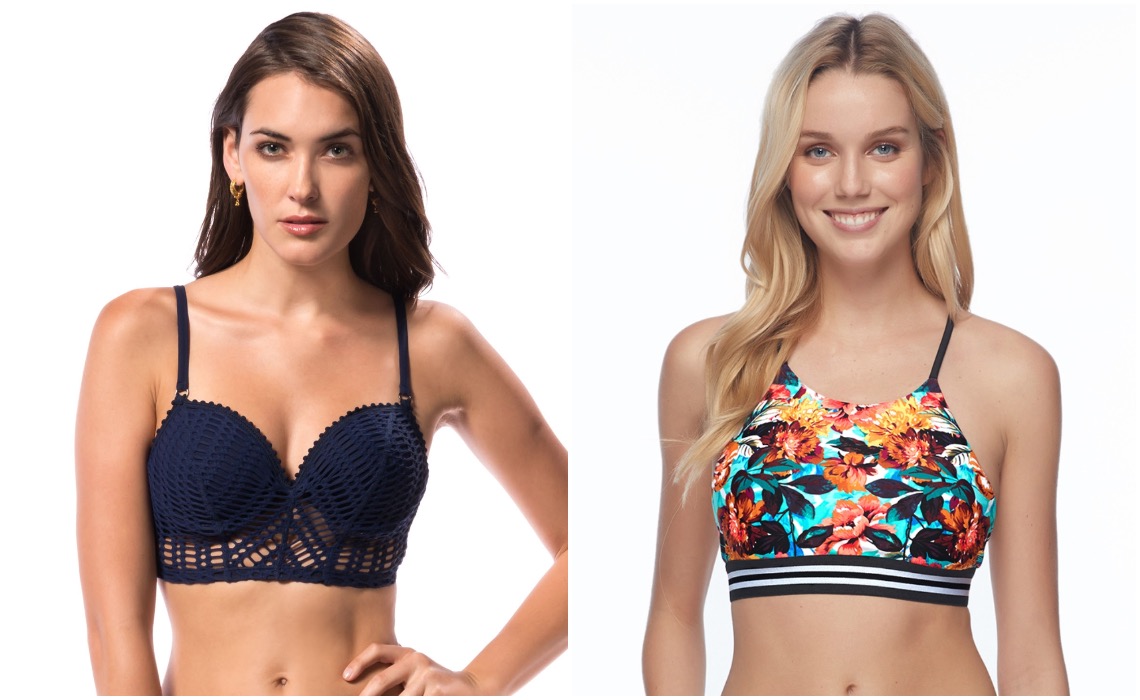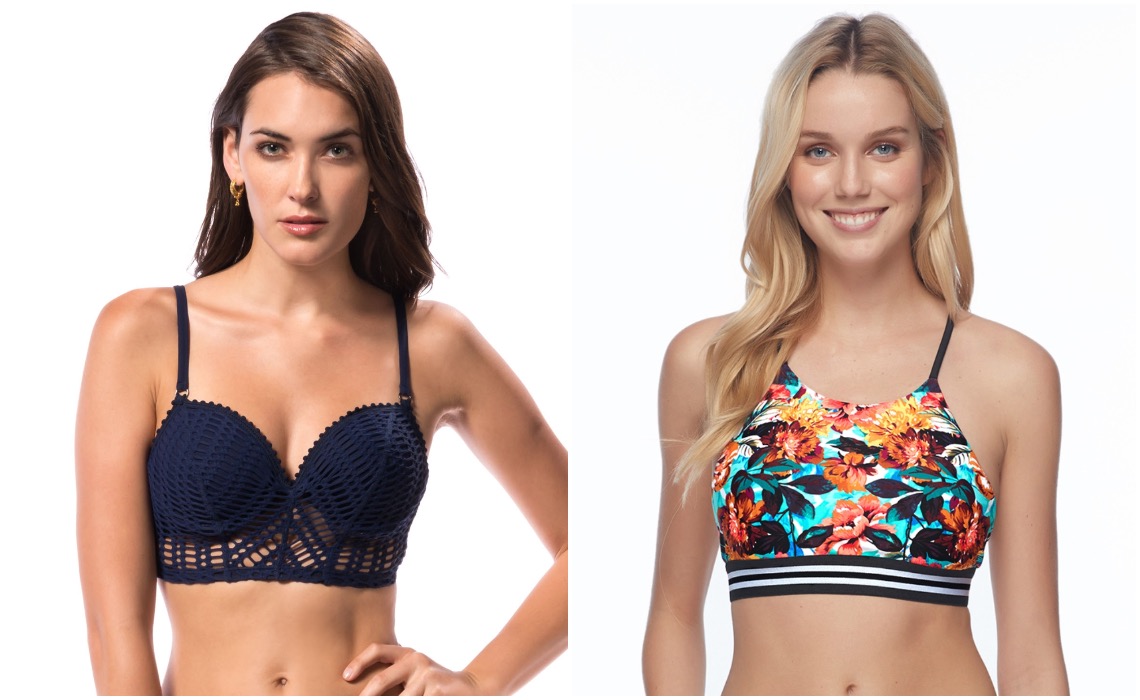 Similar to bra shopping, finding the right swimsuit is all about fit.  Yes, there are swimwear trends like the ones listed above, but the most important part of swimsuit shopping is finding the right fit for your body.  When you find a flattering fit, you'll look your best and "feel good half naked" (which is Swimco's mission).
When I asked my Swimco Fit Expert Stephanie if she had any advice to Modern Mix Vancouver readers who are preparing to shop for a swimsuit, she gave the wise and encouraging advice to "be open-minded, and don't be too hard on yourself".
Thanks to Swimco, I now have a new swimsuit to wear on my vacation!  Stay tuned on Modern Mix Vancouver's Travel Section to read more on my travel adventures.
With over 150 swimwear brands and everything from beach accessories like towels and totes to beachwear like cover-ups and rashguards with UV protection, Swimco can cover all your pre-vacation needs.  For more information, visit swimco.com or a Swimco location near you.