TWG Tea, which stands for The Wellness Group, was founded in 2008 as a luxury tea retail brand committed to offering teas directly from source gardens.  TWG Tea's collection is the largest in the world, with fine harvests from every tea producing country and exclusive hand crafted tea blends.
An iconic global brand, TWG Tea opened its first headquarters in Singapore eight years ago to initiate trading with plantations across Asia.  Singapore's geographic placement is ideally situated for TWG Teas to receive goods faster than European or American-based teahouses, which means consumers benefit from a richer, fresher and more flavourful cup.  With the brand's  continued focus on quality and sourcing the finest teas from every tea-producing country in the world, TWG Tea has expanded to  57 locations in 17 cities, including London, Shanghai, Tokyo and Dubai….and now, officially in Vancouver, BC.
Located at 1070 W. Georgia Street, this location has become a full-fledged 50-seat TWG Tea Salon & Boutique location, comprised of an intimate tea salon, retail boutique, and takeaway patisserie counter featuring tea-infused sweets.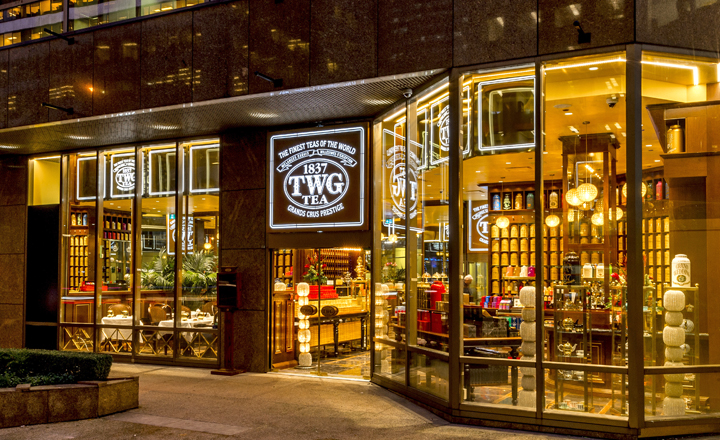 Visitor to the new TWG Tea Salon & Boutique in downtown Vancouver are greeted by 'old world luxury', including a formidable floor-to-ceiling tea wall crowned by a collection of hand-painted tea tins.  The rest of the boutique showcases a curated selection of objects d'art, including a rare antique brass patisserie counter, glittering floor lamps, and ornate mirrors. The space is finished in rich woods, gleaming polished brass and fine Italian marble.
"In response to demand for high-quality tea, 

TWG

 Tea continues to expand its global presence. Our latest venture brings 

TWG

 Tea to Canada, a burgeoning market where tea consumption is on the rise and where we are seeing a shift in preference among North American consumers towards fine teas. Vancouver is a global city that seamlessly blends elegance and luxury with approachability – a perfect fit for the 

TWG

 Tea brand." – Taha Bouqdib, President, CEO & Co-Founder of 

TWG

 Tea.
On December 8, TWG Tea celebrated its arrival into North America with a glamorous red carpet affair. Located within Vancouver's upscale luxury retail hotspot, the star-studded launch attracted hundreds of guests, members of the media and notable celebrities including international top model Coco Rocha.
Echoing the world of high fashion, music and tea, the event harmonized perfectly with TWG Tea's phenomenal reputation for creativity and excellence. Guests were invited to sample a variety of delightful tea-infused canapés and petit-fours, all expertly paired with a variety of hot or iced teas and tea-infused cocktails. The exotic array was inspired by TWG Tea's globally influenced offerings of single estate harvest teas and exclusive tea blends, and showcased the decadent options available on the salon's curated menu.
TWG Tea Salon & Boutique is now open.  Visit in-person at: 1070 West Georgia Street in Downtown Vancouver.