TOQUE is Western Front's annual fundraiser and craft fair. Held every December in the Luxe Hall at Western Front, the event features a curated selection of talented B.C.-based artists, designers and artisans and attracts over 2000 visitors. Shop for locally made products ranging from bags, bowls and books, to socks, scarves, wallets, ornaments, skin care products, candles, teas and so much more.  Proceeds from TOQUE support the year-round art and music programs at Western Front.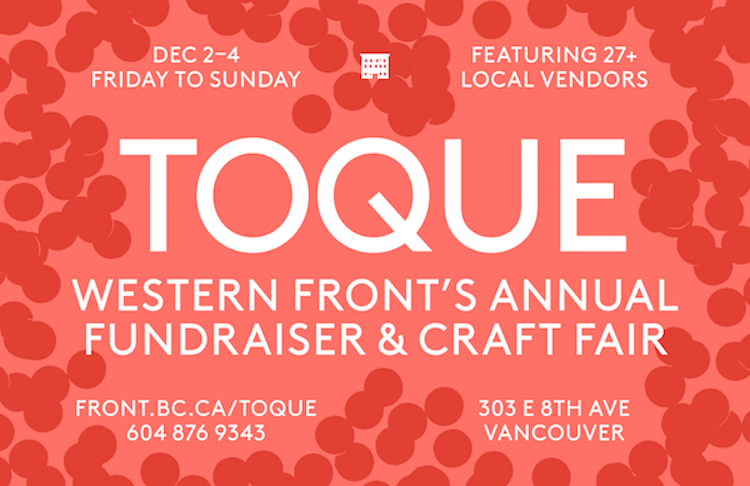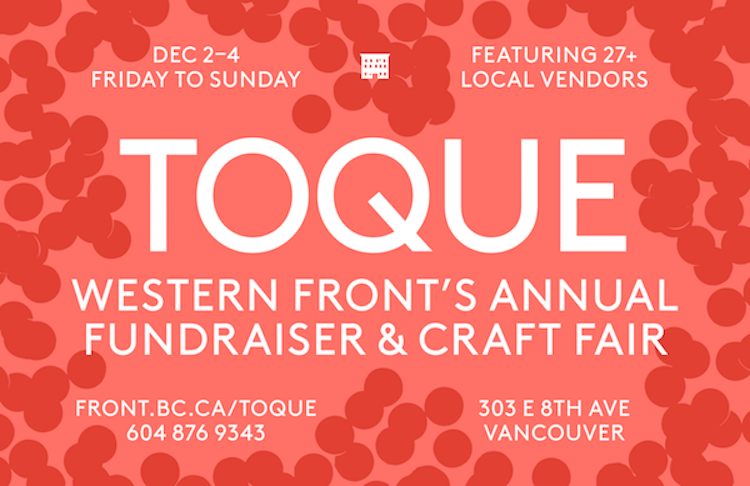 This year, over 27 vendors will be featured at TOQUE's craft fair.  Here are a selection of vendors you can expect to find:
AW by Andrea Wong – waxed canvas and leather tote bags, backpacks, wallets and other small leather goods.
Explorer's Press – pins, patches, keychains and pennants
Fable Naturals – natural skincare products
Henderson Dry Goods – laser cut ornaments, jewelry, mobiles, magnets and bookmarks
Hendrik Lou – handcrafted knitwear utilizing natural and sustainable fibers including fair-trade alpaca, organic cotton, hand spun merino wool, linen, flax and silk
Paperbacknote – unique up-cycled stationery and paper goods from recycled books. For example, original paperback book covers re-bound into new notebooks for journaling, sketching or note-taking
Rogue Florist – making planters and wreaths for the holiday season
Strathcona Stockings – Fine printed socks and supplies. Every print is original, whether painted, collaged, photographed or drawn at the Strathcona studio
TOUQUE takes place on December 2nd (6pm to 10pm), 3rd (11am to 5pm) and 4th (11am to 5pm) at 303 E. 8th Avenue.  Admission is by donation.