On a rainy Friday evening, my three friends and I visited Famoso Pizzeria on Commercial Drive for dinner.  A warm, family-style environment for comfort food is exactly what we needed at the end of a long week….especially when you want to go out for dinner, take it easy, and indulge in cheesy comfort food.
Known for their Naples-style pizzas, this Alberta-based restaurant chain has rapidly expanded over the past few years.  Their pizzas are hand-tossed by "Pizzaiolos" – pizza-makers trained by Famoso's founders, then fired in an authentic bell-shaped oven imported from Italy for 90 seconds at 900ºF.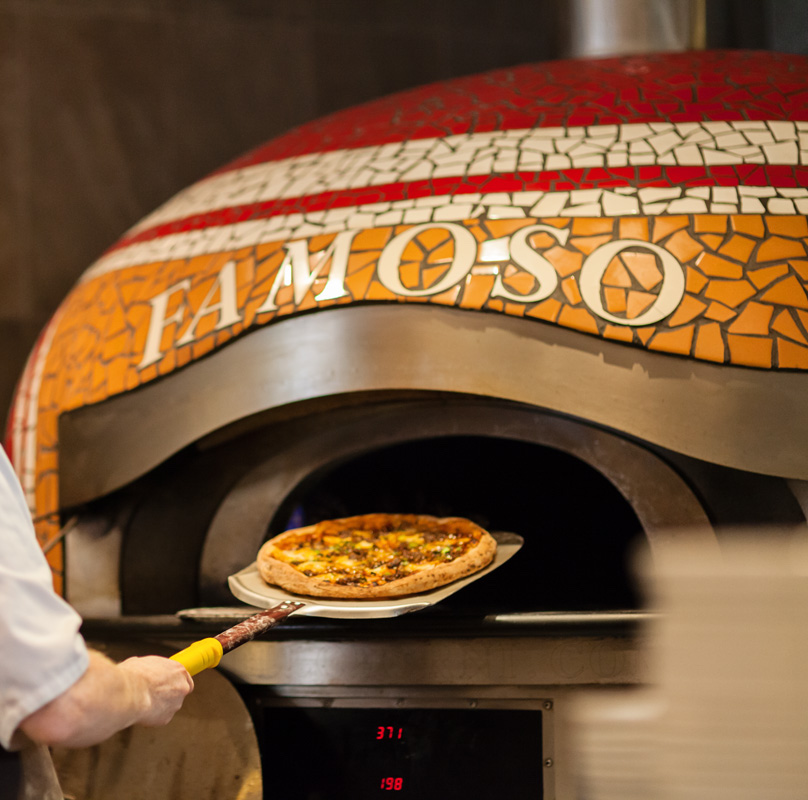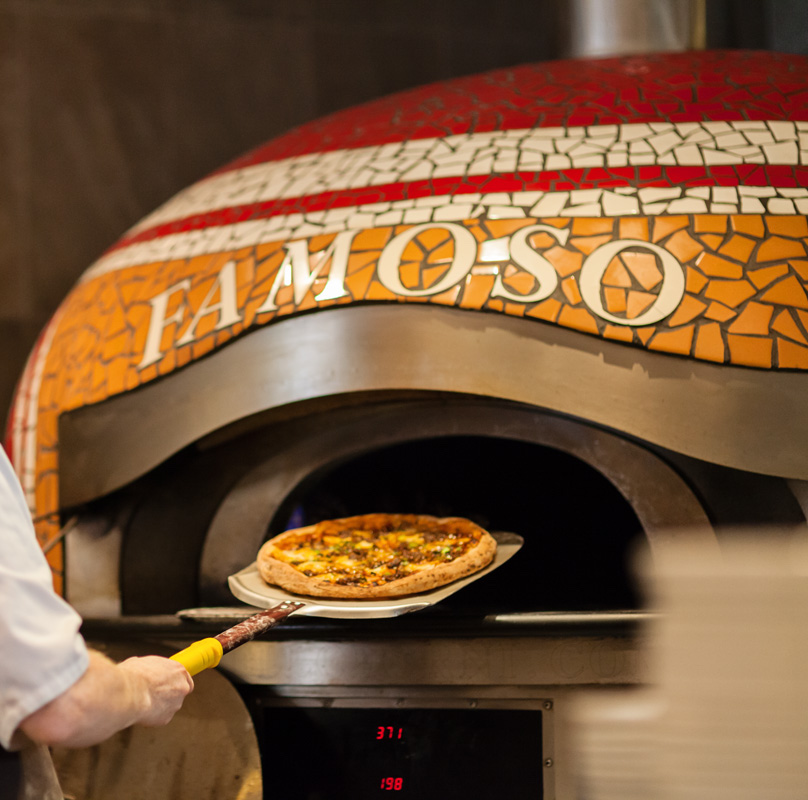 Pizza is such a sharable food; with the extensive menu at Famoso – from pizza to salad, to pasta, it means there's no shortage of options to try.  Their newest fall menu items are:
Patate Pancetta Pizza ($16.50): Crème fraîche, rosemary, russet potatoes, fior-di-latte, pancetta, caramelized onions, Grana Padano, sea salt, truffle oil, toppedwith a fried egg and garnished with a lemon wedge.
Korean BBQ Beef Pizza ($16.50): House-made Korean BBQ sauce, fior-di-latte, house-roasted pulled short ribs, cheddar cheese, green onions, finished with a drizzle of hoisin sauce.
Mac + Cheese Pasta ($12.50): Artisan Cavatappi pasta, covered in house-made beer cheese sauce, baked with prosciutto crisps and sliced green onion, then topped with a crunchy cheddar-gremolata.
Of the three new items, the pizza which appealed most to us was the Korean BBQ beef pizza.  It tasted like juicy pulled pork, but instead of a Southern style BBQ taste, there was a distinctly Asian twist with the hoisin sauce topping.   The crust is thick, bread-y and chewy.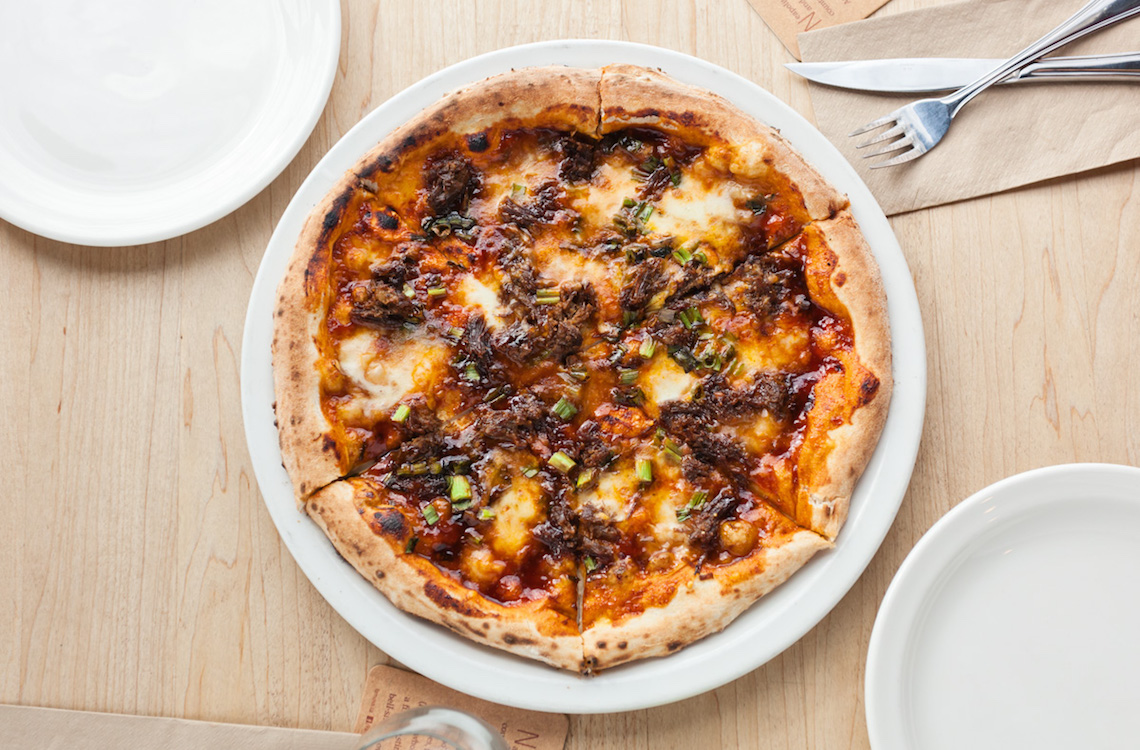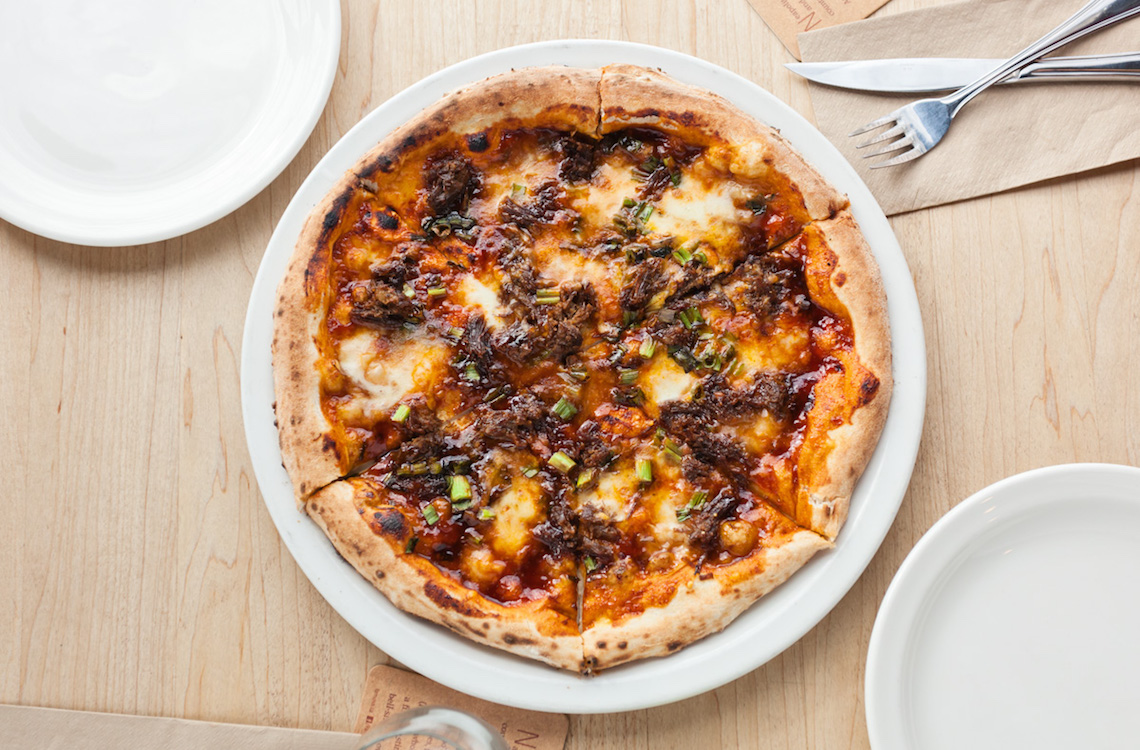 The Mac + Cheese pasta seems bit too intense (we wanted comfort food, but didn't want to go into a food coma!).  Meanwhile, the Patate Pancetta Pizza comes with an egg on top, and would be best suited for when you're craving pizza for lunch.
"We're thrilled to introduce our new fall menu, including two seasonal pizzas and a twist on the classic comfort food – and everyone's childhood favourite – Mac + Cheese Pasta. Classic Italian food pairs perfectly with the cooler weather and change in seasons. We want our guests to feel right at home when they visit us at Famoso and our fall menu definitely adds that nostalgic, comforting touch." – Justin Lussier, CEO & co-founder, Famoso Neapolitan Pizzeria.
Here are some of the other ingredients commonly found on Famoso pizzas:
Tomatos – imported from Campania, hand-milled, then caramelized in the oven.
Fior-di-latte – 100% Canadian cow's milk mozzarella. Invented in Naples, this cheese is rich and creamy.
Basil – hand-torn and is the Italian herb topping on many of Famoso's dishes.
Flour – highly refined and low-gluten, making for easy digestion and endless enjoyment. '00' Flour produces a soft yet crispy pizza crust.
Currently, Famoso Neapolitan Pizzeria operates in 28 locations throughout British Columbia, Alberta, Saskatchewan and Ontario.  The closest locations for Vancouverites are: Commercial Drive, Morgan Crossing, Guildford Town Centre, and Abbotsford High Street.