Beauty bloggers in Vancouver were recently invited to a "K-Beauty T-Party" with skincare brand Racinne, where we had an in-depth and interactive introduction to Korean beauty, and the products that Racinne offers.
Asian skincare products, compared to North American products, tend to focus on preventative products, rather than corrective.  That means there is a high emphasis on going back to the basics and focusing on the skin and getting into a good skincare routine.
Racinne believes in an 8-Step Skincare Routine, which I'll be sharing about in my post below.  None of the steps below should be 'new' to any of us, but I found it very informative to see it written in one place, and, especially with the changing of the seasons, it's a great time to get a refresher on skincare tips.
From now until November 22, each skincare product purchase at Racinne.ca gives you a virtual golden ticket: an entry into a grand-prize draw for a year's supply of Racinne products valued at $1,200!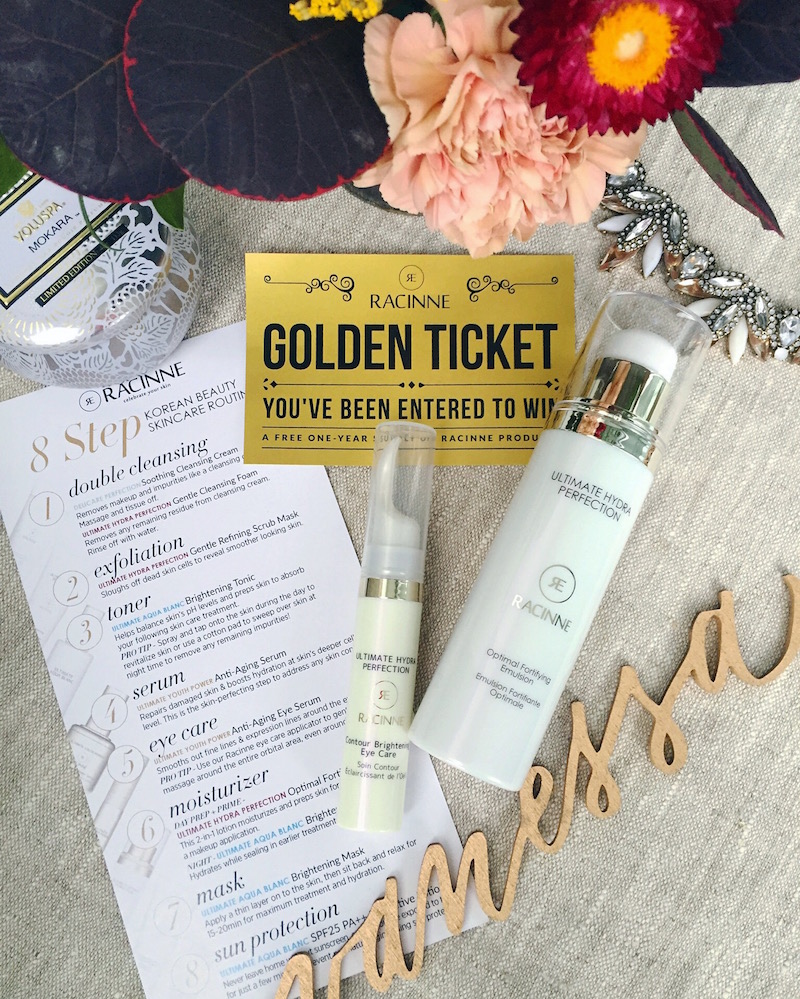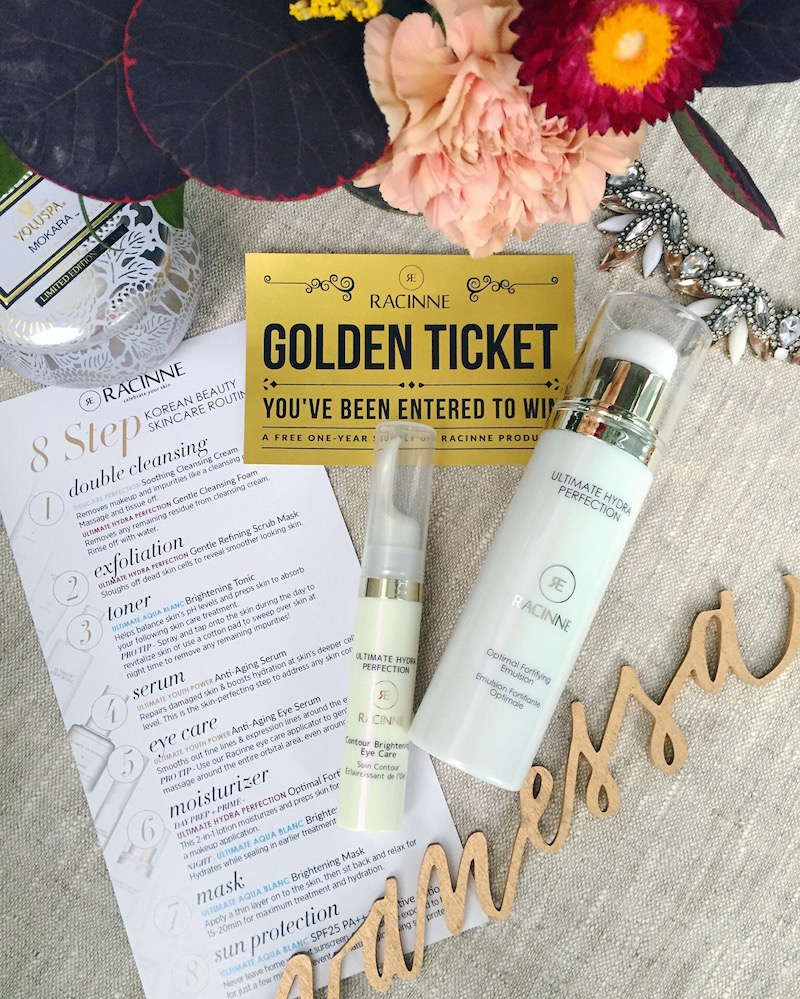 Step 1: Double Cleansing*
First, use an oil-based cleanser to remove make-up and other surface dirt and particles.  Then, follow with a cleansing foam, which'll take off any remaining residue.  For example, the Racinne Delicate Perfection Soothing Cleansing Cream is great for taking off makeup on sensitive skin, while the Ultimate Hydra Perfection Gentle Cleansing Foam will remove remaining residue from the cleansing cream.  Although a less-common approach to cleansing, it's not the first time we've first of Double Cleansing.  North American brands like Dermalogica are also advocates of the 'double cleansing' routine.
Step 2: Exfoliation
A gentle exfoliator, like Racinne's Ultimate Hydra Perfection Gentle Refining Scrub Mask, will help clear away dead skin cells, which will reveal smoother looking skin.  Be sure to scrub gently as you don't want to over-exfoliate and damage your skin.
Step 3: Toner
Toner helps balance a skin's PH levels and prepares the skin to absorb the ingredients of moisturizing products in the next few steps of your skincare routine.  You can put Racinne's Aqua Blanc Brightening Tonic into a travel-sized spray bottle and spritz throughout the day for a refreshing hydration boost.
Step 4: Serum*
Repairs damaged skin and boosts hydration at the skins deeper cellular level.  This is the first level of moisturizer you put onto your skin and will be fully absorbed onto bare skin, so be sure to choose a good one!  Racinne's Ultimate Youth Power Anti-Aging Serum is one of the brand's most popular products.
Step 5: Eye Care*
Smooth out fine lines around the eyes.  The eye area tends to be more delicate than the rest of your face, so using a formula created specifically for eye-care is ideal.  Gentle application is also advised; use your ring finger so you don't push down too hard on the delicate eye area.  Racinne's Ultimate Hydra Perfection Contour Brightening Eye Care has an applicator tip which mimics the curved shape of your ring finger.
Step 6: Moisturizer*
There are different products depending on whether you are moisturizing at the start of your day, or before you sleep at night.  For the day, Racinne has a 2-in-1 Ultimate Hydra Perfection Optimal Fortifying Emulsion which moisturizes and preps the skin for a flawless makeup application.  Meanwhile, the Ultimate Aqua Blanc Brightening Cream hydrates overnight while sealing in earlier treatments.
Step 7: Face Mask
Wear a thin layer of the Ultimate Aqua Blanc Brightening Mask on the skin for 15 to 20 minutes, and help lock in moisture. Rumour has it, Racinne will be launching single-use paper masks in the near future – stay tuned!
Step 8: Sun Protection
Even on cloudy days, be sure to wear a minimum of SPF 15 to protect your skin from damaging UV rays.  Racinne's Ultimate Aqua Blanc SPF20 PA++ Protective Lotion will help you prevent premature aging from the sun's rays.
===
For more information or to shop online, visit: racinne.ca.