Trinitae, an international skincare, bath, and home fragrance brand based out of Jordan in the Middle East has recently opened its first North American store in Vancouver.  With its new location on W. 14th Avenue, just off the South Granville shopping strip, this second-generation family business has produced natural soaps, cosmetics, and skin care products since the 1930s.
Rather than producing en masse, each item at Trinitae continues to be handcrafted with love and care using precious ingredients found in Jordan.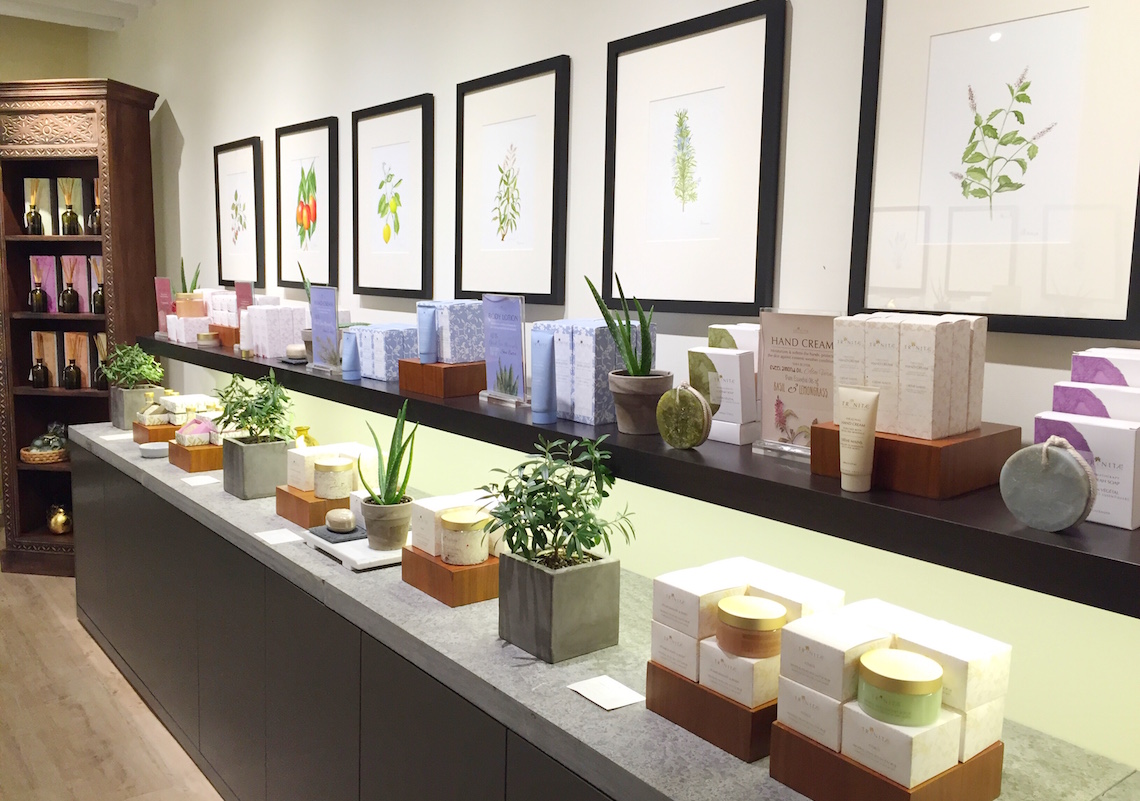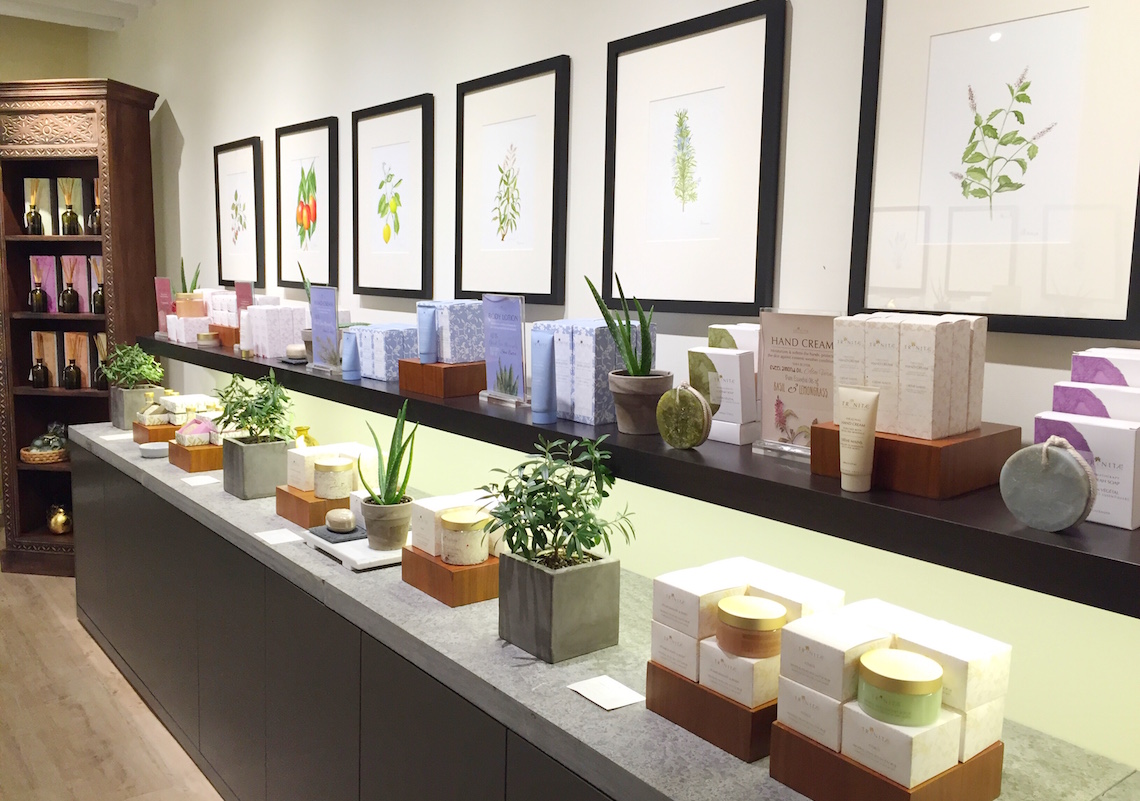 Trinitae products remind me of L'Occitane en Provence, another Mediterranean-inspired skincare brand, although the ingredients used by Trinatae are from the other side of the Mediterranean, with an emphasis on Dead Sea muds and minerals.
Salts and mud from the Dead Sea are incorporated into Trinitae bath salts, face masks, and even some of their moisturizing products.  Studies have shown that the Dead Sea's rich, black mud as well as mineral-enriched salts provide many health benefits, including relieving osteoarthritis and psoriasis.  Other local treasures commonly grown in the Jordan region include pomegranates, olives, avocado, and citrus fruits.  Their nutritious antioxidants and vitamins promote invigoration, relaxation and healing and are used in Trinitae's creams and lotions.  Nuts and seeds like almond and jojoba are used to make nourishing cold-pressed oils.
The Trinitae South Granville store is feminine and lovely, with products cleanly displayed on two rows of shelving on either side of the small boutique.  The framed floral and botanical paintings hung on the walls behind the products are painted by a Trinitae family member and gives the boutique a welcoming and homey feel.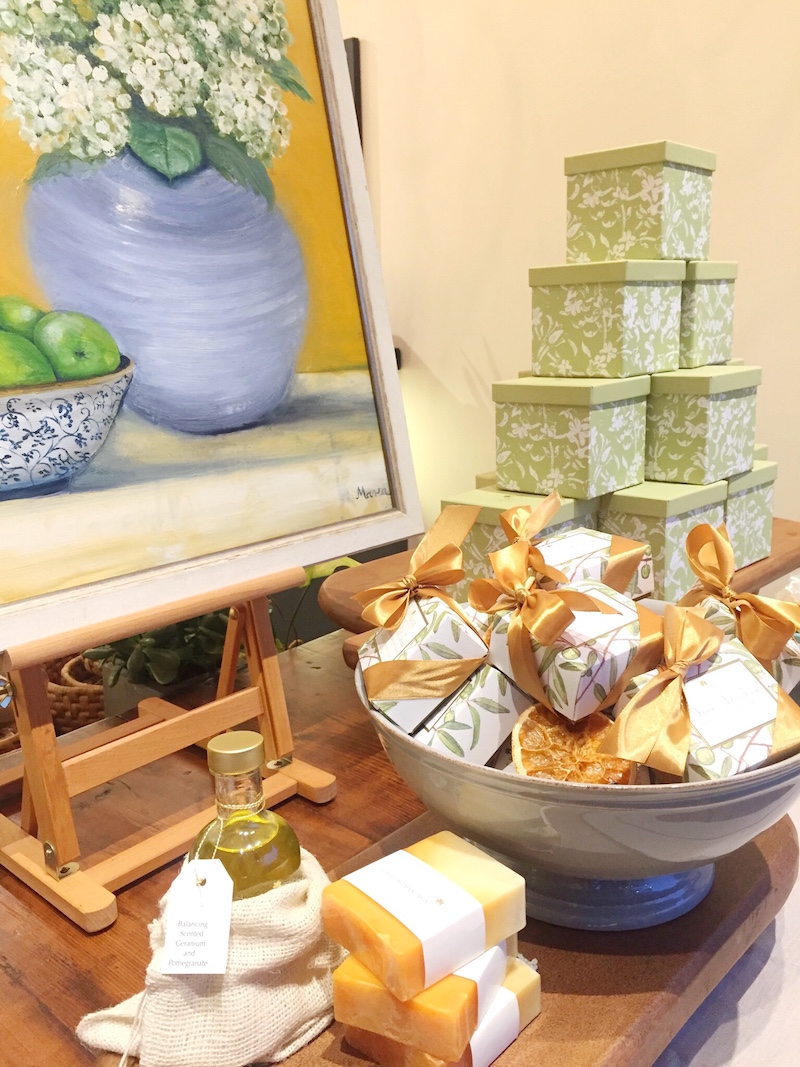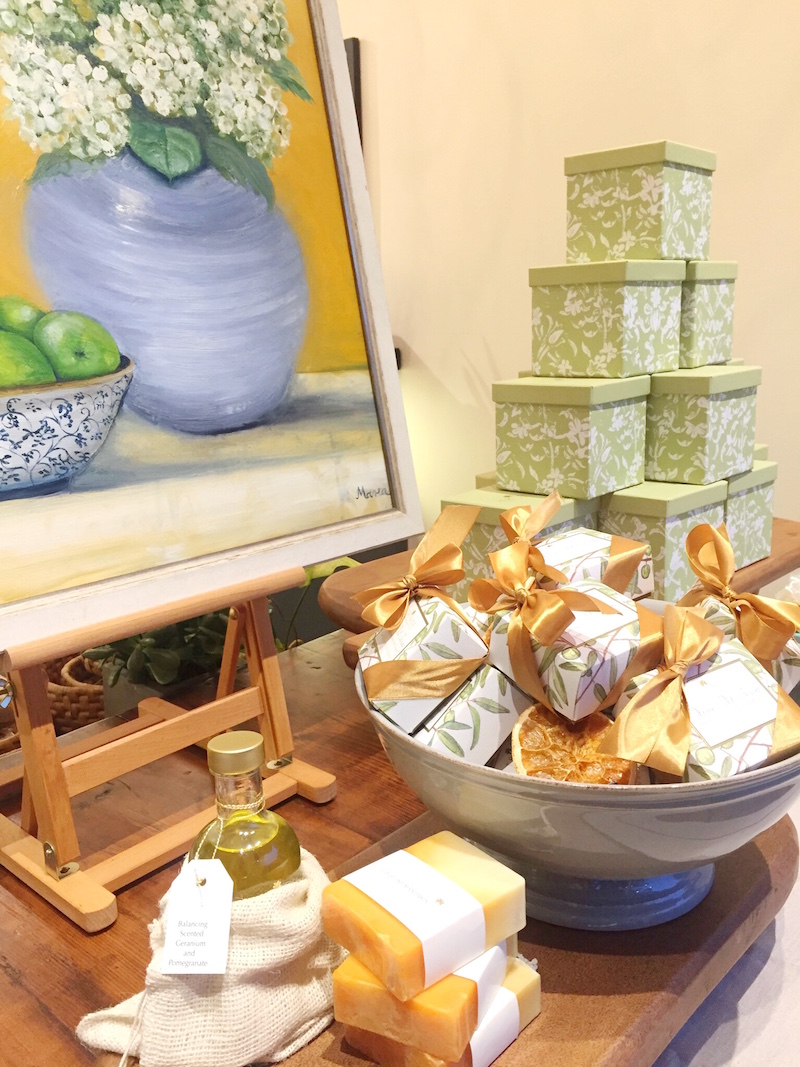 Not sure where to start? Here are some of Modern Mix Vancouver's suggested products to try from Trinitae:
Pomegranate Shea Butter
Pure shea butter is combined with olive oil, jojoba oil, sweet almond oil, and pomegranate seed oil to deeply moisturize skin. Trinitae's Pomegranate Shea Butter ($45) is infused with lavender, geranium, and patchouli pure essential oils to produce a relaxing effect.
Aromatherapy Dead Sea Salt Crystals
Trinitae's Dead Sea Salt Crystals ($15) contain real salt crystals found on the floor of Jordan's Dead Sea.  Soaking in bath salts are said to replenish essential minerals and nutrients to the body, and can aid in circulation while healing the skin. The Dead Sea Bath Salts are infused with aromatherapy essential oils.  My favourite scents are the Eucalyptus & Lavendar, a combination of being refreshing and relaxing, and the Rose, which contains dried rosebuds in the blend.  This soak is great to use after a workout (especially after a Vancouver barre fitness class!), and can help with soothing sore muscles.
Trinitae Aromatherapy Loofah Soap
Trinitae's line of Exfoliating Body Loofah Soap ($18) works to simultaneously cleanse, exfoliate and moisturize the skin.   The sponge gourd 'luffa aegyptiaca' (also known as Egyptian Cucumber) naturally exfoliates by removing dead skin and stimulating blood circulation, while the coconut oil soap scented with pure essential oils including lavender, citrus, basil and rosemary moisturizes and provides an aromatherapy experience.  For a smaller size with less soap, try the Foot Loofah ($7), which works especially well on calloused and cracked heels.
Aromatherapy Room Diffuser Kit
Given Trinitae's focus on natural fragrances and essential oils, their Aromatherapy Room Diffuser Kit ($45 to $66) fits seamlessly into the rest of the brand's product collection.  There are 9 essential oil scents to choose from, ranging from Orange Blossom, to Lavender & Geranium, to Bergamot, and each kit comes with the essential oil, a glass bottle, and a handful of reed diffuser sticks.  The kit is packaged in a feminine, handmade-in-Jordan cardboard box, and makes a perfect housewarming gift.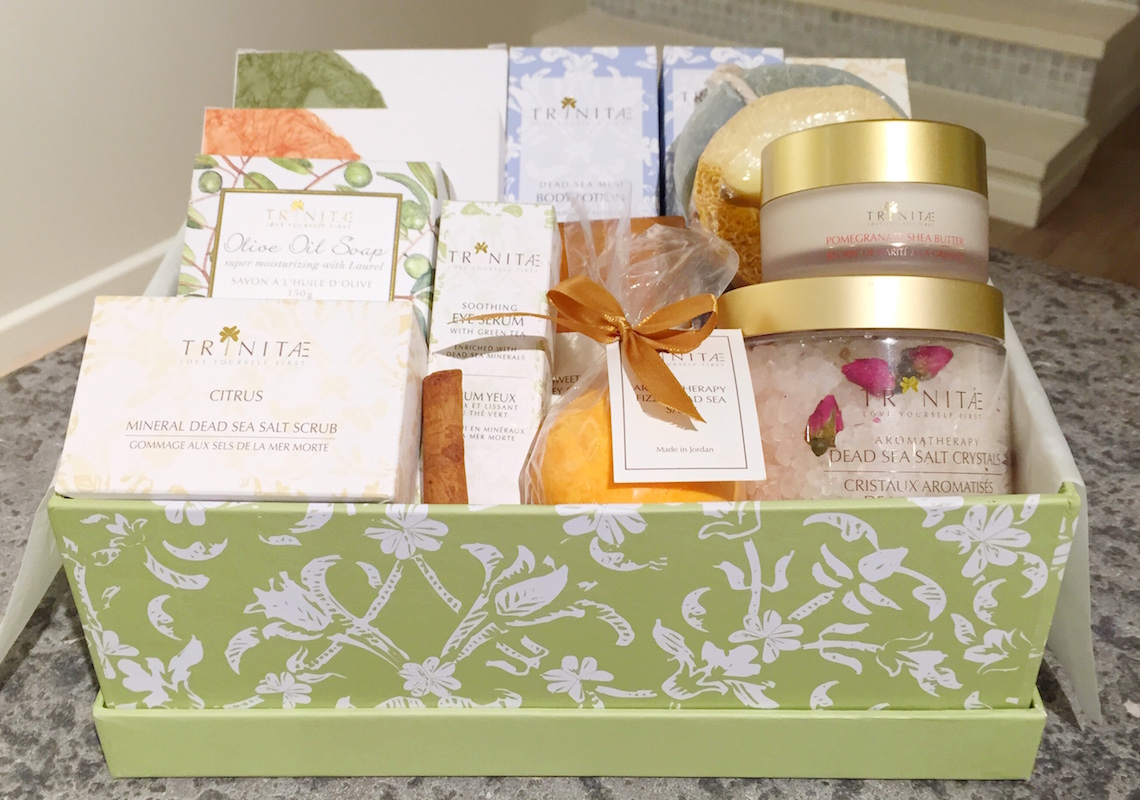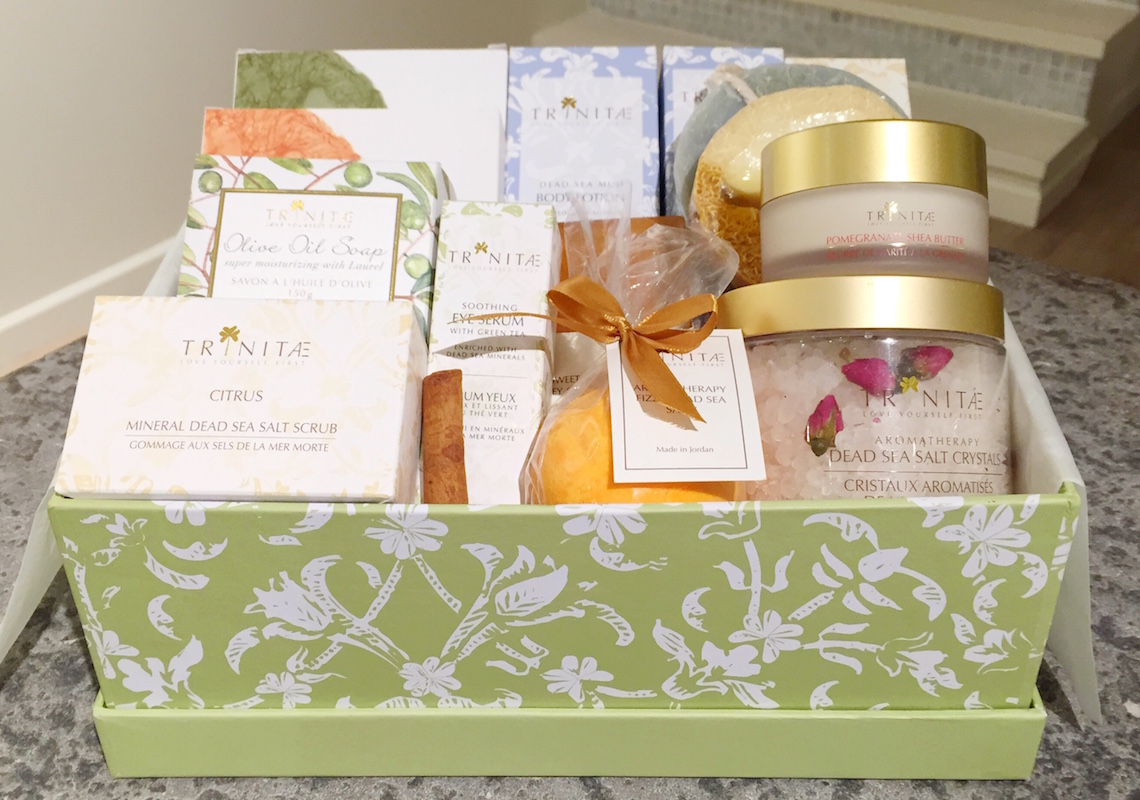 Shoppers at Trinitae on South Granville can also assemble gift sets of any combination of products, and have it packaged in a handmade gift box from Jordan.
To find out more, visit Trinitae on South Granville at 1512 West 14th Ave, or shop online at: trinitae.com.