Sally Hansen's latest nailpolish line "Color Therapy" was inspired by women's desire to wear beautiful color while simultaneously caring for our nails.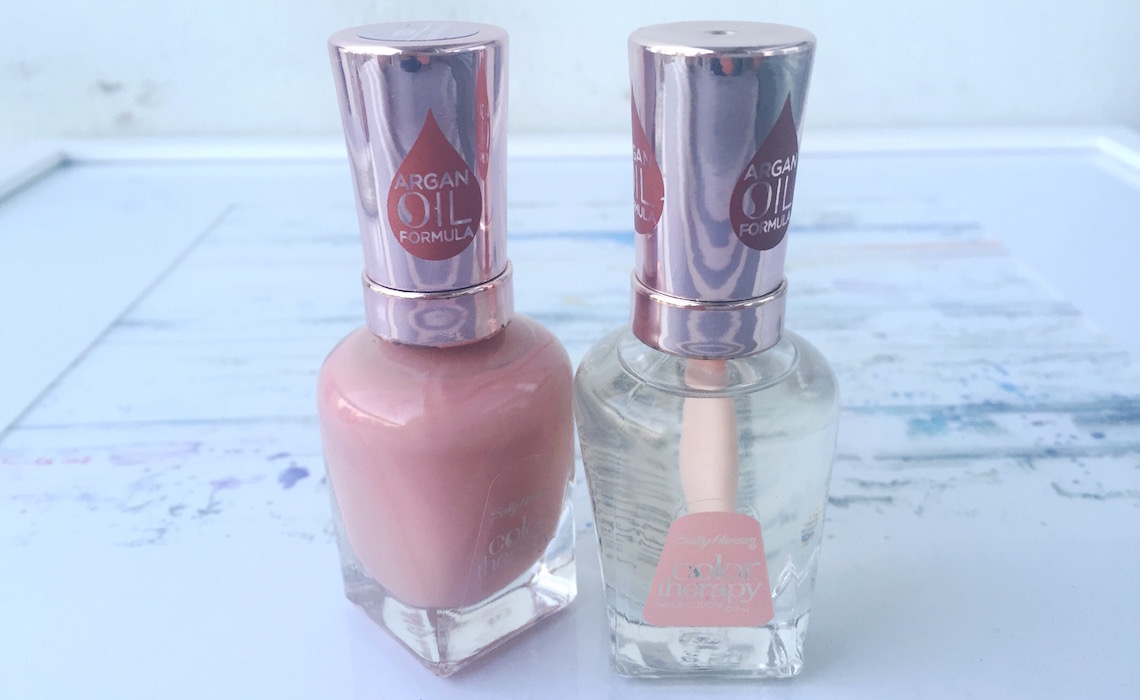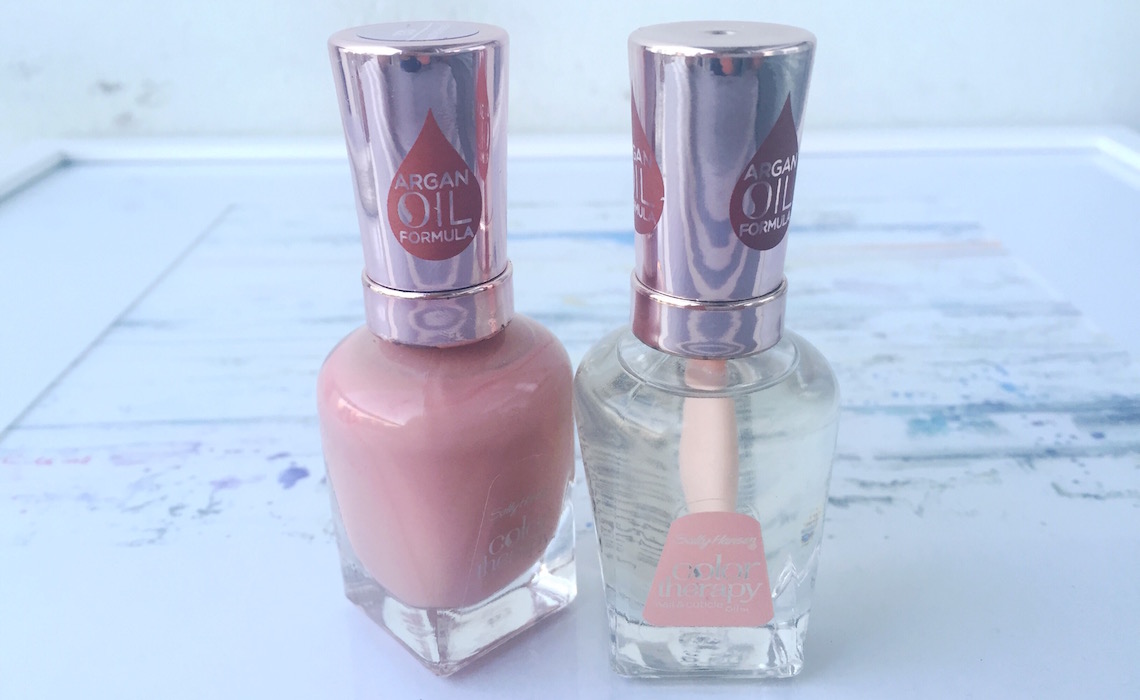 Color Therapy blends a complex of natural argan, acai, and evening primrose oil to condition weak, dry nails, with vibrant pigment in 33 shades.  No base coat is needed with the Color Therapy nail polish, so the oil complex can directly contact the bare nail.
Below is the full list of the 33 inaugural shades in the Sally Hansen Color Therapy Line.  I have put an asterisk beside my favourite shades:
Rich Tones: Bold deep tones with a brilliant impact
Ohm My Magenta – Say "namaste" to this magnificent reddish-purple
Unwine'd – Escape with a beautiful robust bordeaux
Slicks And Stones – A lustrous crystalized purple
Red-iance – Energize with this cherry red
Haute Springs – Clear your head with a restorative red
Red-y To Glow – Harness a zen attitude with a medium cerise tint
Exotic Acai – Cleanse your color palette with this plum tone
Indiglow – Shimmer with an electric metallic violet
Good As Blue – Refresh with this daring navy
Soothing Sapphire – Reflect and restore in a saturated blue jewel tone
Ja-Cozy – Melt away in the aquatic tones of cobalt blue
Reflection Pool – Go with the flow in a metallic aquamarine
Cool Cucumber – A deep refreshing garden green
Pinks/Corals: Deep and understated pink tones for the perfect pop of color
Aura'nt You Relaxed? – Invigorate your senses with vibrant coral
Pampered in Pink – Revitalize with this punchy pink
Soak At Sunset – A rose gold tinged with tangerine
Rosy Quartz – A crystallized classic pale pink
Sheer Nirvana – A marvelous marshmallow with hint of muted lilac
Primrose And Proper – A delicate medium pink hue
Rosy Glow – This beautiful begonia pink replenishes and restores
Berry Smooth – A bright electric pink berry
Mauve Mantra – Conjure calm with this carnation tint
Robes and Rosé – A metallic and bubbly fuchsia
Couple's Massage – Unwind with this shimmery pastel peach
Nudes: Elegant and daring neutrals for the perfect polished finish
Steely Serene – Get centered in a gorgeous greige
Powder Room – A ladylike pearlescent blushed nude
Chai On Life – A warm calming taupe
Well, Well, Well – Keep it clean in this milky hue
Make My Clay – Submit to serenity in this earthy putty shade
Therapewter – Meditate in a deep charcoal metallic
Glow With The Flow – A luminous and naturally radiant pale bronze shimmer
Blushed Petal – Breathe it out in a botanical blush tone
Re-Nude – Take some me time with this peach-tinged taupe
The Color Therapy nail polish provides the ultimate color that cares while you wear, with everything needed to restore nails without sacrificing luminous color. Complete your manicure with the Color Therapy top coat and nail & cuticle oil, both formulated with the same argan oil contained in the nail polish.
For more information about this nail polish line, or for information about aryclic vs shellac, visit: ca.sallyhansen.com, or shop for the Color Therapy line at your local London Drugs.