Joffre Lakes is a BC hike with not one – but THREE beautiful, turquoise blue glacier lakes on the trail.  The hike is approximately 9.5 km roundtrip with an elevation gain of 400m.
The start of the Joffre Lakes trail is 2.5 hours away from Vancouver, 1 hour past Whistler, or half hour past Pemberton.  We stayed overnight in Whistler to get an earlier start on the hike, but I think someone from Vancouver could certainly squeeze the entire experience into a single day, or camp at the lakes.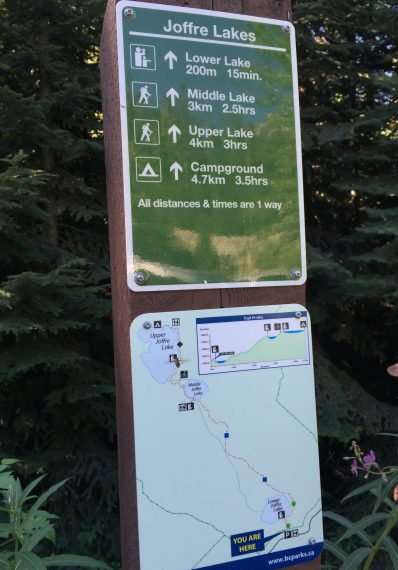 There was never a lull in the number of hikers we passed by (or passed us).  Some were even carrying camping equipment on their backs – there are campsites beyond the third lake for overnight visitors.  The hike is dog-friendly, so I brought my Pomeranian Teddy Bear along for the adventure.
The three lakes of Joffre are labeled as the Lower Lake (200m from start), Middle Lake (3km from start) and Upper Lake (4km from start).  From the main parking lot to the first lake, the sign in the parking lot says 15 minutes, but it took us less than five minutes to get to the first, Lower Lake.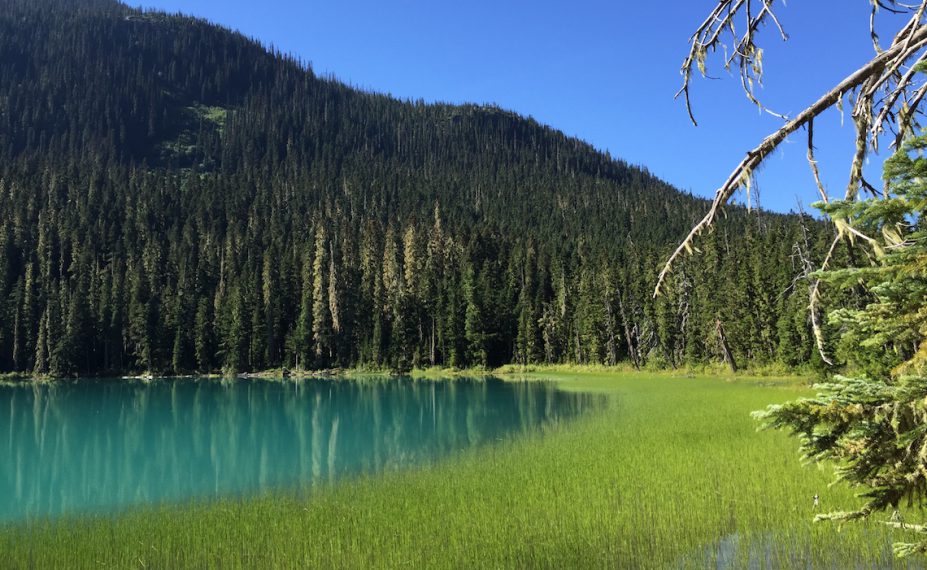 For the rest of the hike, the incline is fairly gradual – the hardest part is a stretch with stairs, where we saw several groups of hikers move to the side and take a rest (us included).  But once you get past that middle part, before you know it, you'll be at the second lake. I remember feeling surprised at how quickly we got to the Middle Lake.  In my opinion, the Middle Lake was the most scenic.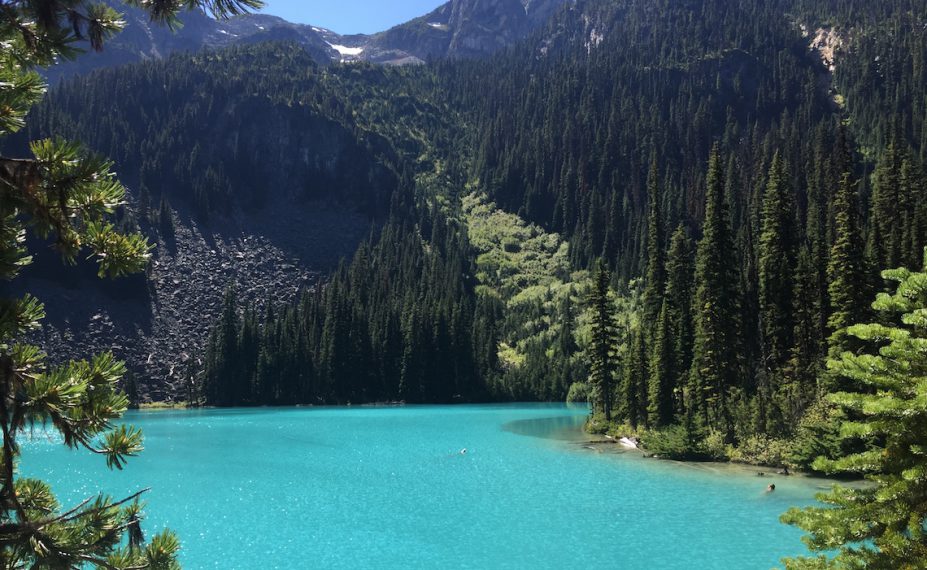 From the Middle Lake to the Upper Lake, it was another kilometer, about a 20 minute hike, with a lot of rocky boulders to the lake.  I remember this was the part where my small dog would get a little bit stuck in crevices, so I would have to be careful I left enough leash for him to go around the boulders.
It was at the Upper Lake where we (my boyfriend, dog and myself) perched ourselves on a boulder and had our lunch of bread, hummus and beef jerky.  A couple of brave hikers took a dip in the lake, but because it was so icy cold, no one we saw stayed in the lake for more than 20 seconds!
After resting at the Upper Lake for lunch, the hike back down on the same trail was a breeze.  Total hiking time for us was about 3 hours, not including the time spent taking photos or eating lunch at the top.
In comparison to other hikes we've reviewed on Modern Mix Vancouver, this hike is a step up from Quarry Rock (in Deep Cove), but much easier than Garibaldi Lake In Squamish (which was so long!).  If you've done the Sea to Summit, Dog Mountain or The Chief, you'll get through Joffre Lakes no problem.