One of Vancouver's most beloved summer fairs is back this year from August 20 to September 5. Highlights of the 2016 Fair at the PNE include a nightly feature show of magic and illusion at the Pacific Coliseum, a feature exhibit around Angry Birds, an expanded Craft Beer festival and an all-new line­‐up for the iconic Summer Night Concerts.
Keep scrolling to see some entertainment options to look forward to!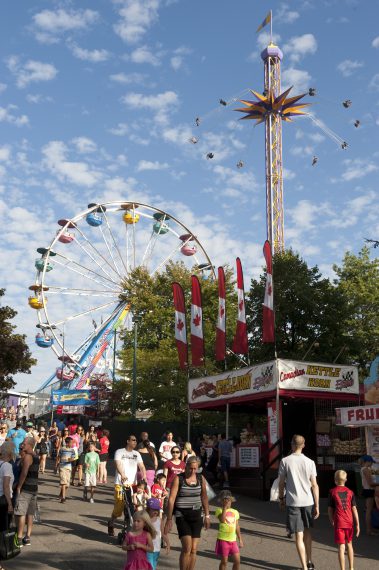 Summer Night Concerts
With all-­‐star performers descending upon the PNE from Pop, Rock 'N' Roll, R&B and Country, music lovers will have their hands full with electrifying performances each and every night of The Fair.  The Summer Night Concerts will run every evening starting on Saturday August 20th in the PNE  Amphitheatre, and are FREE with admission to the Fair.  See the full concert line-up here.
Where/When: Nightly at 8:30pm, PNE Ampitheatre
Admission: Free with PNE Admission
PNE Craft Beer Festival
PNE's Craft Beer Fest will feature up to 50 craft breweries for guests to sample the diverse craft drafts being developed in the Lower Mainland. Purchase your ticket online to save, plus access a pre-­‐purchased ticketholder line! Admission includes a 4oz collector's sampling cup.  Participating breweries include Granville Island Brewing, Dead Frog Brewery, Bomber Brewing, Fuggles & Warlock, HOYNE, Persephone Brewing Co. and more.
Where/When: Daily 2pm-­‐8pm, Italian Gardens
Admission: $9 online or $10 on-site.  $2 per beer token, available for purchase onsite.
The SuperDogs, presented by Coca-­‐Cola
The SuperDogs are back with a brand new show celebrating all the fun, energy and excitement of rock and roll as only the SuperDogs can! Watch and laugh as they put together their own canine band called Five Directions, then cheer them on as they jump, weave and even dance to electrifying hits from past and present!
Where/When: Daily 12:30pm, 2:30pm, & 5:00pm, Pacific Coliseum
Admission: Free with PNE Admission
UNBELIEVABLE: A Magical Experience
Last year, the PNE brought visitors the Broadway Musical: Peter Pan; this year, be dazzled by UNBELIEVABLE: A Magical Experience. A world-­‐class magical showcase not to be missed! Watch in amazement and witness grand illusions.
Where/When: Daily at 7:30 pm, Pacific Coliseum
Admission: Free with PNE Admission
Angry Birds™ Universe: Exhibition About The Art & Science Behind A Global Phenomenon
Based on the famous game and characters that took the world by storm, Angry Birds fans will delight in the chance to 'be the bird' at the Angry Birds Universe exhibition. New to the PNE for 2016, visitors will experience the educational concepts in the games in an energetic and an exciting environment. The most unique interactive experience at Angry Birds Universe safely propels guests on zip-­‐lines into enormous foam structures, just like the Angry Birds! This unique, full-­‐body experience also demonstrates the physics behind the Angry Birds games, providing an integrated approach to learning. Other exciting full-­‐body attractions include a Laser Maze, Climbing Wall, Planetarium, and oversized Sling Shots.
Where/When: Daily 11am-­‐11pm, Rollerland Building
Admission: $5 for ages 14+
TELUS Future Home Display
Take a walk through a home from the future with TELUS's Future Home Display.  From biometric home security, to an intelligent kitchen, to a larger-than-life 4K Ultra HD entertainment experience, the Future Home offers PNE visitors a glimpse into how technology will transform their lives when homes are connected at the speed of light.  The 585-square-foot concept home simulates a small condo and offers an immersive technology experience demonstrating how technology will soon make our lives safer, healthier and more efficient than ever before.
Where/When: West of the Agrodome
Admission: Free tours will be open to the public daily from 11 a.m. to 11 p.m.
===
The 2016 Fair will run from August 20 until September 5, and will be closed on August 22 and 29. Open 11:00am until late.
==
Enter to win a pair of tickets to the PNE.
See giveaway below on Instagram.