Inspired by over 160 years of apothecary expertise, Kiehl's in Canada will soon be launching a new level of personalized service with tailor-made facial concentrates to address unique skin concerns.  Going back to its roots as a NYC apothecary, Kiehl's is taking a page from its heritage and will soon be offering customers an "Apothecary Preparations" personalized skincare experience.
When I imagine an apothecary from the 1800's, I visualize test tubes, formulas and vials of potions to soothe your ailments, and scientists testing and perfecting their remedies.  Feeling a bit like a test subject myself, Modern Mix Vancouver was one of the early Canadian previewers of the Apothecary Preparations personalized skincare experience at the recent L'Oreal Luxe event.
How does this in-store experience work?  Referencing up-close photographs of the skin, customers rank on a scale of 1 to 5 how much they relate to photos of wrinkles, redness, pores, and other skincare concerns.  Depending on your specific skincare concerns, Kiehl's will prescribe its customers with specific vials of skincare complexes to bring home and mix up into a personalized serum.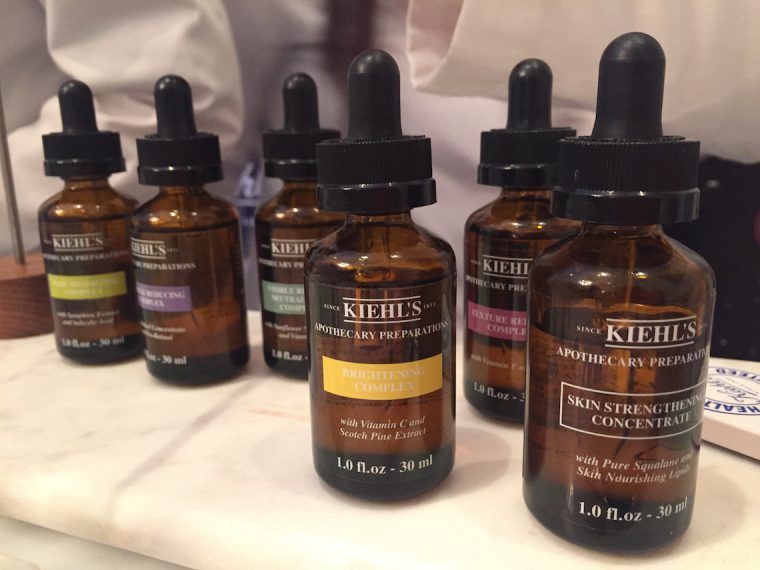 The Apothecary Preparations kit comes with a 30ml base of the Skin Strengthening Concentrate (which has a similar oil-based texture as their midnight recovery serum) with two mini tubes of 5ml Targeted Complexes.  The bottle of Skin Strengthening Concentrate is not filled to the top, leaving you room to pour in the complexes.  A custom label is then printed out for each customer with product descriptions and application directions.  Note that the complexes on their own are so potent, it is not recommended for you to touch them without first mixing into the Skin Strengthening Concentrate.
For more information about Kiehl's, visit: kiehls.ca and look out for the Apothecary Preparations experiencing coming soon to a location near you.