Designed to treat all of "life's rough patches", Nova Scotia Fishman is an "extreme skincare" brand which features Atlantic kelp infused soaps, lotions, lip and body balm.
This slippery ingredient found along the atlantic coast line was used for many purposes in Nova Scotian maritime history. It was a fertilizer, banked alongside houses to keep out winter winds, and also used as packing material for shipping lobster.  According to Nova Scotia Fisherman, Nova Scotia Kelp has amazing anti-aging properties and has been used in health and beauty products since ancient times. It contains a bounty of ingredients that helps enrich and soothe dry skin.
Other ingredients used in Nova Scotia Fisherman products are also inspired by a maritime lifestyle, including a sea salt 'n' caramel lip balm, a sea salt body scrub, and sea fennel & bayberry lotion.  Products are made without parabens and phthalates, no artificial preservatives, no animal ingredients and animal testing, and no artificial fragrance.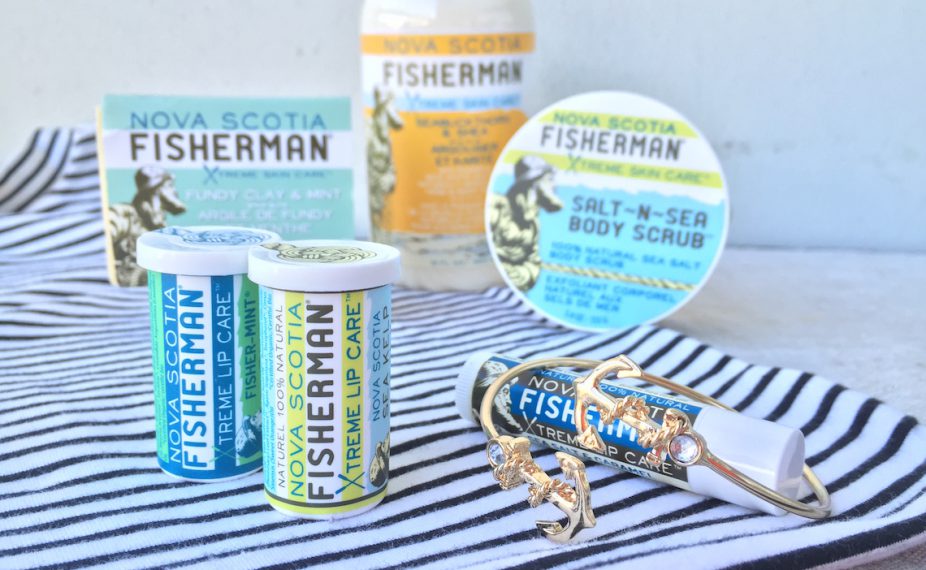 It's not the first time I've heard of seaweed and sea kelp used as a beneficial skincare ingredient.  Last summer, we shared about Sea Flora, a premium BC-based spa line of sea-based skincare products.  Nova Scotia Fisherman, however, is at a more accessible and affordable price point, and readily available at local health stores. Prices for all products are under $20, ranging from $7 for a lipbalm, $16 for a salt body scrub, to $18 for a pump body lotion.
Win a Nova Scotia Fisherman Prize Pack from Modern Mix Vancouver
Interested in trying our Nova Scotia Fisherman products?   Enter to win a 100 ml lotion, lip balm and bar of soap through Rafflecopter below.  **Please note that the prize pick-up is from downtown Vancouver.
Nova Scotia Fisherman products are available online at novascotiafisherman.com.  A portion of sales support The Nature Conservancy of Canada, our nation's largest national land conservation organization which helps protect areas of natural diversity.  In addition, the brand works with Bull Frog Power to ensure carbon offsets to energy used.
In Vancouver, Nova Scotia Fisherman products can be found at Whole Foods, Green's Natural Market, and Victoria's Health Store  in Downtown Vancouver (where the full line is available).