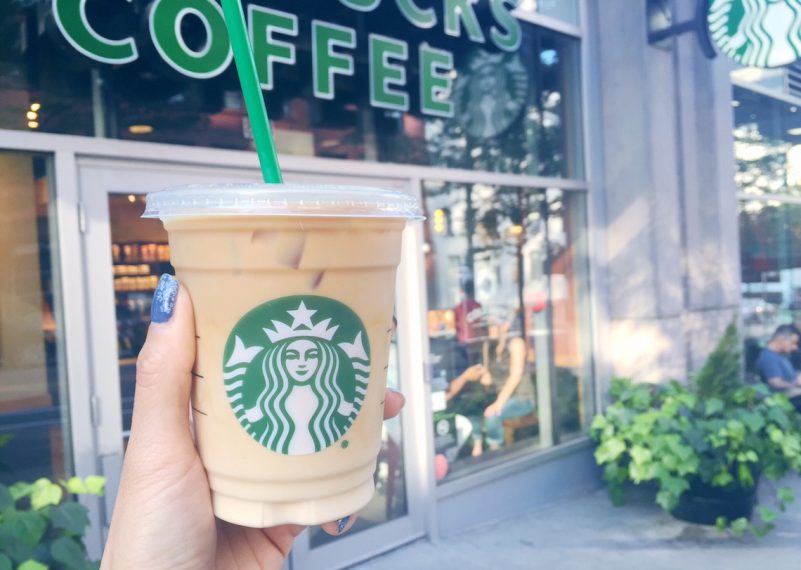 Looking for something new to try this summer at Starbucks?  These sweet new beverages from Starbucks will be sure to help you cool off in hot weather:
Iced Coconut Milk Mocha Macchiato
Starbucks' Iced Coconut Milk Mocha Macchiato is the first beverage to feature single-origin Sumatran Coconut Milk, and is made to order with coconut milk, a hint of White Chocolate Mocha sauce, marked with espresso and finished with caramel and mocha sauces. Five perfectly balanced layers of handcrafted, summer espresso sweetness, this decadent drink with a tropical twist will take you straight to the beach.
Teavana Shaken Iced Berry Sangria Herbal Tea
A patio season favourite, Canadians are no stranger to Sangria. Hand shaken 10 times to bring out the delicious, distinct flavours, Starbucks' Teavana Shaken Berry Sangria Herbal Tea is a combination of freshly brewed Teavana iced Passion Tango tea, a blend of hibiscus, lemongrass, and apple flavours, hand shaken with apple juice, berries, orange slices and ice. The end result is a refreshingly vibrant tea with a sweet and tart finish.
Vanilla Sweet Cream Cold Brew
Introduced to Canada last summer, Starbucks Cold Brew Coffee is slow-steeped for 20 hours with no heat, offering a super smooth, full-bodied flavor. The new flavour for this summer is a Vanilla Sweet Cream flavour, made with a float of house-made vanilla sweet cream for a lightly sweetened, rounded finish.
3 Flavours of Granitas
This Italian-inspired dessert is like a grown-up snow cone. Available in three flavours (Caramel Espresso Granita, Strawberry Lemon Limeade Granita, and Youthberry White Tea Granita), Granitas are a light and refreshing way to cool down on a hot summer night.  Only available after 3pm as part of Starbucks Canada's new Sunset Menu.
2 Flavours of Trifles
Also on the after-3pm Sunset Menu, Starbucks' new made-to-order Trifles come with bakery flavourites layered in a drink container, with whipped cream and drizzle on top.  Even though it comes in Starbucks' cold beverage container, this is a summer dessert you eat with a spoon, not a straw.  Pick between Chocolate Brownie, or Strawberry Shortcake.
For more information, visit starbucks.ca, or head to a location near you.