We love blogging about Canadian subscription box services – especially those based out of Vancouver!  The newest one to launch in Vancouver is Caring Crate, a monthly subscription box service for anyone who needs a little extra self-care.  Each box is designed to enhance mental health and relieve the recipient of stress and worry.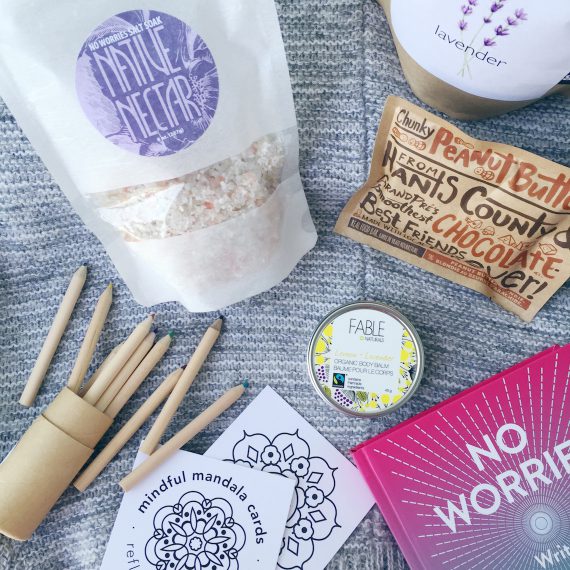 Caring Crate May 2016 Reveal:
Potting Shed Creations Garden-in-a-Bag – An indoor garden kit to grow your own lavender, a herb known for its relaxing scent.
Scratch and Grain Mixes – Dry cake mix made with all-natural, GMO-free ingredients.
Mindful Mandala Cards – A deck of 24 colouring cards, each with a meaningful proverb written on the back.  Also comes with a cute set of 12 mini pencil crayons and a built-in sharpener.
Fable Naturals Body Balm – Happy to see that one of our favourite Vancouver natural skincare brands was included in Caring Crate's first month!
Pluck Tea – A single tea bag from Toronto's Pluck Teas.
Caring Crate June 2016 Reveal:
No Worries Guided Journal – A mini hardcover journal filled with inspiring quotes and fill-in-the-blank pages to help you figure out your worries, and then let them go.
I Heart Stitch Art Feather Embroidery Kit – A beginners embroidery kit.
Native Nectar Botanicals No Worries Salt Soak – A full sized pouch of bath salts made with mineral-rich salt, coconut oil, lavender, neroli and grapefruit essential oils.
Made with Local Peanut Butter Blondie – A Canadian peanut butter energy bar, with "no weird ingredients".
Caring Crate costs $39.95/month plus shipping.  Each box will contain at least 4 to 5 full-sized items ranging from inspirational jewelry, helpful journals, natural body care products, nutritious brain-boosting snacks, and more.  For more information, visit: caring-crate.com.