When it comes to cosmetics and skincare, more often than not, women stick with their daily beauty routine without playing outside the box, simply because they don't want to risk spending money on a daring beauty product or cosmetic shade they may only use once, and never again.  However, if you only have to spend $1 for nail polish or eyeliner, $4 for lip colour, mascara or bronzer, or $8 for an entire palette of eyeshadow colours, wouldn't that encourage you to play in innovation, knowing that you're not sacrificing your budget?
Founded in 2004, e.l.f. Cosmetics ("eyes. lips. face.") started off as a NYC-based, online-only skincare brand, known for its extreme value price.  Since then, it has grown to include over 300 beauty products for the value conscious, mostly retailing at drugstore chains include Target and Walmart…and now, in Canada, at London Drugs.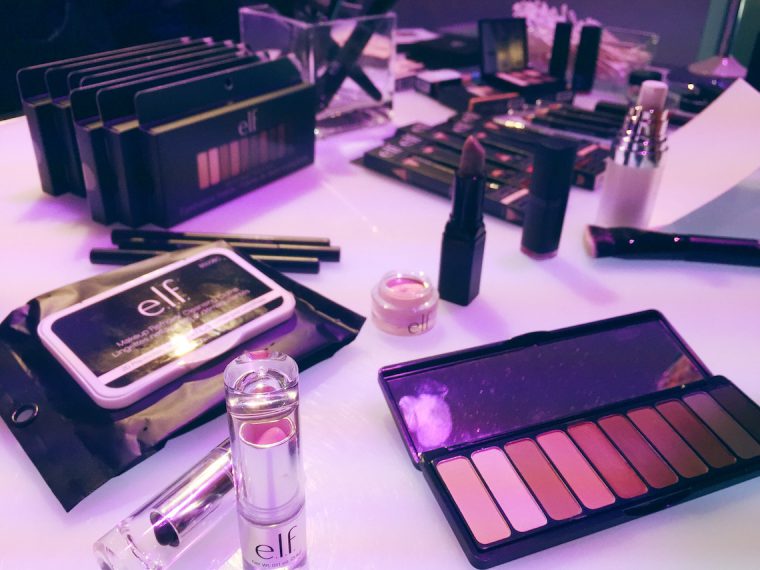 At London Drug's annual beauty blogger event, e.l.f. Cosmetics was present, showing off some of its .  The brand's first introduction to London Drugs was during the holiday season, where gift sets were sold.  After the holidays, e.l.f Cosmetics continues to be available at London Drugs, featuring some of its top-selling, everyday products:
e.l.f. Contour Blush and Bronzing Power ($3.99) – the blush highlights the cheeks to add a flush of colour, while the bronzer accents and contours the cheekbones.
e.l.f. Mineral Infused Face Primer ($7.99) – use before foundation or make-up application to transform your face into a smooth and flawless canvas.  Developed to combat against excess oil, flaky dryness, enlarged pores and fine lines.
e.l.f. Mad for Matte Eyeshadow Palette – a 10-shade eyeshadow palette with matte, natural hues.  Ideal for shading, highlighting, and defining.
e.l.f. Contour Palette – four quadrants of colours designed for contouring, shading, sculpting, brightening and highlighting the eyes, cheekbones, nose and jawline to enhance your features.
For more information about e.l.f. Cosmetics at London Drugs, visit: londondrugs.com/shop/beauty-elf-elf.