On our recent trip to Iceland, we spent an afternoon off the beaten track exploring the hidden valley of Gjáin.
The valley is about a two hour drive East of Reykjavik.  Even though the distance is only 130km away (which is nothing, considering we clocked a total of 3,000km in mileage on our 11-day ring road trip around Iceland), I say it's a bit of a hidden gem because Gjáin was not highly publicized in my Iceland research, travel tours, or brochures that I came across.  For example, Lonely Planet Iceland only dedicates two sentences to this "strange and lovely lush little valley", which doesn't do the beauty and magical-ness of this place justice.
Rather than driving all the way to Gjáin, we parked about 2km from the destination in a gravel parking lot.  From there, we hiked about 30 minutes to the actual waterfalls, following orange cones which guided us in the right direction.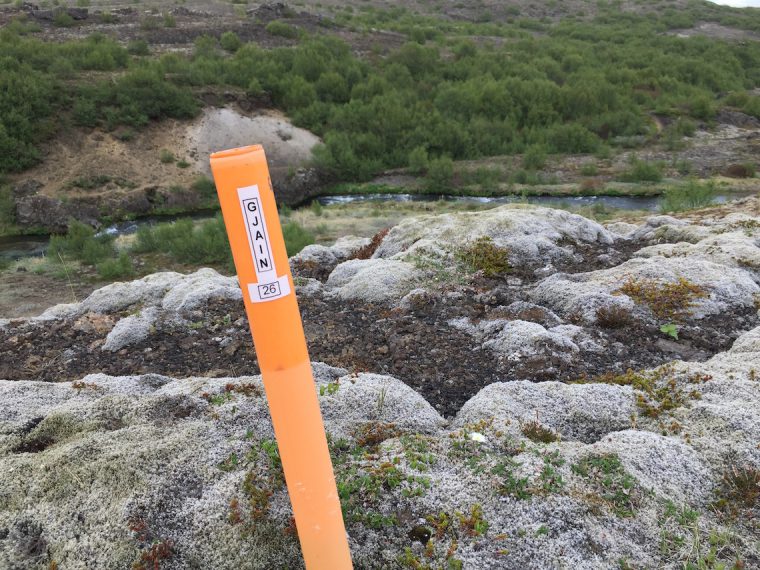 We knew we had finally arrived in Gjáin when we started seeing waterfalls. I've seen a lot of waterfalls in our Ring Road drive around Iceland, but this hidden valley is like a playground full of them. Caves, lava remnants, waterfalls, streams, trees, bridges…there's not really a set route (and definitely not a paved hike) through the valley, so you truly are free to explore and make your own adventure in nature's hidden playground.  It's also interesting to note that this was a Game of Thrones filming site!
See photos from our afternoon exploring Gjáin: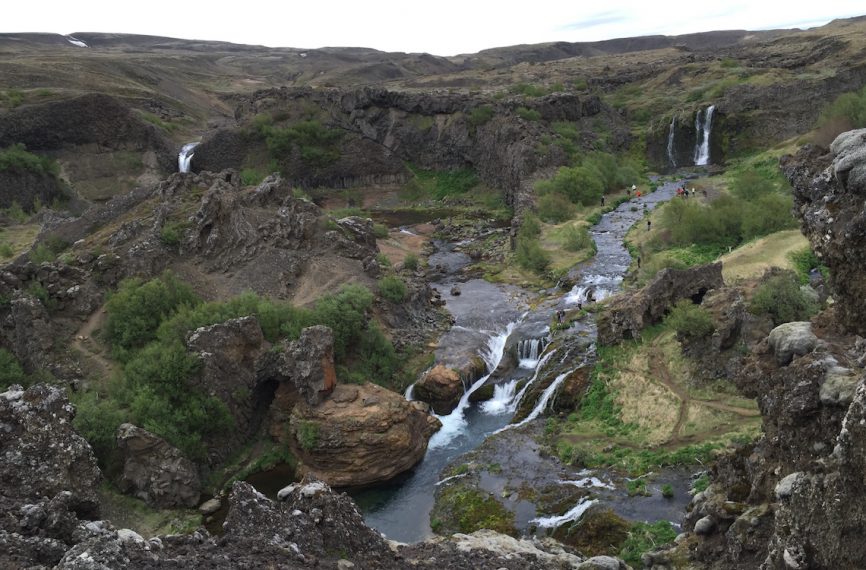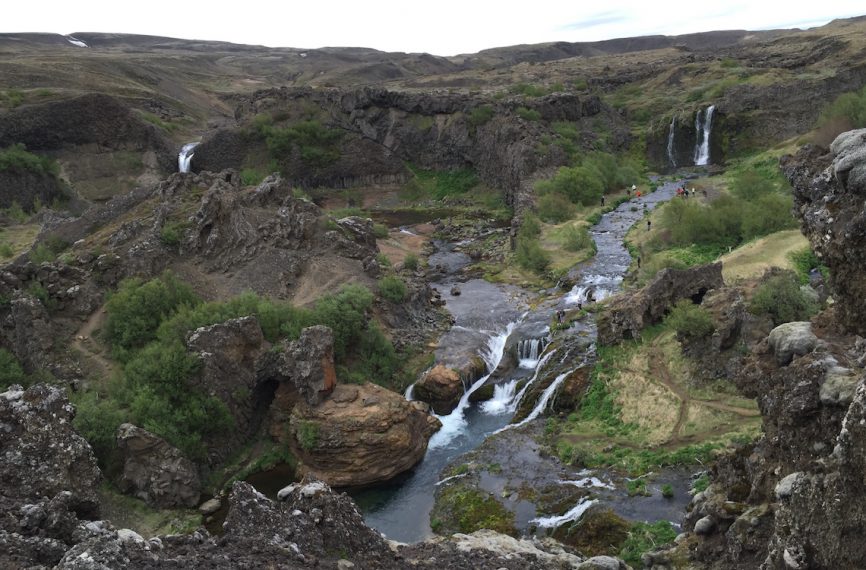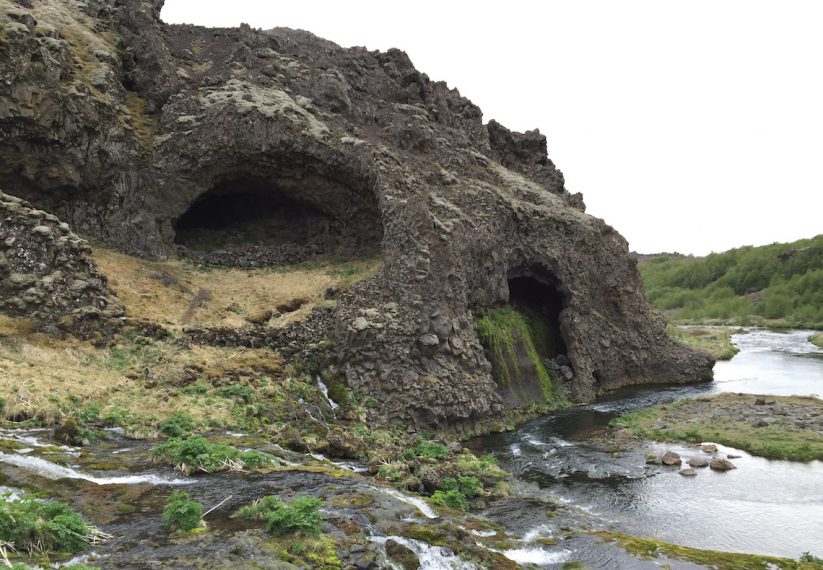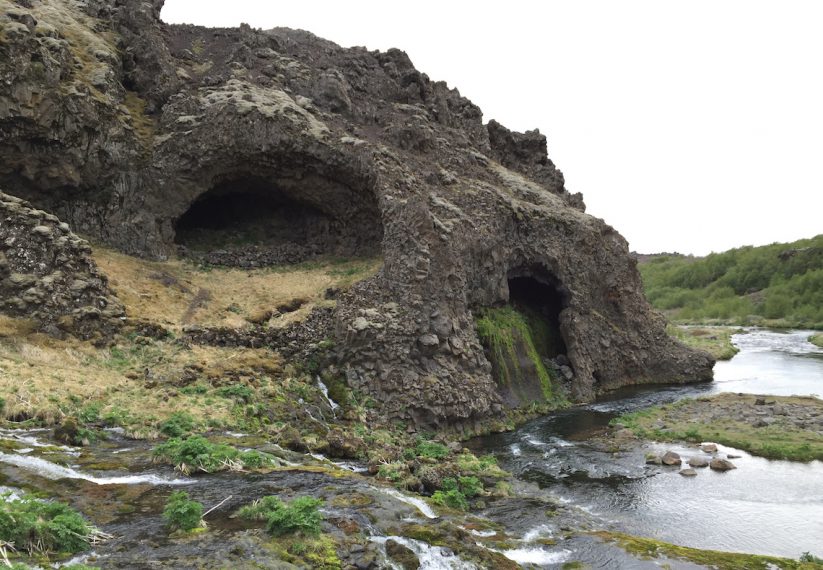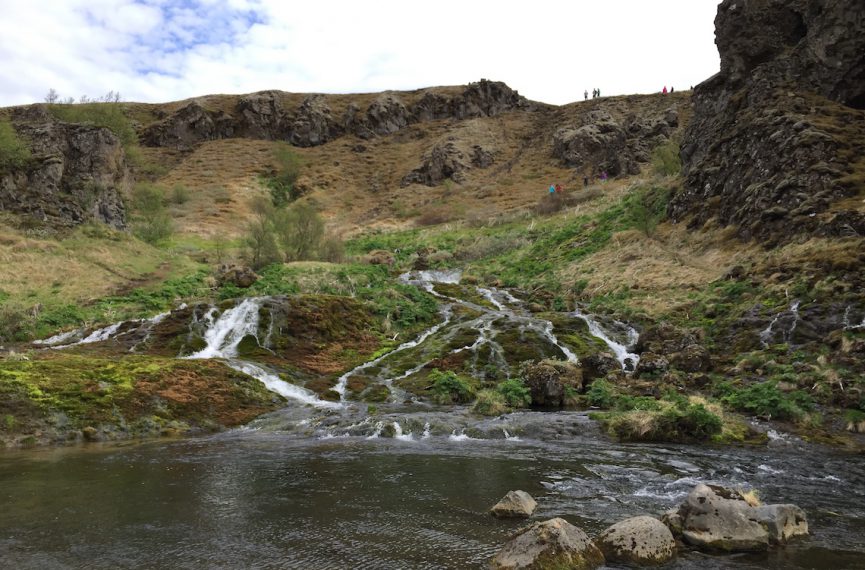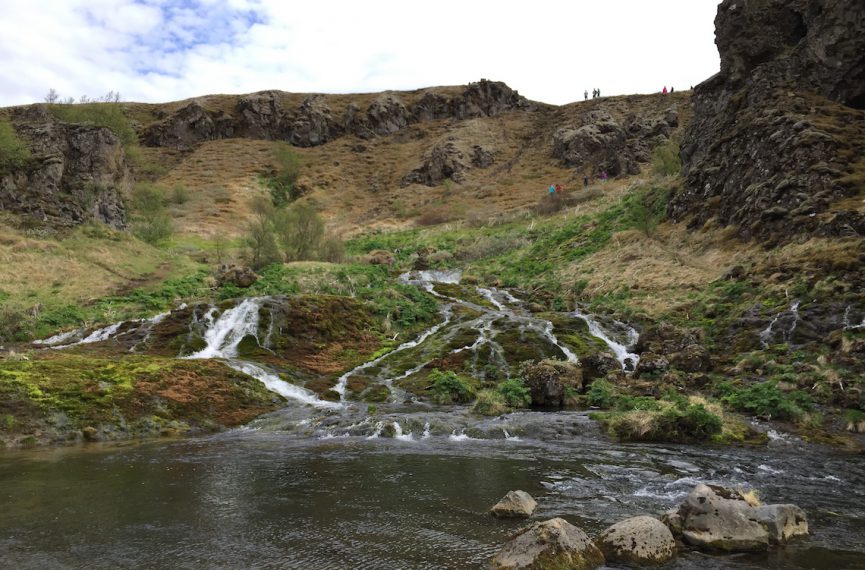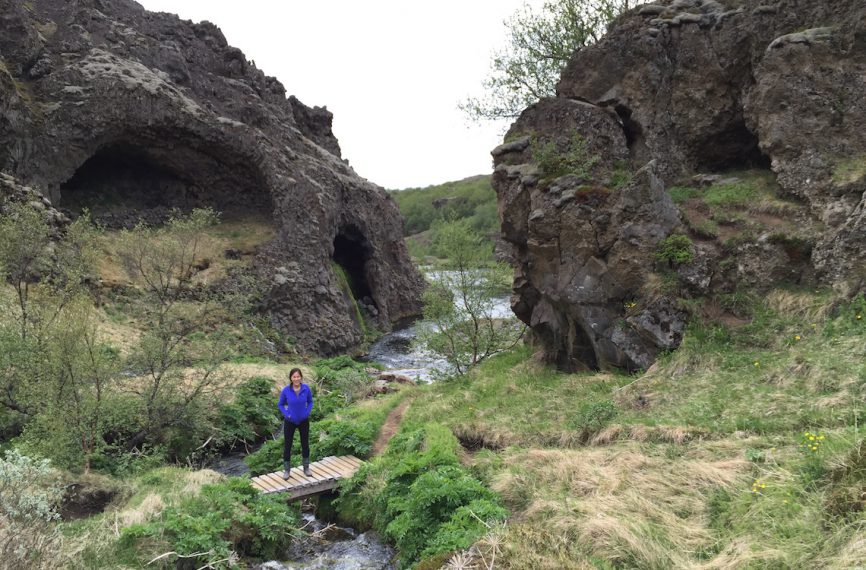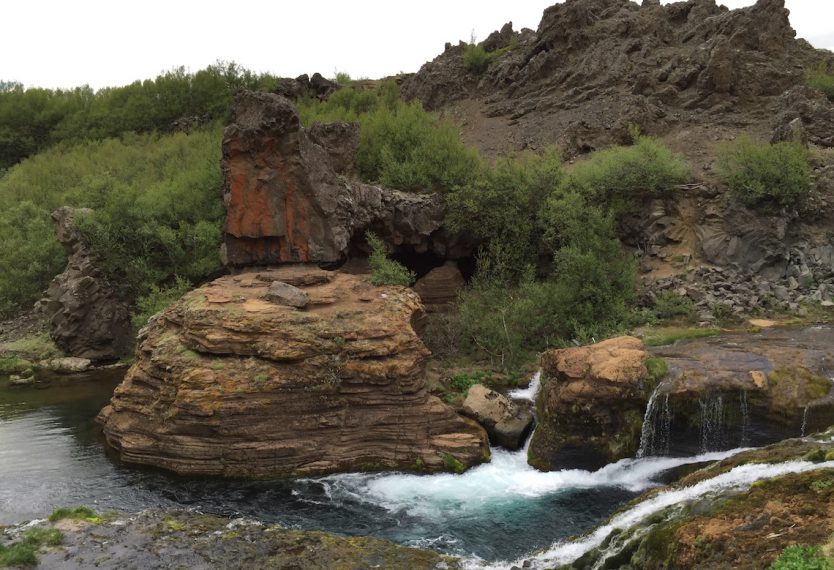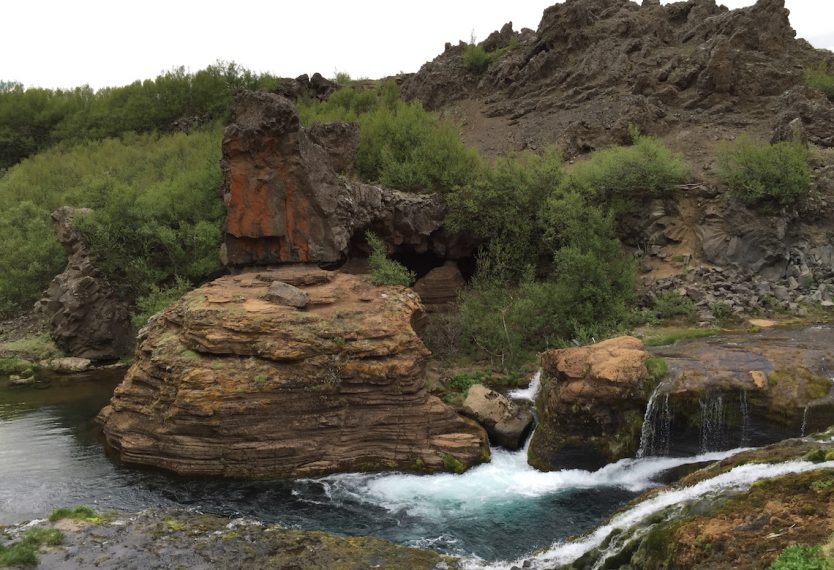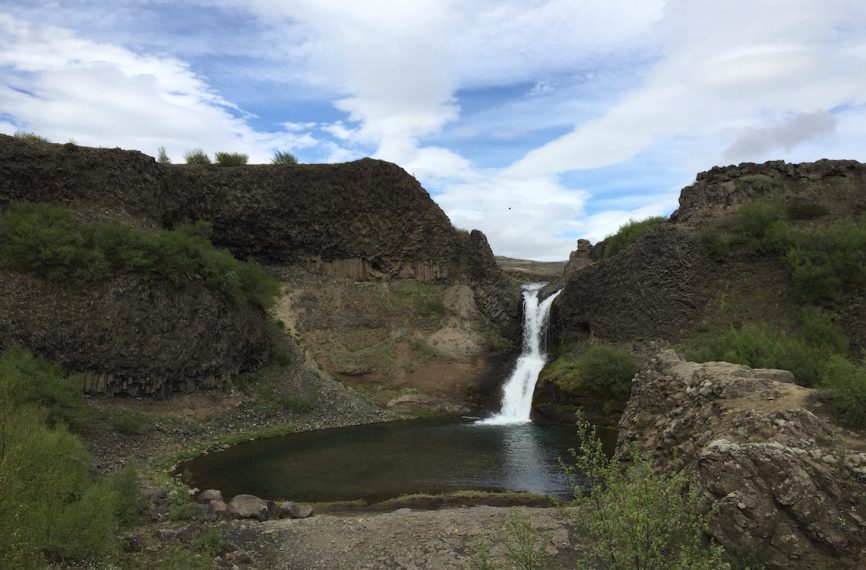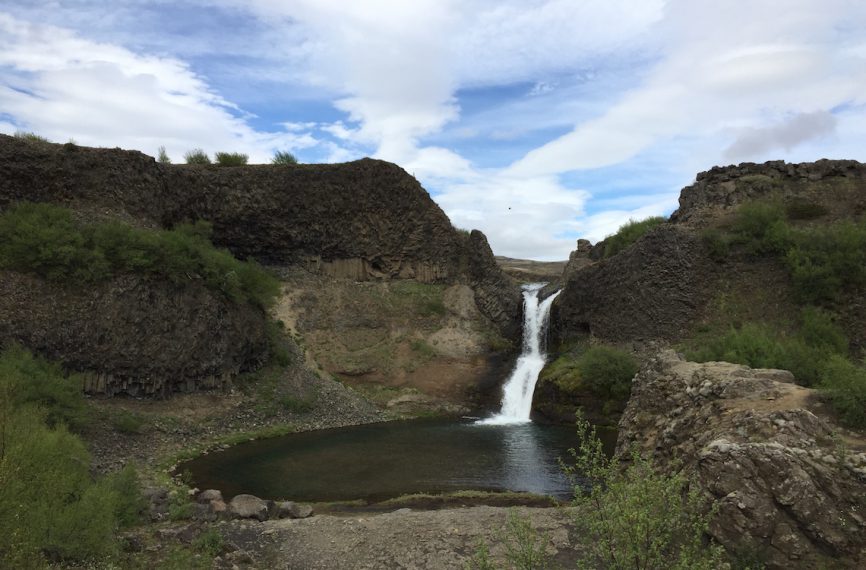 Getting to Gjáin:
Gjáin is located approximately 2 hours east of Reykjavik.  Google map of the location embedded below.  Note that after you make your turn onto Highway 327 from Highway 32, you still have to drive around 7km on a dusty, bumpy, unpaved road to get to Gjáin – 4 wheel drive is highly recommended.
We saw cars parked at the turnoff to Highway 327, with travellers walking the remaining distance to Gjain.  However, it didn't seem like a very nice walk – it was very dusty, with no shade and dry, unchanging scenery.  Instead, we parked in a gravel parking lot about 2km from the final destination and hiked the rest of the way, following in the direction of the orange cones marked "Gjáin".