Before deciding on a denim purchase, most people will test of the comfort of a pair of jeans by sitting, walking and squatting.  If you can comfortably do all three things, then it's passed the test.  Vancouver's Dish and DU/ER is so confident in the super stretch and comfort of their 'performance denim', that their new flagship location in Gastown has an indoor jungle gym, for shoppers to put their pants to the test.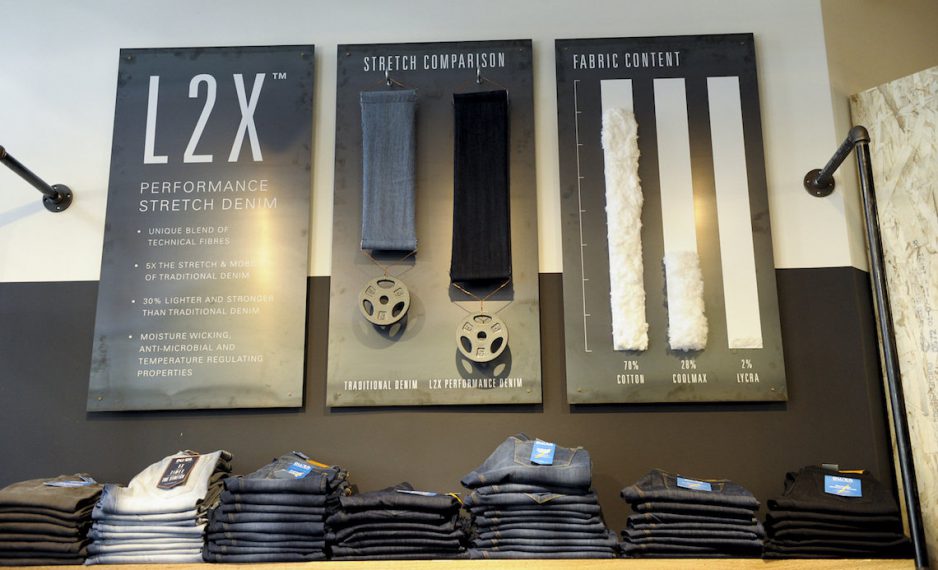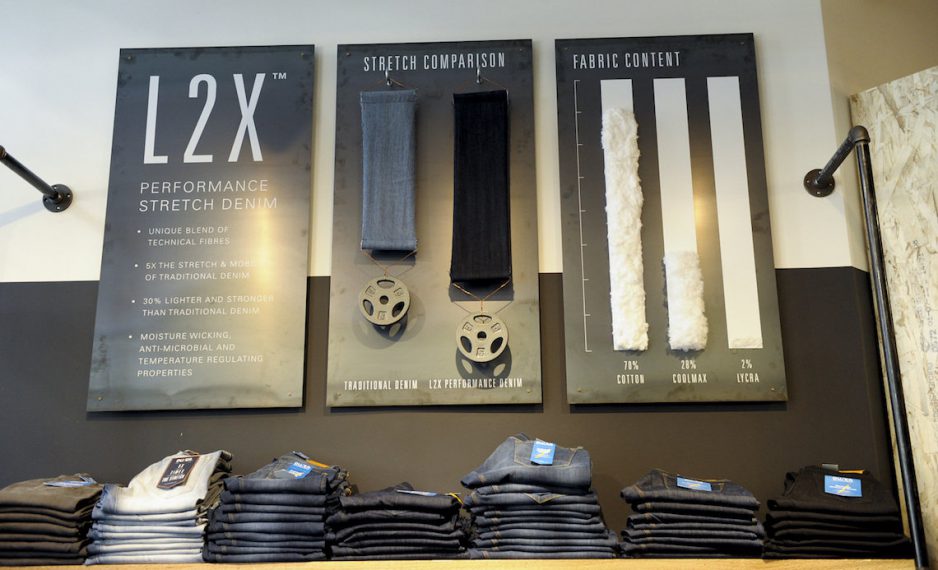 Although Dish and DU/ER may be new to some, the brand Dish Jeans actually has a long history in Vancouver.  Originally founded in 2001 by local entrepreneur Gary Lennet, the brand went through a complete overhaul and re-launched in 2014, focusing its efforts solely on its proprietary L2x (Leisure to Extreme) and N2x (Nature to Extreme) material.  The DU/ER line for men was simultaneously introduced, with the same L2x and N2x material.  The brand was then re-introduced to Vancouverites, with a pop-up store in Railtown, and now, with a permanent location in Gastown.
"Until now, denim hasn't been a key category of the rapidly growing athleisure market. In order to launch a performance denim, we had to develop a cotton rich fabric blend that would withstand aspects of an active lifestyle with super stretch, dry wicking and antibacterial attributes." – Gary Lenett, Founder, Dish and DU/ER.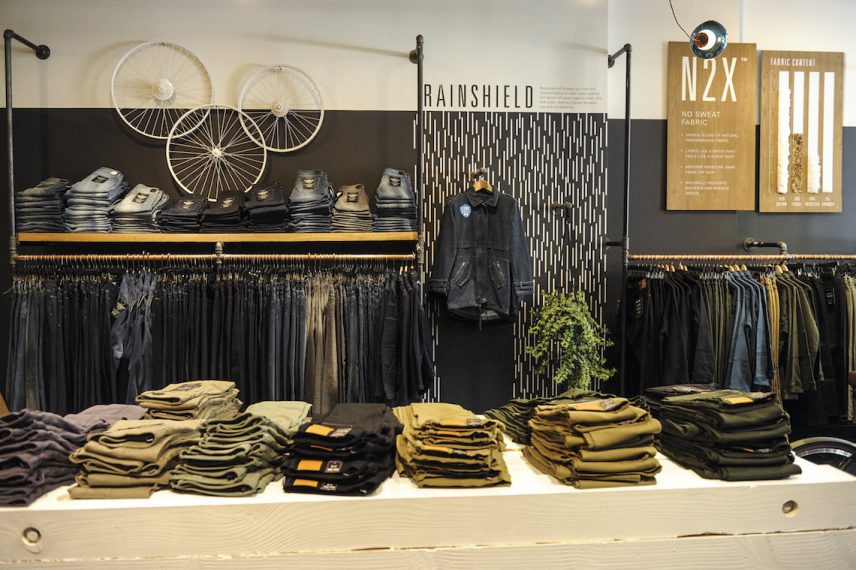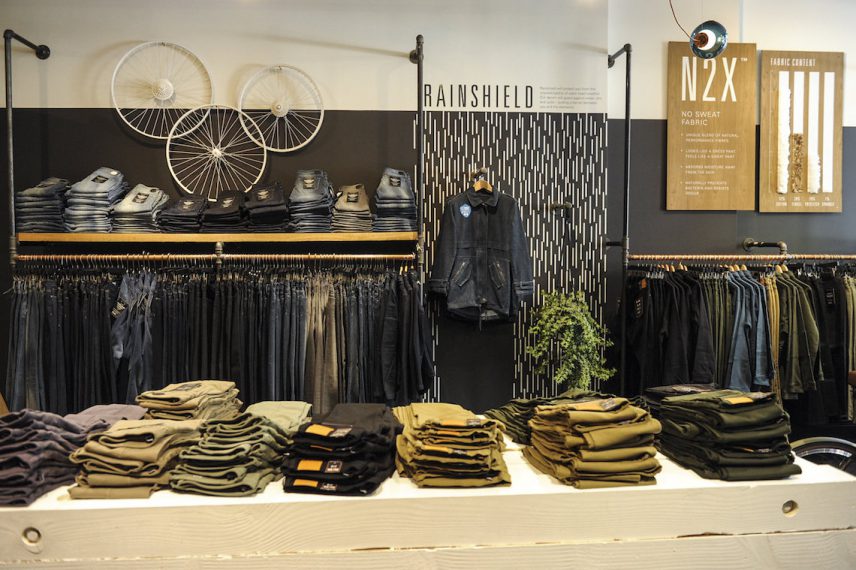 Located at 118 West Hastings Street (on the same block as Catch 122, Wildebeest and Eastwood Cycle), the interactive retail space of Dish and DU/ER encourages movement complete with a gym floor, stationary bikes, monkey bars and a swing set, intended to reflect the core performance component of the denim brand.
"Launching an indoor playground in a retail shop is far from typical, but we've never been a brand that draws within the lines.  We did a pop up store last summer and right away we noticed people wanting to test the jeans by squatting, stretching and even high kicks. The playground gives our customer an outlet to see how well the product will live up to an active lifestyle before purchasing, while proving our brand promise." – Gary Lenett, Founder, Dish and DU/ER.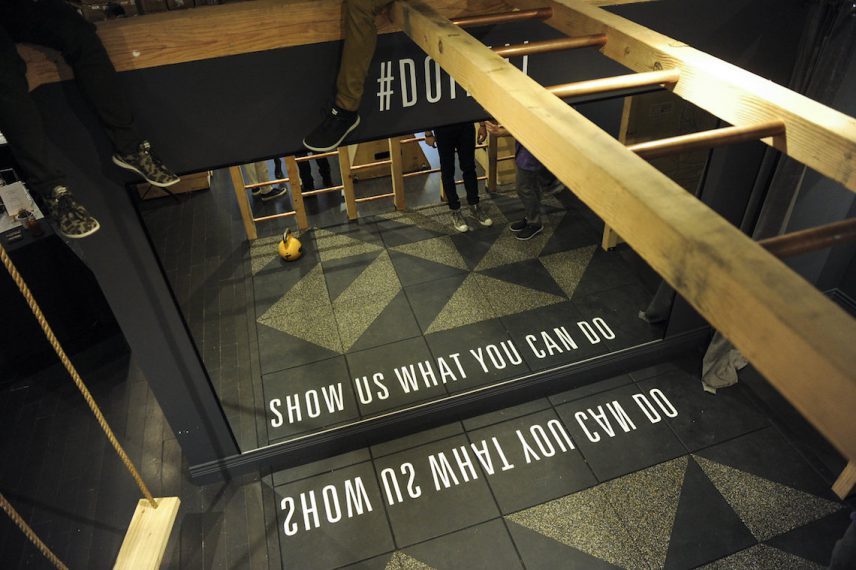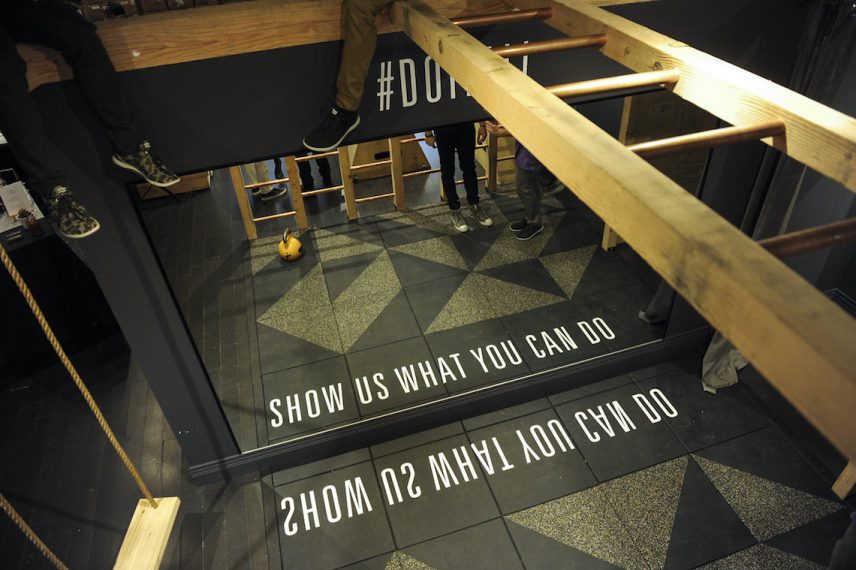 For new shoppers navigating the Dish and DU/ER brand, it can be a bit overwhelming navigating through all the names of the products.  Just remember that there are currently two lines of materials: L2X (denim) and N2X (khaki).  Then, it's back to normal pant shopping with different cuts (ie. skinny, flare, shorts, relaxed, etc.) and colour washes to pick from.  In the near future, we were told that there's going to be a third material made specifically with travellers in mind looking for a thin and material…but that's a story for another day!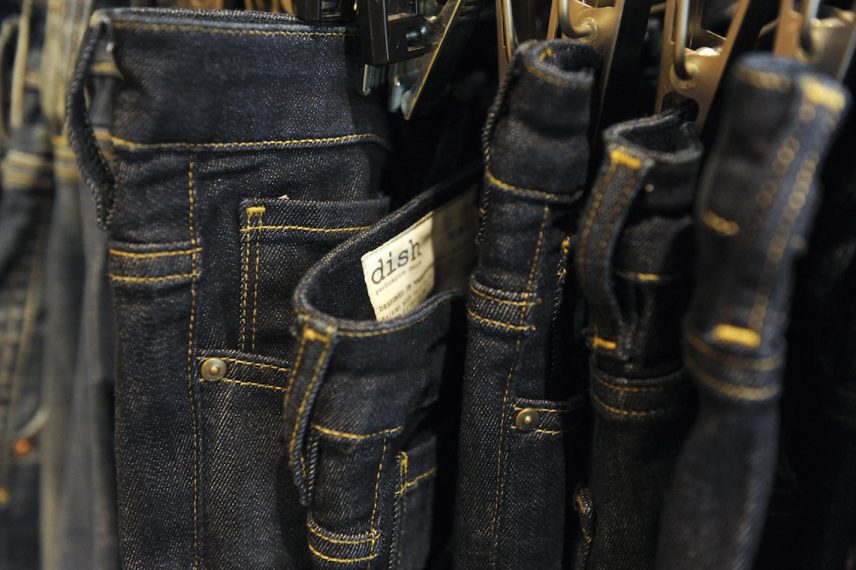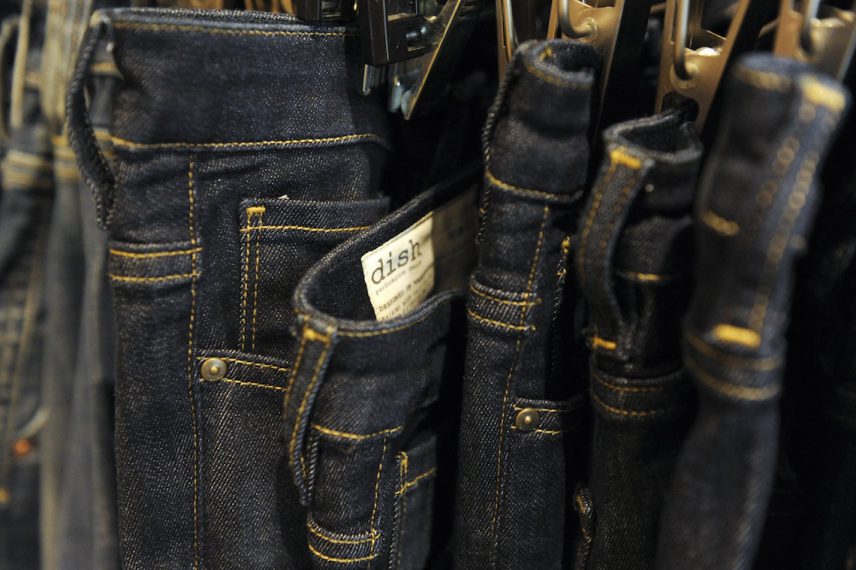 Modern Mix Vancouver had the opportunity to check out the new Dish and DU/ER store at their recent flagship launch party.  Usually for me, pants are either a bit too tight in the waist from sizing down, or too loose in the legs and thighs from sizing up.  In the case of shopping for Dish Jeans  after climbing on the store jungle gym, and biking for a few minutes on a stationary bike, the waistband was already more of a comfortable fit.  I am now the owner of a Dish Performance Stretch Denim Rinse.
For more information, visit dishandduer.com or visit their store in Gastown at 118 W. Hastings Street.