I am writing this blog post a week before I depart from Vancouver to Iceland, on a 12-day roadtrip around the country. These are all the preparations I've made before setting foot in the country.
At the end of the blog post, be sure to check out our giveaway of a Fjällräven Kanken Backpack! Contest ends June 15, 2016.
Why 
Iceland

?

My boyfriend and I only had about 10 – 12 days to spare for a vacation out of Vancouver, so we had to pick a destination which made sense for our availability.   We also like a balance of city and adventure, and will try to pick off-the-beaten path destinations.  My travel style is to explore one country thoroughly, rather than rushing through several cities or countries just to cross them off a list…and what better way to see a country, than to go on a road trip?!  Turns out 10 – 12 days in Iceland is perfect for the "Ring Road" drive around the entire country!

I've heard that Icelandic Air offers free stopovers in Iceland for passengers travelling to Europe.  However, the maximum stopover currently allowed is 7 days, which isn't quite enough time to properly drive around the entire country.  That's why we decided to make our destination Iceland, rather than a stopover en route to Europe.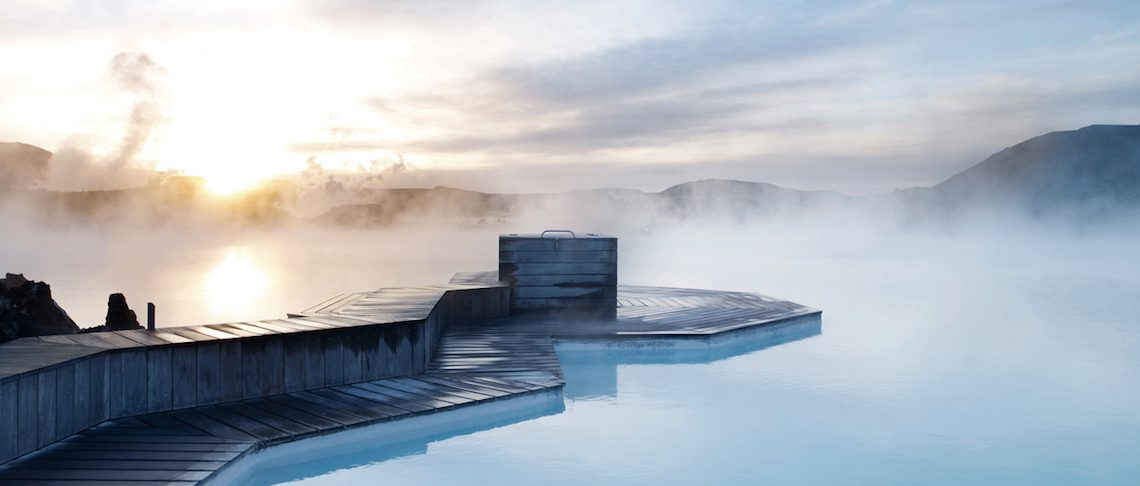 Are you going to see the Northern Lights?
As the world's most northern capital city, Iceland may be best known for a prime viewing spot for the famed Northern Lights…which are usually visible from September to April.  However, when we booked our trip for June, we already knew the Northern Lights would not be visible at that time.  So why did we pick June?  Iceland has so much more to see and do beyond just the Northern Lights.  In the summer, the country has 20+ hours of daylight so we will be making the most of our road trip with better conditions (less snow and ice compared to the winter), and have more daylight to see everything the country has to offer.
The Icelandic lifestyle blog I Heart Reykjavik writes a more detailed answer to: Can you see the Northern Lights in Summer in Iceland?
Budgeting 
Before even stepping foot into the country, we have already spent $2,500 CAD per person.   Our biggest anticipated expenses are incurred before the trip: $1,100 for a direct flight from Vancouver to Reykjavik through Icelandic Air, $1200 for an 11-day four-wheel drive car rental ($600 per person), and $1500 for 11 nights of accommodations ($750 per person).
Everyone I spoke to who had been to Iceland, or knew someone who went to Iceland, always remarked about its beautiful scenery ("I heard it's very beautiful there")….but as a secondary statement, would always remark on the cost of things ("…but it's very expensive").
My credit card is already hurting.
Accommodations
We are using Airbnb for two nights in Reykjavik, and for the rest, we utilized Booking.com.  We will  be travelling counter-clockwise, with Reykjavik as our first stop.  Aside from our first two nights in Reykjavik, we don't stay in the same town for more than one night.  We are paying an average of $150 per night, for two people.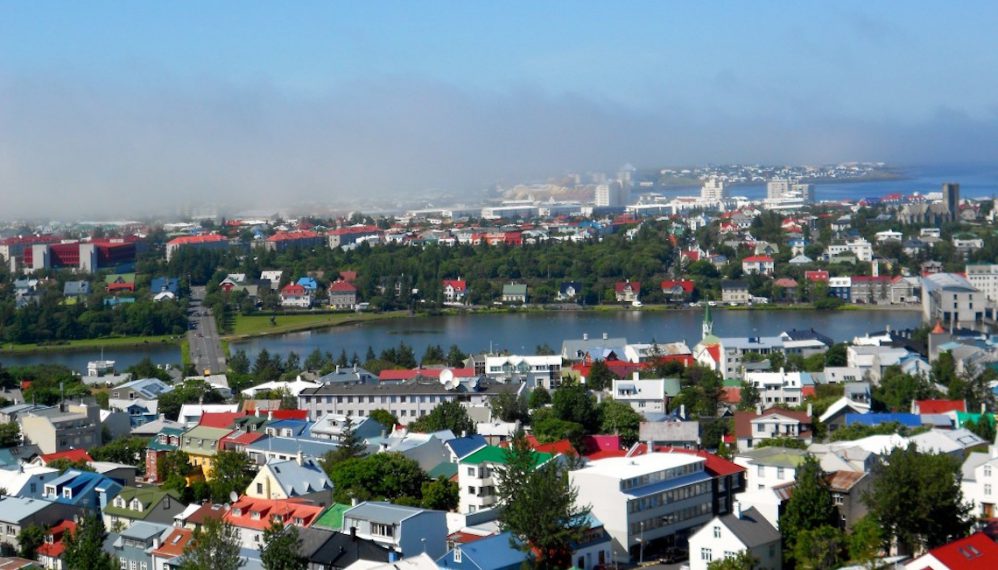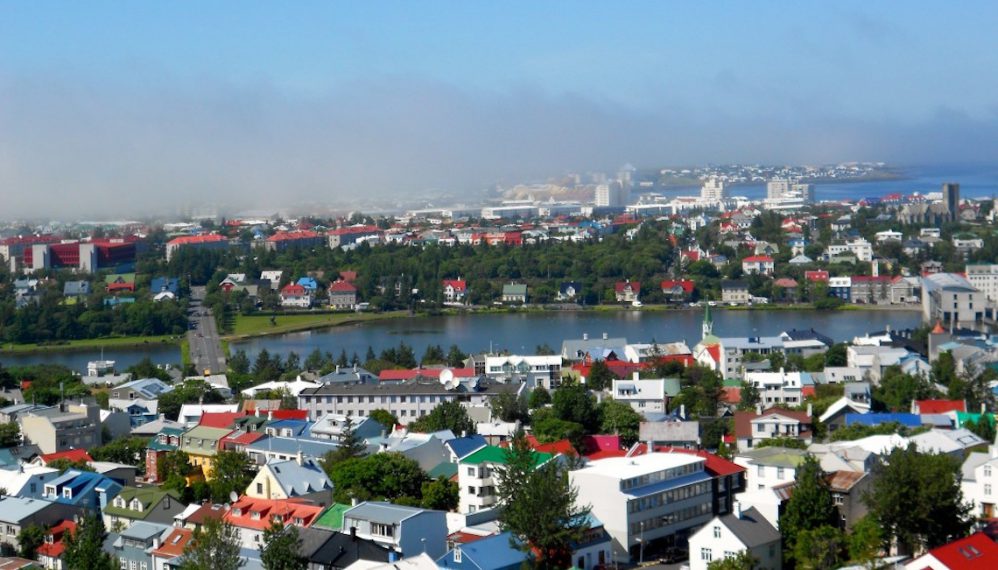 Reykjavik, Iceland. Photo Credit: UnlockingKiki.com
Blogs I Found Super Helpful
I read so many blog posts on travel to Iceland while planning our trip.  Here are the three I found most helpful:
Alex Cornell: Iceland Travel Guide – This was my favourite blog post to reference as I was planning our Iceland trip.  The blogger Alex Cornell offers beautiful (and clearly captioned) photos, helpful maps and concise, practical descriptions of what he did along each leg of his journey.   Compared to his trip, we'll be staying at less fancy accommodations, but splurging on more half-day toured activities (ie. snorkling, horseback riding, glacier hiking, etc).
 I Heart Reykjavik – Most helpful for planning for activities within the city.
Unlocking Kiki – An Icelandic lifestyle blog, written by an American expat.  In addition to writing about her day-to-day life in Iceland, she has several "Top X" list-type blog posts about various activities in Iceland including: Chasing Waterfalls in Iceland, The Most Romantic Places in Iceland, or 9 Places Off-The-Beaten Path in Iceland.
Outdoor Activities in Iceland
Beyond the beautiful scenery, there are many outdoor activities which are unique to Iceland, due to the unusual terrain.  Here's a list of 10 activities we came across.  We won't have time to do them all…but at least we know we have options.  Most of these can be done on your own or by booking a tour in Iceland.
Reykjavik City Tour – We booked a by-donation tour in advance through citywalk.is.
See Volcanos and Waterfalls – I don't think there'll be a shortage of volcanos and waterfalls to see in Iceland.
Soak in an Outdoor Lagoon – Blue Lagoon and Myvatn Nature Baths are two of the more well-known options.
Horseback Riding – Apparently you can do this every part of Iceland.
Snorkelling – Silfra is the only destination in the world where you can dive or snorkel directly in the crack between two continental plates, in crystal clear water.  We booked in advance through dive.is, at $169 CAD/person.
Scuba Diving – For scuba diving, you need to be certified, and dry-suit experience is recommended.
Glacier Boat Tour  – For a better view of Jökulsárlón, you can book a boat tour and sail between iceberg.
Glacier Hiking – Like hiking, but on ice.  You need to rent special shoes to dig into the ice.
Ice Climbing – Like rock climbing, but on ice.  If you've seen the travel documentary series Departures on Netflix, Season 2 Episode 8, the guys take on ice climbing as part of their Iceland episode.
Snowmobiling  – Also featured on Departures, the guys take on snowmobiling.
Helicopter Ride – Sounds super expensive, this one isn't even on our consideration list.  But I think the Iceland terrain would be incredibly beautiful to fly over.
My Travel Essentials
I've read that the weather in Iceland, even in June, can be quite temperamental. So even though we are going during high season in the summer, I am preparing for unpredictable and chilly weather – afterall, it is called Iceland.  
Rather than sharing with you my full packing list, here are the travel essentials I am bringing along to Iceland:
North Face Backpack ($239) – I bought this for a trip to Vietnam a few years ago, and LOVE my 50L North Face Banchee backpack.  It's been with me to Vietnam, Indonesia, Malaysia, Panama, Bolivia, and now Iceland.
Fjällräven Daypack ($80) – I was gifted a classic Kanken backpack from Fjällräven, and I'm excited to break it out for the first time during my travels.  It's lightweight, made of a durable nylon and water resistant.  The brand was founded in Sweden, and made for Northern European conditions.
Helly Hansen Rain Jacket ($250) – The Welsey Trench a stylish Northern European look, yet with the durability of Helly Hansen outerwear. Thanks, Helly Hansen, for gifting me with such a practical item for my Iceland trip!
MEC Compressible Synthetic Down Jacket ($145) – While searching for a 'puffy jacket' for previous travels, the synthetic Uplink Jacket from Mountain Equipment Co-op offered the most versatility and best value.  The jacket folds into its own pocket, which saves a lot of space.  I didn't go with real down insulation because I heard if down feathers gets wet, it takes ages to dry.
Helly Hansen Fleece ($75) – A travel staple and great for layering under outerwear.  Thanks again to Helly Hansen for the Daybreaker Fleece Jacket in 'sky high'.
TNA Leggings ($22) – I never travel without them.  The TNA leggings from Aritzia are the ones I keep going back to.
DISH Denim ($129) – Typically, I don't bring denim with me when I'm going on an adventure because it's heavy and not versatile for outdoor activities, but Vancouver-based DISH has ultra-stretchy 'performance denim' which is perfect for staying stylish while partaking in outdoor activities in Iceland.
Merrell Snowboots ($150?) – I bought these from Gravity Pope a few years ago, I can't say enough good things about these Merrell boots, I haven't found anything quite like them since.  They are sturdy, have a rubber bottom, somewhat waterproof, lightweight and not clunky.
Sunglasses – For long days of sunlight.
Swimwear – For soaking in lagoons and hotsprings.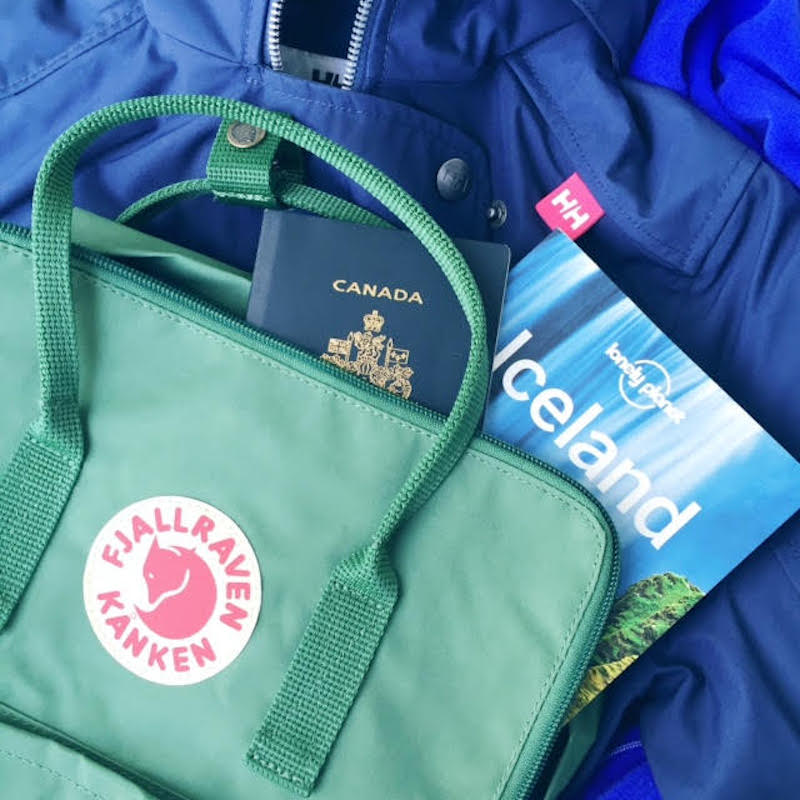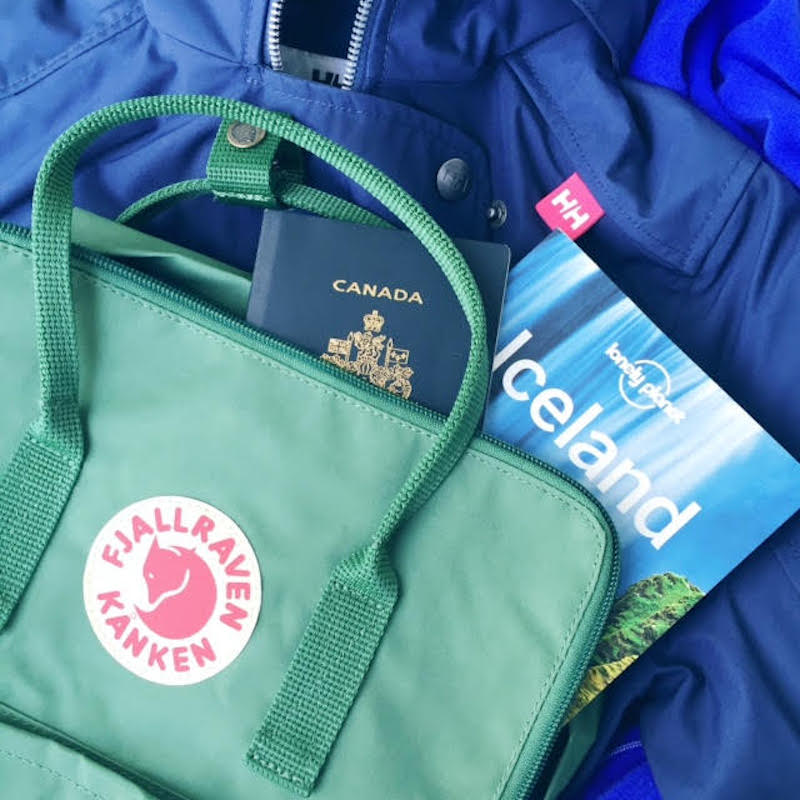 Win a Fjällräven Kanken from Modern Mix Vancouver
One of the items I'll be bringing with me to Iceland will be a classic Fjällräven Kanken from Fjällräven Canada. This lightweight yet sturdy, water-resistant nylon backpack, with its iconic Arctic Fox logo, is perfect for travel and adventure. Modern Mix Vancouver has teamed up with Fjällräven Canada to gift one to our readers in Salvia Green (colour shown in photo).  Follow the steps below to enter through Rafflecopter and for additional chances to win, enter on this Instagram post.
Giveaway ends June 15, 2016 and is only open to Canadian postal mailing addresses.  We will be picking one winner from all combined entries (Blog and Instagram).
Winner: @ahnnaventurer on Instagram.