Newly opened on the corner of Robson and Howe, Sport Chek's new 53,000sqft location is already attracting the attention of passerbys, eager to check out this new three-storey mega store for fitness apparel, athletic gear, and related tech accessories.
After being vacated by Chapters Indigo in early 2015 (don't worry – book lovers can still shop downtown at Indigo Spirit), it was announced that Sport Chek would be taking over this prime retail space in downtown Vancouver. Modern Mix Vancouver participated in an opening week walk through of the new flagship with Eric Watt, VP of New Retail, who introduced us to all the new digital and interactive features of the store.
The first floor of Sport Chek Robson is all about footwear and tech accessories. One particularly cool feature of this section, is a treadmill fixture hooked up to a video camera. Customers shopping for new footwear for running can take a run on the treadmill, while the video camera records movement. By analyzing the footage, and seeing how someone runs (and we all run in a unique way), an in-store expert will be able to find the right shoe for the customer…or at least a starting point for something to try on. The right running shoe means more comfort, and less chance of an injury from exercise.  In terms of tech accessories, expect to find all the big brands, including Fitbit and Go Pro.
The second floor of Sport Chek Robson features brand boutiques, including Nike, Under Armour and Adidas, giving each of these athletic brands the opportunity to showcase their brand look and feel, within the Sport Chek environment.  The second floor also has a Fan Zone, dedicated towards team jerseys, ball caps, and other paraphernalia for fans of popular sport teams including the Canucks, Raptors and Blue Jays.
Finally, on the top third floor, shoppers will be able to shop for outerwear (like jackets) and sports equipment and 'hard goods' like tennis rackets, bikes and snowboards. This is also the floor where you will find bike tune-up services, or skate sharpening.  All employees at Sport Chek are required to live an active lifestyle outside of work, so they are able to incorporate personal experiences and advice, when chatting with customers.
On any of the floors, customers can interact with digital screens, which links to online inventory, and shop online, while they are in-stores.  In addition, stationed throughout the store are motion activated screens – instead of clicking on something, to play a video for example, all you have to do is point.
Keep scrolling past all the photos to see opening perks and promotions at Sport Chek Robson: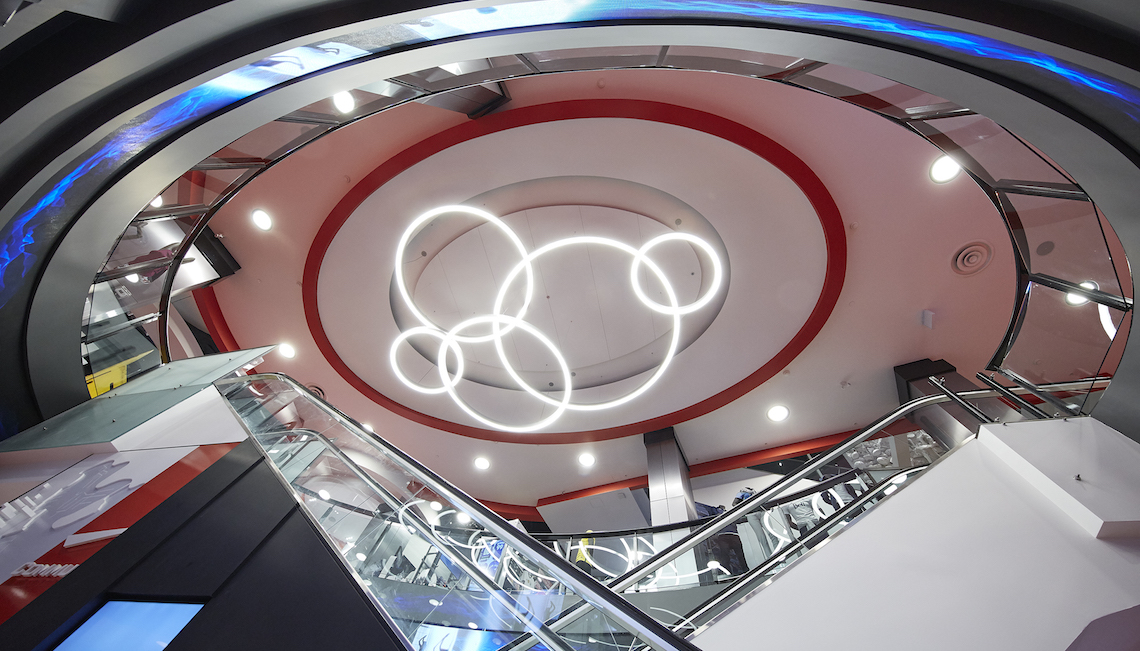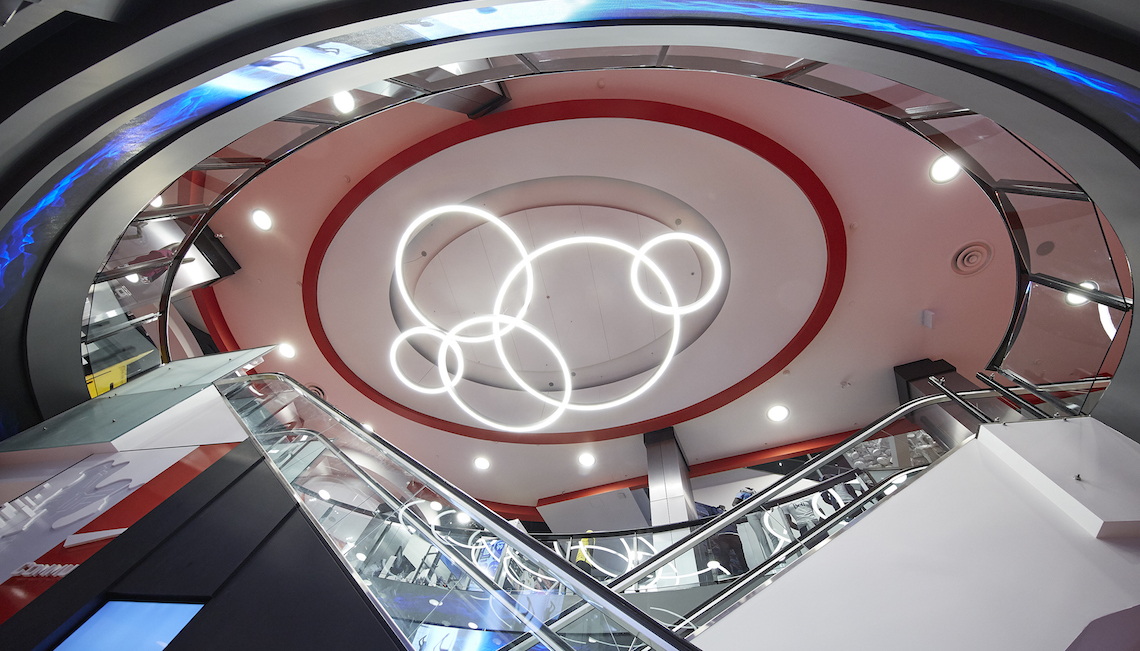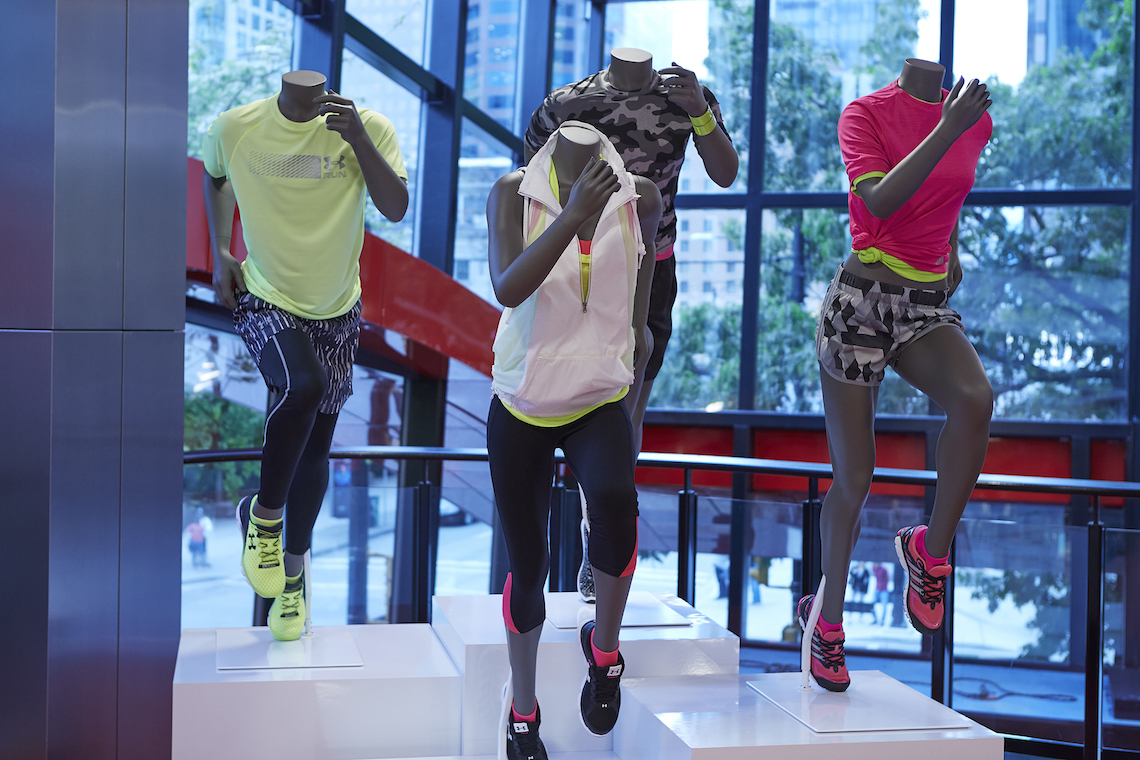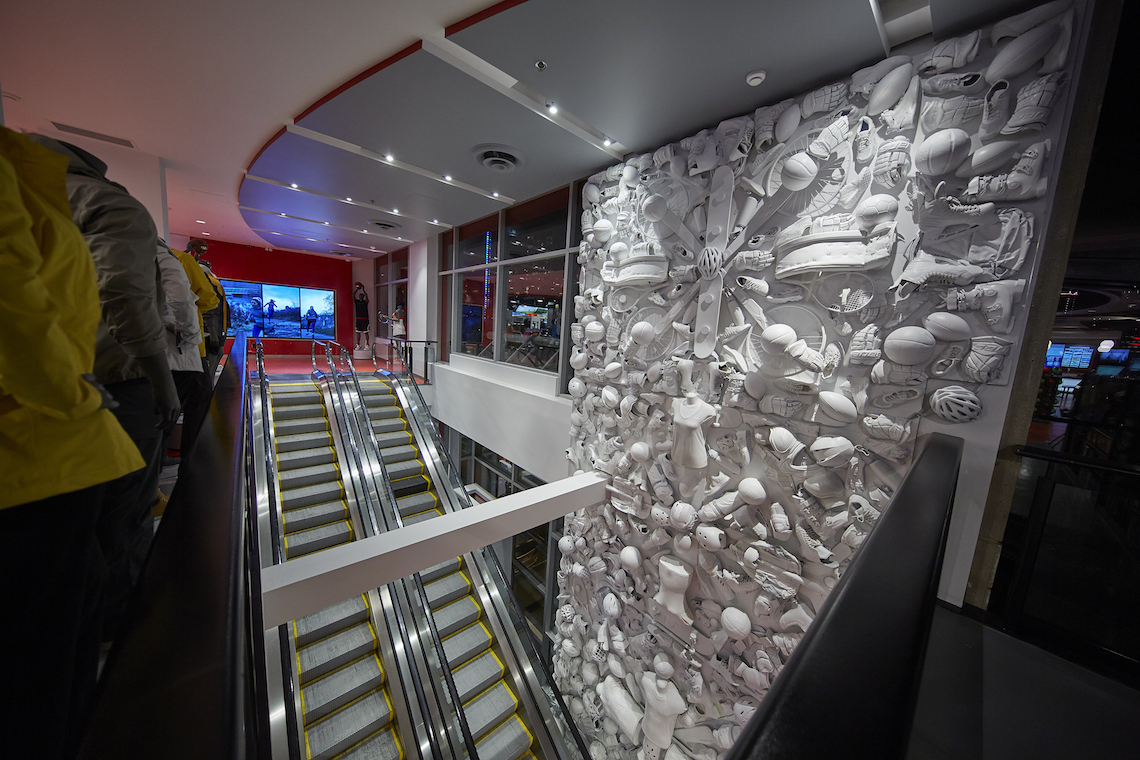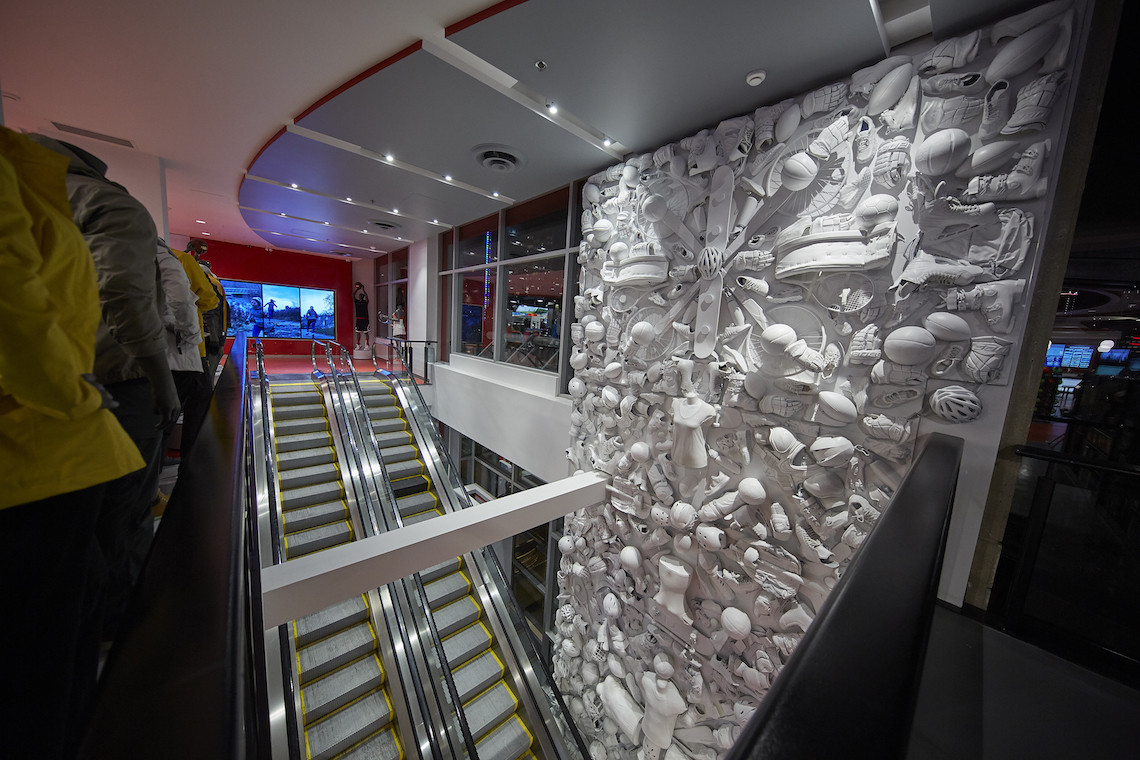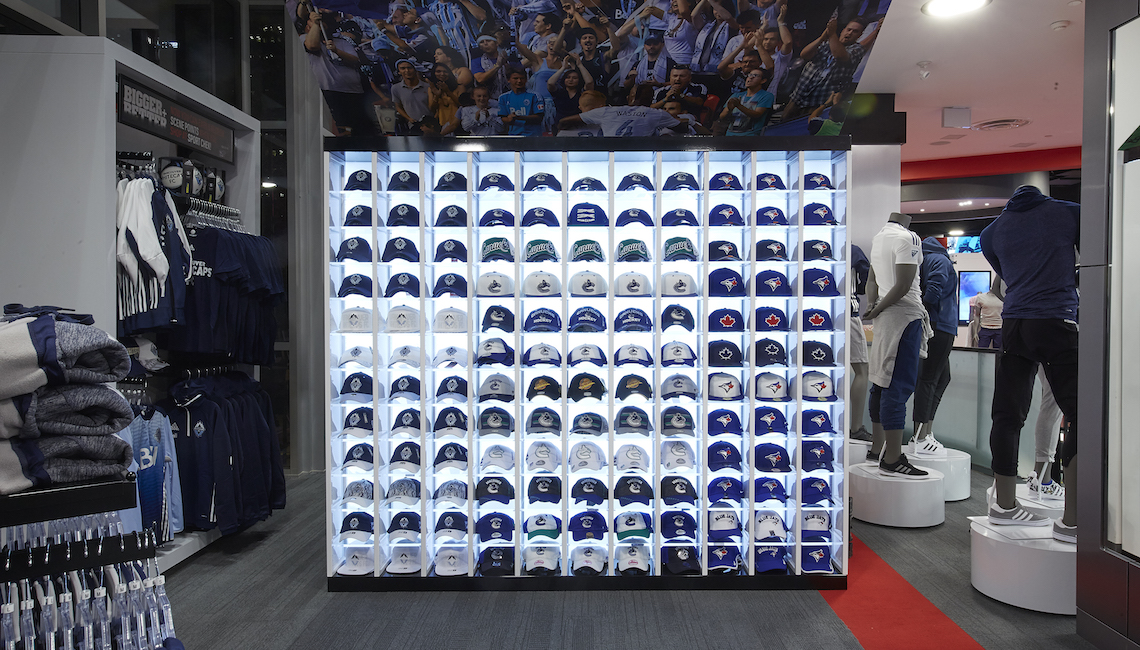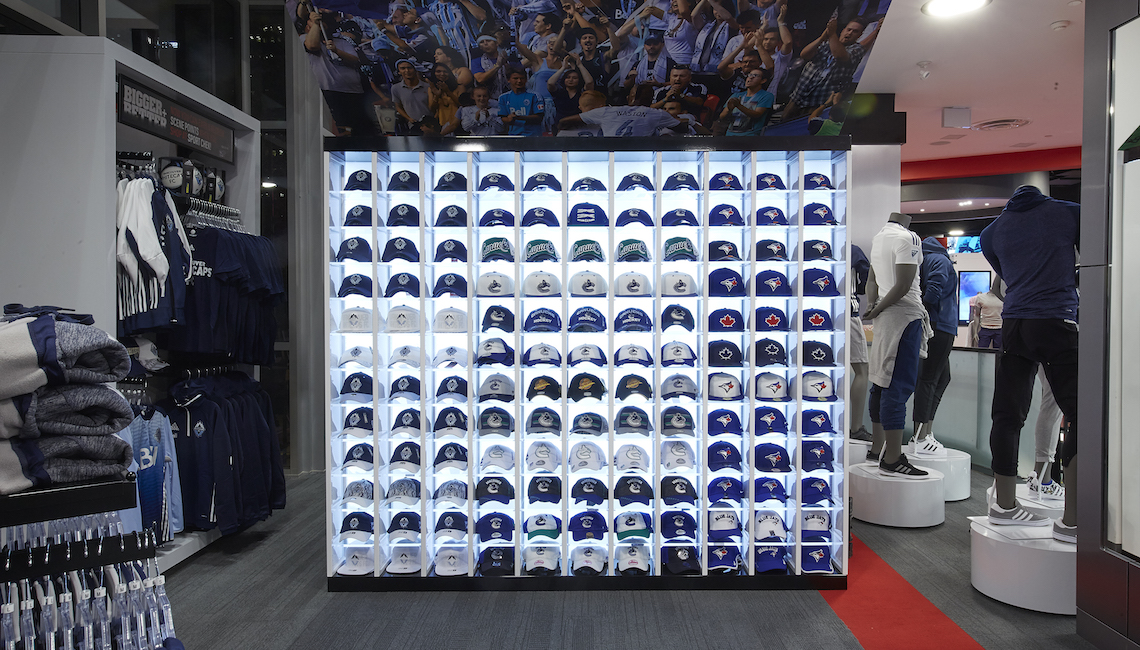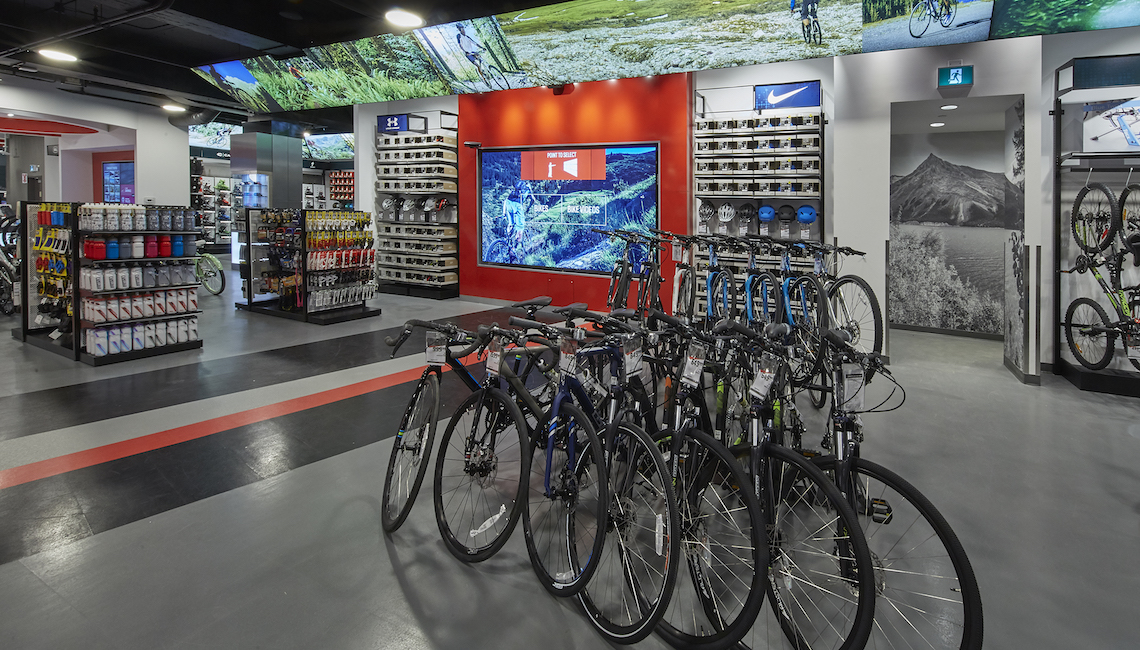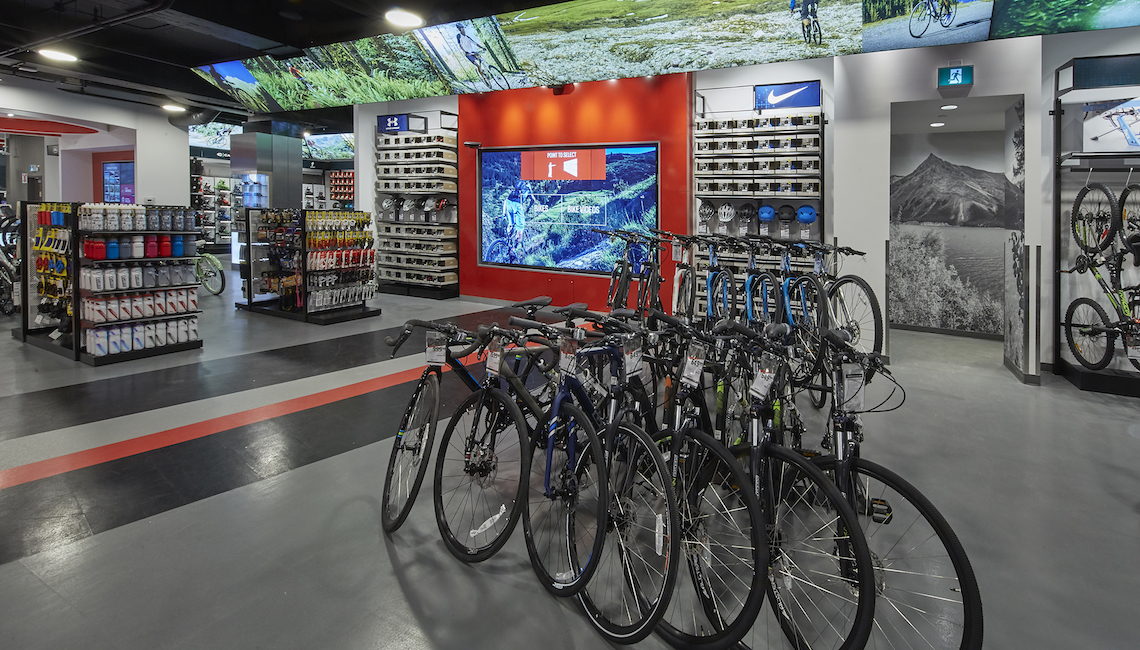 Sport Chek Robson: Grand Opening Perks & Events
Bauer Mystery Locker (Thursday May 12 to 15, 2016): Try on any pair of Bauer hockey skates and receive a combination to try your luck at unlocking the Bauer Mystery Locker. Each day one lucky winner will receive a prize valued upwards of $1,000!
Kirk McLean Autograph Session (Friday May 13, 2016): Join Gatorade and Kirk McLean for an exclusive autograph session from 4-5PM. One autograph per person. First come – first serve. Subject to end at athlete's discretion.
Mystery Card Giveaway (Saturday May 14, 2016): Be one of the first 200 people in line at 9AM and get a mystery gift card valued between $25 and $1,000! One promo card per household. Must be 16 years or older. Identification may be required. FGL Sports Ltd. employees are not eligible.
Nike Free Revolution Experience (Saturday May 14, 2016): Meet 1:1 with a Nike expert to trial the latest innovation in Nike Free Revolution running and training footwear from 11AM-5PM. A limited edition Free Revolution gift will be included with specific Nike Free purchases, while supplies last.
Fitbit Spend & Get (Sunday May 15, 2016): Be one of the first 100 people to spend $200 before taxes, and get an exclusive Fitbit gift that includes a Fitbit Alta and more! Excludes select Nike & Timberland from qualifying purchase.