I first encountered See Ya Later Ranch wines in 2009 at a Taste BC event, where I won a silent auction gift basket which included the wine.  Being a dog lover, I distinctly remember the logo of an illustrated dog with wings and a halo, which I eventually found out was a nod to the rich history of See Ya Later Ranch, the lively legacy of Major Hugh Fraser (the man who "planted vines and seeded a legend"), and his fondness for four-legged friends on his ranch.
Back in 1919, Major Hugh Fraser purchased the ranch property high above the Okanagan Valley.  The Major found the freedom and open skies of the valley the perfect complement to his fun-loving personality and fondness for lavish parties.  The ranch was his home for more than forty-five years, each one adding to a rich mix of truth and fiction involving elaborate gatherings, plenty of dogs and a wife from Ontario, who on seeing the rustic surroundings, left both the Valley and a three-word note: "See ya later."  Seeing the humour in everything, he adopted his bride's parting note as a light-hearted closing comment on all of his personal correspondence.
Newly single, but rarely alone, the Major was much loved owing to his kind nature and memorable parties. But most of all, he is remembered for his kindness to his many four-legged friends who were ultimately laid to rest in a doggy cemetery that still exists at the Ranch.
In 2003, a series of wines were created under the See Ya Later Ranch name to salute both the site's colourful history and the man who first planted grapes in the beautiful mountain setting.
The See Ya Later Ranch label includes a dog with angel wings celebrating the ranch's dogs and the memory of their master. The light-hearted label adorns wines the Major would have been proud of and consumed his full share of.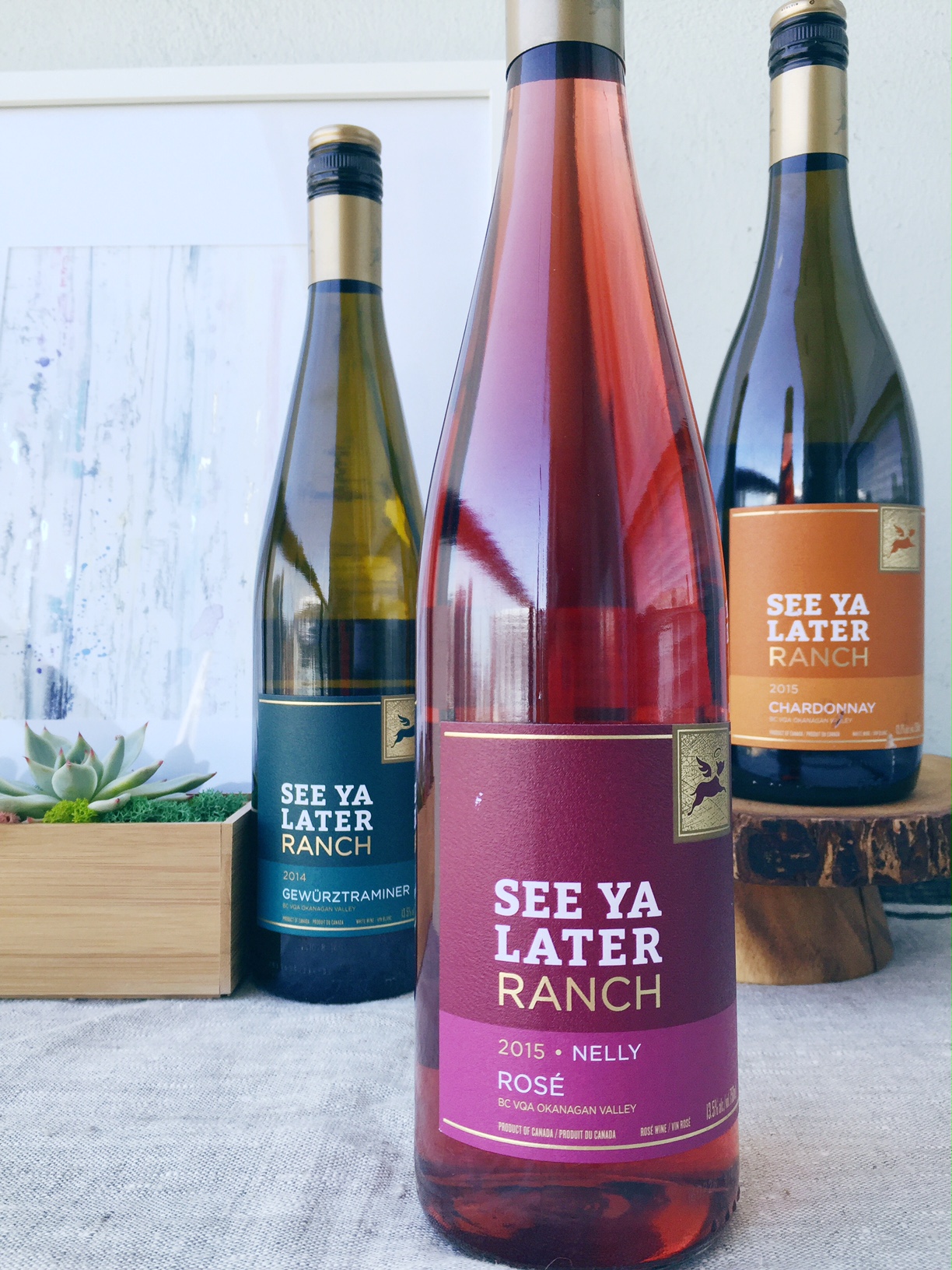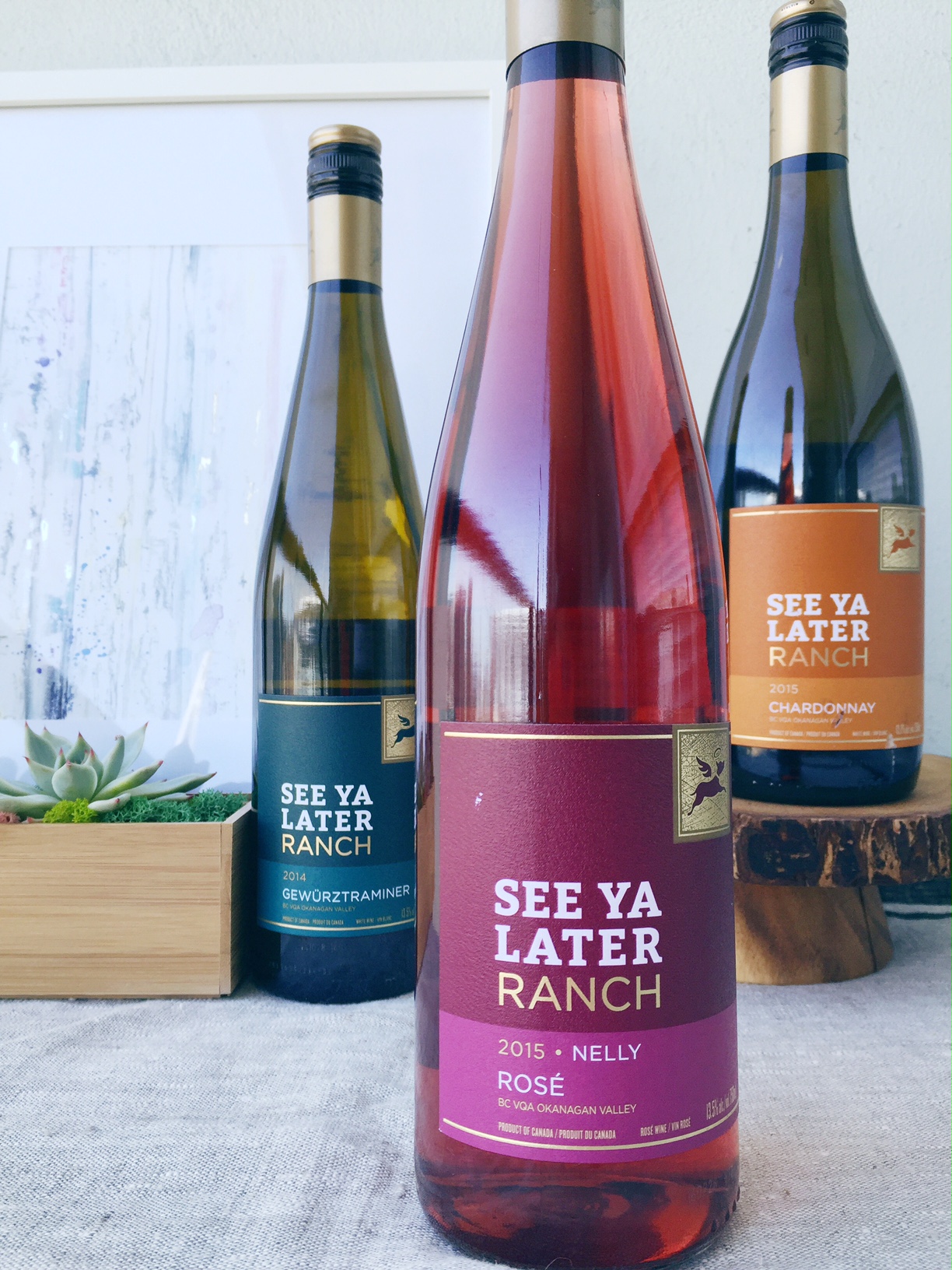 Fast forward to 2016.  Celebrating Spring, the season for lighter, brighter wines, Modern Mix Vancouver was recently delivered a special package from See Ya Later Ranch which included three fruit-forward varieties: a 2015 Chardonnay, a 2015 Nelly Rosé, and a 2014 Gewürztraminer.  These three picks were produced under the direction of See Ya Later Ranch's new winemaker David Saysomsak.
See Ya Later Ranch 2015 Chardonnay
A fresh, inviting Chardonnay offering notes of apple and spiced pear with hints of tropical fruit and vanilla on the nose.  More of these characteristics can be found on that palate with the oak providing the spice and vanilla undertones.  The partial malolactic rounds the wine and leaves enough acid for the finish.
Suggested Pairings: Wine-baked chicken, grilled veal chops with mushrooms, lobster ravioli, or pan-seared scallops with herbed butter sauce.
Estimated Retail Price: $14.99
See Ya Later Ranch 2015 Nelly Rosé
This rosé has an orange-kissed pink hue, and shows intense notes of strawberry and raspberry with a hint of rhubarb on the finish.  Bright acidity balances the wine, making it fresh and lively on the palate.
Suggested Pairings: Think of patios and picnics when pairing food with rosé, such as goat cheese, cured meats, prosciutto-wrapped melon, cold grilled chicken sandwiches and fresh greens.
Estimated Retail Price: $13.89
See Ya Later Ranch 2014 Gewürztraminer
Displaying spicy aromas of lychee and rose petal with hints of grapefruit, the Gewürztraminer bursts with rich, exotic flavours of lychee and ripe melons to match its crisp acidity and off-dry finish.
Suggested Pairings: An easy-drinking, food-friendly wine.  BBQ chicken wings, sweet and sour pork, lamb curry, ginger beef,
Estimated Retail Price: $14.29
===
For more information, visit sylranch.com, or pick up a bottle at your local BC Liquor Store.