The Laundress is an eco-conscious laundry and home-care line, founded by two friends who met at Cornell University's Fiber Science, Textile and Apparel Management and Design Program.  Upon graduation, co-founders Gwen Whiting and Lindsey Boyd worked at high profile fashion and apparel companies including CHANEL, Ralph Lauren, Polo and Brooks Brothers.
Despite working for high-profile apparel brands in their professional lives, in their personal lives, Gwen and Lindsey were frustrated with the lack of options for taking care of their personal pieces in their wardrobes.  The laundry products available in the marketplace left them dissatisfied, and the other option, dry-cleaning, was expensive, and left their clothes loaded with chemicals.  Constantly encountering dingy white t-shirts, faded denim and other pieces that seemed worn out after only a few wears and washes, Gwen and Lindsey set off to master the art and science of laundering.
After two years of researching and developing their laundry elixirs, the ladies came up with The Laundress, a sophisticated and toxin-free line of detergent and fabric care products.
What impresses me the most with The Laundress and their boutique home and laundry care line, is how specific and purposeful their product formulas are.   In a world where most people do nothing more than separate their laundry into darks and lights, The Laundress has come up with creative solutions, each formulated to work its magic on every specific piece of fabric in your wardrobe – including delicates, denim, wool, cashmere, athletic outfits, swimear, and more.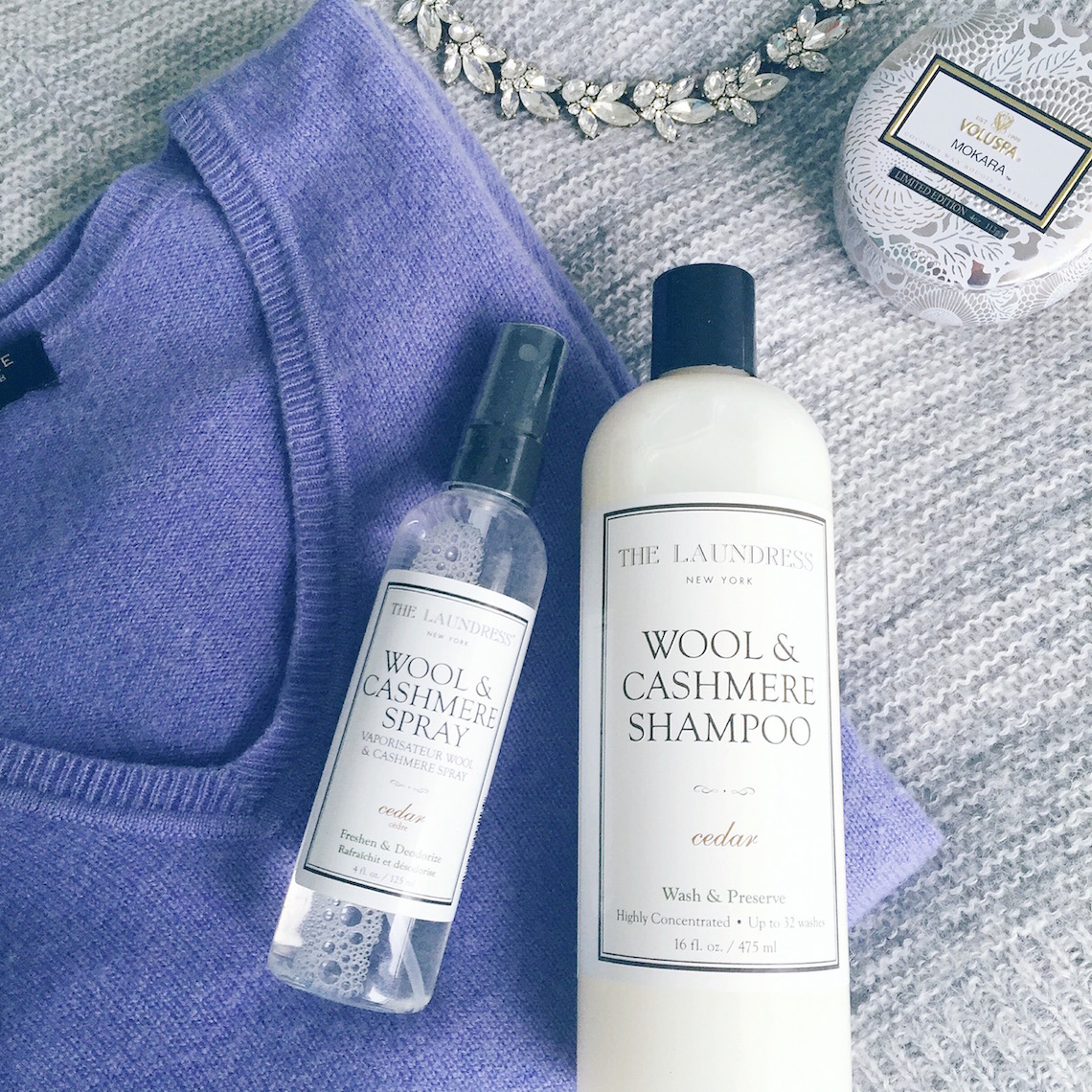 Yes, they have their signature whites and darks detergent, but beyond that, the products are formulated for specific fabrics:
Denim Wash – Helps guard colour while softening denim.
Wool & Cashmere Shampoo and Wool & Cashmere Spray – The 'shampoo' is a non-toxic detergent alternative for your wool and cashmere items, while a few spritz of the deionized water and mild alcohol spray, adds antibacterial properties, while naturally repelling away bugs and moths. In addition to wool and cashmere, these products also work for merino, mohair and down.
Delicate Wash and Delicate Spray – For silk, lingerie and other delicate favourites.  This is a favourite product of co-founder Lindsey Boyd, she finds it particularly effective for her silk dresses, blouses and scarves.
Sport Detergent and Sport Spray – For activewear and swimwear, or to deodorize footwear or gym bags.  This would be a really good product for active Vancouverites to have on hand.
All Purpose Bleach Alternative – This product is made up of teeny tiny white beads, for mixing with water. I've been using it to brighten my white towels and bedsheets. Also a zillion other uses for the home, including lifting coffee stains from clothing, deororizing litter boxes, destaining tea and coffee pots, cleaning bathroom grout.  The Laundress lists out 54 uses for All Purpose Bleach Alternative on their blog.
Stiffen Up – A natural cornstarch solution which reduces time needed for ironing by adding a higher resistance to wrinkles while offering a moderate hold.  I showed this to my boyfriend and he immediately thought it would be a great product to use for mens' dress shirts.
Ironing Water – This is a popular product found in Europe.  Ironing water can be added to an iron or steamer to add scent to fabric while removing odours.
The Laundress products contain ingredients that are plant-derived (no animal by-products) and all their products are free of allergens, sodium lauryl sulfate (SLS), petroleum, phthalate, phosphates, paragons and chlorine bleach.
In Vancouver, I've spotted The Laundress products at Kiss and Make Up Boutique in Olympic Village, Hills Dry Goods on West 4th, Charlie and Lee in Chinatown, Room in Order on West 7th and Cambie, and Chintz & Co in Yaletown.  Or, for a full selection of products, you can order online at: thelaundress.com.