No matter the time of year, a suit is an essential staple in any guy's wardrobe.  From classic and traditional, to fashion-forward and modern, no matter your age, height, body-type or style, Indochino has a suit for you. Why? Because this Vancouver-based business is a made-to-measure custom suit company, specializing in menswear and all the fashion pieces associated with a classic suit.  Whether a new suit is on your radar because you need it for a special occasion (wedding, interview, graduation), or maybe you're just looking for a wardrobe refresh, there's no season, no time of year, where a suit wouldn't be a closet staple.
Indochino started out in 2007, as a Vancouver-based e-commerce business, a first-of-its-kind for made-to-measure suits. Online customers would measure themselves in the comforts of their own home, and then customize and order their suit online.  As the start-up evolved, Indochino began getting into more bricks-and-mortar locations, so customers could have that live interaction with Indochino Style Guides and be educated in-person on the measurements and customizations available for a personalized suit.
For a while, they had their travelling tailor, which were temporary pop-up shops that made stops across North America, with Indochino Style Guides measuring and advising men on a custom suit. Now, in 2016, their latest bricks and mortar rendition is the Indochino Showroom, a permanent retail location where shoppers can get educated, and measured, for a custom suit, browse through seasonal materials, and meet with an Indochino Style Guide to find the best options to "suit" their style and budget.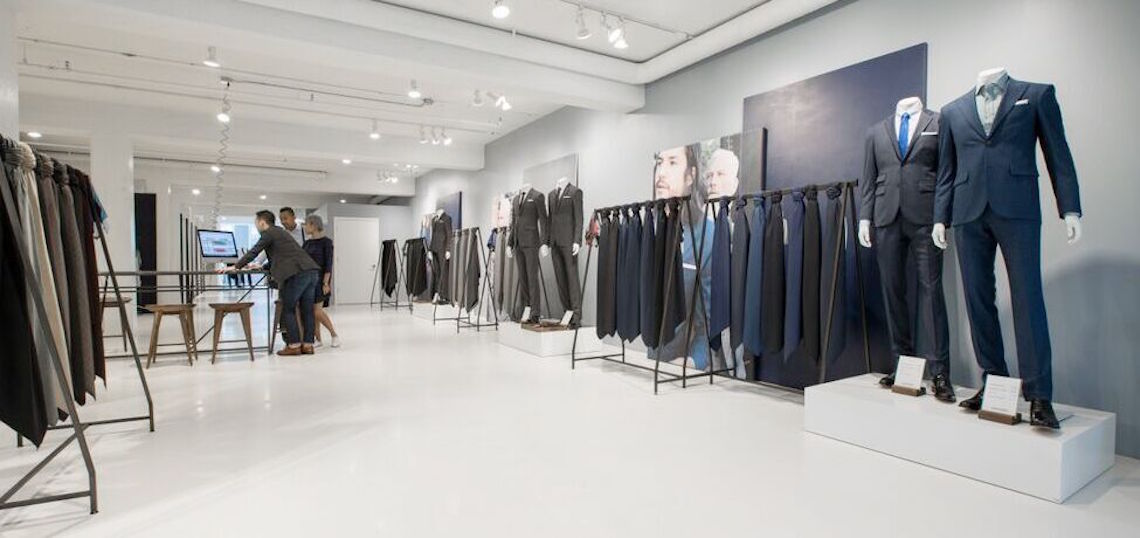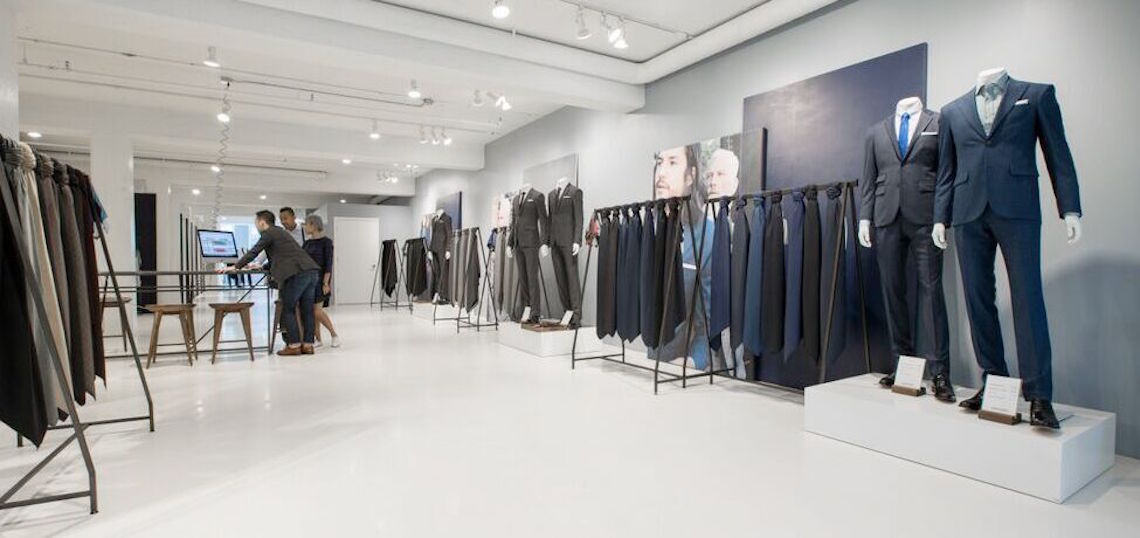 A few short years ago, Indochino would have been labeled as a Vancouver start-up.  But now, as one of the largest made-to-measure menswear brands, with retail showrooms in Toronto, Vancouver, New York, San Francisco, Philadelphia, Beverly Hills and Boston, they can  hardly be considered a start-up anymore.
Modern Mix Vancouver recently visited the new Indochino Showroom in Yaletown, to peek in on the Indochino made-to-measure suit fitting and customization process.   Typically with Modern Mix Vancouver, I'm the one asking questions, being questioned, pampered, and educated.  But at Indochino, it was my turn to sit back (on one of their comfy couches) observe the process, and now, share the experience with Modern Mix Vancouver readers who may know someone in need of a custom suit, or simply curious about how this process works.
Here is my boyfriend Steve, ready to suit up with Indochino: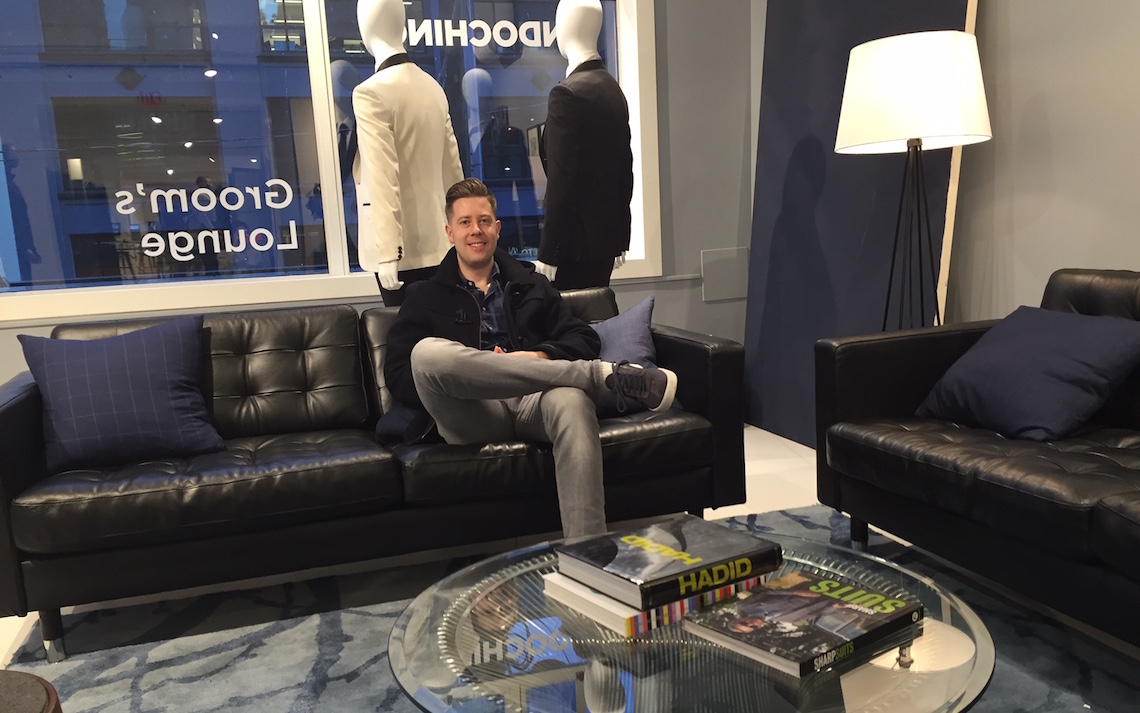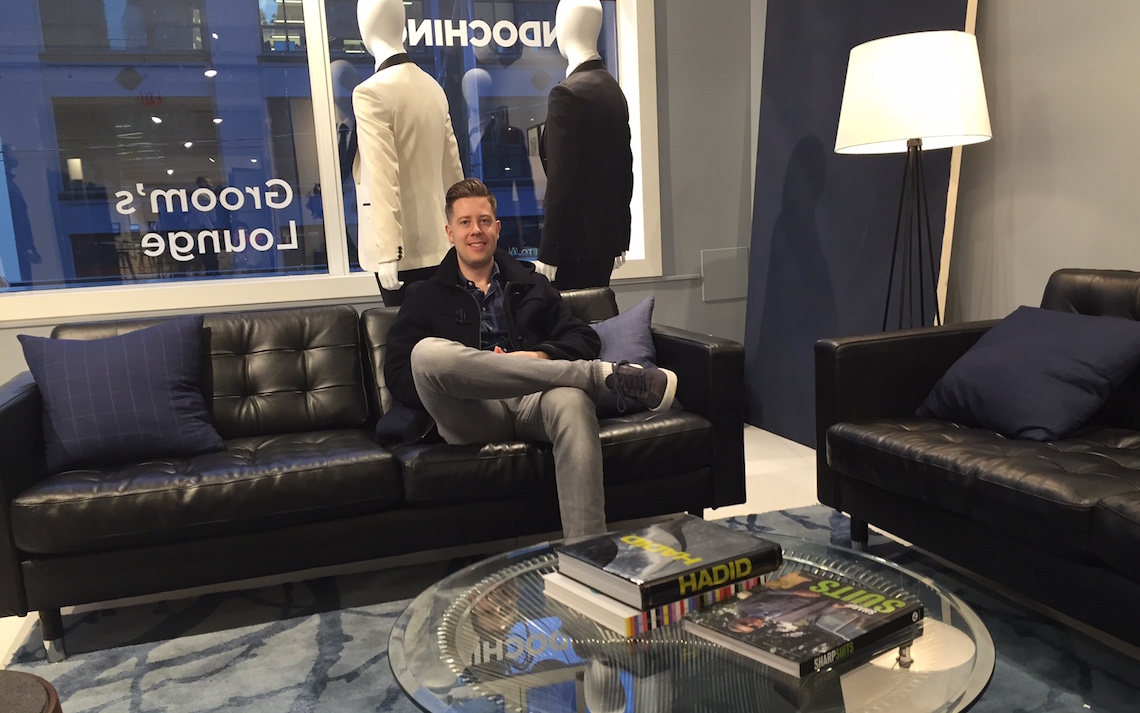 Indochino: Online vs. In-Person
Knowing that Indochino is first-and-foremost an e-commerce company, why go in person to their Vancouver showroom location in Yaletown?
For a Vancouverite's first experience with Indochino, I highly recommend going in-person for your first custom suit experience, and getting measured properly and accurately.  The measurement process is free, and there's no pressure to commit to purchasing a custom suit the day you get measured.   Your measurements stay on file for the future.
Some of my friends have tried measuring themselves through the online instructions, and they never seem to turn out as accurately as having an expert Indochino Style Guide conducting the measurements and guiding you in the choices you make.  If you live in Vancouver, and there's an Indochino Showroom right in Yaletown…why not go there?
Fit Consultation at the Indochino Showroom in Yaletown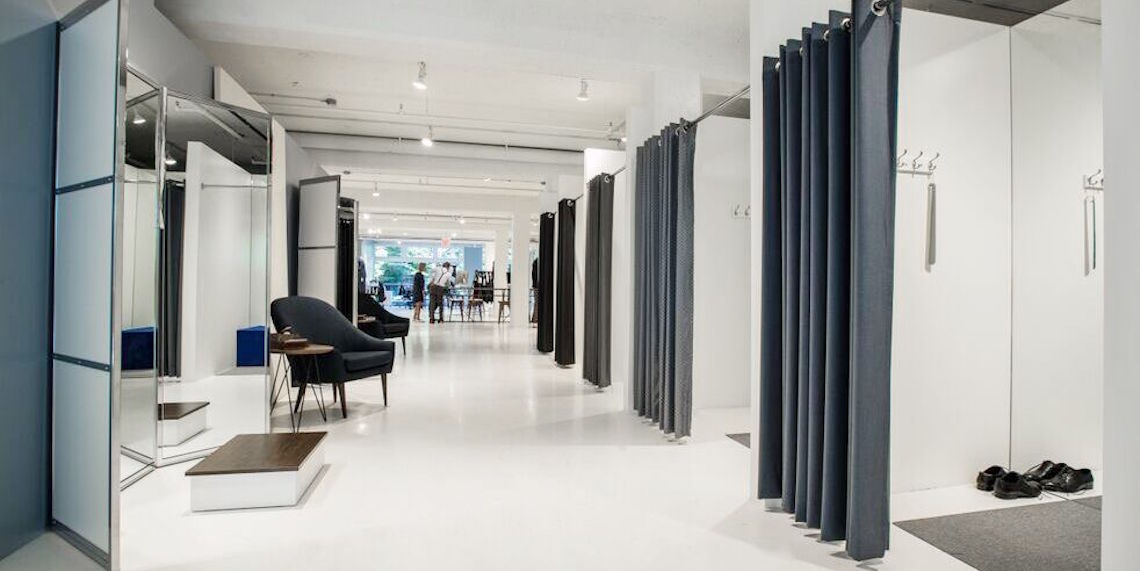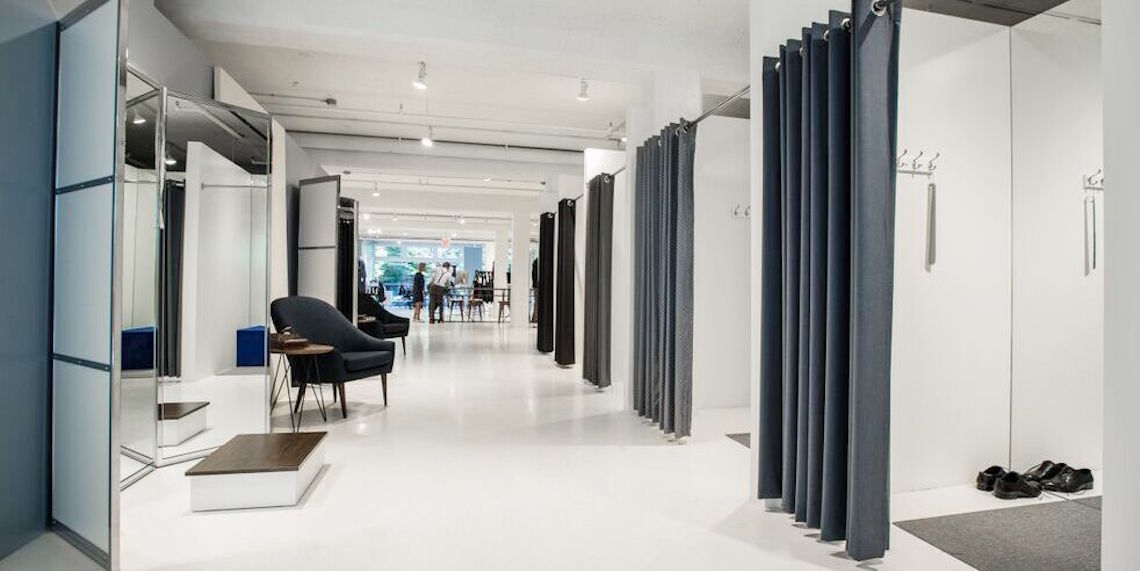 Opened summer 2015 as a permanent location, the Indochino Showroom in Yaletown is modern, spacious and bright, and was designed to offer more room for men to shop the wide variety of custom suits, shirts and accessories, no matter the occasion. Large fabric panels hang next to mannequin clusters showcasing the top suiting designs and endless customization options.
Part 1: Measurement
On your journey towards a custom suit, the first step is to get measured.  At the Indochino Showroom, over a dozen measurements are taken by an Indochino Style Guide, accounting for everything from height, arm length, to weight and posture.  When Indochino started out as an online-only business, these measurements had to be taken on your own at home.  How convenient that those of us in Vancouver can just pop into the showroom in Yaletown, and have all these measurements taken for us, for free!
If you're only interested in getting measured, for a future suit, your first visit stops here.  Your measurements are kept on file, and in the future, if you decide to purchase a custom suit from Indochino, you can do it online, or come back to the showroom.
However, if you're ready to pick out your custom suit, read on.
Part 2: Customization
Now, here's the fun part which makes up the bulk of your fit consultation: customizing your suit.
At Indochino, the price of the suit is based on the fabric price.  On every sample of fabric, cleanly lined up on racks at the Indochino Yaletown showroom, a tag is attached with the fabric name, the collection it comes from, the material, and thread count.  It also lists all the prices for a 2-piece suit (jacket and pants), 3-piece suit (jacket, pants, vest), or the pieces individually.
For our visit, my boyfriend went with the Essential Blue Sharkskin fabric, which is a best-seller at Indochino.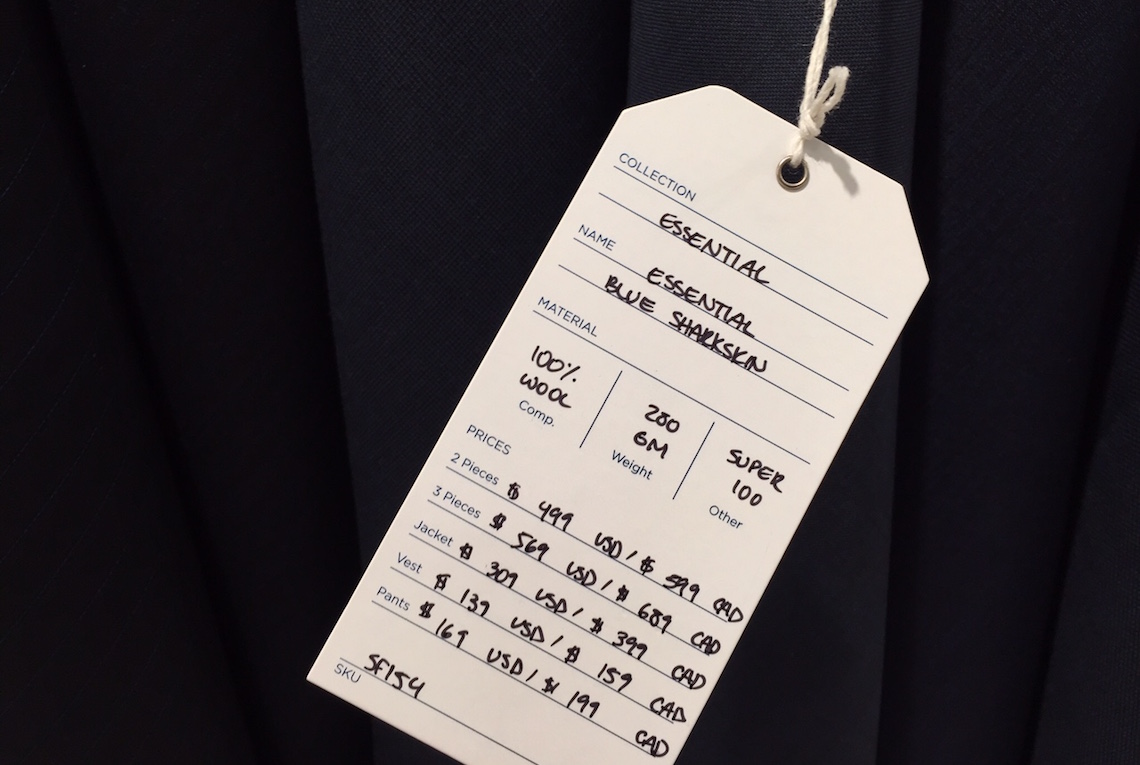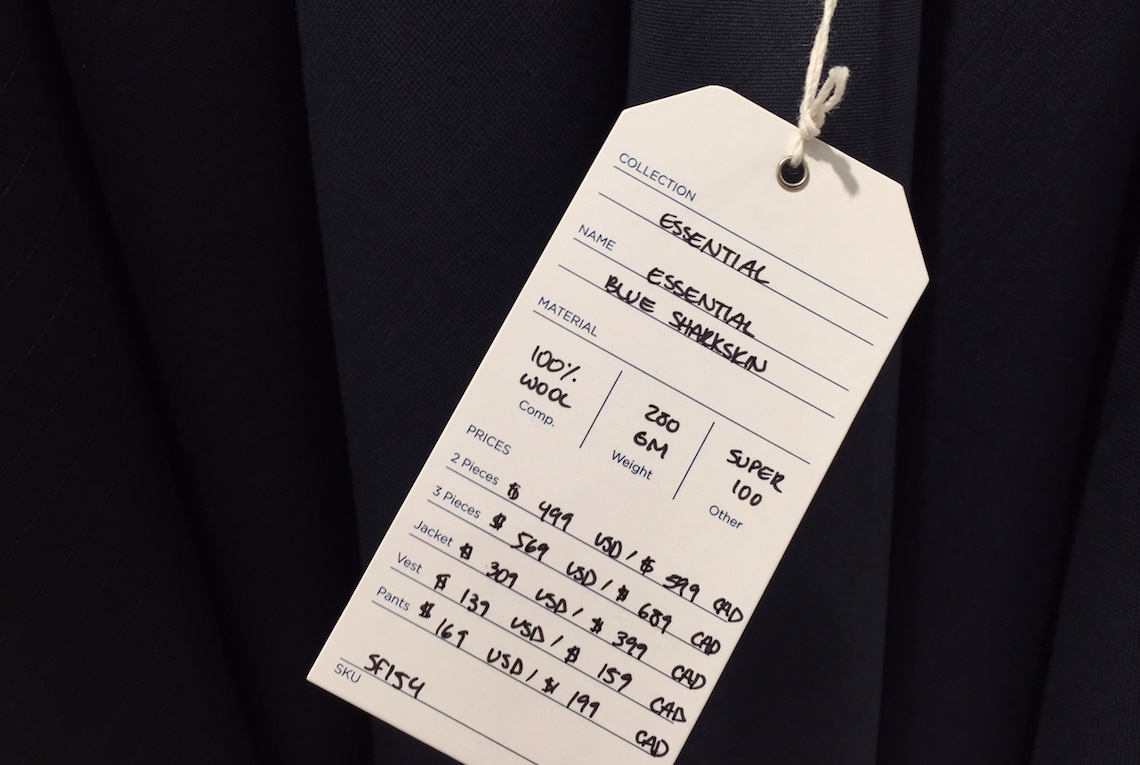 Fabric choice is the most obvious customization, but there is SO MUCH MORE than that.  Once you pick your fabric choice (which determines your price point) all customizations are included in that price: from pocket flaps, to lapel styles, to the lining pattern and custom monogramming.  As a result, you don't have to deal with sketchy upsells, someone selling you something you don't need, and you can work within your budget upfront.
For example, for the suit jacket alone, here are some of the more noticeable customization options:
Jacket Lapel: Harvey Specter from the TV show Suits is known for his peaked lapels.
Jacket Vents: The slit(s) at the back of the suit jacket.  One vent is seen more commonly in North America, while two vents gives the guy a more European look.
Jacket Buttons: One (most fashion-forward), two (standard), three or double-breasted.
Jacket Pockets: Choice of pocket flaps or no pocket flaps, standard or slanted.
Jacket Lining: Offers colour and personality. Custom linings range from standard colours like solid black, blue or charcoal, to patterns like polka dots, palm trees, or hula girls!
And those customizations are only for the suit jacket!  Other options include: colour of pick stitching, option to have a waist pocket, pen pocket, functional boutonniere, funcational sleeve button holes, belt loops and pant cuffs on the dress pants, and more.  Again, the price is from the fabric you choose, not the customizations you make.
Custom Dress Shirts at Indochino
As an add on to your suit, shoppers can also order a custom dress shirt.  Beginning at $79USD (for some reason, all their pricing online is listed in USD, even if you're a Canadian shopper), the same measurements on your file are applied to the custom dress shirts at Indochino, and style customizations including choices on collar and cuff styles, as well as monogramming options.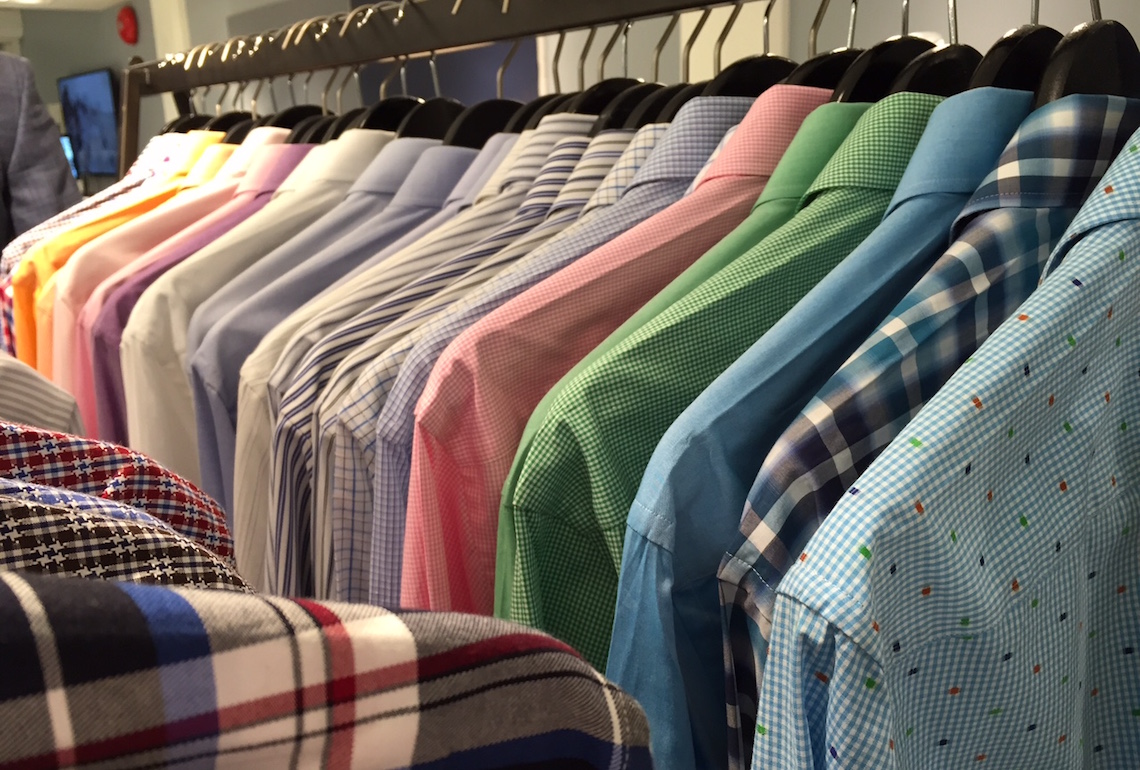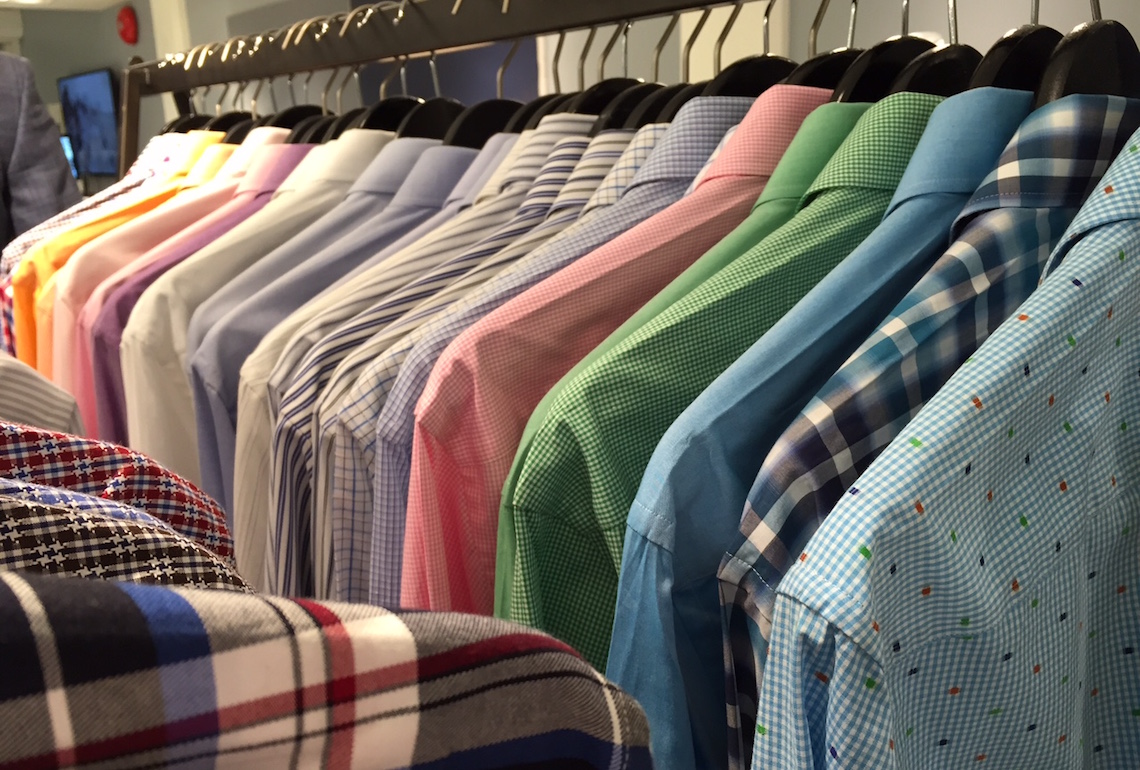 ==
Overall, our first visit to Indochino was about a two-hour process from start to finish.
After the measurement and customizations, and the payment for the suit, the wait is about 3 to 4 weeks for the suit to arrive, either delivered to your home or to the Indochino showroom in Yaletown. We picked delivery to the Indochino Showroom, as we knew we would have to return again for suit adjustments.
Stay tuned on Modern Mix Vancouver – when our suit arrives, we'll be sharing Part 2 of our Indochino experience!