This Spring, I was introduced to two new things which have made my life more convenient: SodaStream, the home beverage carbonation system, and Fresh Prep, the Vancouver-based meal delivery service.  Thanks to SodaStream, who knows how hectic it can be to be both a full-time 9-to-5 working professional, and also a "5-to-9" blogger, they gifted me with products and services to help me save time and increase the convenience of my meal prep game.
Fresh Prep is an online marketplace delivering fresh and local ingredients paired with gourmet recipes so that busy Vancouverites can cook up a delicious, nutritious meal in under 30 minutes.   With a focus on healthy and balanced meals, subscribers can pick online from weekly and/or seasonal menu items, and have the ingredients delivered to them, washed, measured and cut-up, ready to be cooked at home.  As a result, you get the benefits of a healthy home-cooked meal, without the hassle of grocery shopping, prepping the ingredients, and with less dishes to wash too!
Here are some examples of the meals we tried through Fresh Prep:
Tuscan Portobello Cap w/ Sauteed Collard Greens and Quinoa
Cajun Spiced Shrimp with Onions, Bell Peppers, Cumin Scented Ancient Grains
Chicken Thighs with Creamy Sweet Corn, Arugula and Couscous Pilaf
Shrimp and Tomato Orzo with Basil
The ingredients are delivered in a small cooler bag, which you return the next time you order a meal from them.  You don't have to cook Fresh Prep the evening the ingredients are delivered, the ingredients (which are packaged in various ways – sealed plastic for the meat and veggies, brown paper for the grains, disposable plastic containers for smaller items, etc.) can easily stay fresh for a few days in your fridge.  Perhaps in the future, for regular subscribers, Fresh Prep could look into delivering the ingredients in reusable glass containers to be more sustainable and reduce waste?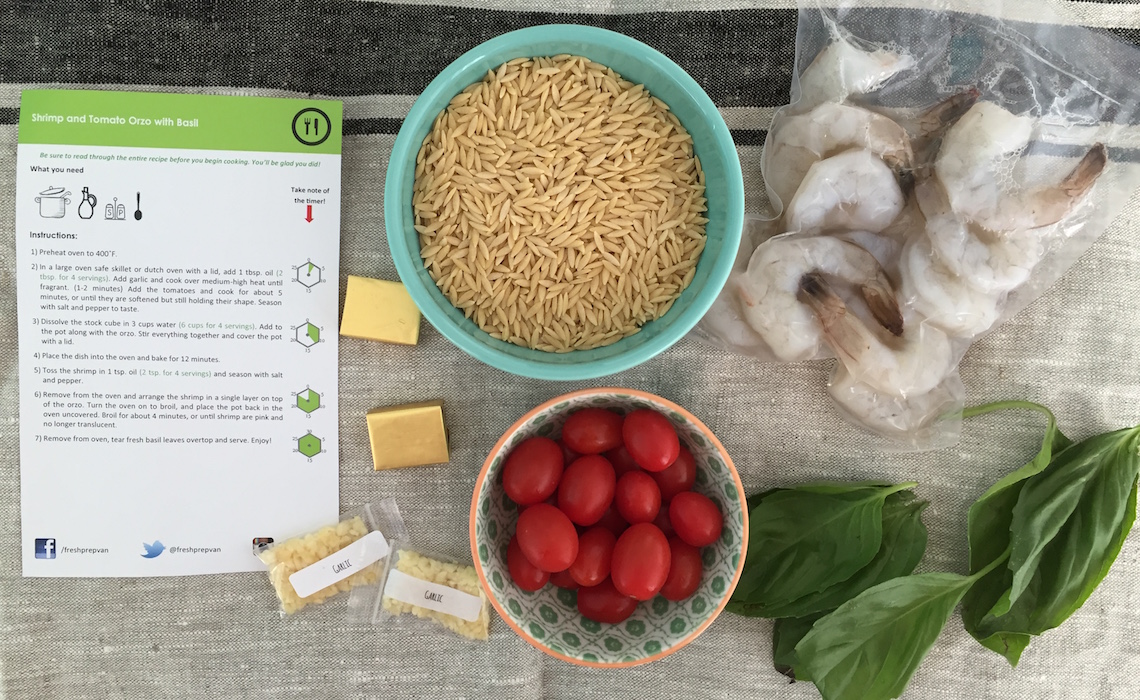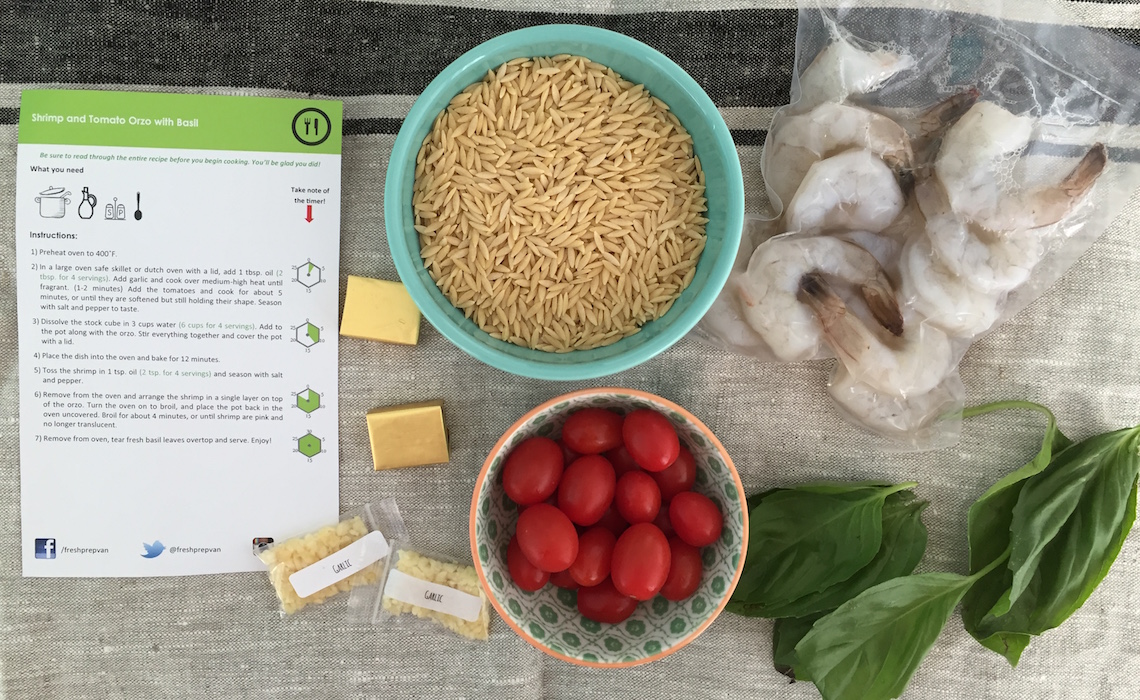 I definitely enjoyed the convenience aspect of Fresh Prep.  The meal options with Fresh Prep are great, but I think something that needs a bit of tweaking with the service is a bit more clarity with the way the instructions are written.  As simple as the recipes are to cook, a bit of smart judgement and common sense is required as well.  You can't always follow the Fresh Prep recipe blindly – you need to be confident enough in your own cooking abilities to adjust the recipe when necessary.
For example, with both the Orzo and Cous Cous recipe, the reduction time of the liquid took much longer than indicated in the recipe.  Had we followed the instructions word for word, we would be having soup!  As another example, one of the recipes required five cups of milk, but it wasn't clearly indicated upfront that this was something extra you needed to provide on your own.
As a pleasant surprise, Fresh Prep also doubles as a hands-on cooking lesson.  All the menu items I tried through Fresh Prep comes with a recipe card with instructions on how to prepare the dish.  From using the Fresh Prep service, I have also collected an assortment of simple meals to add to my recipe collection, which I can then cook again on my own in the future when I have more time.
For example, I have never cooked with Orzo before, but it was so EASY to make in a casserole baked with Shrimp and Tomato.  Likewise, Portobello Mushroom isn't something I typically cook with, but now I know I can just toss a few in the oven, with ricotta cheese, red pepper and sundried tomatoes, and have it as an easy meal.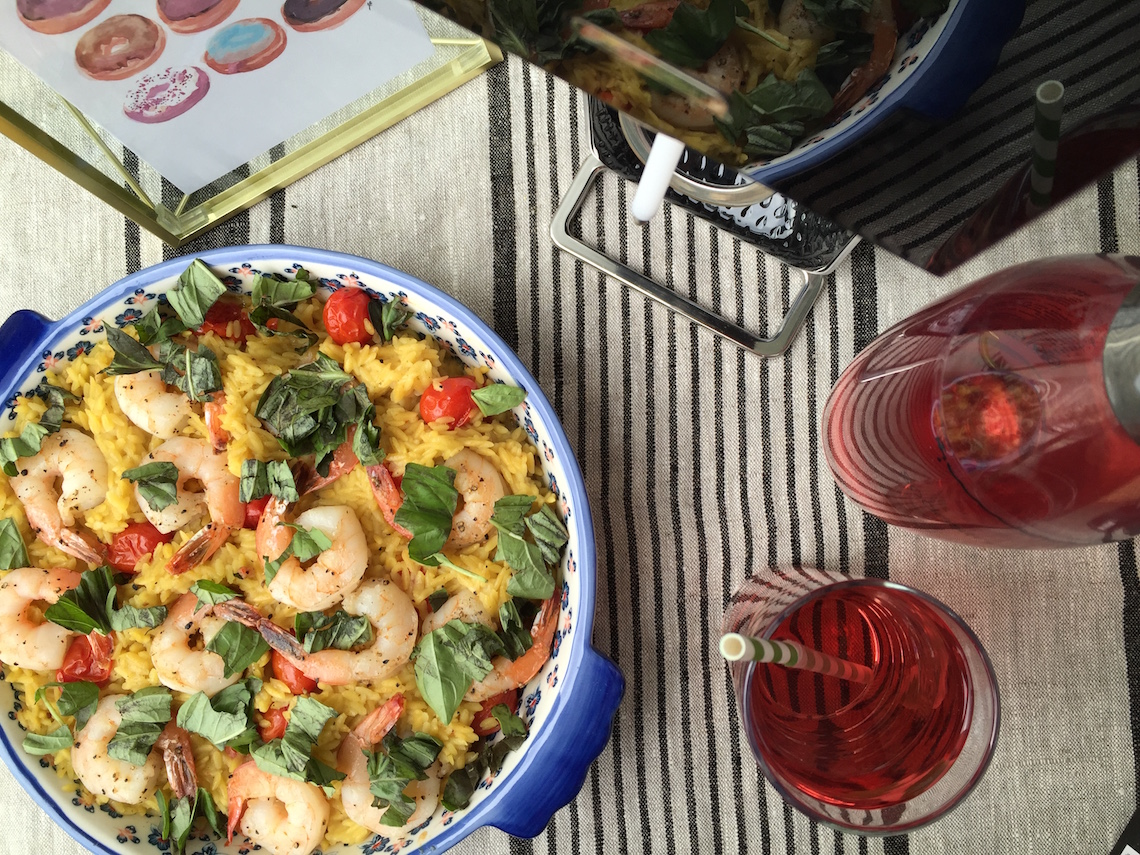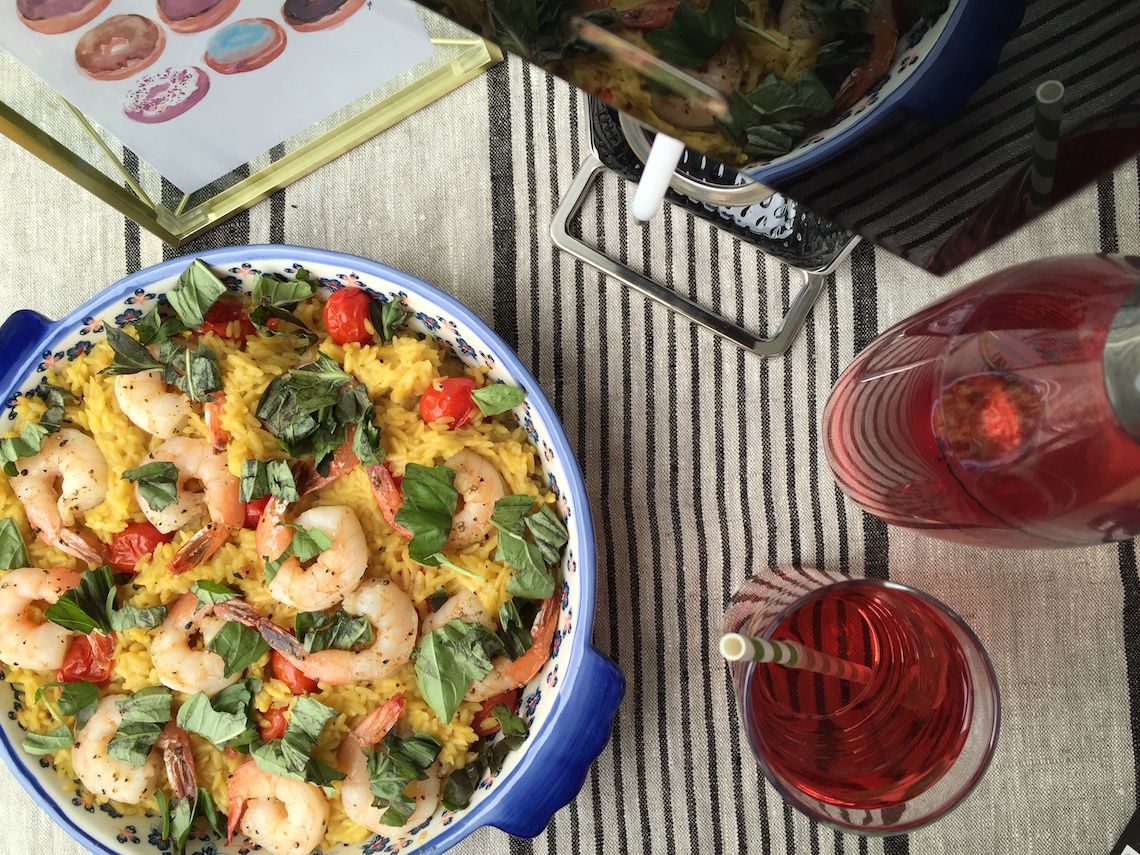 Just before we plated our meals, we prepared sparkling beverages with our new Soda Stream Power, which we keep on the kitchen counter.  The sleek, upright design makes it easy to fit on a countertop, without taking up too much space.  The square base makes it easy to nuzzle into a corner of your kitchen counter, even if you live in a 500 sqft downtown Vancouver apartment like me.
To turn regular tap water into sparkling water with SodaStream Power, all you have to do is click the provided 'carbonating bottle' into place, and push a button indicating one of three carbonation levels.  The SodaStream will then automatically blast in CO2 (from the canister in the back of the machine) providing fresh, sparkling water.  After the carbonation, there are a variety of sparkling flavour mixes that can be added to the bottle, including: Blackcurrent Lime and Lime Basil (from the "Sparkling Gourmet" line, designed by NYC Chef Paul Liebrandt), and Passion Mango and Cranberry Raspberry (from the "Free" low-calorie line).  A shot of rum, gin or vodka could easily be added as well, for a sparkling cocktail to go with your meal!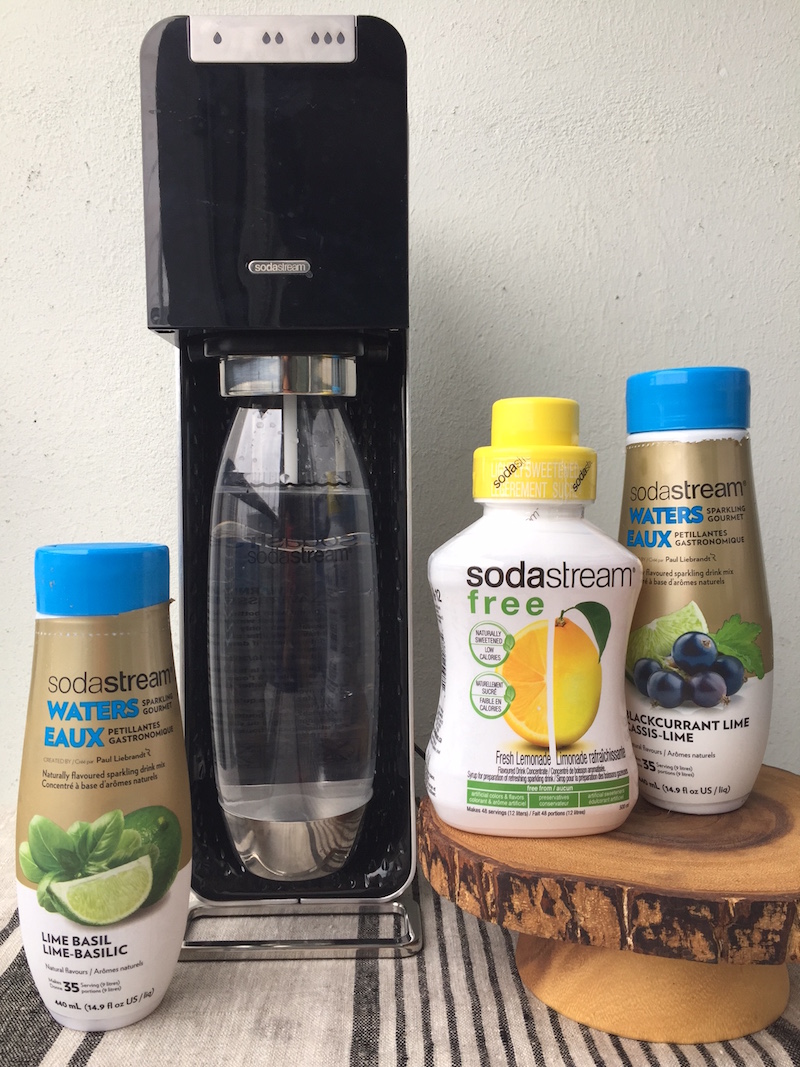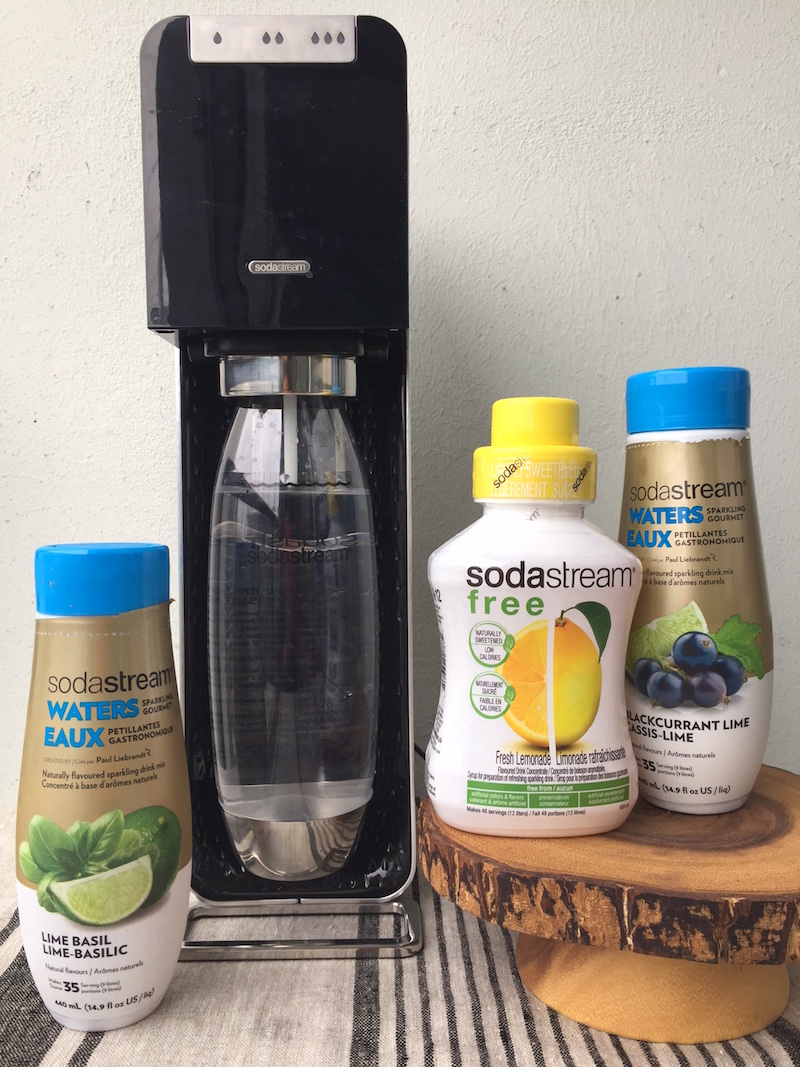 For all our FreshPrep meals, we ordered the four-person meal option.  Even though most evenings there were only two of us having the meal, we ordered double portions because we wanted to have leftovers to bring for lunch the next day to work.  Similarly, if you want to have sparkling water with your leftovers for lunch the next day, the SodaSteam 'carbonating bottle' is something you can store your carbonated water in and grab and go with.
For more information about both these products and services which have added convenience to my life, visit: sodastream.ca and freshprep.ca.