Settling nicely into its new Yaletown location, where niche boutiques populate Mainland Street, Nice Vice is Canada's first dairy-free, plant-based micro creamery.  A retro splash of bright pink and yellow are the dairy-free ice cream shop's flagship colours, offering a fun welcome into a minimalistic yet modern space.
A former addict who has been clean for 8 years, Nice Vice founder Chris White sought to replace his not-so-nice vices with nice ones: living a plant-based diet and sharing the goodness of dairy-free vice cream.  Inspired by 'vice cream' pioneer Jeff Rogers, also known as The Naughty Vegan, Chris began making his own vegan ice cream from scratch two years ago out of his kitchen for himself and his three boys.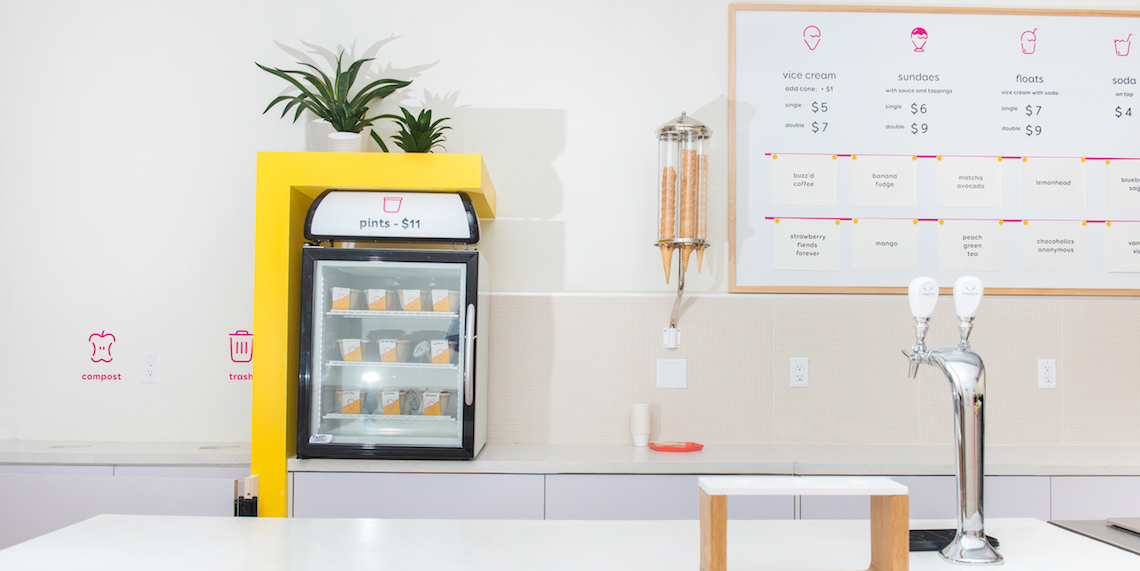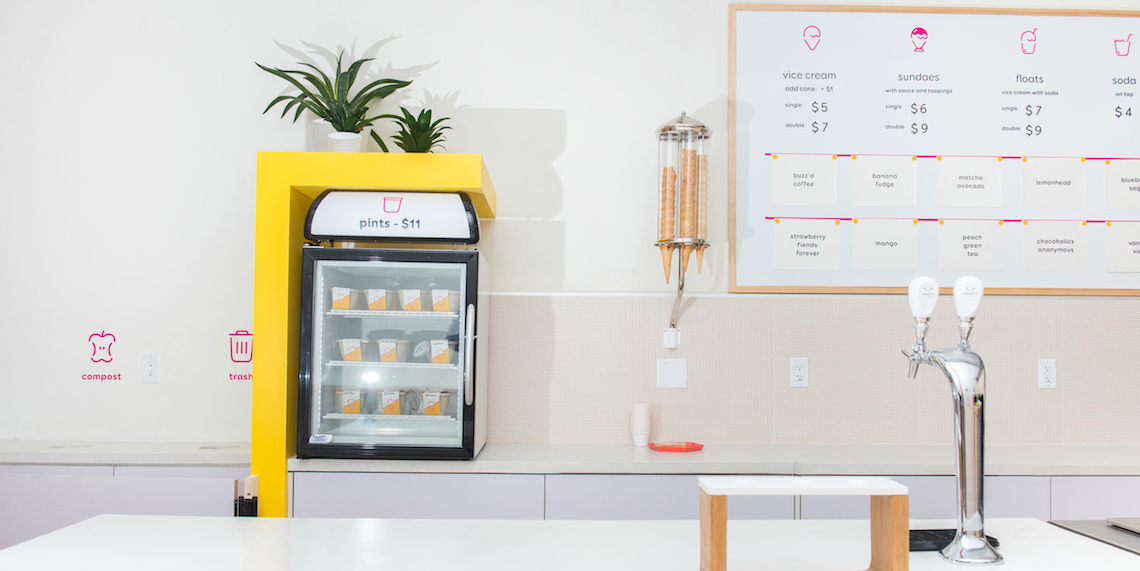 Much like Chris replacing his former vices with healthier "addictions", Vancouverites are looking for healthier alternatives to their food indulgences. Whether the reasons are related to diet (ie. being dairy-intolerant or having a milk allergy), the environment or ethical reasons, it's not uncommon to see people are hopping on the dairy-free bandwagon … and Nice Vice is entering the plant-based dessert market at the perfect time.
Nice Vice offers small-batch vegan ice cream that is organic, non-GMO, dairy-free, soy-free, nut-fee and cholesterol-free.  So, if cream isn't the base of 'vice cream', then what is it made of?  Every flavour is a bit different, but coconut cream and sweet potato make up the base.  Then depending on the flavour variety, fresh fruit, natural colours and locally supported plant-based products are added to the mix.  Nice Vice serves 12 select flavours on a daily basis, and 4 to 6 seasonal flavour, made fresh every day in the back kitchen of the boutique.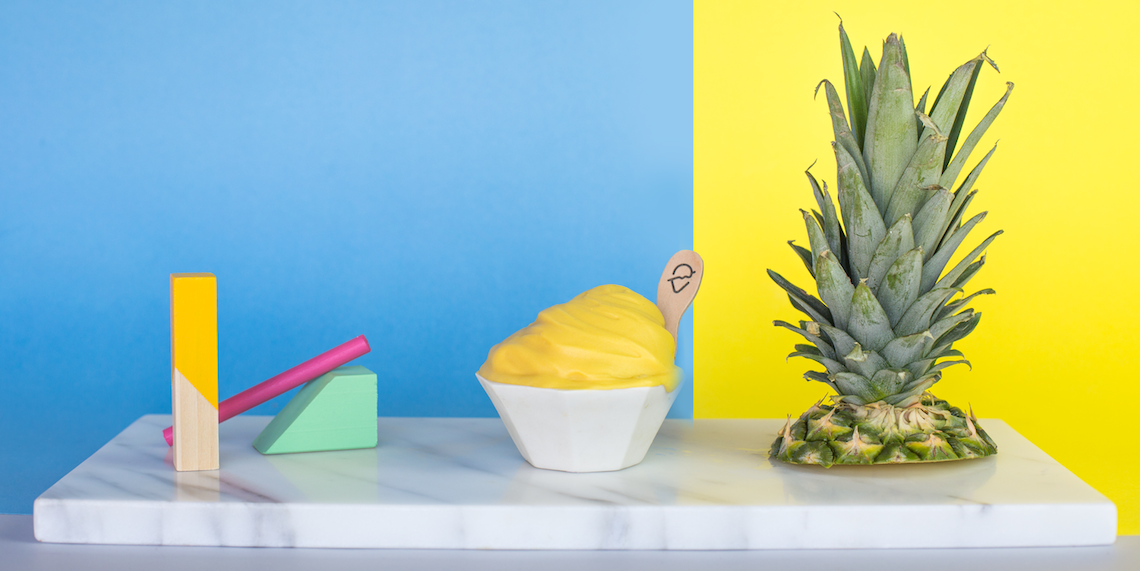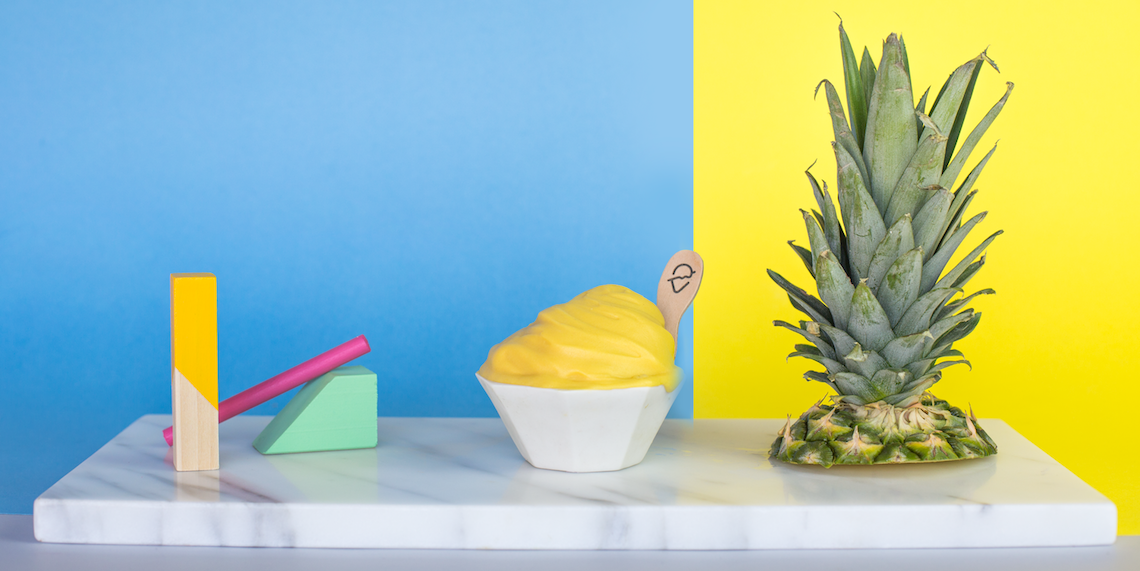 Modern Mix Vancouver visited Nice Vice on a Sunday afternoon, and had the delicious opportunity to taste from their daily menu.
The featured fruit flavours from our visit included: Mango, Lemon Blueberry, Lemonhead  and Strawberry Fiends Forever.  I liked how it was fresh and flavourful, without being too sweet.  For example, Lemonhead actually tasted tart like a real lemon, not a sugary, sweet lemon candy flavour.  With the Peach Green Tea and Lavender Early Grey, you can actually see bits of tea leaf in the vice cream.  Other flavours on rotation included Matcha Avocado, Banana Fudge, Chocoholics Anonymous, and a plain Vanilla Vice.
As a complimentary option, customers can also dust their vice cream with artisan salt from  The Salt Dispensary, with unusual flavours including ginger and raspberry.  Adding salt to ice cream is not as strange as it sounds (think: Purdy's Himalayan pink salt caramels)…it certainly adds a different dimension of flavour.  Just make sure you don't overdo it, otherwise the salt overpowers the taste of your frozen treat.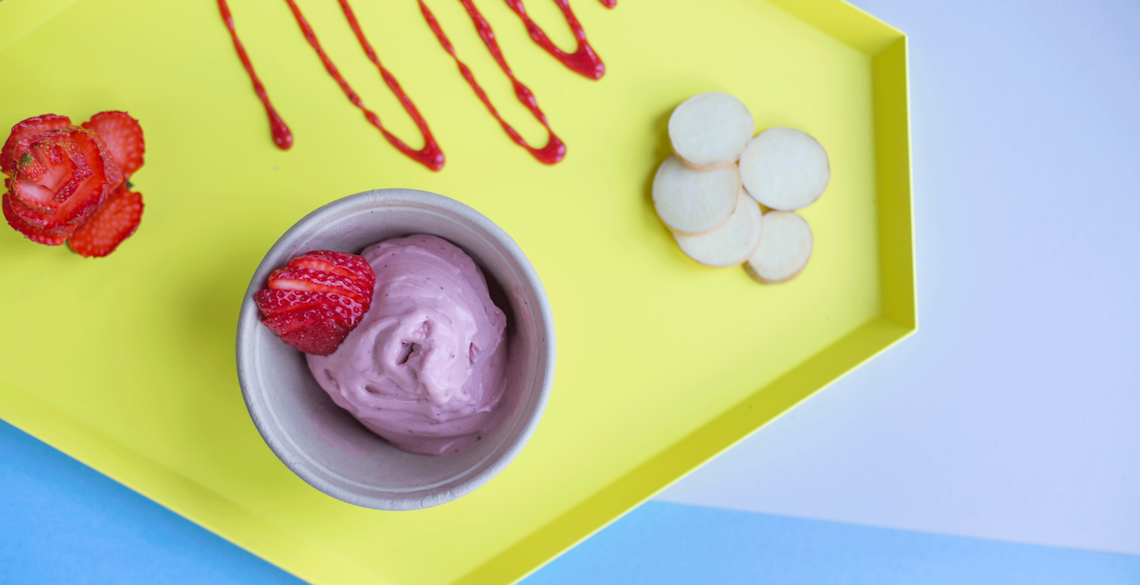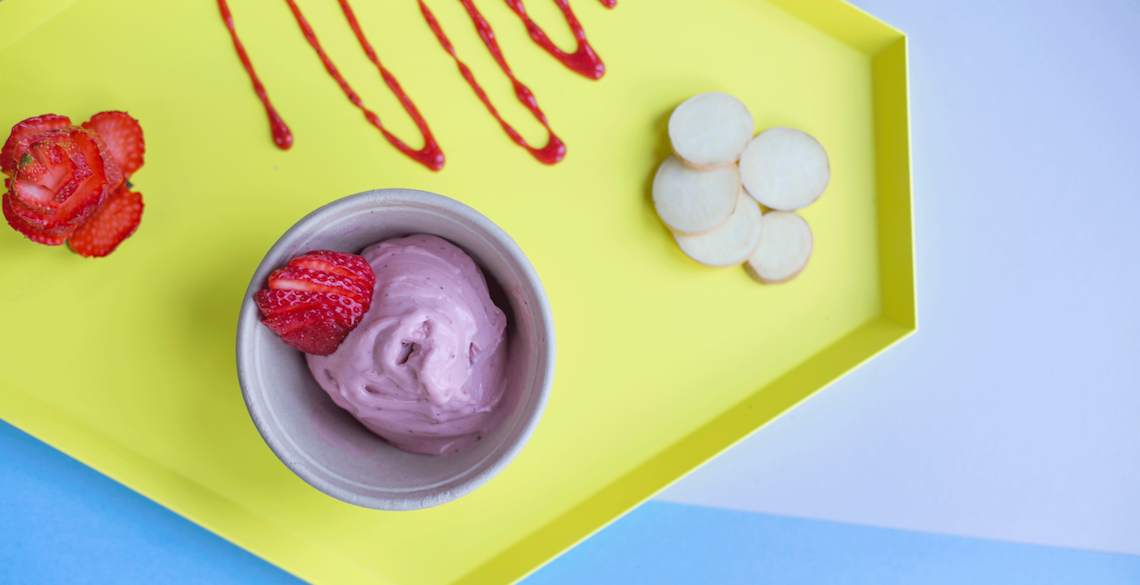 A single scoop of vice cream retails for $5, a double scoop for $9, and there is the option of adding a cone for $1 extra.  They were sold out during out visit, but we were told that there is usually an option for a spinach and kale buckwheat cone as well!  Also sold out at the time were 'vice cream sandwiches', with the wafer/cookie/biscuit supplied by Delish Gluten-Free Bakery.
In addition to frozen dessert, Nice Vice also offers botanical-based root beer and cream soda on tap, from Vancouver's very own Capilano Tea House.  Nice Vice hopes to eventually offer kombucha on tap as well.
If you want to take vice cream home with you, vice cream is available $11/pint and packaged in a 100% sustainable, recyclable, and compostable container made of straw.  Try out Nice Vice 0% Dairy Creamery at 1022 Mainland Street in Yaletown, or visit them online at: nicevicecream.com.