When I saw the Groupon for Chaser's 3-Day Juice Revolution Cleanse, I thought $109 was a fantastic deal as I had paid $195 for The Juice Truck's juice cleanse back in 2013. I went ahead and bought one Groupon each for my boyfriend and I.  Given that last time I did the cleanse on my own, I was really excited to have someone to go through the experience with the second time around.
Prior to purchasing Chaser's 3-Day Revolution Cleanse, I had been into Chaser's in Yaletown once or twice when they initially opened a few years back, but kind of forgot about them when other up-and-coming local juice and smoothie bars opened up like Up Jus, Leafy Box, Living Produce Aisle and Krocodile Pear (which also opened as a store-within-a-store at Frank & Oak in Gastown), all within a 10 minute walk of each other. I did notice that Chaser's doesn't offer delivery of the cleanse, but I live close enough to the Yaletown location to easily walk over and pick up the 18 bottles of juice.
When I did my only other juice cleanse with The Juice Truck's program, it was highly publicized that their 3-day juice cleanse was developed in partnership with a nutritionist.  It offered me a lot of reassurance to me that a professional nutritionist had given the thumbs up to the nutrition and combination of ingredients used in the cleanse.
Chaser's didn't provide nearly as much information about the juice cleanse process, but I tried my best to navigate through their website to find the information I wanted.  Their FAQ's were a bit sloppy and it worried me that there were discrepancies between what is stated on their website and what is listed on their juice bottles.  For example: "Chasers does not add any water to their juices, so staying hydrated through the process is a must" – yet the bottles of juice list out "filtered water" as one of their ingredients!  "No sugars are added to any of our juices", yet agave and maple syrup are listed as ingredients in the "Start Me Up" juice.  I think they mean refined sugar?
Given all of these things I noticed before I started the cleanse, I definitely suffered from a bit of "cleanse-xiety"the night before beginning the three-day experience.
Chaser's Juice Cleanse: The Day Before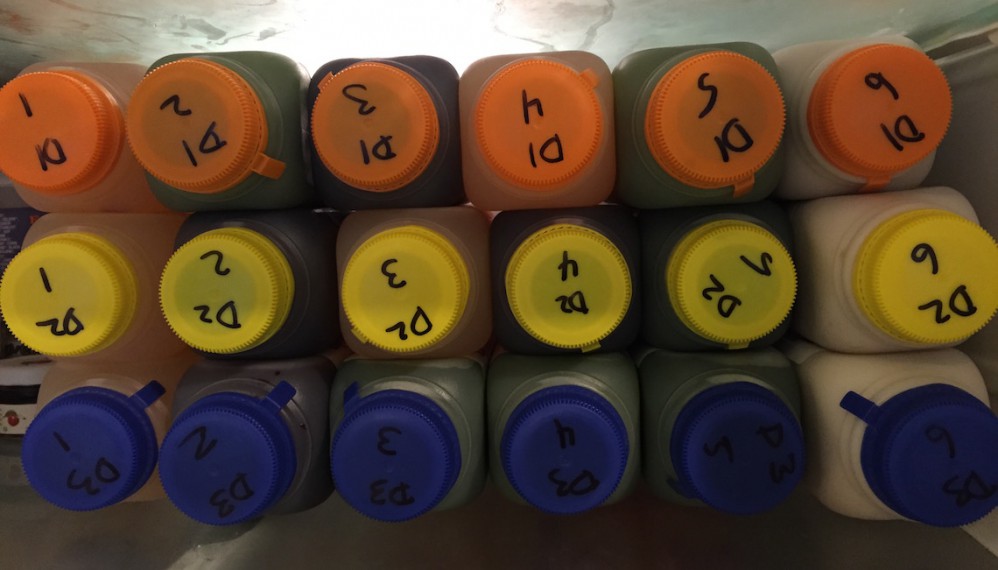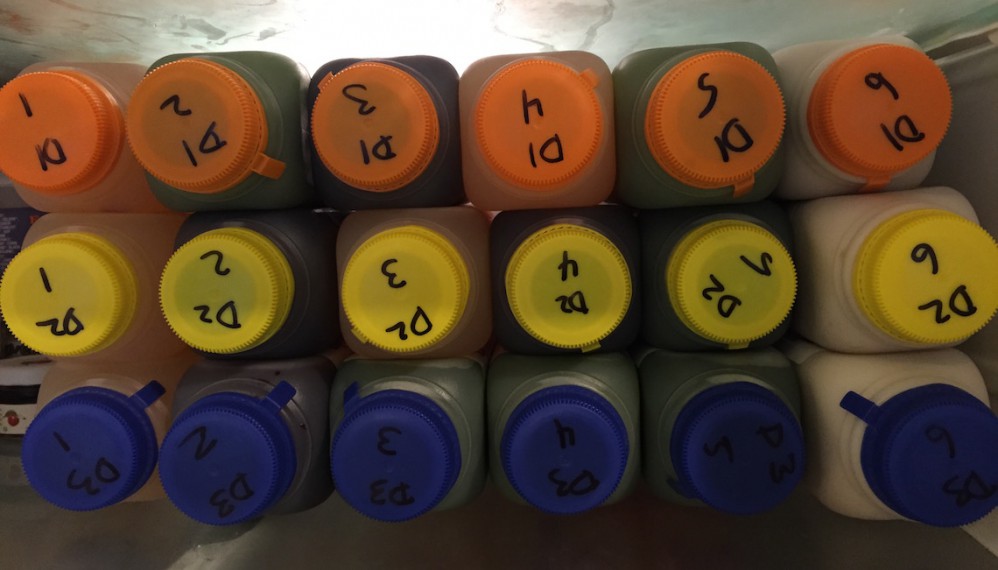 My boyfriend and I each picked up our 18 bottles of juice from Chaser's in Yaletown the day before our cleanse started, neatly packaged in a cardboard box and some kind of padding to keep them cold.  Make sure you have enough room in your refrigerator…36 bottles of juice takes up a lot of space!  Fortunately, we were able to stack them sideways.
Upon opening up my box of juices, I was really surprised that the juices didn't offer any nutritional labelling on the bottles.  How are you supposed to know that the cleanse is nutritionally balanced? When I asked in-store about nutritional labelling, they said that was something they hoped to have in the future.  When I enquired via Twitter about nutritional value of the juice cleanse, Chasers kindly apologized to me and said that they weren't nutritionists…they just make juice.
Chaser's Juice Cleanse: Day 1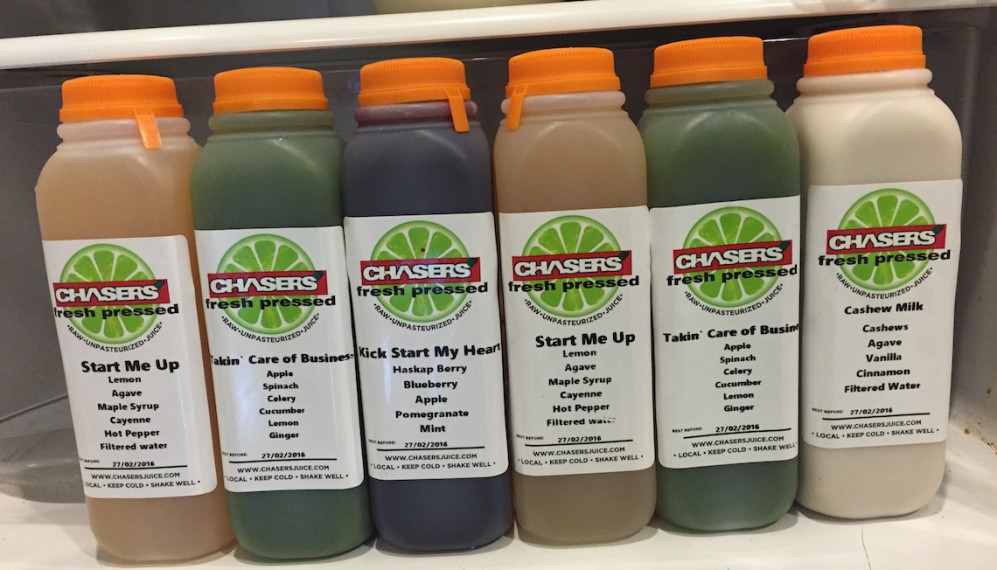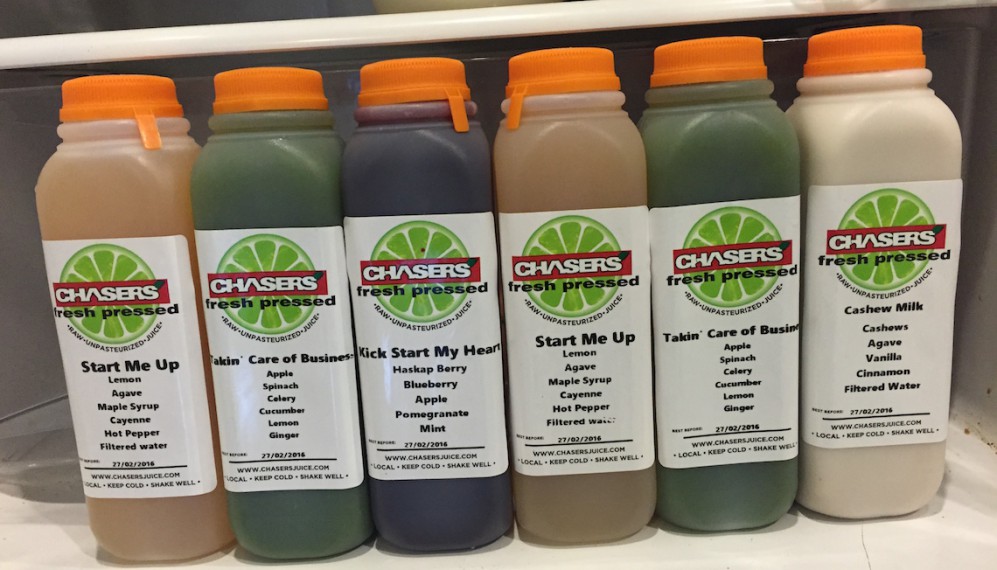 The lid of each juice is listed by day and order you should drink the juice, so there is no confusion about which juice you should be drinking. The juice we kicked off our cleanse with was the "Start Me Up", a spicy lemonade made with lemon, agave, maple syrup, cayenne, hot pepper and filtered water.  We were surprised at a the spicy kick of the ingredients, but it was a good juice to start our cleanse with as it woke both of us right up at 7am in the morning!  It tasted pretty good – sweet, citrusy, easy drinking.  We would have this juice a total of five times over the course of the 3-day juice cleanse.
We drank the provided juices in 2.5 hour intervals: 7am, 9:30am, noon, 2:30pm, 5pm and 7:30pm.  Other juices throughout the day included a green juice ("Takin' Care of Business") and a berry juice ("Kick Start My Heart"), ending off with a dairy-free nut milk ("Cashew Milk").  Day 1 was surprisingly easy to get through.  The juices were all easy to drink because they were so sweet.
Because my boyfriend and I had no grocery shopping to do, no cooking and no cleaning, we felt like we had a lot of extra time on hand in the evening…but we were too tired to do anything with the extra time.  So, no joke, we went to bed at 8:30pm.
Chaser's Juice Cleanse: Day 2
Day 2 was filled with a lot of sweet juices….I felt like it was way too much sugar, but I have no way of telling how much because there was no nutritional labelling on the bottles!  The first four juices of the day were: spicy lemonade, berry juice, spicy lemonade, berry juice.  I was offered cookies and chocolate at work, but I didn't crave anything sweet because I was getting more than enough of a sugar kick from this cleanse.  Even the 5th juice of the day, a green juice, was sweet.  We speculated that Chaser's probably puts in apple as a main ingredient.
The Cashew nut milk was my boyfriend's favourite, and I thought it was an appropriate dinner-replacement as it was quite filling.  Immediately after having the cashew nut milk, my appetite felt satiated.
I should also mention that I started coming down with a cold on Day 2.  Was the juice helping with my cold or making it worse? I don't know.
Chaser's Juice Cleanse: Day 3
The last cleanse I did, I remember having crazy food cravings on Day 3.  On the Chaser's juice cleanse, I didn't feel the same desire for solid food…I just felt a bit bored and uncomfortable by having the same few juices for three days. By Day 3, we were starting to find that the juices were getting sickeningly sweet.  My boyfriend texted me – he said he isn't hungry, but the hard part was drinking another sweet, sugary juice.  Why did they need to sweeten the juices? Was this cleanse even good for us?
My cold wasn't getting any better, so in lieu of the final Cashew Nut milk on Day 3, I had some soup instead, because I really just wanted something warm in my system.
Post-Cleanse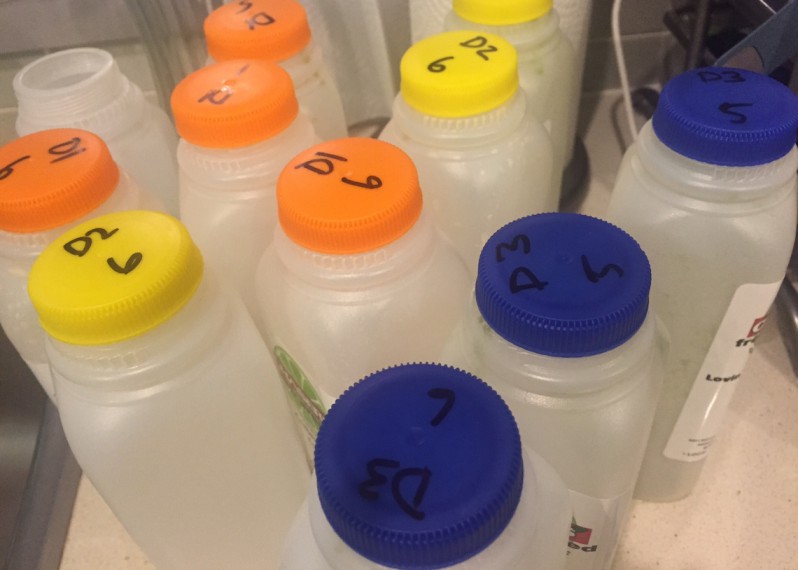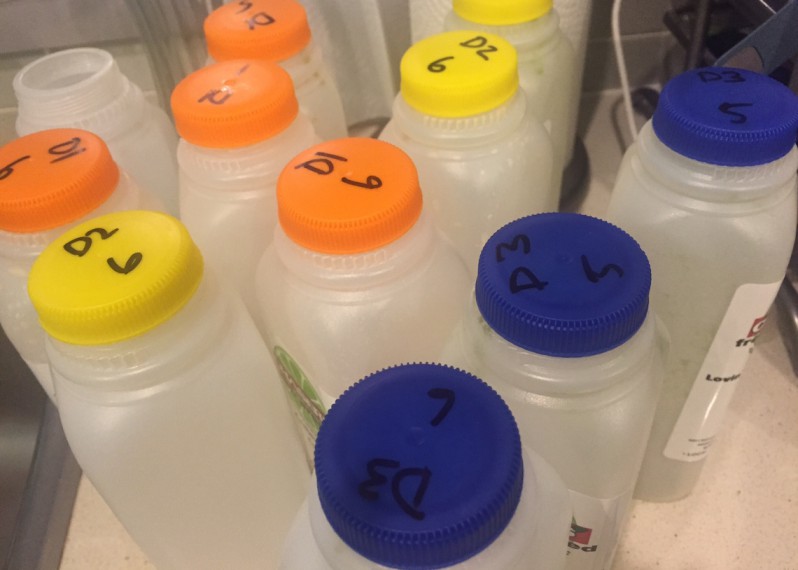 The last time I did a juice cleanse, I remember feeling very bloated after eating food again.  I definitely felt a bit slimmer after the cleanse, and didn't go crazy with eating "bad" food as soon as I could eat solid food again.  The next day, I had soup, salad, the rest of the nut milk I didn't finish, a couple of Timbits, some Holy Crap cereal, a chicken wrap…nothing crazy.
As for my boyfriend, he felt like he passed a test in self control, like he accomplished a feat.  "It's kind of cool knowing you could just drink juice for three days, and it wasn't that hard".  But like myself, he felt like the sugar content in the juice was questionable. Our digestion felt a bit off for the next couple of days, and I was nervous to eat too much creamy, heavy or processed food, in case it made me feel bad.
The Verdict?
I think people may "enjoy" the Chaser's juice cleanse because the taste is good and the juices are easy to drink…but what's the point of drinking juice for three days if you don't even know for sure if you're receiving balanced nutrition?  I think Chaser's makes yummy, fresh juices, and I'm sure I received some health and nutritional benefits from ingesting so many fruits and veggies…but I don't believe that the cleanse was nutritionally balanced.
Was the $99 we paid good value?  Yes, it's probably one of the most affordable 3-day cleanses available on the market, but the ingredients seemed to be less diverse and robust than other cleanses I have seen.  5 out of 18 of the juices were essentially lemon and water, which would have cost next to nothing for Chaser's to create.  This is what my boyfriend and I joked as the "bare bones" discounted version of cleansing.
If you're thinking of doing a 3-day juice cleanse – whether it's this one with Chaser's, or any other juice cleanse, I encourage you to do research and ask questions and come to your own conclusions before committing to something like this.  And if you do decide you want to move forward with a cleanse, find a friend to do this with – it makes a huge difference!