Although I've heard so much about paint nights happening around Vancouver (and once stumbled across an "art battle" at the former Raw Canvas in Yaletown), I haven't actually participated in a studio painting session before.  So when Mixed Media Events invited Modern Mix Vancouver to spend an evening at one of their monthly studio painting sessions at Beaumont Studios, I jumped at the chance to attend and brought a friend too!
Mixed Media Events is a Vancouver-based full-service event production company specializing in art-based corporate team building, special occasion and private events.  Once a month they host a ticketed "Studio Sessions" event at Beaumont Studios (316 West 5th Avenue), where attendees are provided with a blank canvas and all the painting supplies they need to create a piece of art in three hours.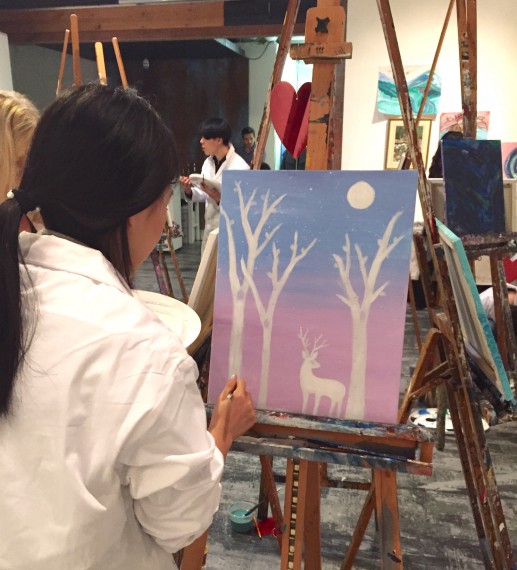 What I loved about this experience was the casual, no-pressure environment to paint and be creative.  After a particularly long and exhausting week, I was a bit nervous about dedicating three hours on a Friday night to a painting session.  Would I be too tired to concentrate?  However, I found the entire experience extremely therapeutic….especially since the pastel colours I based my artwork around were quite calming.
Unlike a structured art class, there was no formal instructor teaching you how to paint.  There was, however, a moderator / in-house artist who walked around and answered questions, offered guidance and…most importantly, gave positive affirmation and encouragement!
I did do a bit of research before and during the painting session.  I knew I wanted to do something with Pantone's 2016 colours of the year: rose quartz and serenity, two beautiful pastel colours which I blended together for a whimsical, ethereal and dream-like effect.  By the way, it was pointed out that my Shellac manicure matched my artwork….find out more by reading the blog post I wrote on CND's "Flirtation" summer 2016 collection!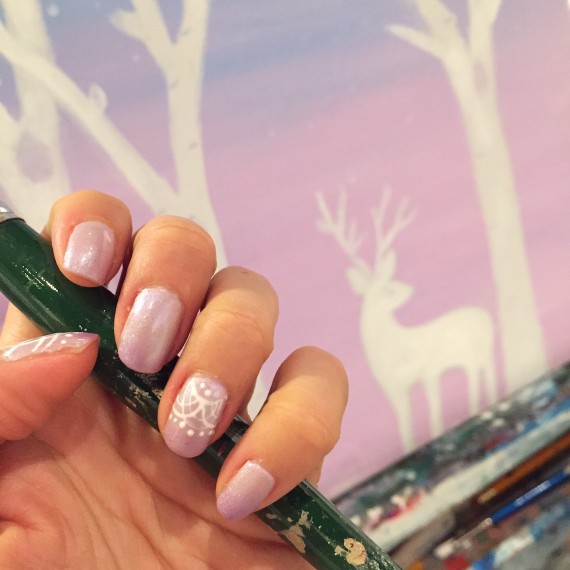 The painting session takes place from 7pm to 10pm.  If you're worried you won't have time to eat dinner beforehand, there is the option to pre-order charcuterie and cheese tasting plates for you to munch on while you paint.  There is also a bar at the venue, where you can order wine, beer and hand-crafted cocktails.  Although the session officially runs for three hours, you don't have to stay for the whole time.  If you're done early, waiting for your friend to finish up, or for your painting to dry, you can chill and hang out, watch other people paint, or buy a drink from the bar.
Upcoming 7pm to 10pm studio sessions include: March 17, April 21, May 19, June 16, July 21 at Beaumont Studios (316 West 5th Avenue).  Tickets are $39 per person.  For more information visit: mixedmediaevents.com.