Everyday Superfoods is a Vancouver-based company focused on offering all natural, vegan, gluten-free and non-GMO packaged food products.  The company started off with "Superfood Yogurt Toppings", which are chia-based nutritional boosters which can be added to yogurt, smoothies, or eaten like cereal with milk.  More recently, however, they have introduced their highly popular "It's Not Bacon" savoury bacon-flavoured coconut flakes to their brand.
As Canadians, we eat an average of 50 lb of pig each year, and 1/3 of this is in the form of bacon. For those of us trying to live a more plant-based diet, it can be hard to give up this greasy, salty comfort food…the owners of Everyday Superfoods certainly can relate.  So they came up with the idea to offer a coconut-based bacon-bit substitute to satisfy their cravings.  After several months of research, development, experimentation, dozens of test batches, and name-changes, they came up with what they think is "the best darn non-bacon bacon in the history of bacon!!"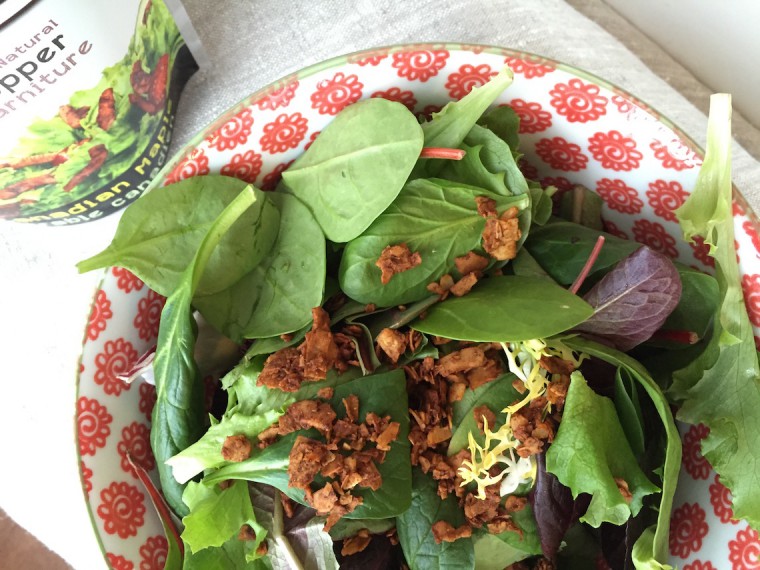 I first discovered It's Not Bacon at the Gluten Free Expo a year ago in 2015, where I purchased a delicious packet at the consumer tradeshow.  Almost a year later, before the 2016 Gluten Free Expo, Everyday Superfoods kindly gifted Modern Mix Vancouver a few packets so we could try all three flavour varieties and offer our thoughts.
There are currently three varieties in the It's Not Bacon product line up: Canadian Maple, Holy Jalapeño and Zesty Cheddar.  The main ingredients are coconut, organic tamari, maple syrup, sunflower oil, and liquid smoke (water and natural hickory concentrate).  All three flavours are made with maple syrup as an ingredient, however, the Holy Jalapeño and Zesty Cheddar varieties have additional spices added to differentiate the flavour.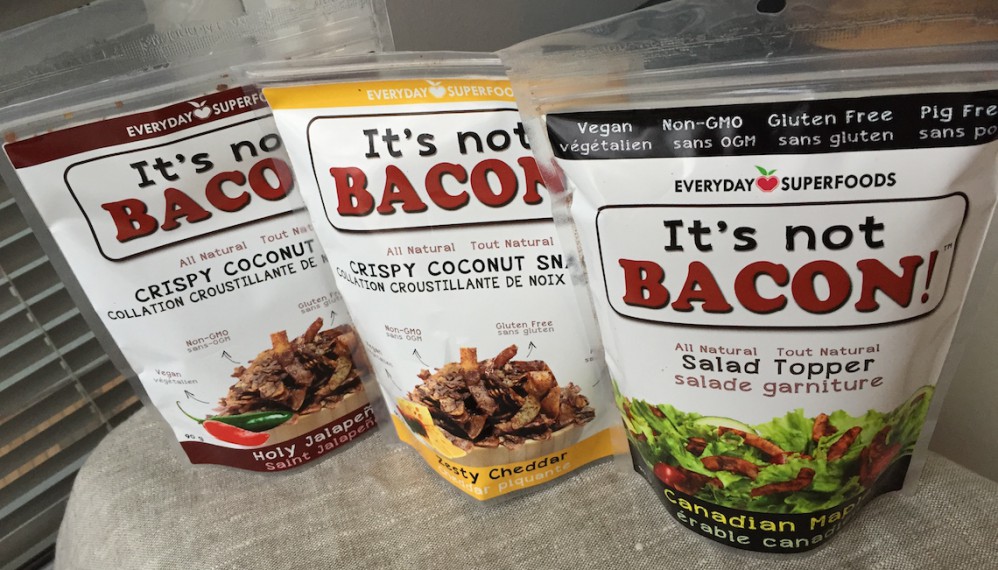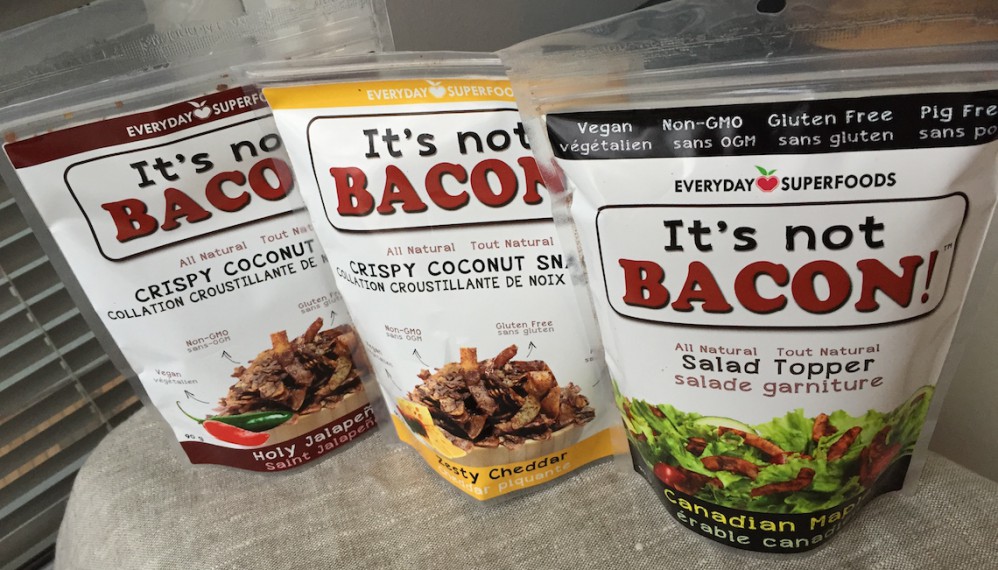 Despite being a nut-based product, the main flavour is a salty smokiness, rather than nutty or coconut-y.  I like the crunchy texture, and the product's versatility to use in cooking.  I personally like the saltiness of the product, my favourite way to use the product is as a salad topper: a quick handful as a salty, crunchy, finishing touch.  It's Not Bacon would also be great on top of a baked potato or on pizza, as a vegetarian replacement for bacon bits or pepperoni.  If you're feeling experimental, try putting the Canadian Maple variety on cupcake frosting, for a sweet and savoury twist!
Recently, the brand was invited to pitch on Dragon's Den.  They went through with the filming, but no word yet on whether the show will make it to air.
It's Not Bacon is currently available at select locations of Choice's Market, London Drugs and Save-On-Foods.  For more information, visit: everydaysuperfoods.ca.