Beginning on January 16, and running all the way until Valentine's Day on February 14, the Vancouver Hot Chocolate Festival is back for its 6th year.  Join 25+ cafes and chocolate makers in Vancouver, as they offer up a special hot chocolate menu for chocolate lovers to enjoy.
Every year, I am impressed by the outstanding creativity and combination of ingredients that participating venues use in their creations.  New participants to the Hot Chocolate Festival this year include Earnest Ice Cream, Railtown Cafe and Temper Chocolate and Pastry.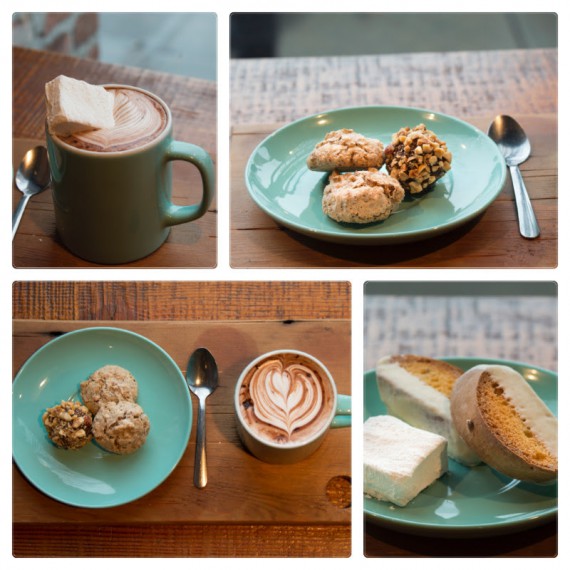 See below for some sweet drink highlights from participating cafes:
49th Parallel Coffee Roasters: "The Bee's Knees": Dark chocolate infused with lavender syrup, topped with steamed milk and a honey marshmallow. Served with a honey/lavender biscotti.
East Van Coffee Roasters: "The Buzzzz": Hives for Humanity honey with bee pollen stirred into Madagascar single-origin drinking chocolate. Served with a housemade honey financier.
Schokolade Artisan Chocolate: "I Love You": Super sweet white hot chocolate with pomegranate. Served with pink meringue.
Thomas Haas: "Caribbean Dream": Coconut milk-scented hot chocolate. Served with Thomas Haas' house made "Bounty" bar.
Temper Chocolate & Pastry: "Smoke in Balls": Smoked cherrywood dark hot chocolate with a morello cherry marshmallow on a stick. Served as a bomb that's dropped into your steamed milk.
Koko Monk Chocolates: "Ra Shamon": Miso white hot chocolate with matcha tea and sake. Served with your choice of a macaron.
Participants in the hot chocolate festival can enter in a social media photo contest to win the Grand Festival Prize consisting of gift certificates from all of their participating chocolate makers and cafes (total value: $500+).  For more information, visit: cityfood.com/hotchocolate.