Just in time for those of us kicking off the new year with health and wellness resolutions, Starbucks Canada is finally offering their Evolution Fresh cold-pressed bottled juice line at over 1,300 locations across Canada.
Evolution Fresh founder, Jimmy Rosenberg, discovered his passion for juice more than 30 years ago making fresh juice in his mom's kitchen and selling it on the beaches of Santa Monica, California. In 1995, he started Evolution Fresh with a mission of giving more people access to the amazing health benefits and vibrant flavour of juice. The introduction of high pressure processing in 2010 was a milestone in protecting authentic flavour and nutrients.
Launching in four varieties: Orange, Sweet Berry, Sweet Greens and Super Greens, this is the brand's first foray into the Canadian market.  Previously, I have only experienced these healthy juices in the US locations of Starbucks and grocery stores, so I'm excited for cold-pressed juice to become mainstream in Vancouver.
This week, Modern Mix Vancouver had the opportunity to try all four available varieties of Evolution Fresh juices:
Orange ($4.95): A 100% juice picked at the peak of sweetness. Crisp and refreshing with an all-around bright and citrusy bouquet. Excellent source of vitamin C. Good source of potassium.
Sweet Berry ($5.95): An irresistible bounty of berries and cherries – picked at their prime blended into a smoothie bursting with flavour. 4 varieties of berries are perfectly balanced in this bright smoothie.
 Sweet Greens ($5.95): A refreshing green juice featuring a medley of green vegetables, a squeeze of lemon, and a touch of sweetness from apple. Ideal as an everyday green juice, or for those starting their green juice journey. Good source of potassium. Excellent source of vitamin K.
 Super Green ($5.95): A delicious and satisfying fruit smoothie – a sweet union of berry, citrus and tropical fruits. Excellent source of antioxidant beta-carotene and vitamin C. Good source of potassium.  Green-based balance.
Flavour selection will vary from store to store.  My favourites were the Sweet Greens and Super Greens.  If you're new to cold-pressed juice, perhaps start with the Sweet Greens.  The Sweet Berry I found overly sweet (from natural sugars, like mango puree) while the Orange variety was a bit plain – nothing special, but good to know that the contents of the bottle is 100% orange juice, without artificial colouring or flavours.   It's amazing to think that each 450ml bottle contains one to two pounds of fruit or fruit and vegetables.
"Getting more fruits and vegetables in your diet is not some new health and wellness trend.  Life is complicated and though we know it will make us feel better, getting enough fruits and green vegetables can require a lot of effort. By offering cold-pressed juice in select Starbucks stores across Canada, especially our green juices, we are making it convenient for people to make what I call a 'loving choice.'" – Jimmy Rosenberg, Founder, Evolution Fresh
From drinking a green juice to taking a weekly walk, Evolution Fresh is encouraging and inspiring people to make small, positive changes that can lead to a little more joy and wellness in 2016.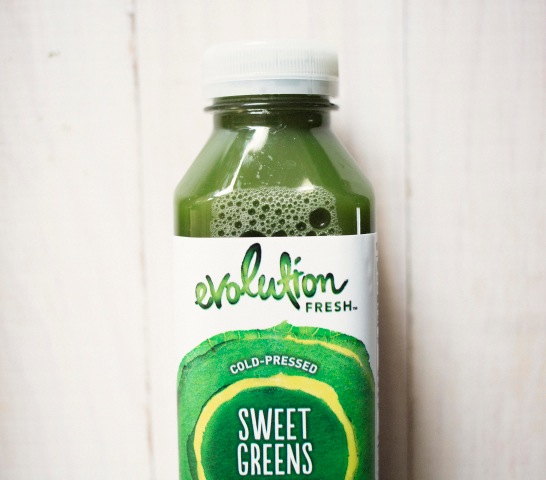 There are already many Vancouver-based cold-pressed juice companies throughout the Lower Mainland.  But with Starbucks now carrying Evolution Fresh, you'll never be too far away from a fresh bottle of juice.  For more information, visit EvolutionFresh.com.