Spending a leisurely five days in Bocas Del Toro, Panama, the Oreba Organic Cacoa Farm Tour kept popping up as a must-do in this region.  For $30USD, you can take a half-day tour of a cacao farm, completely run by the indigenous Ngabe farmers, while getting an informative, interactive lesson on botany, ecology, wildlife and a hands-on lesson in chocolate making.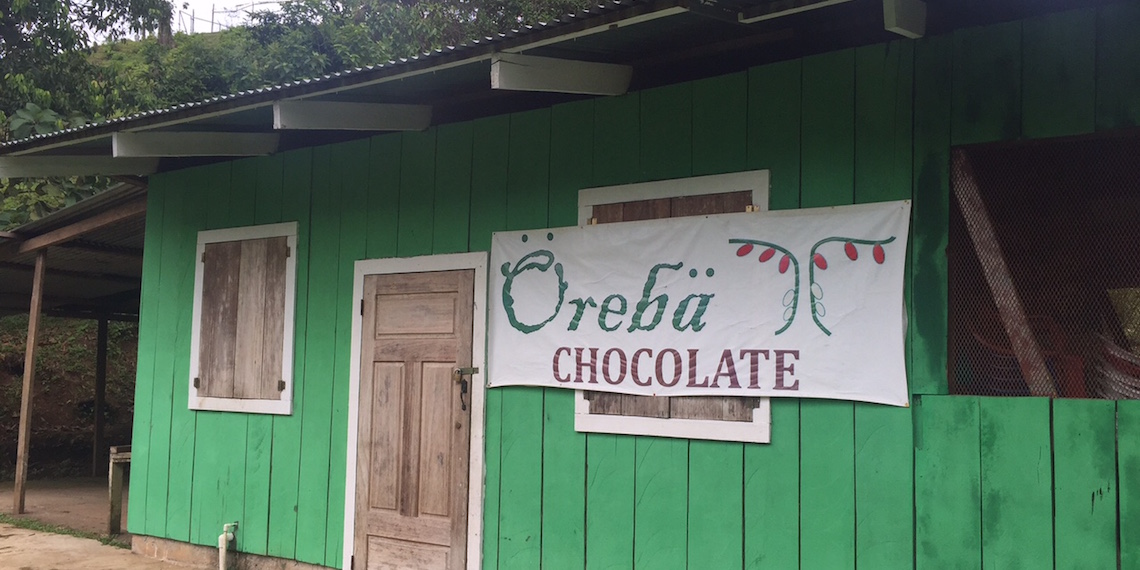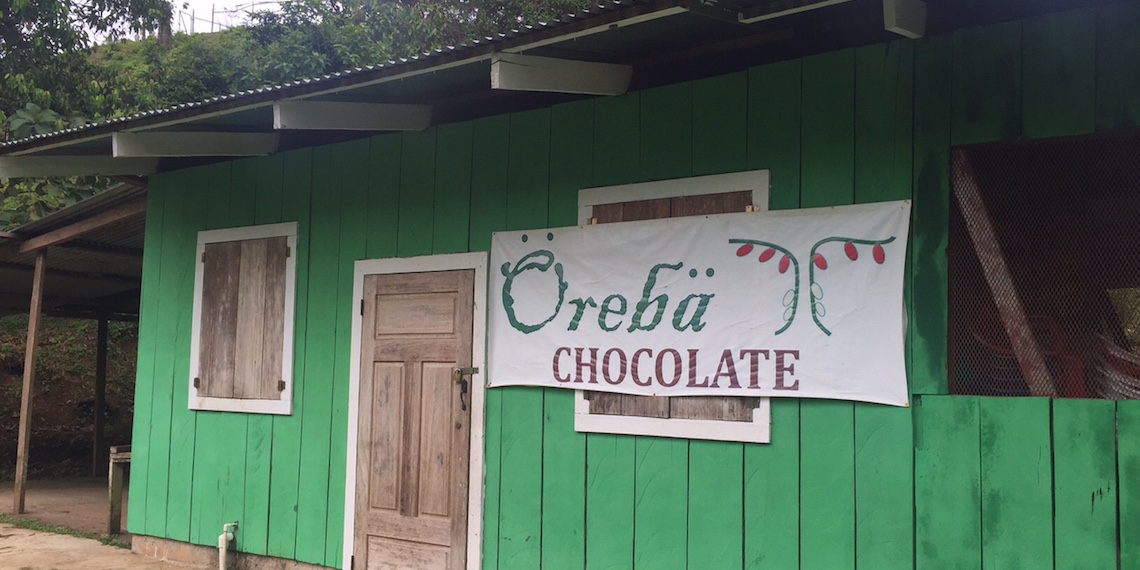 We paid for the tour a day in advance at Supergourmet grocery store in Bocas town.  It was $30USD per person, not including boat taxi transportation to/from the town of Almirante, where the tour begins.  Note that we didn't get a receipt or confirmation of payment for the tour from Supergourmet. However, if you're booking through a hostel or somewhere else, do try to get a receipt so there is no confusion or misunderstanding about whether you've signed up, as they do check your receipt at the beginning of the tour.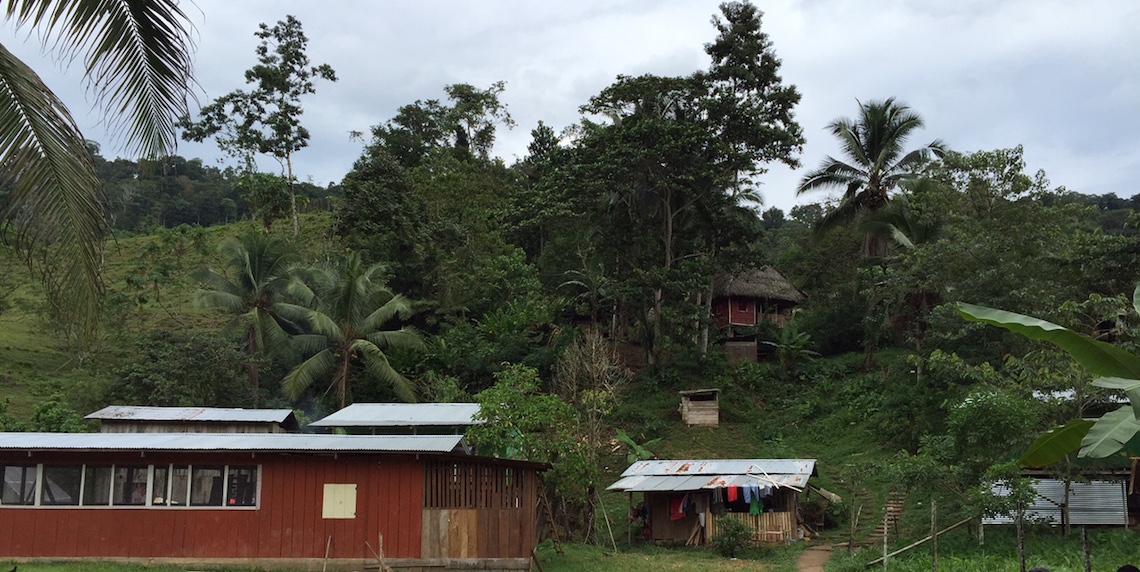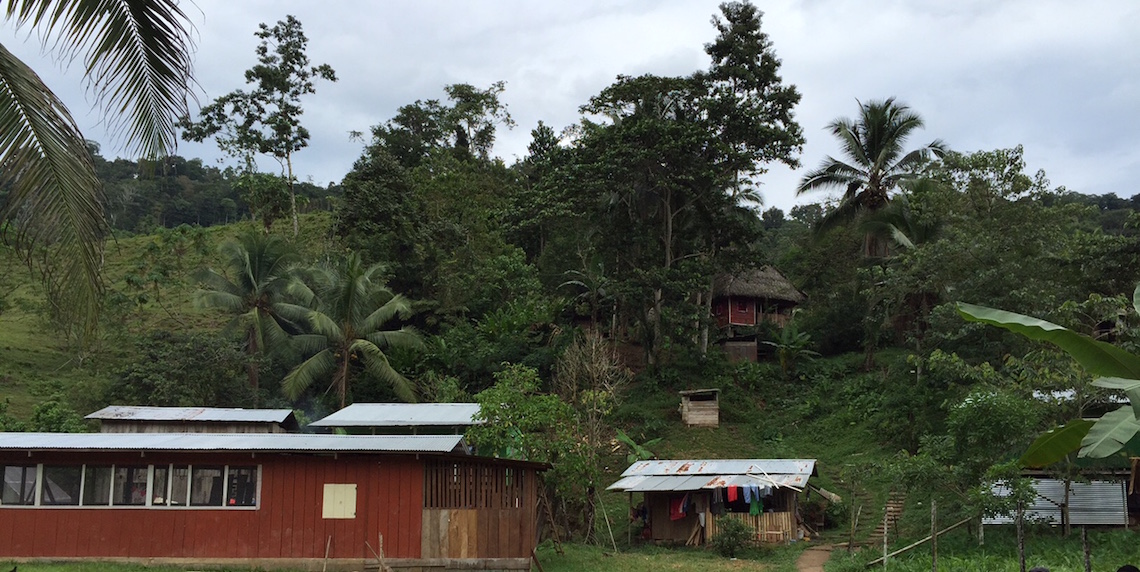 On the day of our tour (which begins at noon, from Almirante) we took the 11:30am water taxi for $5USD from Bocas Town to the Bocas Marine Tour dock in Almirante.  Upon arrival, someone with an Oreba sign will be waiting for you, to shuffle you into a taxi, possibly with other tourists, where it's a 15 minute drive to the Oreba Cacao Farm.  As everything ran late, by the time we got to the chocolate farm it was closer to 1pm.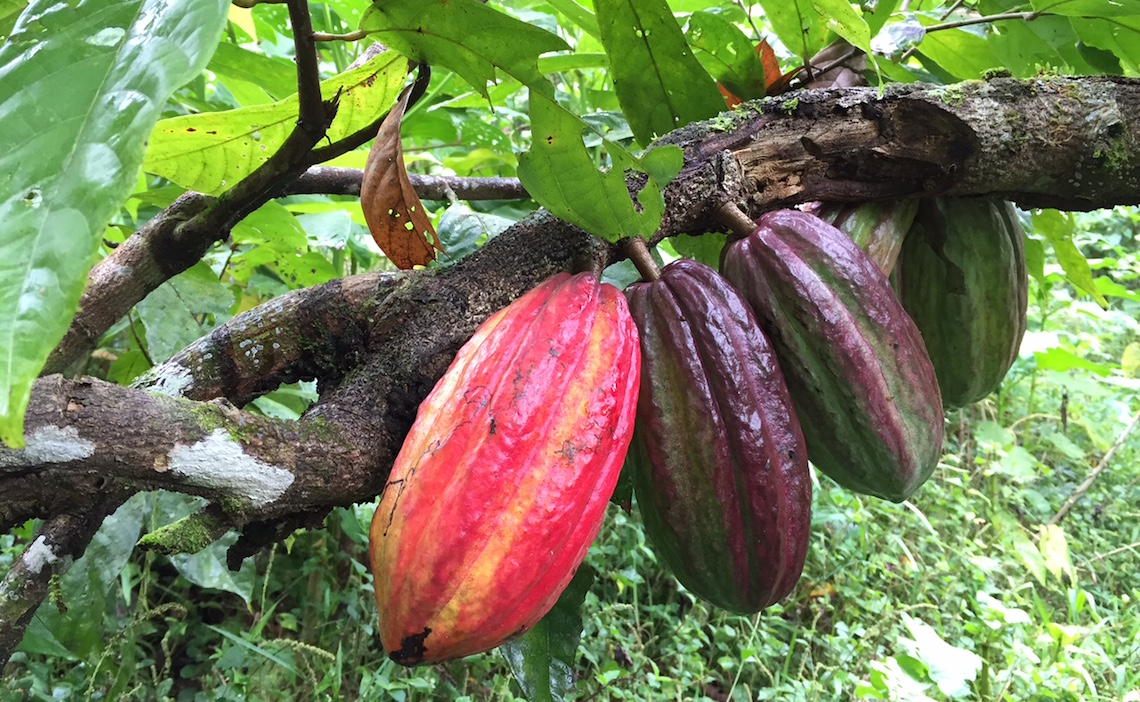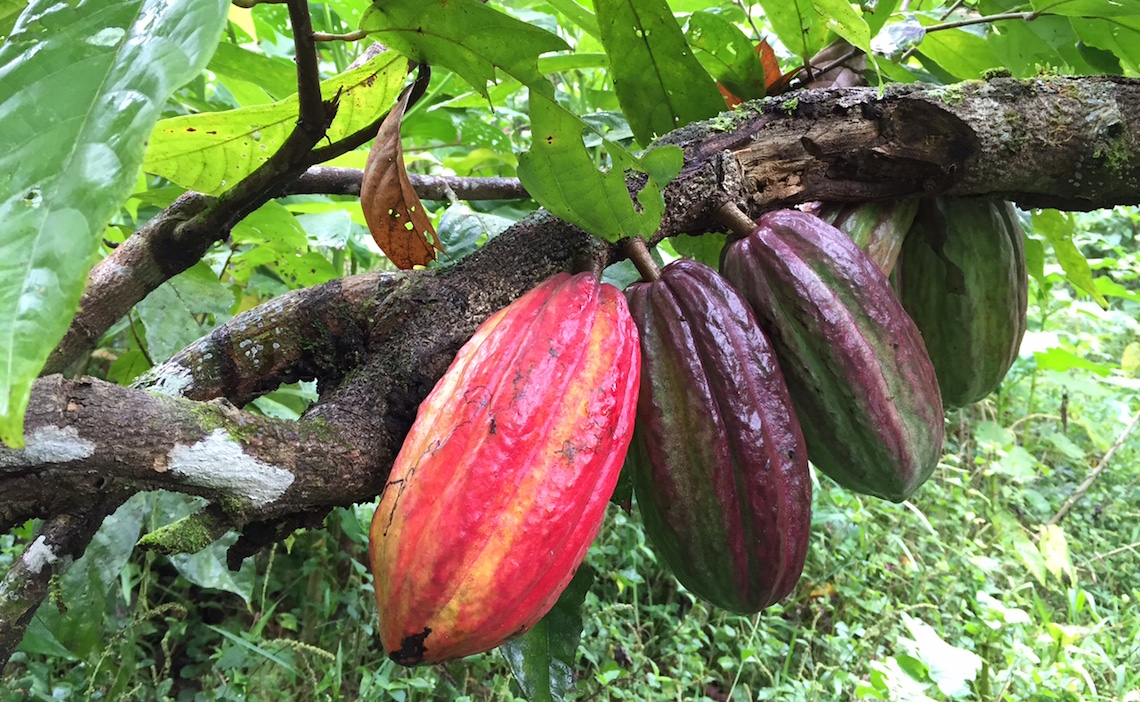 Our time at Oreba farm began with a simple traditional village lunch – a chicken drumstick, rice, taro root, and a mashup of rhubarb root and onion – which had the consistency of mashed spinach.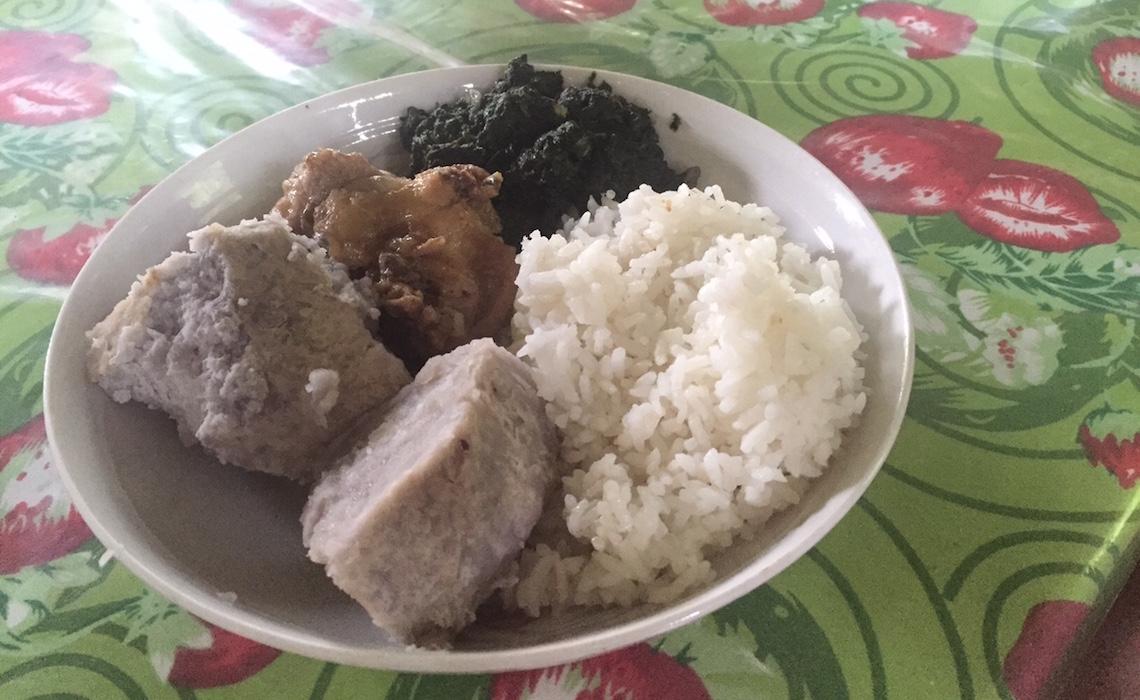 After lunch, we were provided with walking sticks and our journey into the cacao plantation began. Led by our multi-lingual translator Jack, we were part of a group of 8 travelers, which I thought was a good size, because everyone's questions and responses fed off each other with lively and interesting conversation.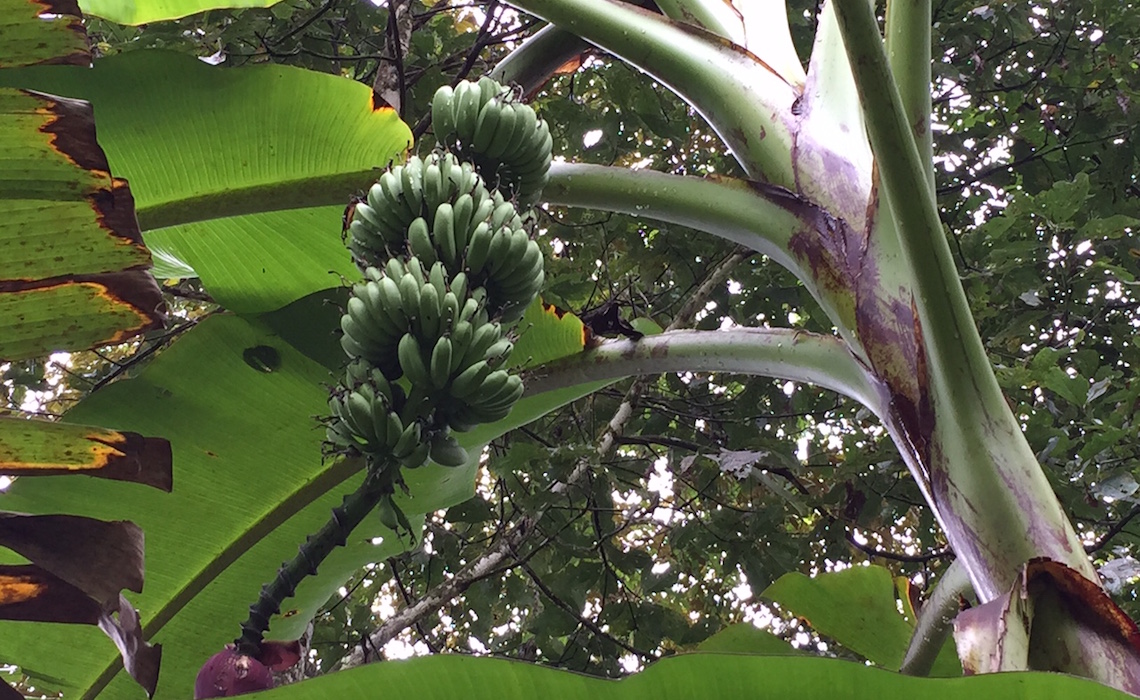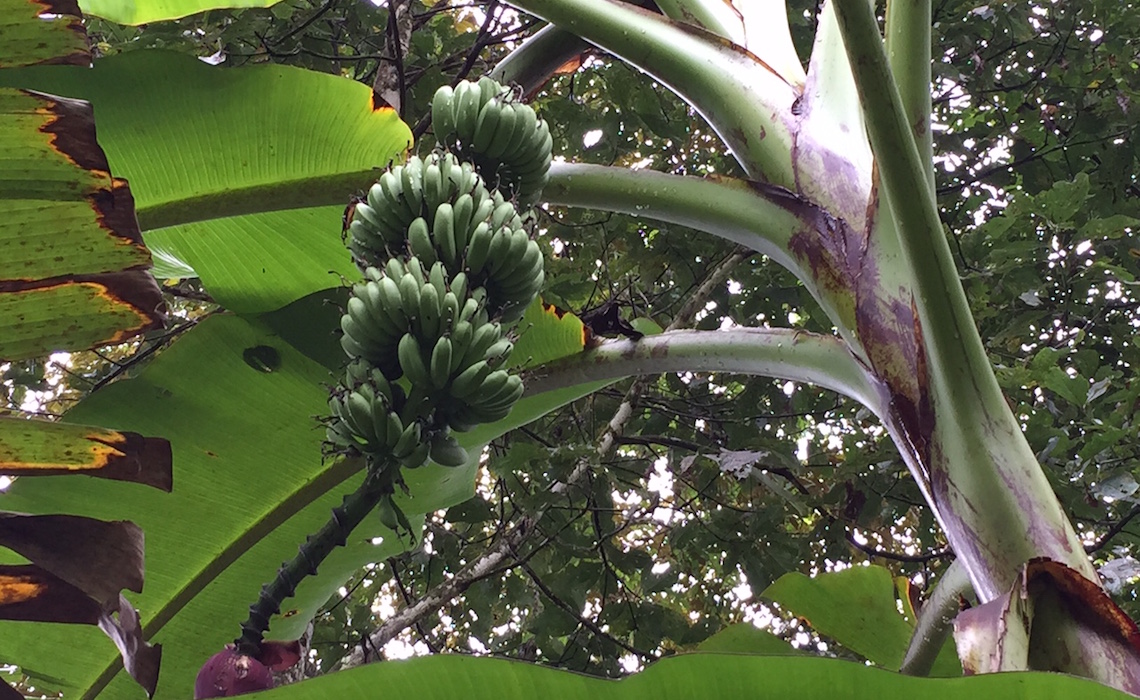 The tour was a hilly climb through jungle terrain but not strenuous and a lot of breaks are taken for our tour guide to point out to us various fruits, plants and animals.  Along the way, we saw star fruit trees, banana trees – planted so wild animals would feast on fruits rather than eat the cacao seeds. We also saw a Green Poison Dart frog, trails of ants carrying leaves, and a sloth slowly climbing up a tree while camouflaged among the leaves.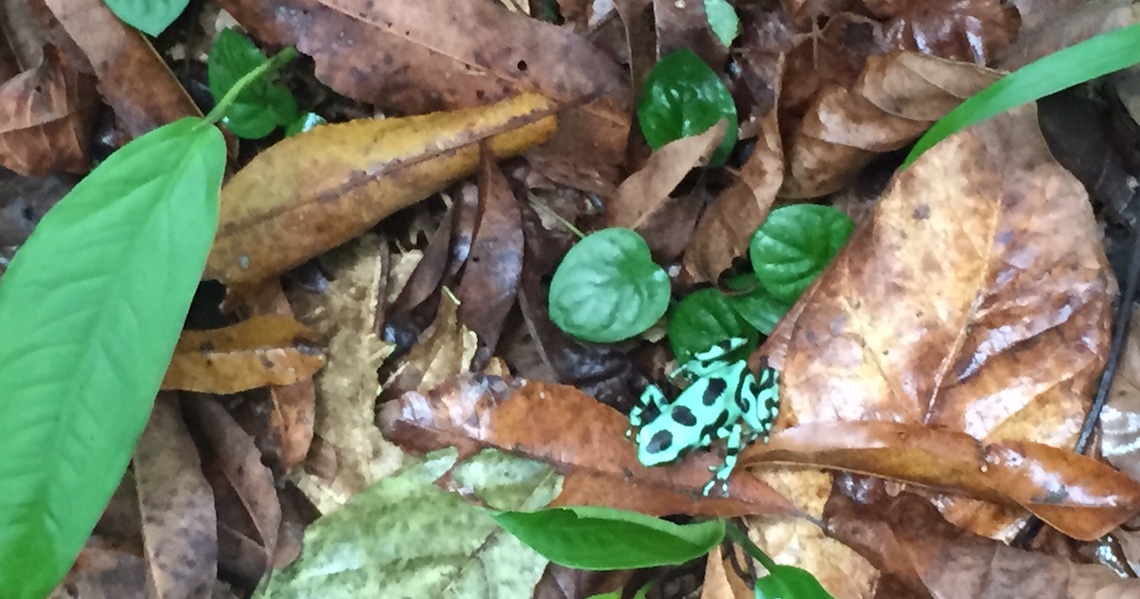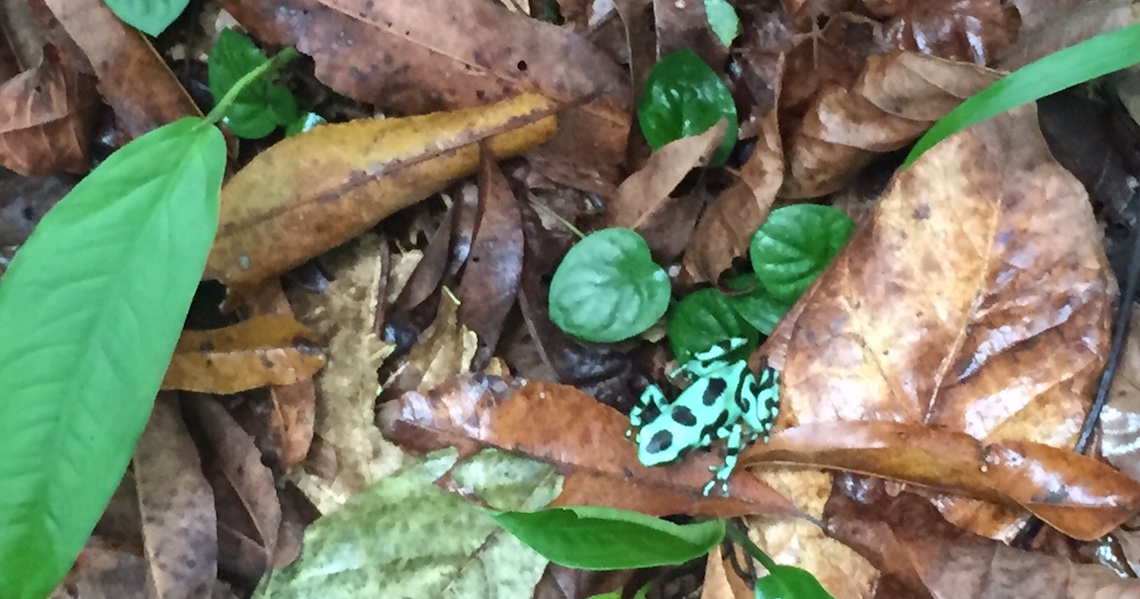 And of course, we saw hundreds of cacao trees and their seeds in every stage of growth, from seedlings to ripe fruits, to dried cacao beans.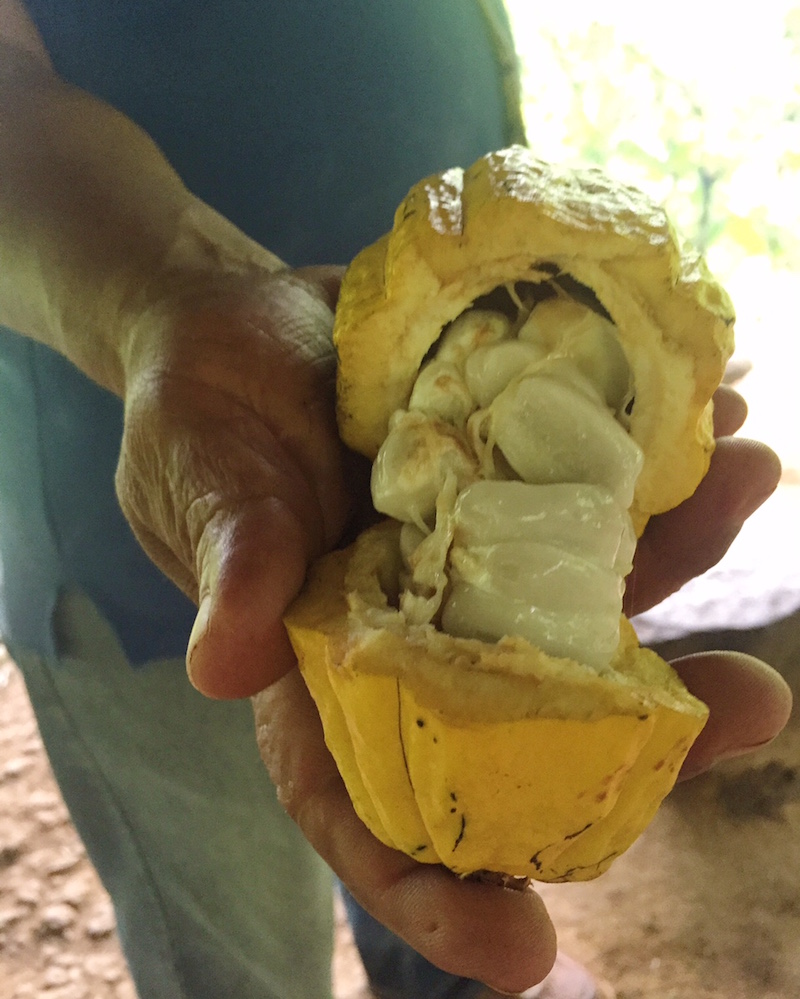 Many years ago, a deadly fungus hit the cacao farms in Panama.  Whereas other farm either just gave up on their cacao farms (because costs soared), or used chemical pesticides to get rid of the fungus, Oreba has stayed true to its organic cacao promise, and hand-removing bad seeds, so the fungus doesn't spread, and taken the impact of the fungus infestation, losing at times up to 80% of their crop.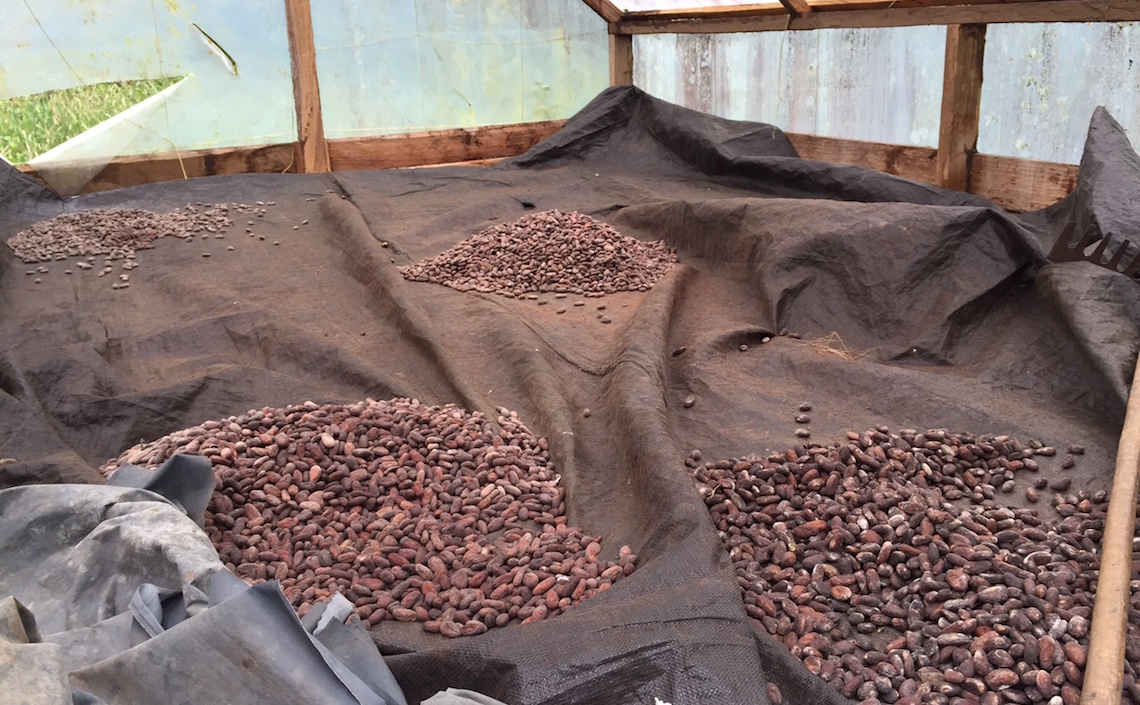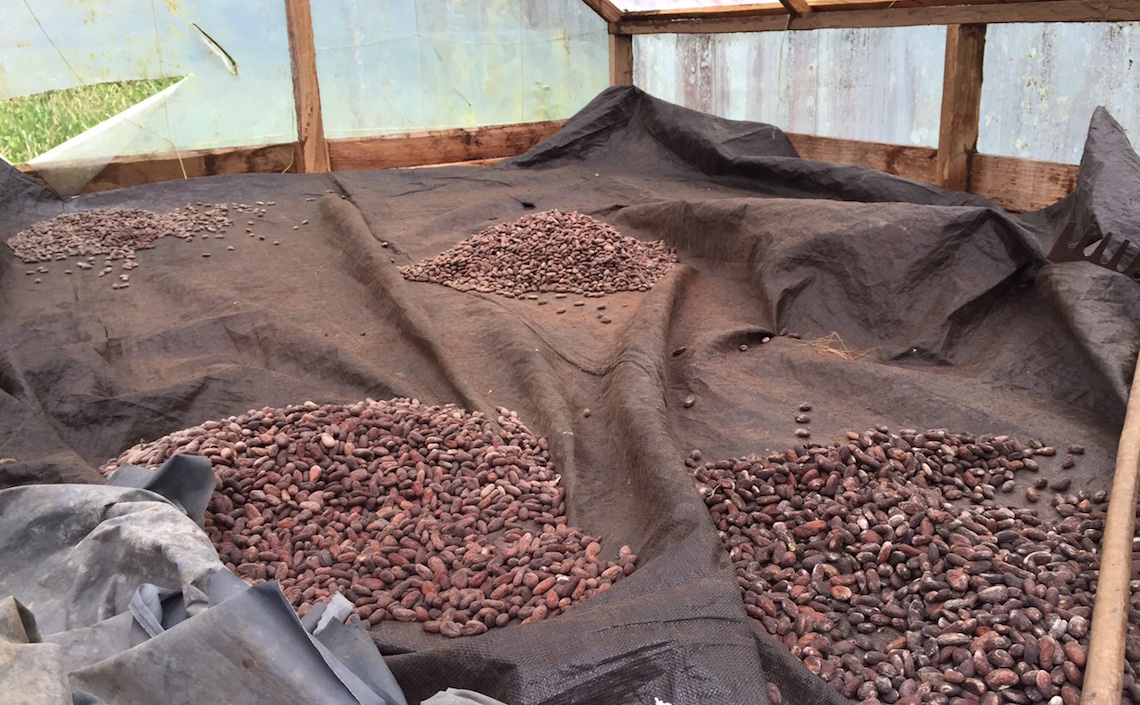 At the end of the hike, we had a demonstration of cacao roasting.   After the cacao beans have dried, the beans are roasted, then ground into a cacao paste.  The paste is moist from the natural oils in the beans.   Once that dries, it becomes a cacoa powder…the type you might add to warm milk, or use in baking.   It was interesting for me to find out that cacao beans can be consumed as food at every step of the way – from the fresh, gooey seeds inside the plant, to the nutty roasted version, to the pure cacoa powder.  To create your conventional chocolate bar, add in cold milk and sugar, and form into bars.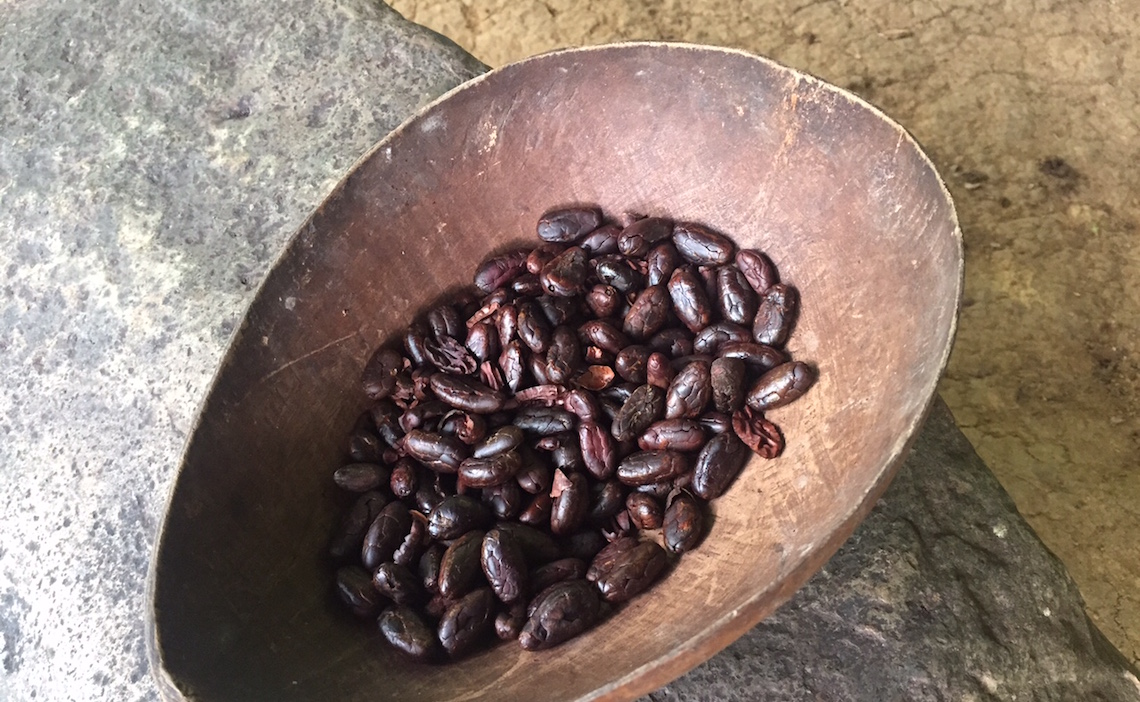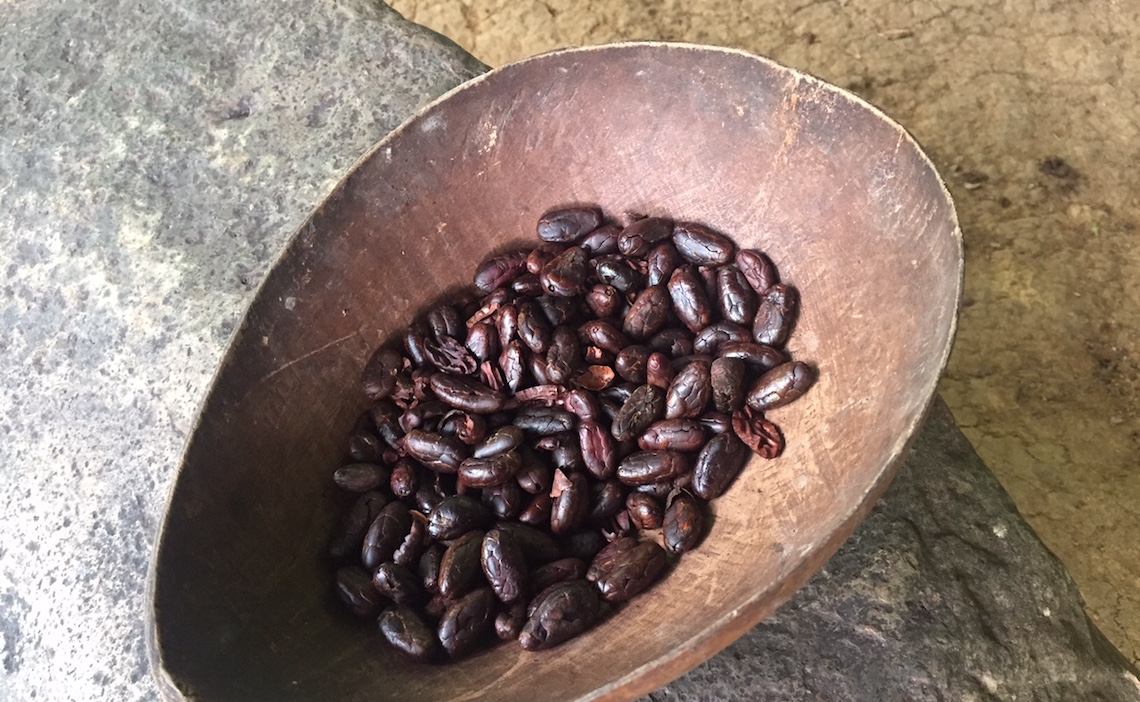 Although Oreba makes chocolate for local consumption, the majority of their business comes from exporting dried cacao beans, to countries like Europe.  In fact, Lindt chocolates is one of their buyers!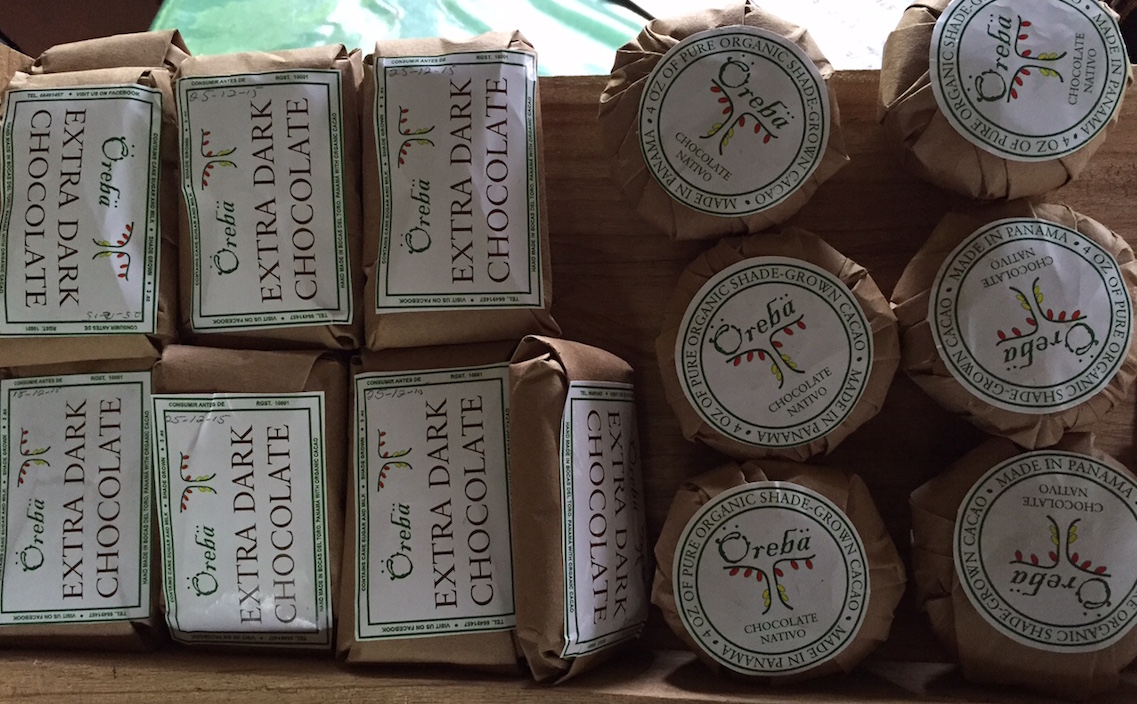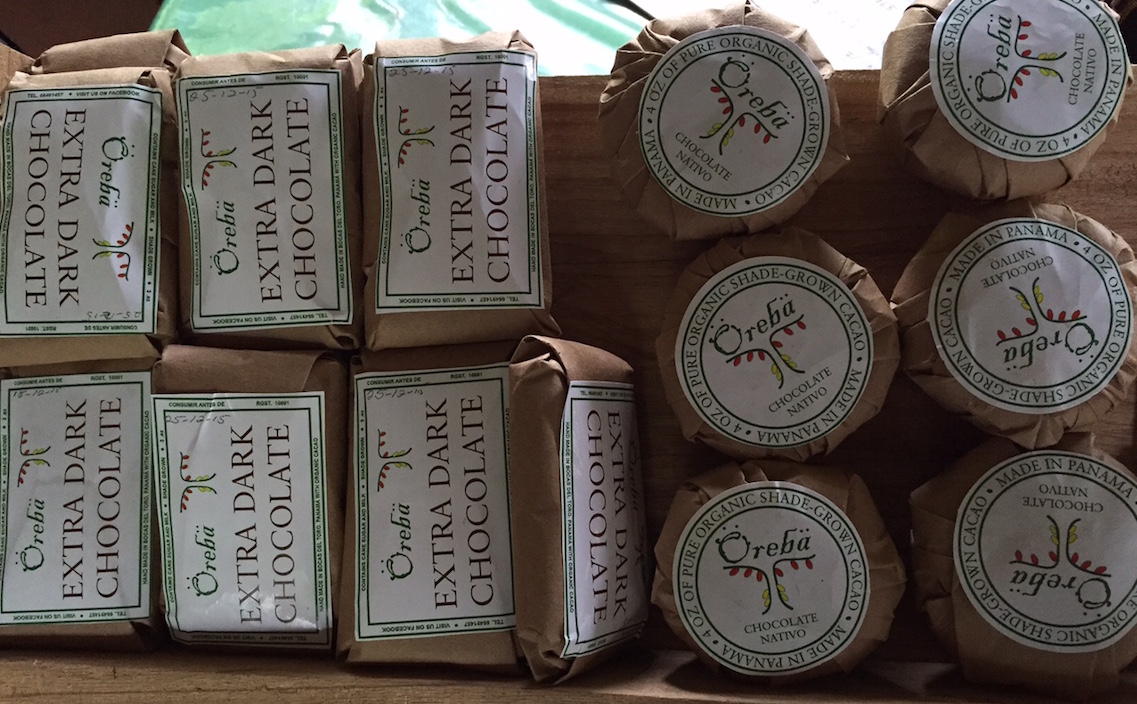 After the tour, we were led back to our lunch spot, which has now turned into a makeshift store for crafts and chocolate goods.  Most of the chocolate items were $3 USD each, and we felt good about our purchases knowing that 100% of proceeds go back into the indigenous community, supporting education and health care.
After the tour, we were dropped off by taxi back to the Almirante dock, where we paid $6USD for a taxi boat ride back to Bocas town.
The tour took approximately 4 hours (including transportation to/from Bocas town) and is a good, cultural alternative to another day at the beach!
==
We paid $30 for the tour and booked through Super Gourmet (the grocery store) in Bocas town. It was an additional $11 round-trip for the boat ride ($5 there, $6 back).