Karma Athletics is a Vancouver-based women's athletic apparel brand, founded in 2002, with its original focus on yoga and lifestyle-wear.  With the present diverse availability of fitness classes in Vancouver  (gym, yoga, spin, run, dance, zumba, barre, cross-fit, kickboxing, pilates…the list goes on), being a yoga-only brand wasn't appealing to the masses, so Karma decided to re-brand itself and commit to designing and producing fashion-focused, multi-activity pieces.
Over the past 13 years, the company has certainly evolved, and Karma Athletics has now found a new home at Oakridge Centre, its first-ever shopping centre storefront, and first permanent retail location in quite some time.
Modern Mix Vancouver visited Karma Athletics and had a tour of the store with Niki Chung, Karma's Product Developer, Visual Merchaniser and In-Store Communications Manager.  Originally a Product Developer with Karma, she is currently on-loan to the Karma retail shop to help launch the store, set up the visual merchandising and help educate customers on the fit, quality and style behind Karma.
Karma's opening collection of fitness apparel pieces for Fall/Winter 2015 is "Dark Monach", with a colour palette inspired by the strength and allure of fairytale monarch Queens.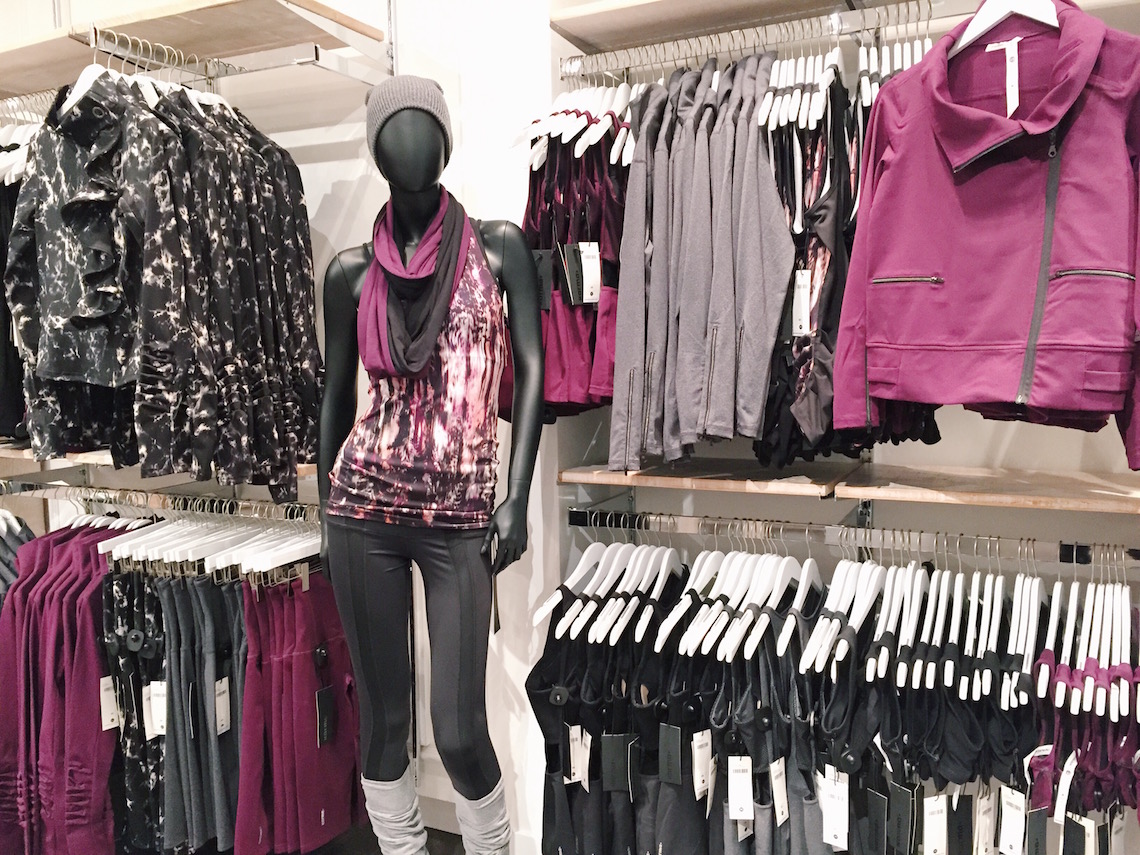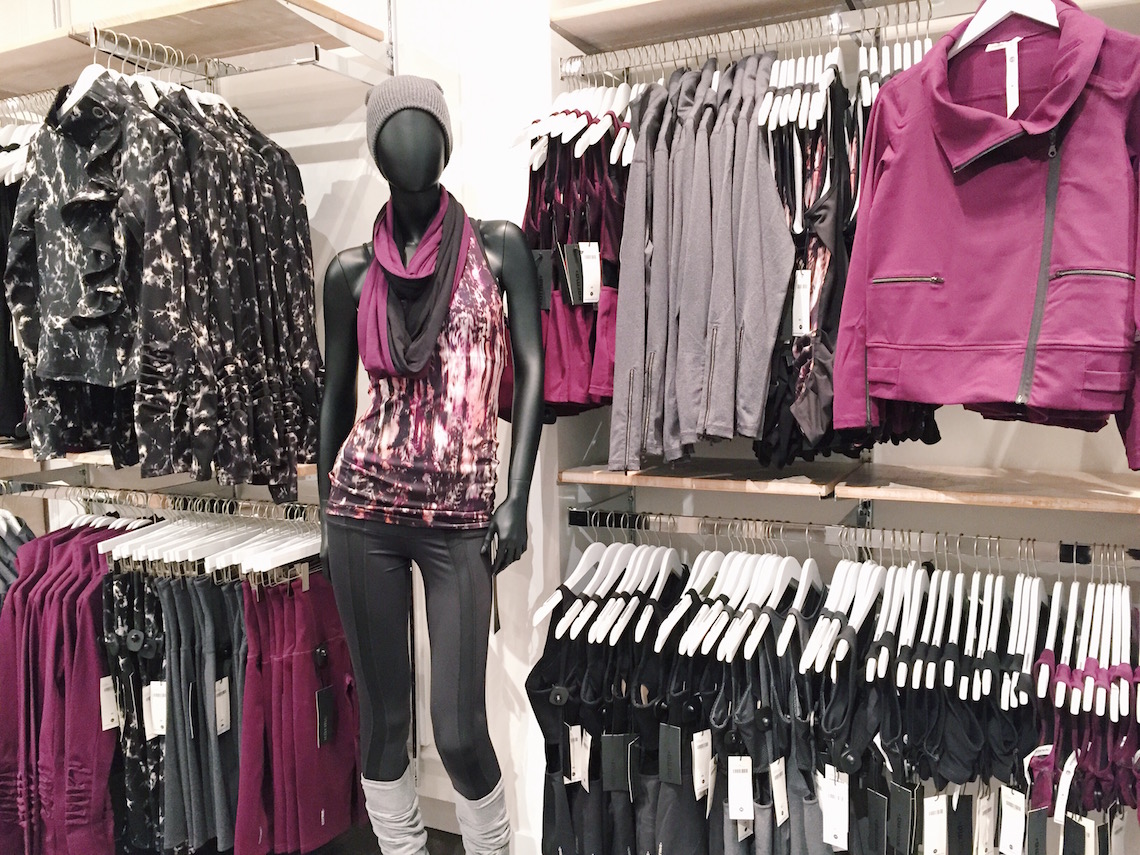 Upon entering the store, you'll notice a prominence of deep, smokey purples (the colour names are 'fig' and 'velvet'), paired with basic black and heather charcoal, and reoccurring prints on fabric designed specifically for Karma. All of Karma's pieces are designed and manufactured in Vancouver, with a focus on sustainable materials and responsible suppliers.  A selection of fabrics are eco-tech certified, and some of the pieces are made from a sustainable bamboo cotton blend.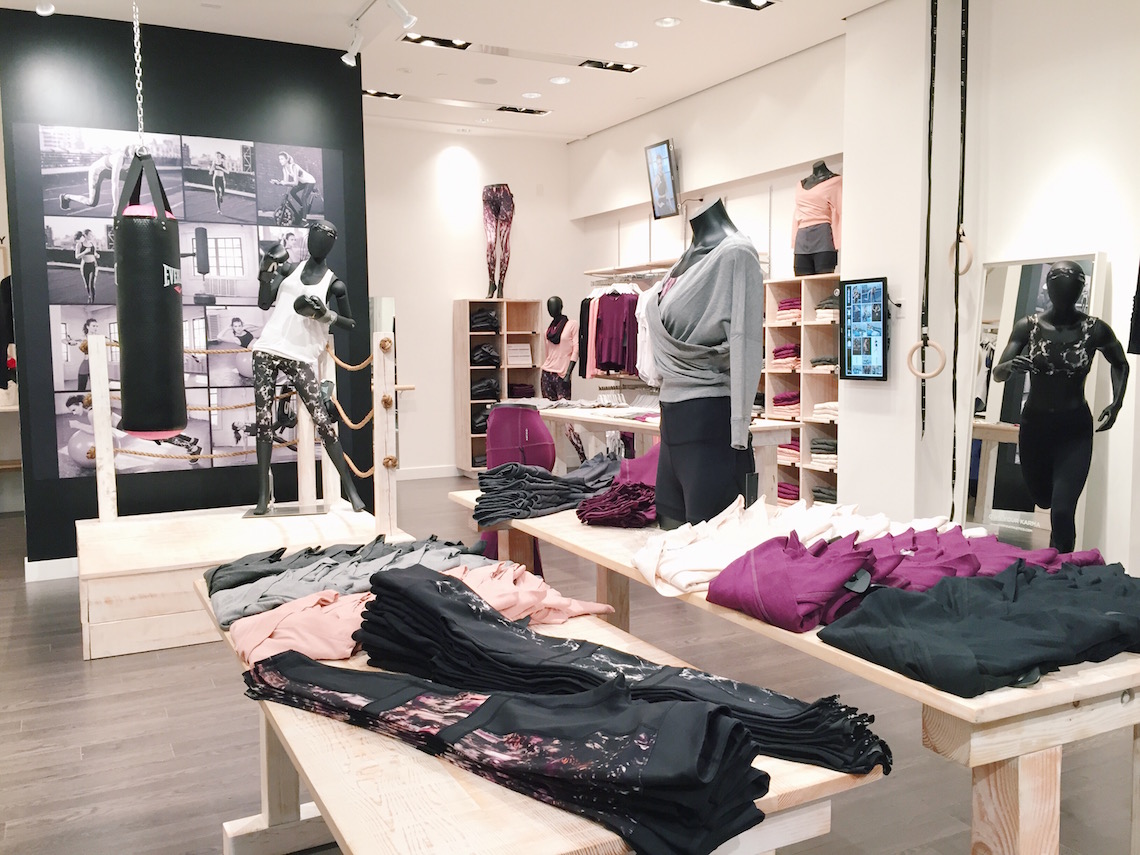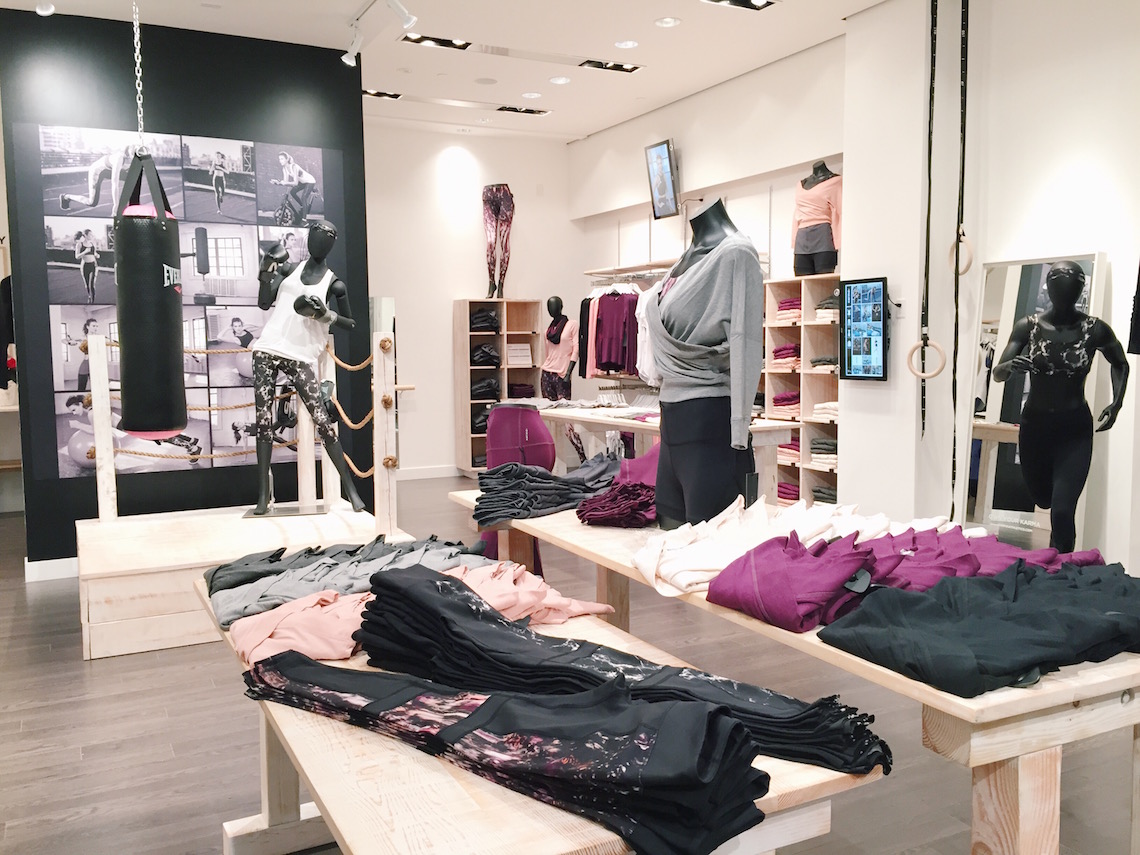 Although all the pieces at Karma are cross-functional, the store is organized by activity.  The front corners of the store are occupied by a 'Yoga' and 'Run & Spin' collection, with durable, high-waisted spandex bottoms (like the Golda Tight) and moisture-wicking sports bras (like the Helena Bra).  Impossible to miss is the stationary bike in the front corner of the store, put there so customers trying on Karma pieces can put the comfort, stretch and fit of the product to the test with a quick cycle.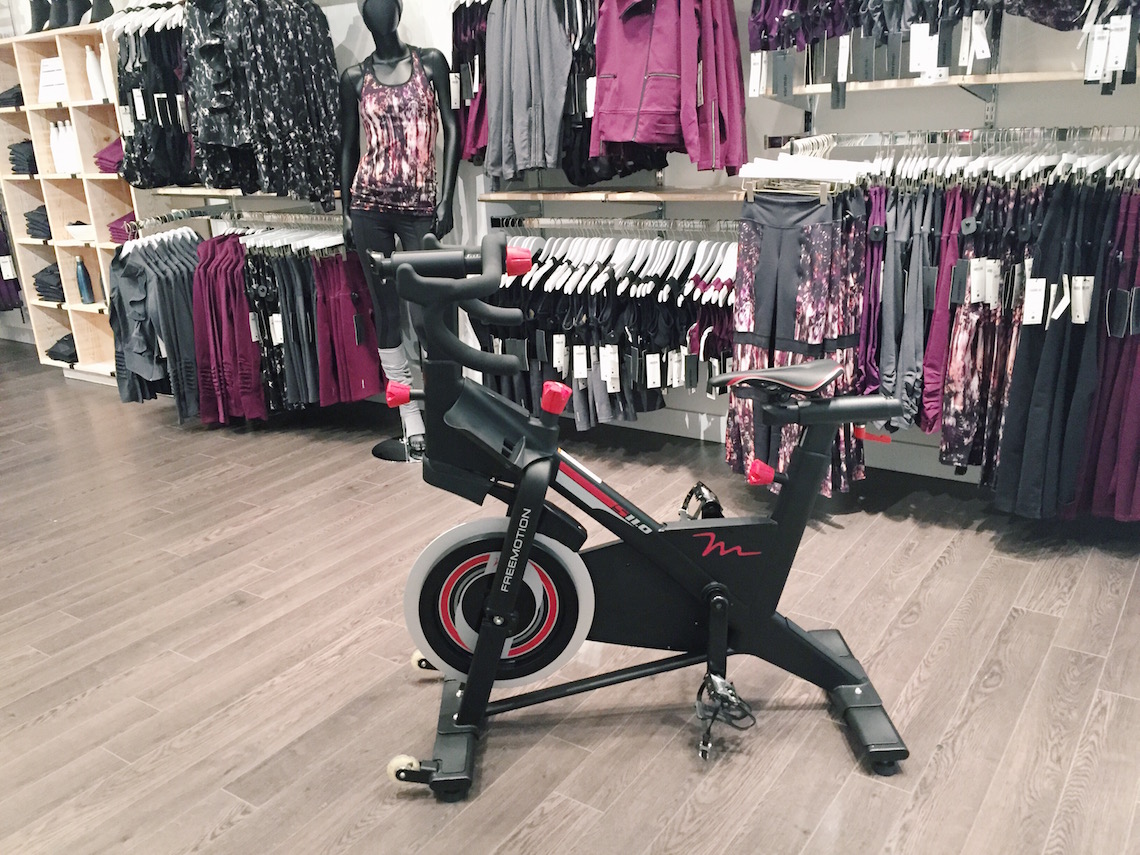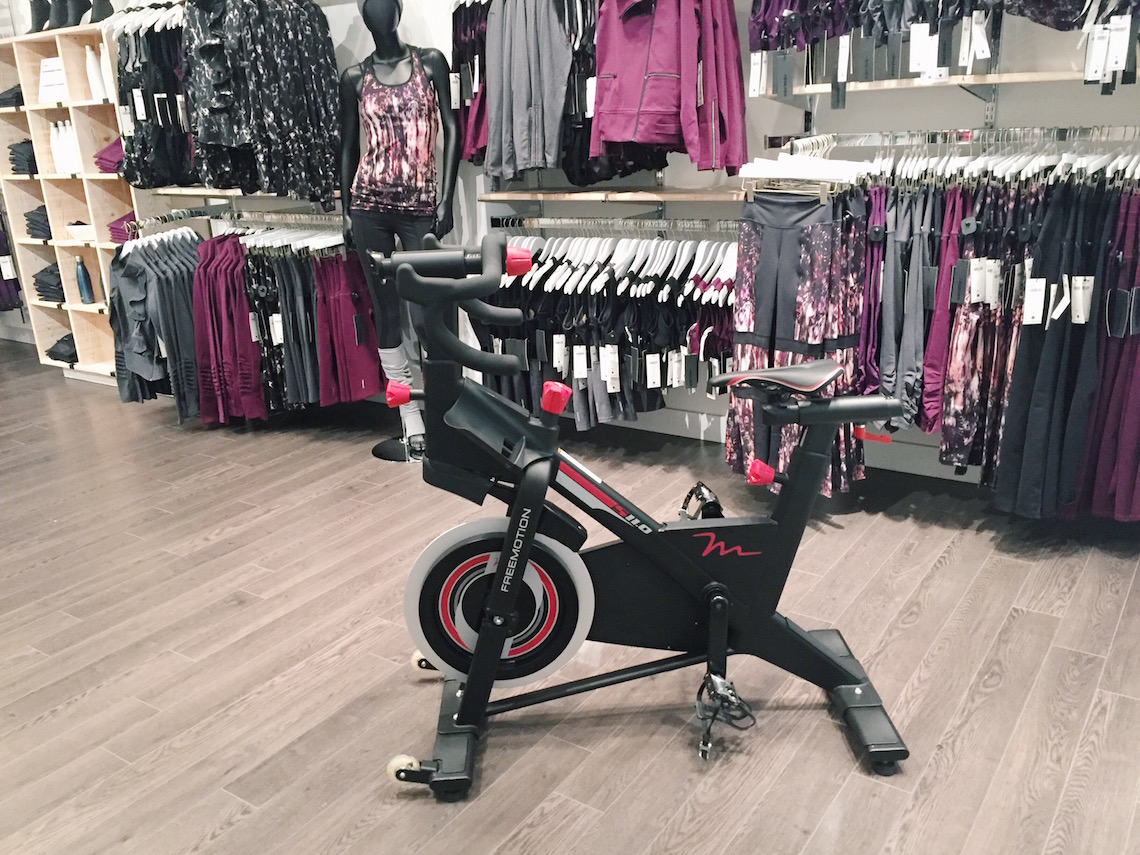 In the 'Dance' corner, this season's collection features feminine, draping pieces, with a girly papaya pink complimenting the dark purple colour palette you see in the rest of the store.  For example, pink cropped pullovers, long flowing tee's with blocks of mesh, and keyhole cutouts to show off that sexy dancer's back.  A ballet barre and mirror is positioned at the back of the store, so customers can put the stretch and flexibility of Karma's dance pieces to the test.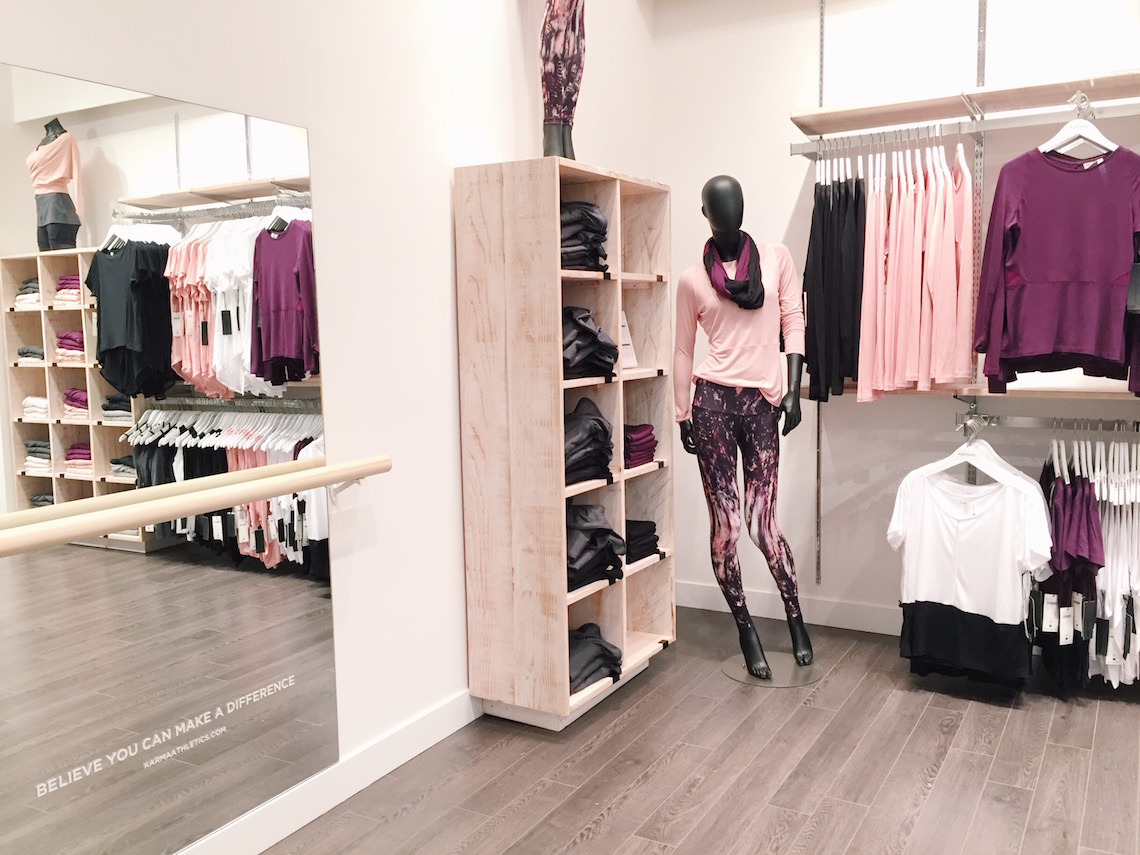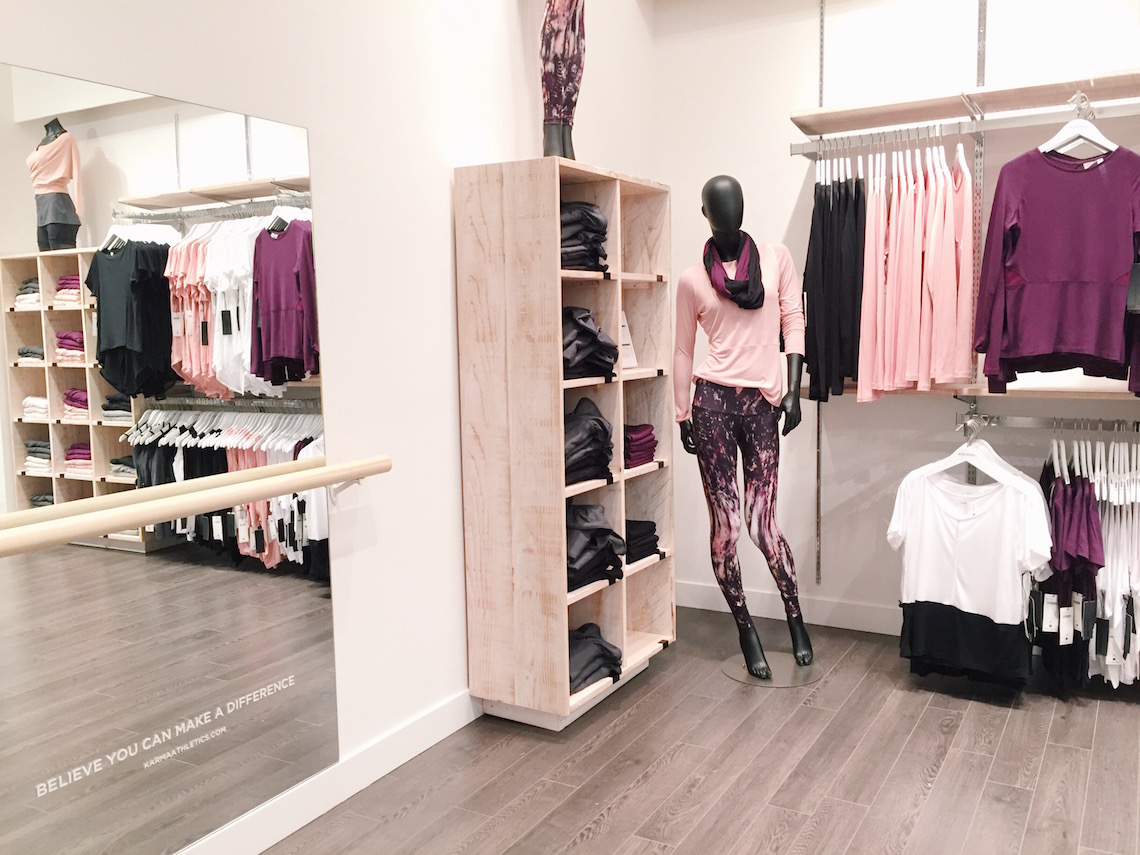 Finally, in the back-corner of the store is the 'Apres' section, a collection of post-workout pieces, including the Razia Jacket, a moto-inspired zip-up with an off-centre zip.
Coming soon in mid-December, expect to find the "Gothic Navy" collection arrive in-stores, pieces in the blue, grey and white colour palette, marbled together into a watercolour-like print.
For more information about Karma Athletics, visit them online at KarmaAthletics.com or in-person at Oakridge Centre, located beside Oak + Fort, across from GAP.