Cirque the Soleil is back in Vancouver touring under its famous blue and yellow big top with its KOOZA show.  With the mission of invoking the imagination, provoking the senses and evoking emotion of people around the world, Modern Mix Vancouver had the opportunity to visit KOOZA on opening night, and watch an evening of breathtaking circus acts.
Read on for an insider's guide to Cirque du Soleil's KOOZA in Vancouver, find out interesting facts about The Big Top, the inspiration behind the costumes and music, and a peek at my three favourite acts from the show.
What is KOOZA?
KOOZA had its world premiere in April 2007 in Montréal, Canada and has since played in over 47 cities in 13 countries, on three different continents.  The name KOOZA is inspired by the Sanskrit word "koza," which means "box," "chest" or "treasure," and was chosen because one of the underlying concepts of the production is the idea of a "circus in a box."  The show is a return of the origins of Cirque du Soleil and combines two circus traditions: acrobatic performances, and the art of clowning.
Cirque du Soleil's Big Top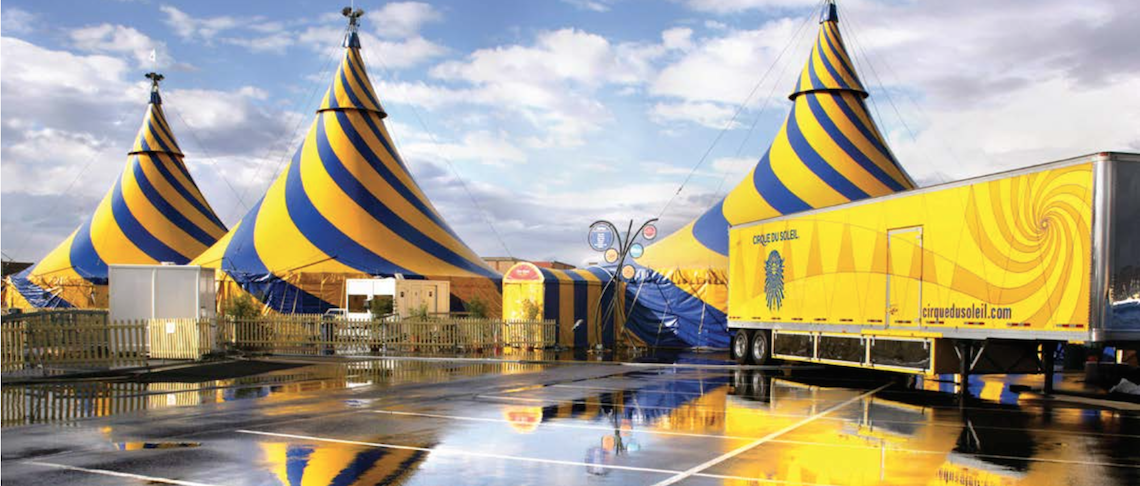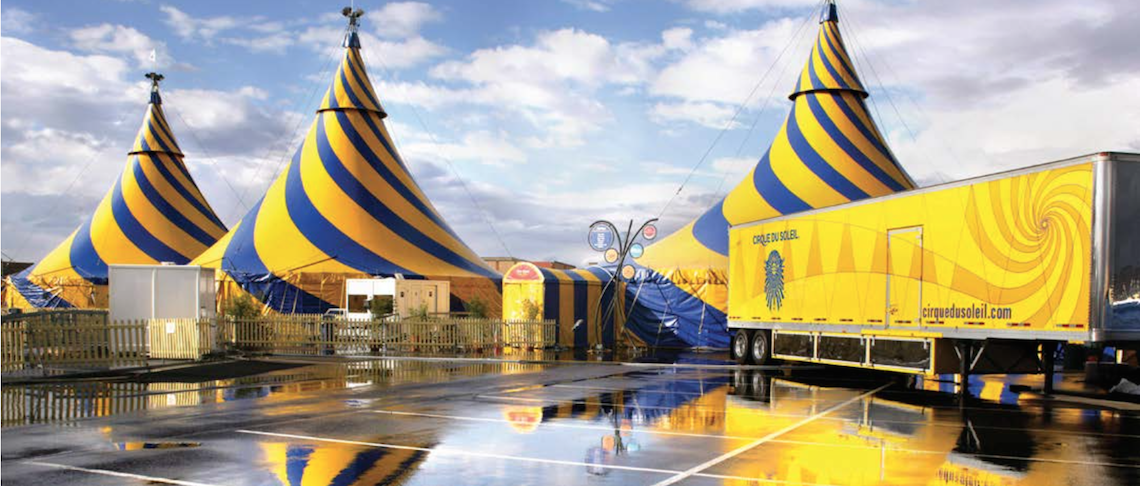 Housing the magical Cirque du Soleil experience is the striped blue and yellow big top, which seemed to just appear overnight at Concord Pacific Place.  In reality, however, the site takes nine days to set up and three days to take down.  The canvas for the tent and its 11 tunnels weigh approximately 11,500 pounds and 60 trailers needed to carry the equipment as KOOKZA travels from city to city.
KOOZA Acts
Cirque du Soleil shows are separated into different acts throughout the show, each featuring a different set of performers and their talents.  Here are my three favourite acts, all of which made me gasp in amazement at what the human body can do.
High Wire: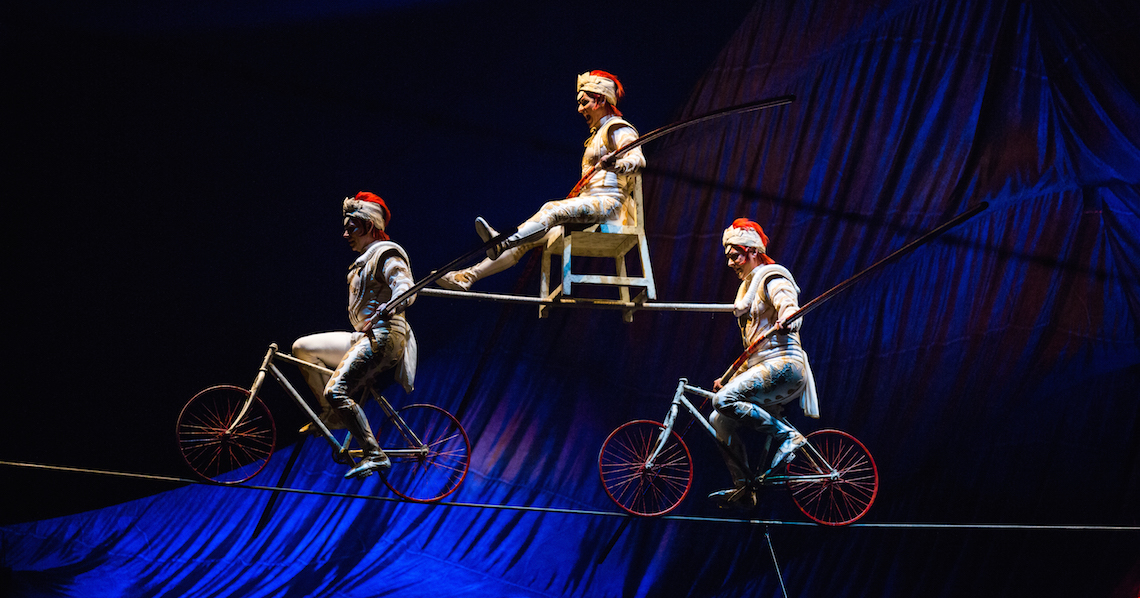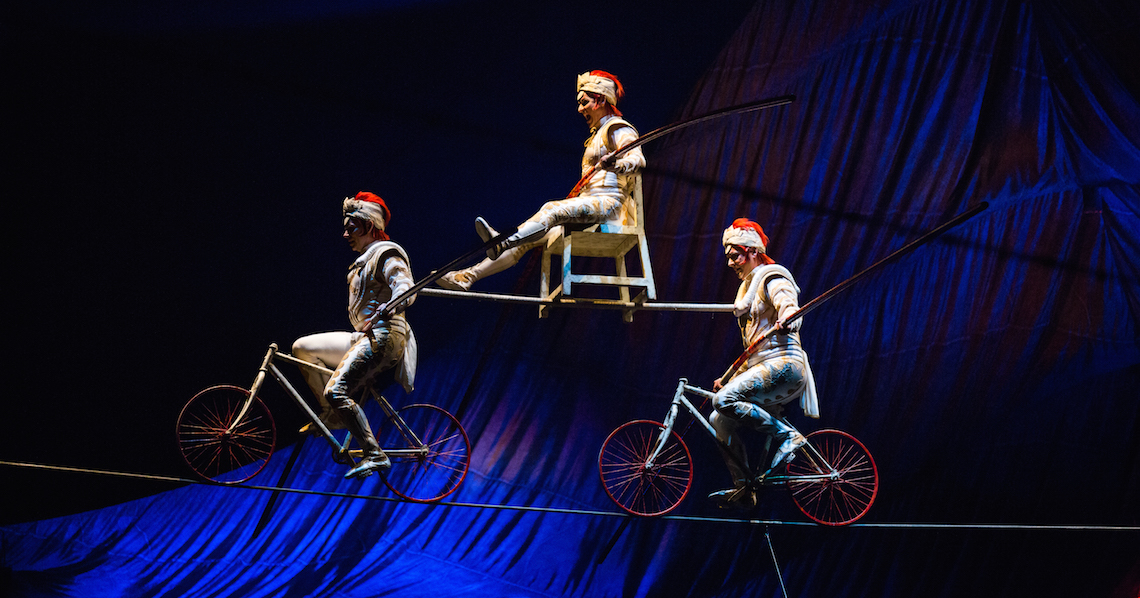 The twin high wires are suspended 15 feet (4.5 meters) and 25 feet (7.6 meters) above the stage, and four tightrope walkers add their own tension to the 6,600-pound load on each rope. Their expert ability allows them to perform balancing feats in the air that most of us would find difficult to do on the ground.
The Wheel of Death: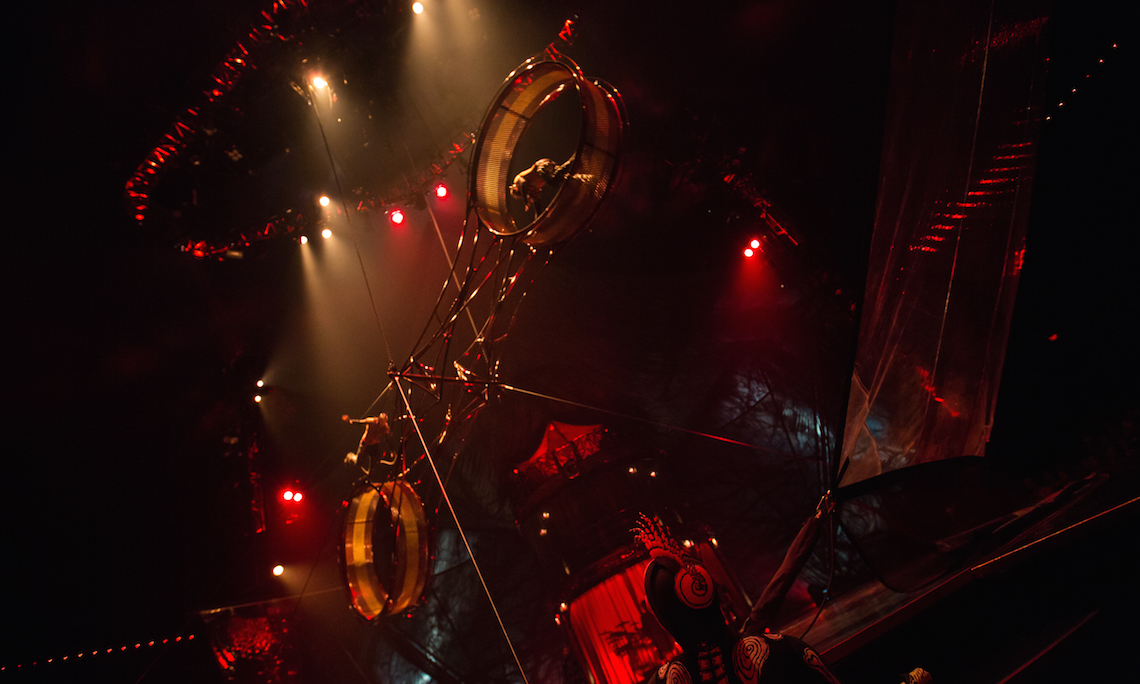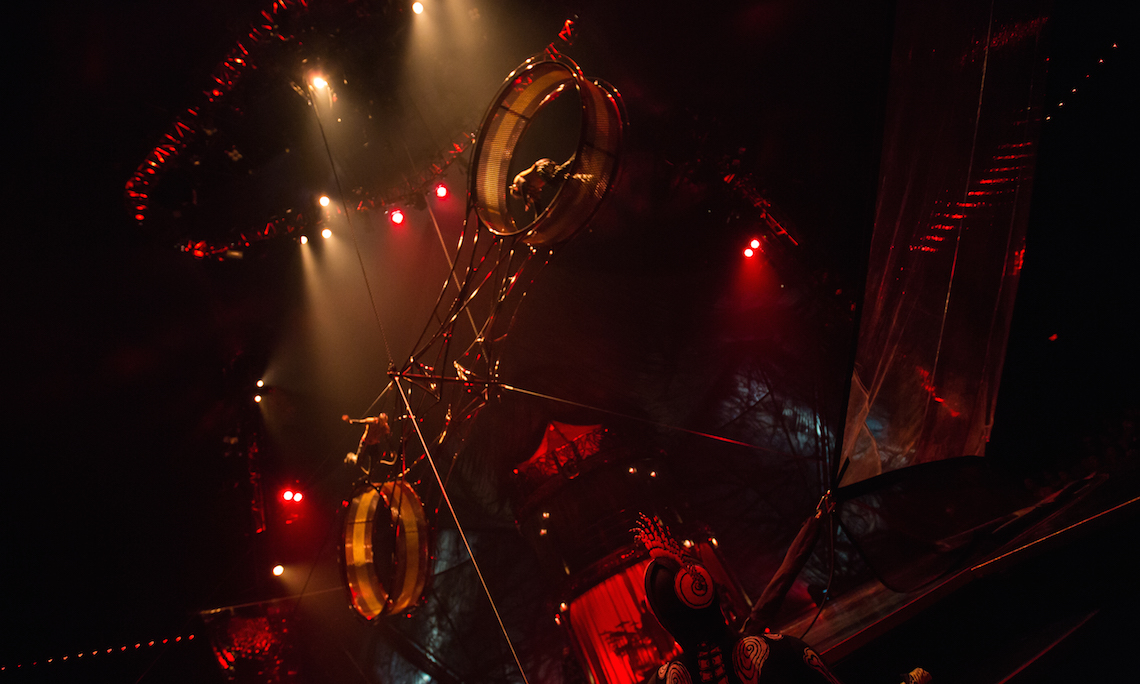 Like two giant hamster wheels, KOOZA's 1,600-pound Wheel of Death rotates at heart-stopping speeds, powered only by the two artists who leap and counter-rotate in a death-defying display of fearless acrobatics and astonishing teamwork. Like the High Wire, the Wheel of Death is positioned diagonally, stage left to stage right, in order to break with the usual symmetry and bring the action as close as possible to the audience.
Contortion: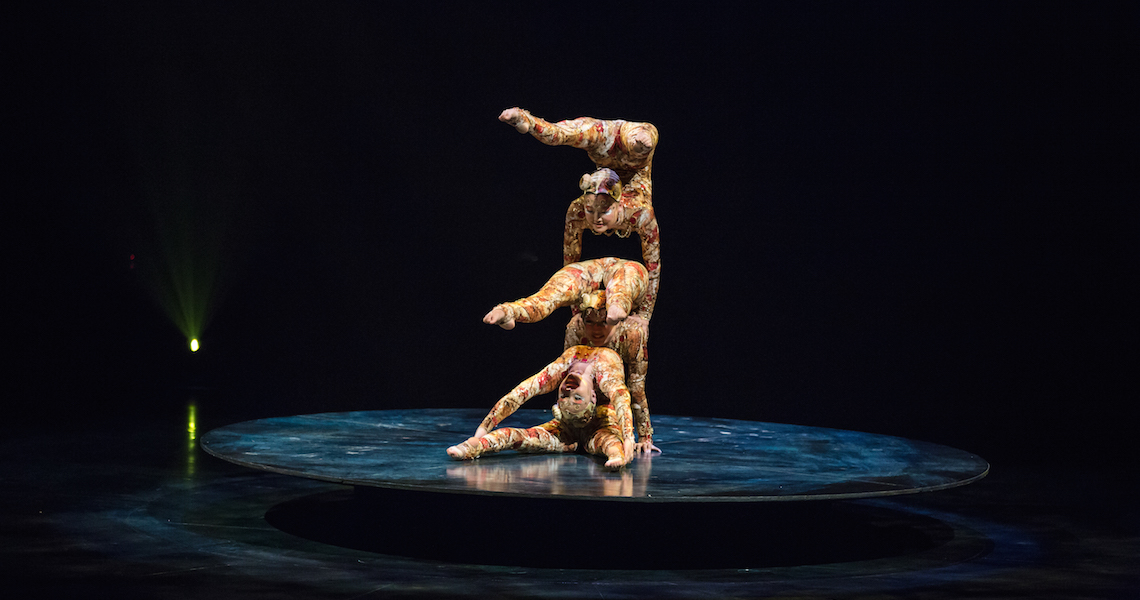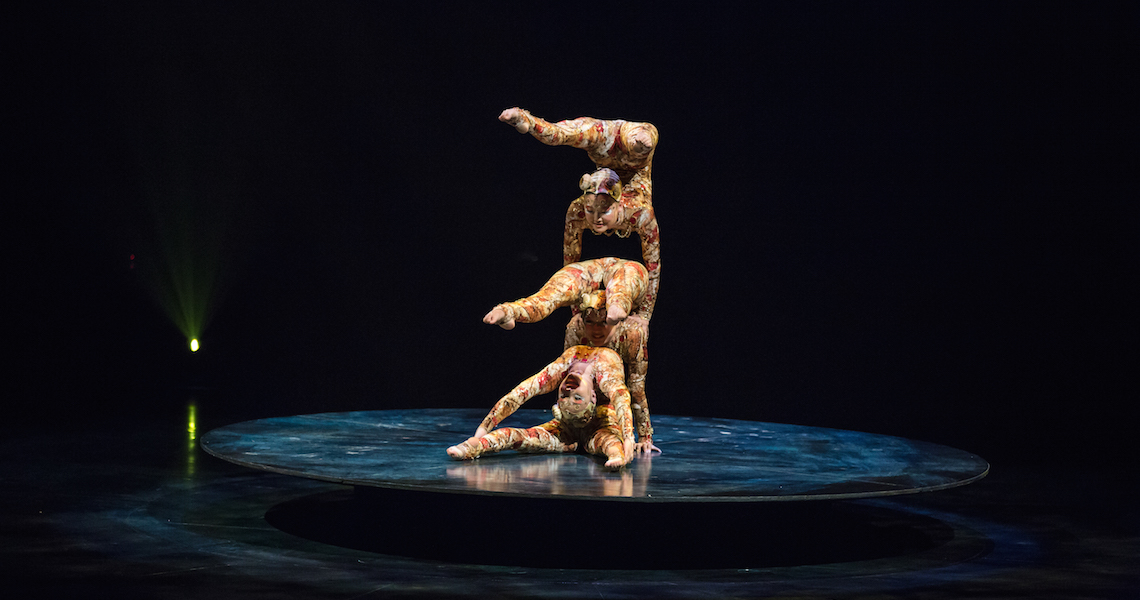 These incredibly bendy young performers work in unison to bring a new approach to the art of contortion. What sets this number apart are the artists' innovations in movements and position, their speed, and the way they work as a team to create tableaux of sculptural beauty.
The Costumes at KOOZA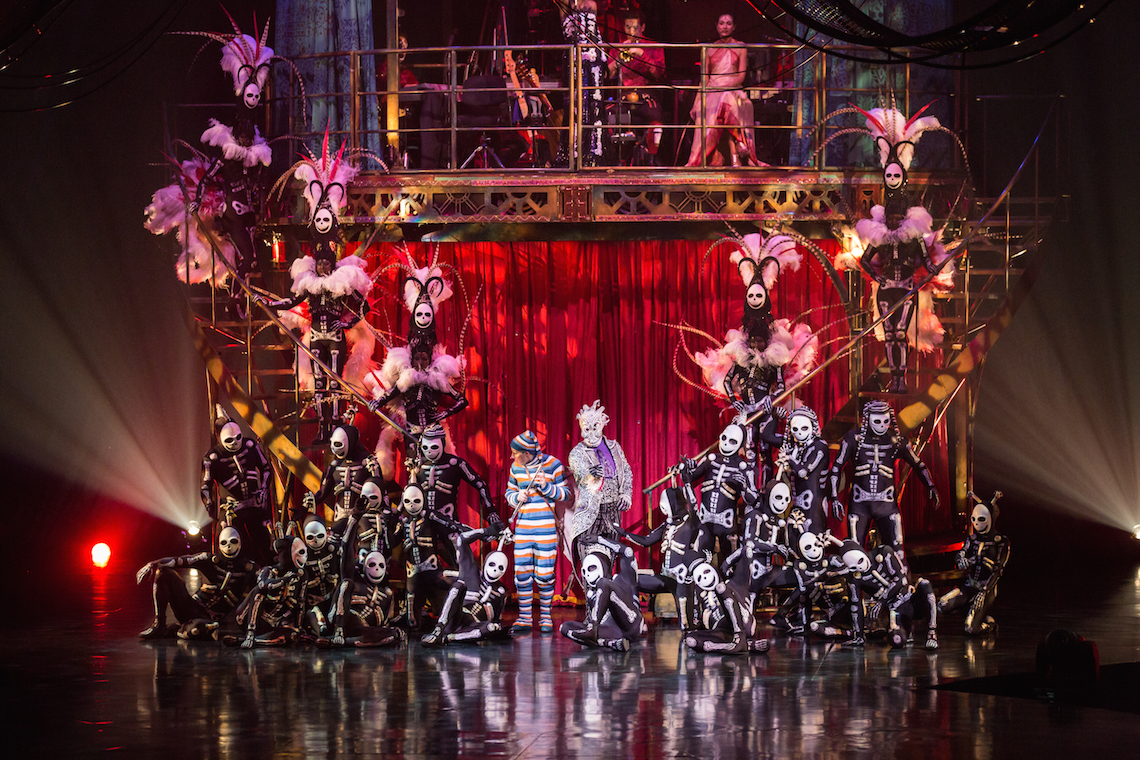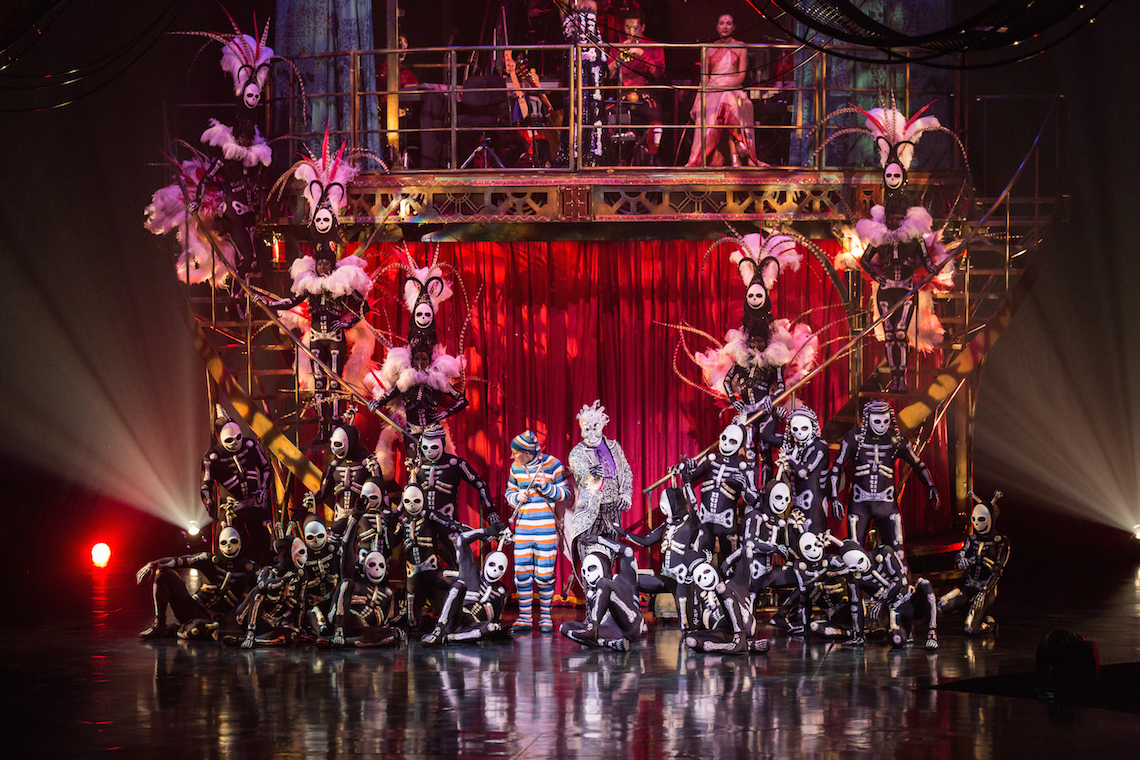 The breathtaking performances at Cirque du Soleil would be not complete without eye-catching costumes to accompany the acts.  There are more than 175 costumes and 160 hats featured in KOOZA, 1,080 items in all, including shoes, props and wigs.  All costumes are custom-made and the majority are produced at the costume workshop at Cirque Du Soleil's International Headquarters in Montreal, the only facility of its kind in North America.
"My costumes draw on a wide variety of sources of inspiration: everything from graphic novels, the paintings of Gustav Klimt, Baron Münchhausen, the Mad Max movies, time-travel movies to India and Eastern Europe. This […] exotic and timeless universe evokes the world of toys, lead soldiers and children's books, with a wink toward Alice in Wonderland and the Wizard of Oz." – Marie-Chantale Vaillancourt, Costume Designer
The Music at KOOZA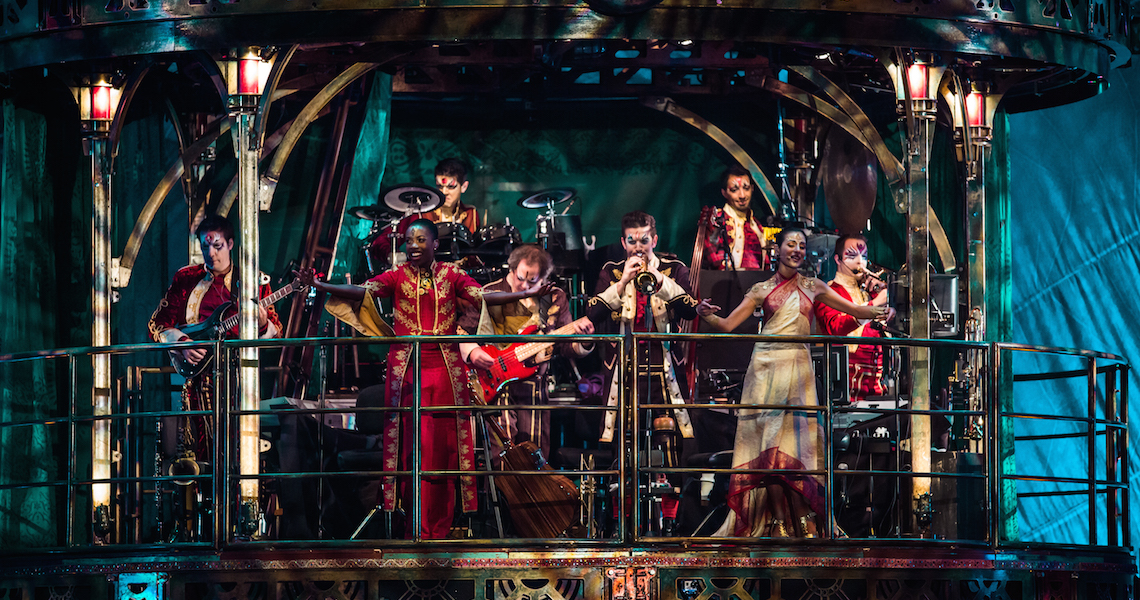 The music of KOOZA beautifully demonstrates the spirit of the live show with its themes of human connection and fun in a world of duality. With a stream of uplifting songs with timeless influences where forms and styles intertwine seamlessly, the music of KOOZA is inspired by the sounds of western pop culture, from 1970s funk to full orchestral arrangements. It also draws heavily on traditional Indian music.
"I was inspired by Western pop music, from 1970s funk to orchestral music. I also drew upon traditional Indian music and film scores from the 1940s and 1950s, a period I'm particularly fond of." – Jean-François Côté, Composer
There are six KOOZA musicians who play live music during each performance: trumpet, trombone, bass, drums, percussion, saxophone, electric guitar, and keyboard. There are also two singers who sing live during each performance.
==
Since 1984, Cirque du Soleil has brought wonder and delight to close to 155 million spectators in more than 300 cities in over forty countries on six continents.  In Vancouver, KOOZA is playing at Concord Pacific Place until December 27, 2015.  Tickets are available at: cirquedusoleil.com.
Photos: Matt Beard Costumes: Marie-Chantale Vaillancourt ©2012 Cirque du Soleil