Circle Craft Christmas Market returns to Vancouver from November 11th to 15th with over 300 artisan crafters from across Canada. Every year, clothing designers, potters, wood and metal workers, jewellers, and toy makers gather under the roof of the Vancouver Convention Centre, to showcase their handcrafted creations.
Each year new designers are added to the market. Although Sabrina Chin, the artist behind Love at First Blush, is new to the market, she is no stranger to the spotlight.
Her statement leather accessories, inspired by nature and winged creatures, have already made a splash in Flare Magazine, CTV and Breakfast Television. Sabrina is most grateful that her Love at First Blush Signature Laser Cut Glove has appeared in the Hollywood blockbuster film, Hansel and Gretel: Witch Hunters.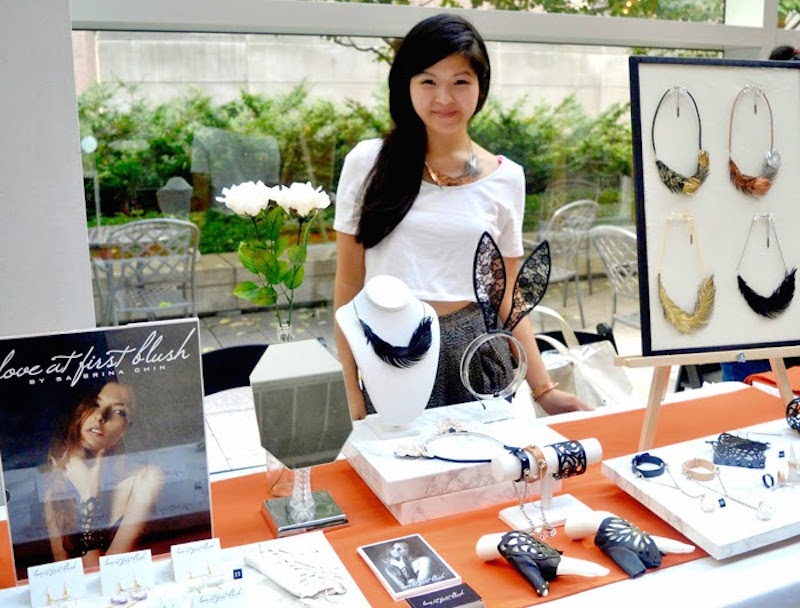 Her collection at this year's Circle Craft is a must see. Here's what Sabrina shared with Modern Mix Vancouver about her passion and her vision for Love at First Blush.
What are 3 fun things you want your customer to know about you?
My favourite color is blush pink
I used to have a pet lovebird when I was younger
I'm addicted to traveling
What is the story behind Love at First Blush?
Love at First Blush was my side project and creative outlet while I was working as a fashion designer in Montreal. It has blossomed since and is now my full time job. I love creating and working with my hands, especially small items, so it has been a natural progression from fashion into jewellery. In school, my favourite subject was always the arts and craft projects.
What fuels my passion is seeing the pieces on my customers and receiving positive feedback from them. I'm really grateful to be able to do what I do.
Can you tell us about your inspiration for the collection you're bringing to Circle Craft?
This year I've been very inspired by crystals and gemstones, so you'll be seeing a lot of raw gemstones mixed with leather as well as geometric shapes. I'm also big on having pieces that are versatile, so a lot of my pieces can be worn 2 different ways and some items are reversible in color.
What can fans of your jewellery expect to see in your future collections?
I'll be incorporating metalsmithing techniques in my future collections as well as working on a broader assortment of leather goods.
Words to live by?
I'm a solid believer in that if you are passionate about what you do, it is possible to do what you love.
To shop Love at First Blush visit etsy.com/shop/LoveAtFirstBlush or meet Sabrina in person from November 11 to 15, 2015 at Circle Craft Christmas Market.
By: Audrey Joy Kwan, MMV Contributor