As part of our Vancouver Designer Spotlight series, Modern Mix Vancouver had the opportunity to chat with Leah Emmott of Inner Fire Apparel, a local apparel line which focuses on creating beautiful and inspiring handmade activewear.
As a yoga teacher with a background in marketing and graphic design, Leah's two backgrounds merged unexpectedly to create Inner Fire.  In 2011, Leah was working as a yoga teacher when she was suddenly rushed to the hospital for the removal of an ovarian cyst, which left her in recovery for six weeks.  What began as a hobby during her recovery, making crafty gifts of yoga props and meditation cushions for her yogi friends, slowly grew to become a business as she began selling at the yoga studio she was teaching at.
After her recovery, Leah began to brainstorm ideas for cool t-shirt designs.  She invested in lessons at a local screen printing workshop and then started to print her own shirts at home. She would wear them out and to class, and had people ask if she could make some for them.  Soon after that, she added a line of eco-friendly leggings made from recycled water bottles as a medium to express her love for nature and art.
Because the clothing side of Inner Fire Apparel grew so quickly, she focused her energy completely on the apparel line and no longer offers the yoga props.  According to Leah, the growth of Inner Fire Apparel, both locally and internationally, was very much an organic experience through word of mouth and social media.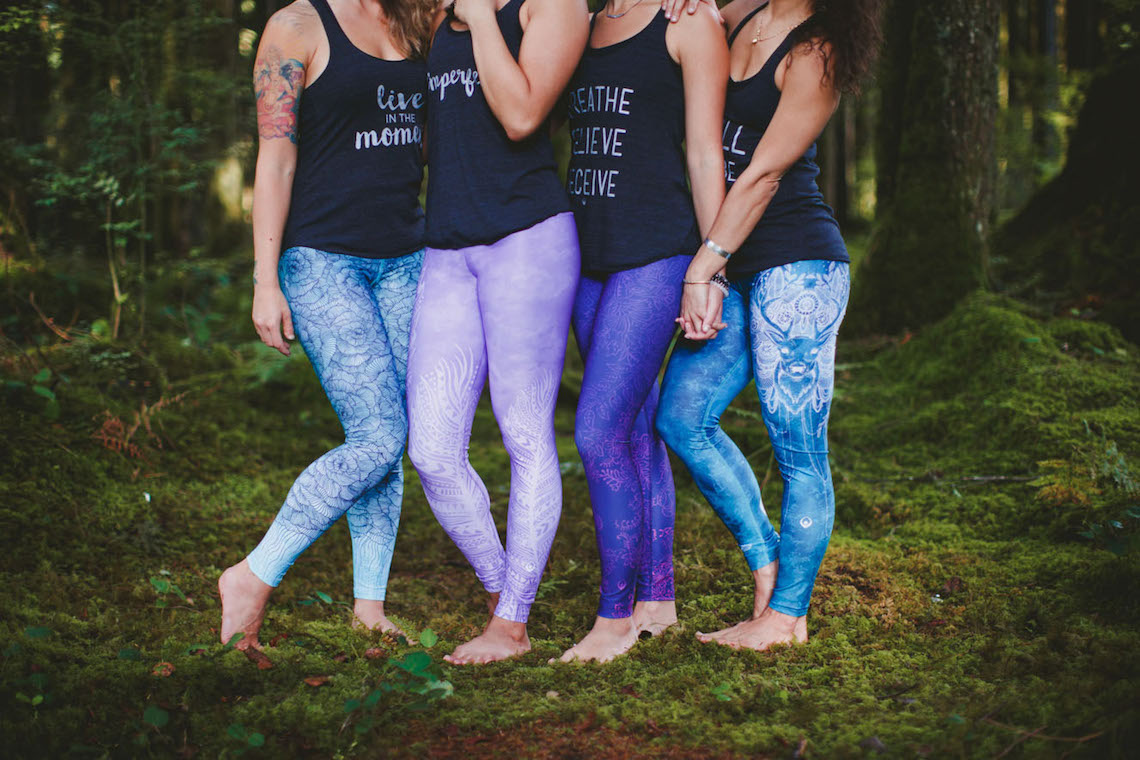 Find out more about Inner Fire Apparel as we chat about design inspiration, international growth and 'epic photoshoot locations' in our Q&A with Leah below:
Where does the name Inner Fire come from?
I decided to call it Inner Fire because the area of my belly where I had the cyst was the same area where the 3rd chakra resides. It is an area with fiery qualities that is responsible for passion, creativity and drive. I really felt like this fire got lit during those six weeks off.
What inspires your designs for Inner Fire Apparel?
My inspiration comes from my experience as a yoga practitioner and as a yoga teacher. To me, yoga, at its core, is simply the practice of being fully present and connected. Being in that state of mind opens up the potential for more fun, joy and playfulness in one's day-to-day life. It can be expressed in so many different ways.  I feel so indebted to yoga for helping me get through tough times and reminding me what is important in life. It has also introduced me to a community of deeply loving and conscious individuals. It has humbled me in so many ways. The practice reminds me that we are all connected and that we can really create a positive impact through our actions. I am also very much inspired by nature and the beauty of our natural world. Travel also helps me find a deeper connection with mother nature.
How about the phrases on your T's and Tanks?
I always make sure that the phrases I put on my shirts honour the practice of yoga and the person wearing it, however tongue in cheek the saying might be.  I love coming up with different shirt designs that inspired either laughter or reflection. A lot of that came from my own personality as a yoga teacher (and of course from my own teachers too).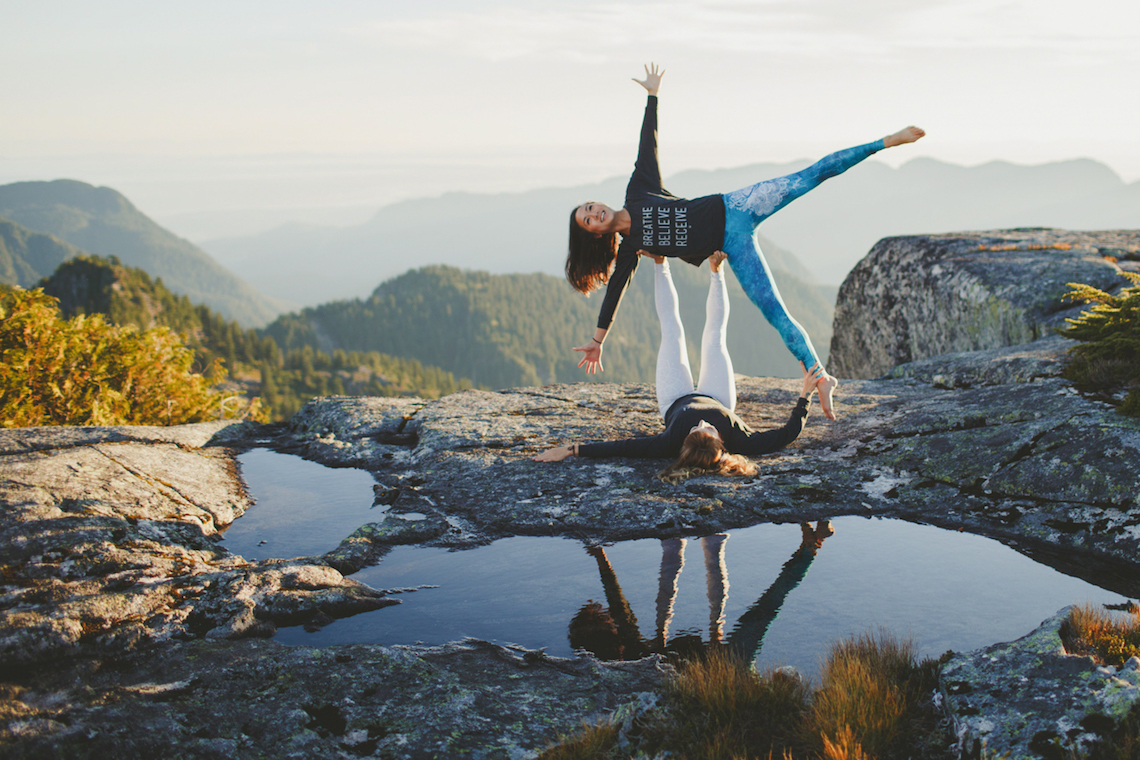 How do you see art and fashion merging in your designs?
Once I found a way to put graphics on fabric, then the floodgates opened up and I really started to design. I loved bringing together a proper balance of colours and graphics into each print. I found that a lot of what I was seeing in the marketplace was just too busy. Too much pattern; too many elements; too kitschy. I wanted to create pieces that stood alone as pieces of art; pieces that invoked some kind of feeling when worn. I let my creativity drive the direction rather than the industry. I was just lucky that what I was doing ended up being what people were looking for! I have been fortunate enough to have an outlet for my creative expression and it's been amazing so far.
What are the stories behind the Deer Love Leggings and Flora Leggings?
The latest collection for Inner Fire is called "Flora and Fauna" and I wanted to create a collection that paid homage to our natural world. I live in BC and I remember going to my great aunt and uncle's house on Saturna Island every summer as a kid. It was a special place for me. There wasn't much there so I remember spending a lot of time in my great aunt's garden looking at the flowers. The deer would come right up and eat her roses. She was always annoyed by this, but I actually loved staring out her front window to look at the deer as they came for a visit. They just had a special kind of innocence and grace that I admired.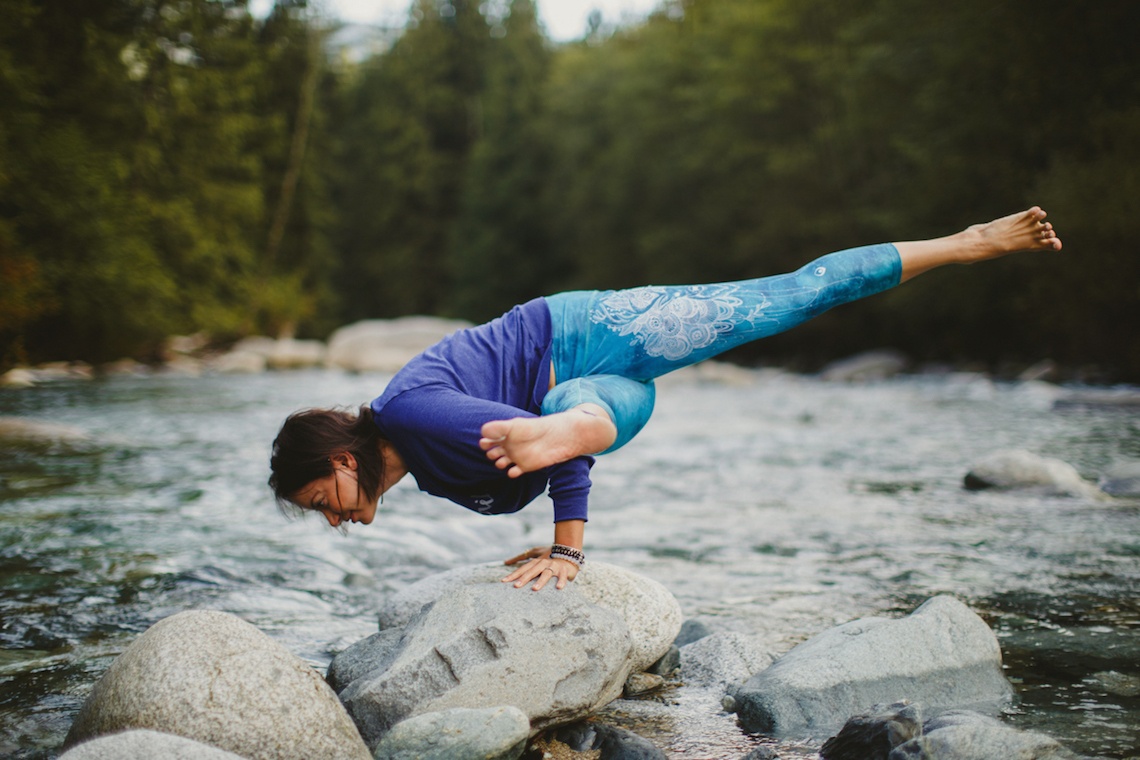 You've orchestrated photos shoots at some pretty awesome locations for Inner Fire…one of which included a helicopter ride?!  What's the story behind your most recent Fall/Winer 2015 shoot?
The photo shoots are definitely one of my favourite aspects of the business. I love working with different photographers in different locations. I try to choose a natural setting when I can, but of course, coordinating outdoor shoots has its challenges.
Our most recent Fall/Winter shoot was a lot of fun. I had a vision to do a mountain/forest shoot and I found my photographer Rachel Barkman via Instagram, of all things! I fell in love with her epic mountain locations and asked if she would be willing to do a yoga shoot (she had previously only done engagements and weddings). She was totally keen, so we got to talking about locations. She had suggested some great outdoor locations, but many of them were epic hikes away. Then the light bulb went off and she threw out the idea of taking a helicopter up there. It definitely added a considerable expense to the shoot, but I thought, 'Man, this shoot is going to be so amazing if we're going to be the only ones on top of a mountain'.
So we made the plan to go up. The only issue was that the weather had turned to rain and we were waiting for a sunny day. We had to reschedule 4 times, which was very frustrating since I had also booked a videographer to film us and we had to keep re-booking again and again. We ended up dividing up the shoot into two days so that we weren't just counting on the possibility of getting up on that mountain. The next sunny day might have been weeks later. We shot for one day at a forest and stream location, which was a total blast. The forest location unfortunately had a lot of garbage left there from careless people, so we had to do a garbage clean up before starting. It was in this amazing location in Golden Ears Park that was carpeted in moss.
The stream location was also great, however very cold. The girls were super brave to play in the freezing cold water. Anything for the shot, right? Then, the sunny day finally came and we did our helicopter mountain shoot. It was such a surreal experience going up to that mountain peak and knowing that we were the only ones there. The sunset was absolutely beautiful. We only had an hour so we powered through the shoot and ended creating a little fire that we ended up dancing around. It was such an unforgettable experience!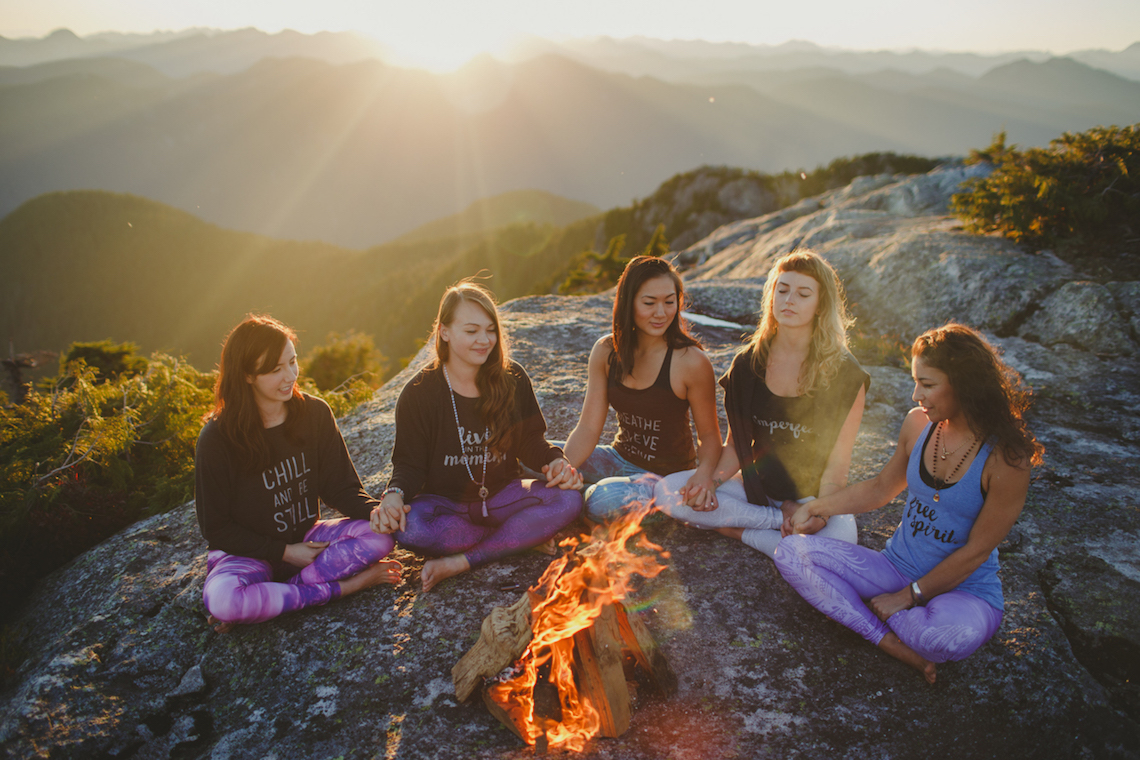 What are some of your goals for Inner Fire Apparel in the near future?
I hope to continue to build a strong team of conscious people who are aligned with our goals. We currently have a great roster of Luminaries (ambassadors) and it's been great to see our community grow. I want to expand my product line, but I don't want to add too many products at once as I am still trying to figure out how to properly plan for growth.
Any plans for further international growth?
I'd like to expand the wholesale side of the business into international markets, like Australia, the UK, Singapore and Dubai. We just got back from Australia and it's been really crazy to see how many people from all over the world know about Inner Fire. Gotta thank the internet for that one! I hope to be able to impact more people through our philanthropic activities as well.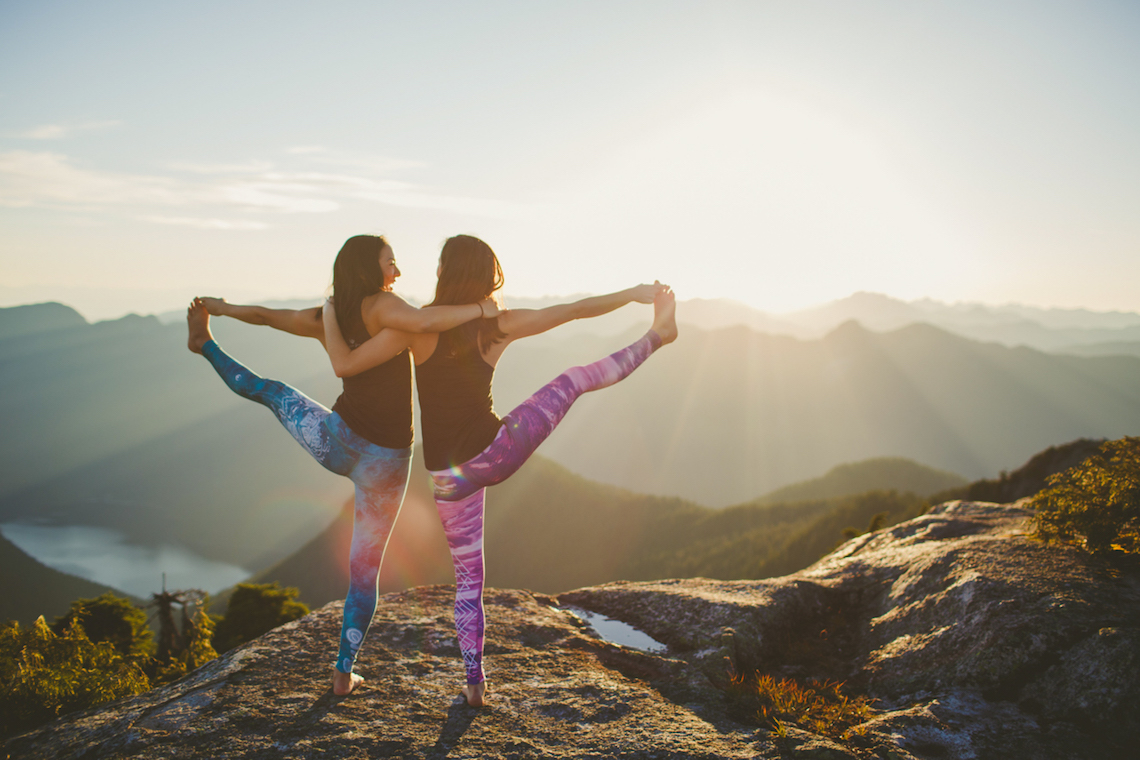 What's your favourite inspirational quote?
"We are not human beings having a spiritual experience, we are spiritual beings having a human experience" – Yogi Bhajan
What stores in Vancouver can Modern Mix Vancouver readers purchase Inner Fire apparel at?
We are carried by several studios and stores in the lower mainland, such as Semperviva and Giving Gifts and Company. Other retailers can be found on our store finder on our website. Our web store is still your best bet for the most selection.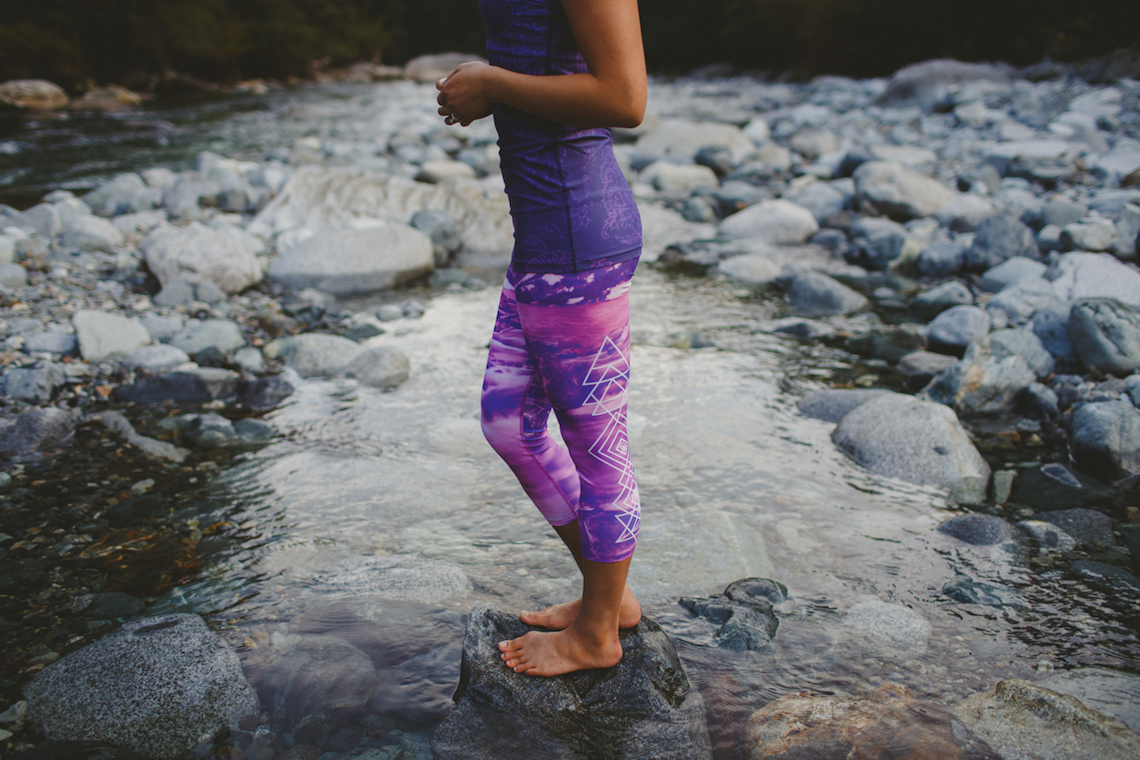 Anything else you'd like to share with Modern Mix Vancouver readers?
I have learned many things along this journey, and one of the biggest things is that the best thing you can do is be true to yourself and open your heart to those around you. When you live in a state of authenticity, gratitude and selflessness, you attract the things that you are looking for. You attract the right people and from there, the opportunities start to flow. You can call it the Law of Attraction or manifestation, but it's basically about living as though we are in this together. It really works! Oh, and it's ok to show up to a class and spend the whole time in Savasana! I think there's a shirt for that! 😉
For more information on Inner Fire Apparel, visit: myinnerfire.com, or see a selection of their products in stores at Semperviva (2201 W 4th Ave) or Giving Gifts and Company (4570 Main St).