Our list of specialty advent calendars from the past two years was so popular, we wanted to share an updated list for our readers for 2015.  With these non-traditional advent calendars full of surprises from bath and beauty products to BC craft beer, you'll be glad December has 24 days leading up to Christmas.
Are you looking for an updated list for 2016?  Check out our post on Top Specialty Advent Calendars for 2016 – we are continually adding new calendars as we come across them.
We will keep adding to this list as we come across more this season.  Scroll left-and-right to see our compilation for 2015: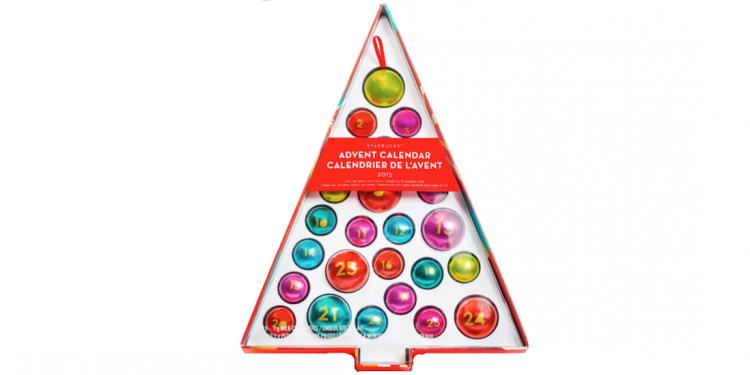 Starbucks Advent Calendar 2015
The tree-shaped calendar from Starbucks is trimmed with 25 colorful and reusable tin ornaments filled with milk chocolate and peppermint bark pieces. A limited-edition $5 Mini Starbucks Card forms the tree's base.

Available for $44.95.
Starbucks Advent Calendar 2015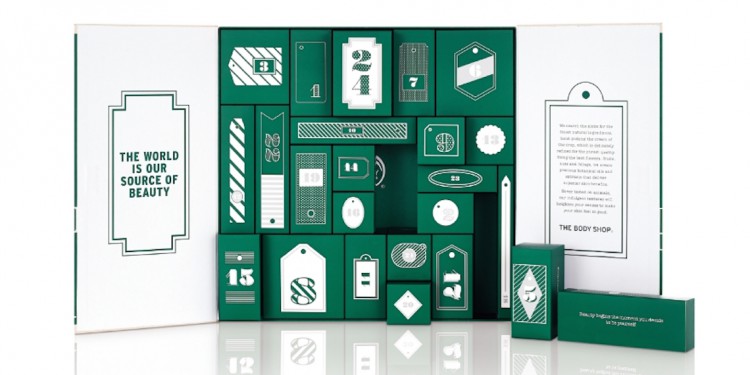 The Body Shop Happy Days Advent Calendar
The NEW 24 Happy Days Advent Calendar is a perfect blend of The Body Shop's best sellers from skincare, bath and both care to fragrance and make-up, for a head-to-toe feel good feeling. Explore hidden doors and read inspirational messages until you arrive at your secret gift, hidden in the 24-day wonderland of treats.

Available for $99.00 at The Body Shop. For each advent calendar purchased (in addition to other holiday gift items), one day of safe water for a family in Ethiopia will be donated.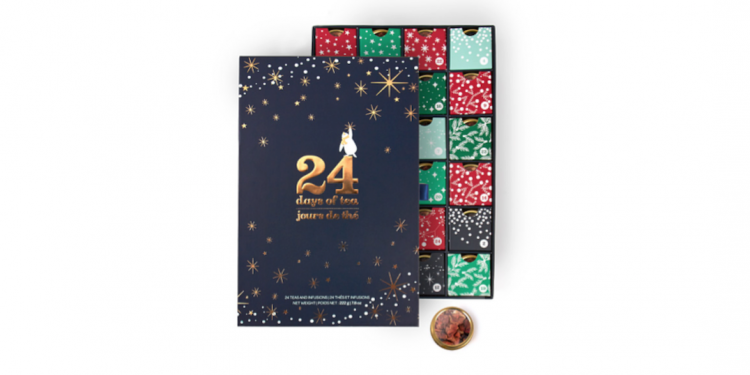 DAVIDsTEA 24 Days of Tea Advent Calendar
This magical box delivers a delicious new surprise every day. Slide out a numbered drawer each day to reveal a different tin of tea. Each tin makes two cups of tea.

Available for $40.00 at DAVIDsTEA.
DAVIDsTEA 24 Days of Tea Advent Calendar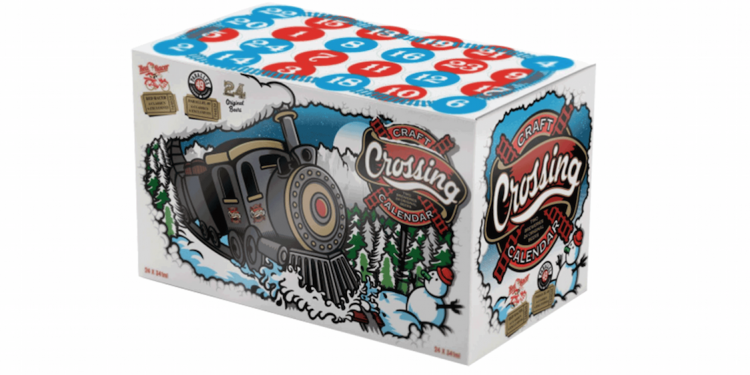 Craft Crossing Beer Advent Calendar
Central City Brewers and Parallel 49 Brewing Co. are joining forces for the limited release Craft Crossing Calendar collaboration holiday 24-pack. Back by popular demand, the Craft Crossing Calendar is the second holiday pack the two craft breweries have collaborated on, this year incorporating 12 brand new holiday beers and 12 tried and true classics.

Special brews unique to the holiday collaboration include sour beers, stouts, bocks, pale ales and winter ales.

The Craft Crossing Calendar is available in liquor stores in B.C, beginning in early November.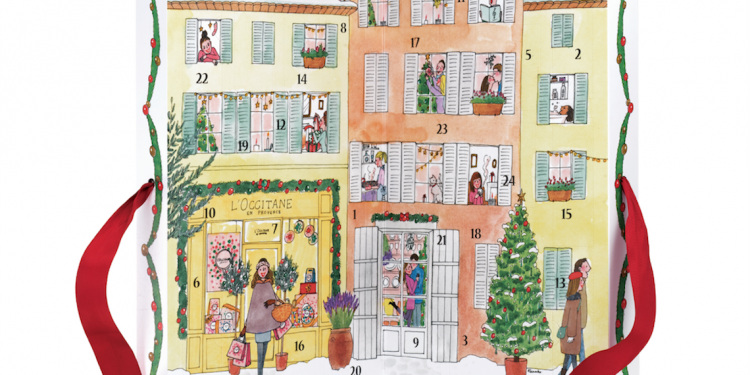 L'Occitane Advent Calendar
This timeless advent calendar is sure to please any crowd by unveiling a surprise treat on each of the 24 days leading up to the holidays!

Products will include items from L'Occitane's nourishing shea butter collection, their Verbena collection and other Provençal- inspired keepsakes that will surprise and delight any lucky recipient!

Available for $50 at L'Occitane. $10 of the purchase of each advent calendar and other L'Occitane gift boxes will be donated to Dress for Success.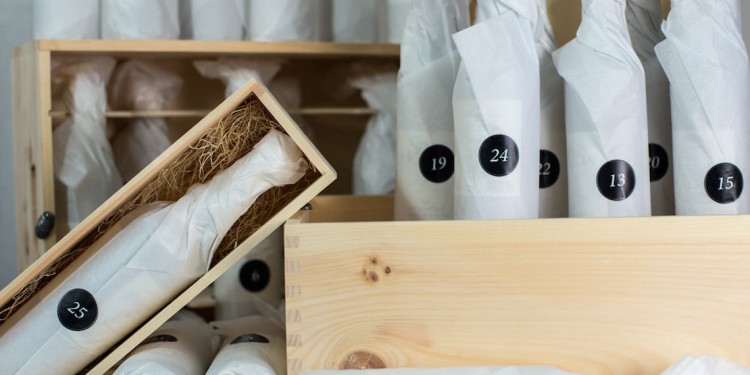 BC Wine Advent Calendar
New District, a Vancouver-based wine startup, is offering a wine advent calendar containing 25 full-sized bottles of BC's best wines. Retailing at $850 (shipping included) New District's wine advent calendar is available for purchase on the company's website at newdistrict.ca/adventcalendar. Wines will arrive at your door, wrapped, numbered, and nestled in white pine boxes.
BC Wine Advent Calendar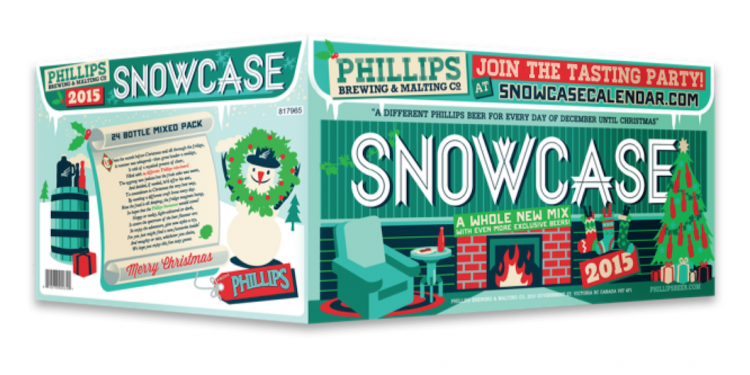 Phillips Brewery 2015 Craft Beer Advent Calendar
Every year just before Christmas something very special happens at Phillips Brewery. As the air turns from crisp to cold, a mysterious list is checked (24 times) and secret beer recipes begin bubbling away in fermenting tanks. Then one day the entire brewery transforms into a magical workshop and all the Phillips elves join in to hand-pack the greatest beer-present of all: The Snowcase Calendar!!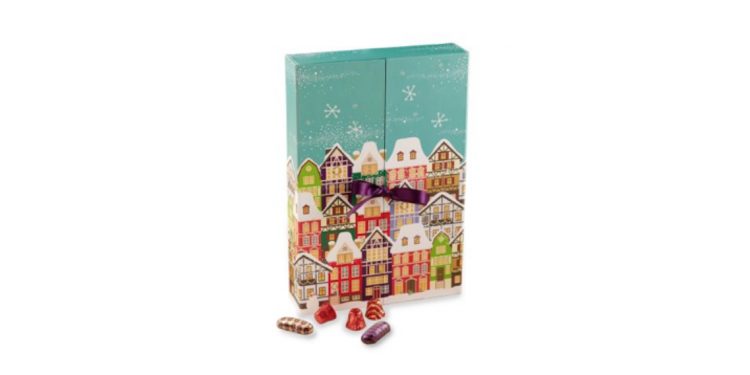 Purdy's Winter Village Chocolate Advent Calendar
This Advent Calendar from Purdy's Chocolates depicts a whimsical vintage winter street scene featuring stylistic, snow-covered buildings over a frosty teal backdrop. This Advent Calendar can be used year after year, and holds Purdys' tasty Milk Foiled Bells and Salted Caramel Minis.

Available at Purdy's Chocolates for $25.
Purdy's Winter Village Chocolate Advent Calendar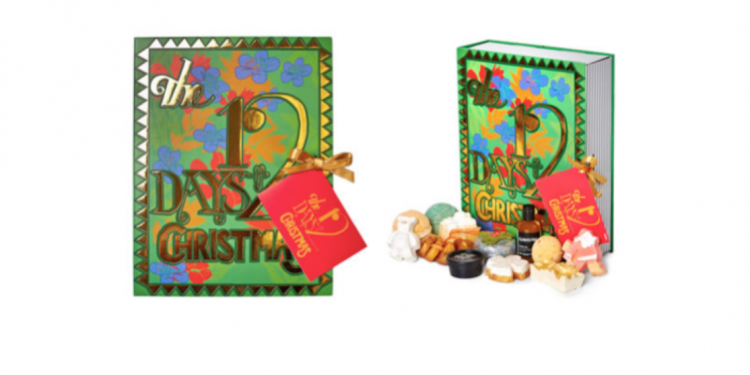 LUSH Cosmetics' 12 Days of Christmas
Draw the curtains and build up the fire: a wintry tale is about to unfold! Between these pages you'll find 12 limited edition inventions and year-round favorites that are sure to get anyone in the Christmas spirit. Relax in the tub with a fizzing bath bomb or bubble bar, lather up with luxurious soap and shower gel, and get hands oh-so-soft with Love And Light Hand cream.

Available at LUSH Cosmetics for $99.00.
LUSH Cosmetics' 12 Days of Christmas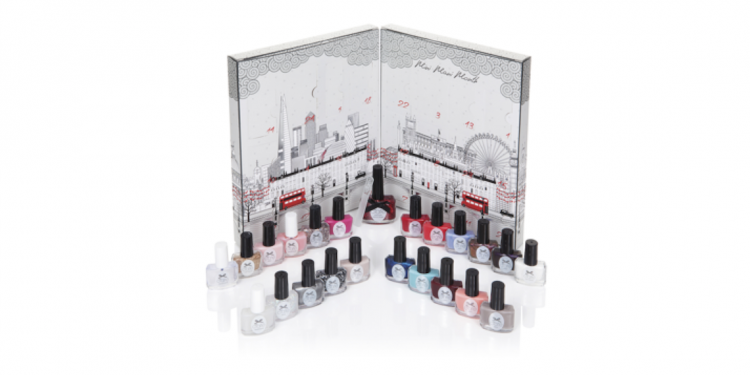 Ciaté Nailpolish Advent Calendar
Shape, treat, and coat nails with endless looks. Now in its fourth year, Ciaté's Mini Mani Month has become a seasonal favorite for beauty lovers. It's packed with 24 nail treats, including glitter and cream polishes, nail treatments (including the bestselling Overnight Nail mask), a nail file, and nail toppers. Each polish and treatment features Ciaté's glossy, long-wear formula.

Available for $79 at Sephora (online only).
Ciaté Nailpolish Advent Calendar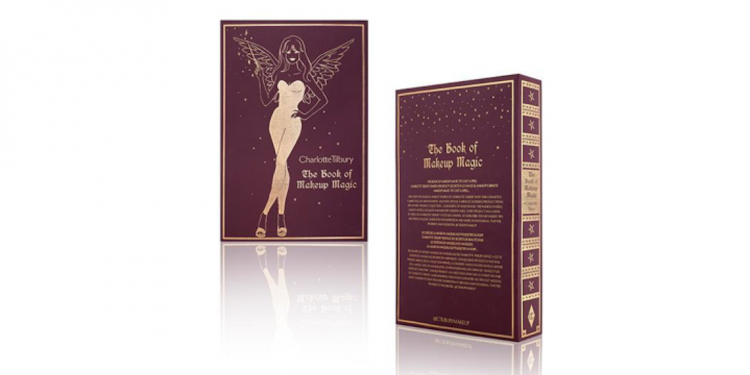 Charlotte Tilbury "The Book of Makeup Magic" Advent Calendar
A book of 12 best-kept beauty secrets, beautifully presented in 12 mini makeup cabinets. It's the perfect way to discover the world of Charlotte's makeup products. The kit is a mix of mini and full size versions of all of Charlotte's time-tested favourites from the world of fashion, makeup artists, facialists and industry insiders, this exquisitely-indulgent gift is the perfect present for making a loved one feel empowered by makeup.

And as an extra-special, exclusive Holiday treat, Charlotte has included her not-yet-launched "Magic Night Cream", in the final cabinet, so you can be one of the first people to try it for yourself.

Available for $250.00 online at CharlotteTilbury.com
Charlotte Tilbury "The Book of Makeup Magic" Advent Calendar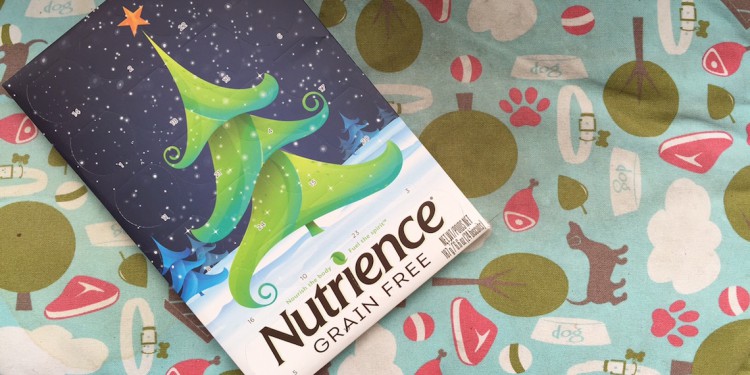 nutrience grain free advent calendar
Pets are family too, right? So here's a advent calendar, filled with Nutrience treats, that's perfect for the pup in your life.

Nutrience is prepared with fresh, never frozen Canadian sources of beef, bison, wild boar, Pacific wild-caught fish , poultry & real freeze-dried beef liver. It combines all the nutritional benefits of raw with the convenience of being freeze-dried, providing superior flavour and optimal health to pets.

Available at Petsmart for $12.99.