Vancouver's sweetest festival is returning to Yaletown on Saturday, November 21st, 2015 from 12pm to 7pm on Mainland Street.  As downtown Vancouver's only free outdoor Christmas bash, the fourth annual CandyTown festival will celebrate the holiday season right in the heart of Yaletown, drawing over 15,000 attendees for this one-day free event.
The annual street celebration is hosted and produced by the generous merchants of Yaletown through the Yaletown Business Improvement Association, offering numerous ways for visitors of all ages to catch the holiday spirit. With a sweet candy theme for this year's event, everyone can enjoy this free festival as the Yaletown neighbourhood is transformed into a winter wonderland.
Visitors can get into the holiday spirit and go for a stroll to take in all the tempting treats, handmade gifts on offer and holiday-themed activities to delight and entertain guests. A live ice sculpture will be created on Helmcken St. from 1pm to 5pm. Pick out the perfect tree from Yaletown Rotary Club's Christmas Tree Lot, or sate that sweet tooth with free candy making at the Candy Hut.
Hungry? Savour a piñata lunch from 12:30pm to 1pm. on Helmcken Street, or pick a delectable dish from the smorgasbord of food trucks on site (including favourites like Big Red's Poutine, Cloud Nine Cotton Candy Co., Meet 2 Eat, Mollie's Minis and Beavertails). Other food vendors serving up seasonal treats at the Christmas Street Market include Bluebird Cakery, Damien's Belgian Waffles, Half Baked Cookie Co. and Ganong Chocolates.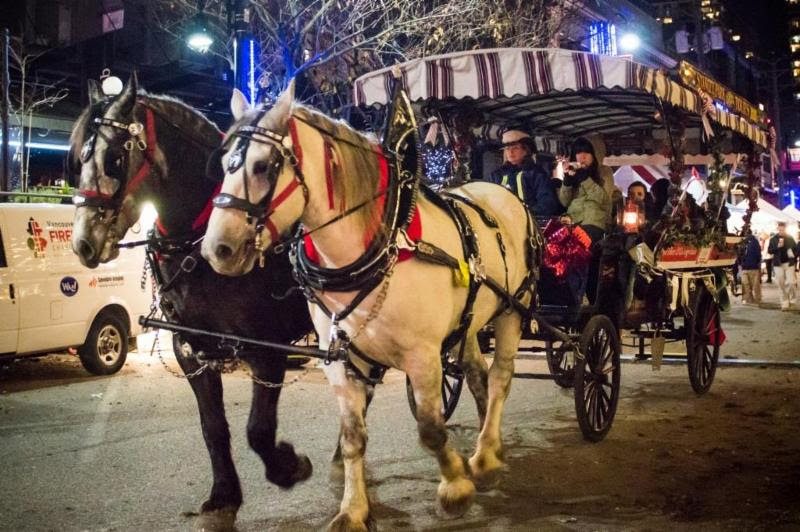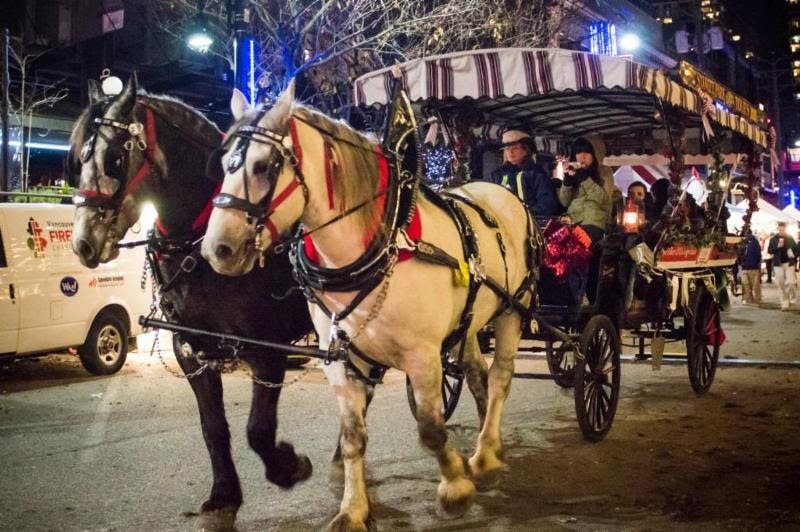 For a romantic roam around the area, take a horse-drawn carriage ride starting at Salsa and Agave and circulating Pacific, Davie and Hamilton streets for a magical, 15-minute cruise for a suggested donation of $2 to the BC Children's Hospital.
"We're happy to see downtown Vancouver's only free Christmas festival return in its fourth year, with even more winter-themed fun for everyone.  It's a great way to kick off the holiday season, and support charities that really need our help around Christmas. Where else can you enjoy a CandyTown cocktail and a free horse-drawn carriage ride?" – Annette O'Shea, executive director of the Yaletown BIA.
The 4th Annual CandyTown will take place on Saturday, November 21st, 2015 from 12-7pm on Mainland Street in the heart of Yaletown. This outdoor Christmas festival is free, open to the public and promises to ignite the Christmas spirit in guests of all ages. For a full schedule of activities, visit the Yaletown BIA website.