Since the opening of Dunn's Famous' first Westcoast location in downtown Vancouver four years ago, Dunn's has been the go-to spot for anyone in the downtown core craving an authentic, high quality, slow-cooked, hand-sliced to order Montreal smoked meat sandwich.  After a closure for renovations, Dunn's officially re-opened its doors this October, with a newly designed interior which showcases its Quebecois heritage in a much bigger light.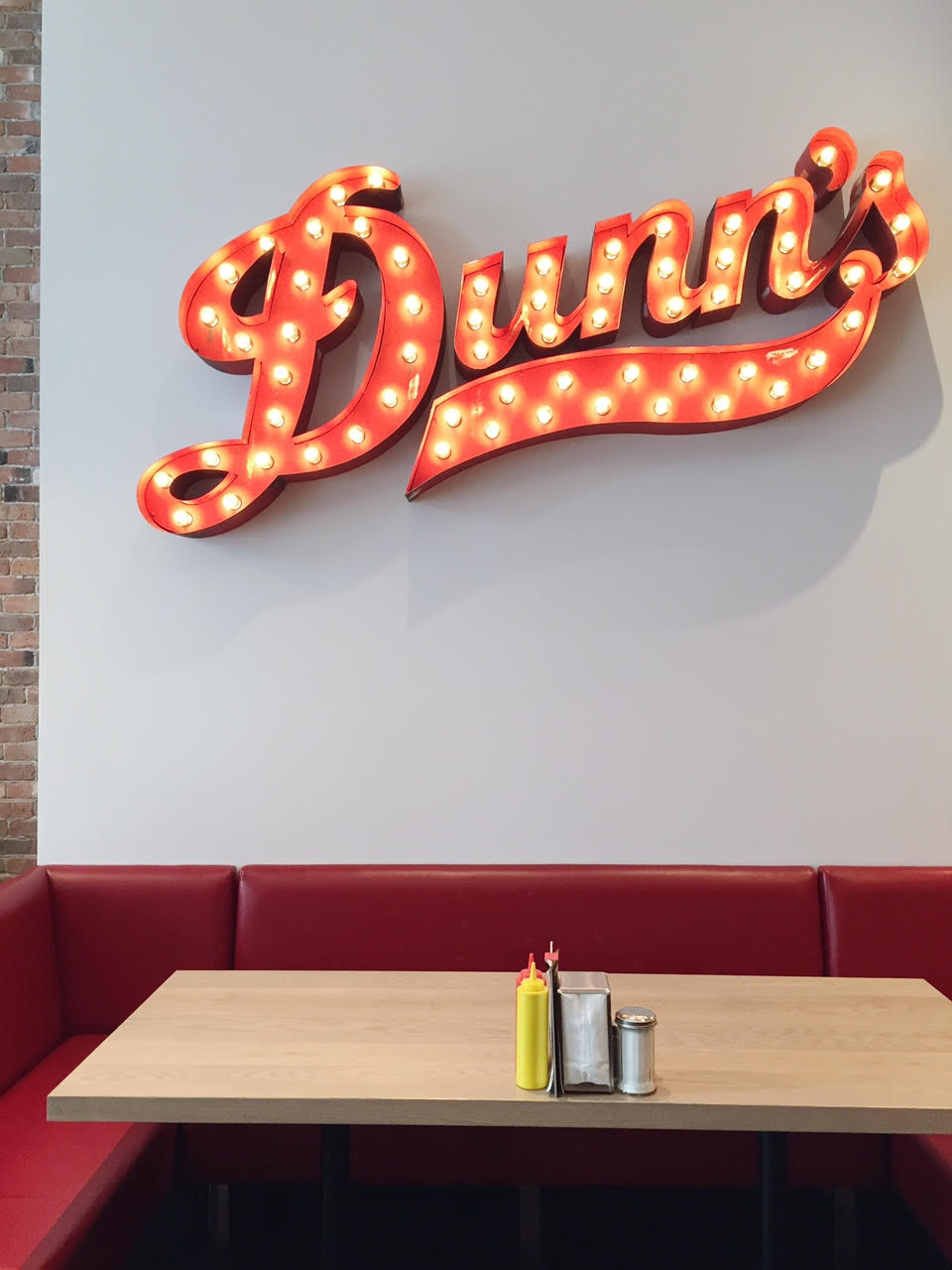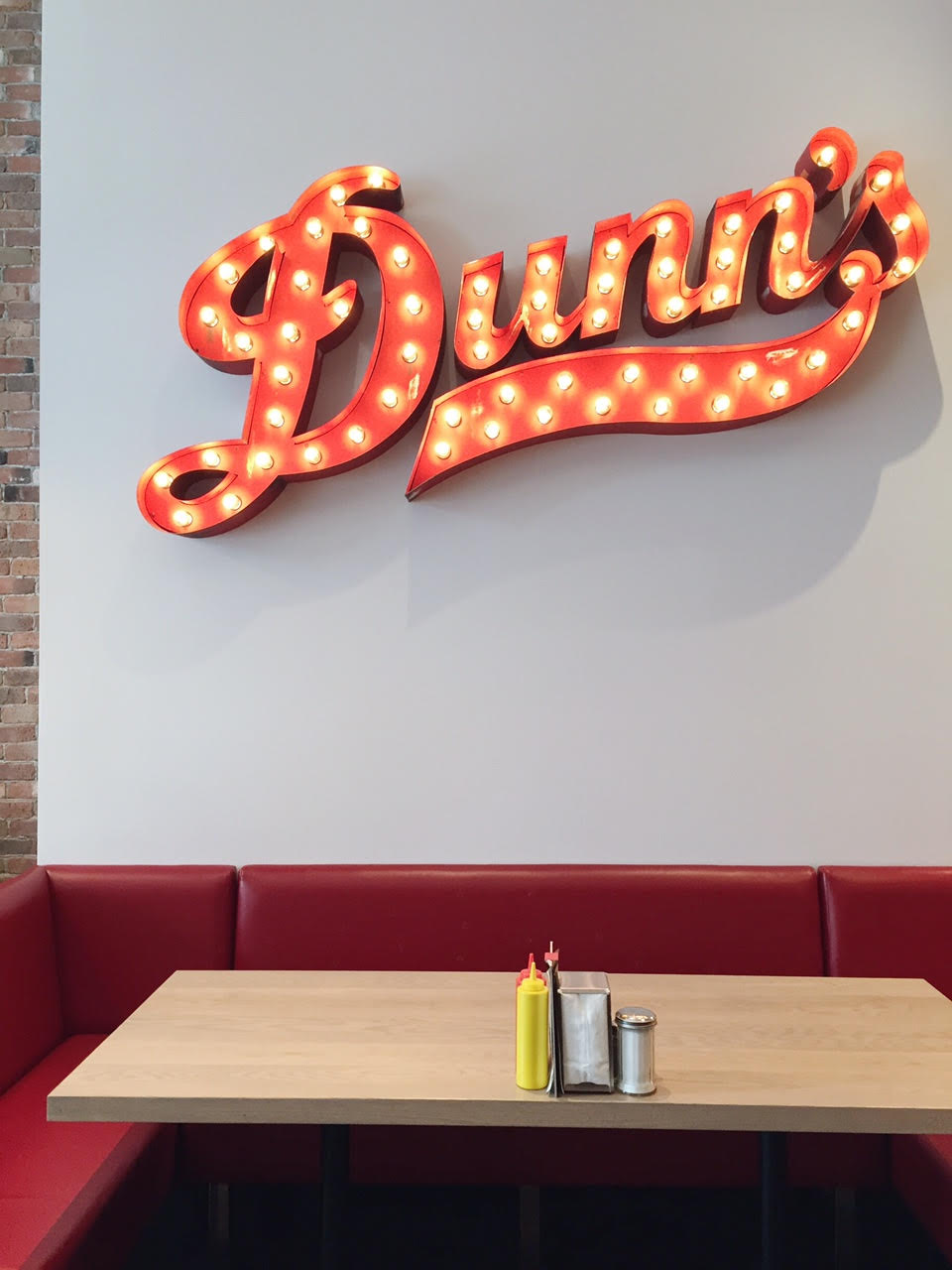 Prior to the re-launch, I remembered Dunn's having a dark sports bar environment without much character, and little indication of Dunn's being a heritage restaurant chain which has been operating out of Montreal since 1927.   Although the food was good, the attention to Dunn's quality smoked meat was overshadowed by patrons coming to watch the game, rather than enjoy the food.
"Our focus will continue to be on the unique hand-sliced Montreal smoked meat, which is expertly crafted by our skilled smoked meat masters to give every guest a true Quebec experience without even stepping foot on a plane" – Cindy Heaven, owner of Dunn's Famous Vancouver.
For the relaunch, Dunn's interior has been rejuvenated to reflect the heritage of the brand, allowing guests to experience the bright lights of Montreal in the roaring 20's.  The overall look and feel of the redesigned Dunn's has a vintage-modern theme. Vintage artifacts line open shelf space, and a gallery of original photographs from Dunn's history give the feeling of a classic Quebec experience combined with the contemporary flair of modern day Vancouver.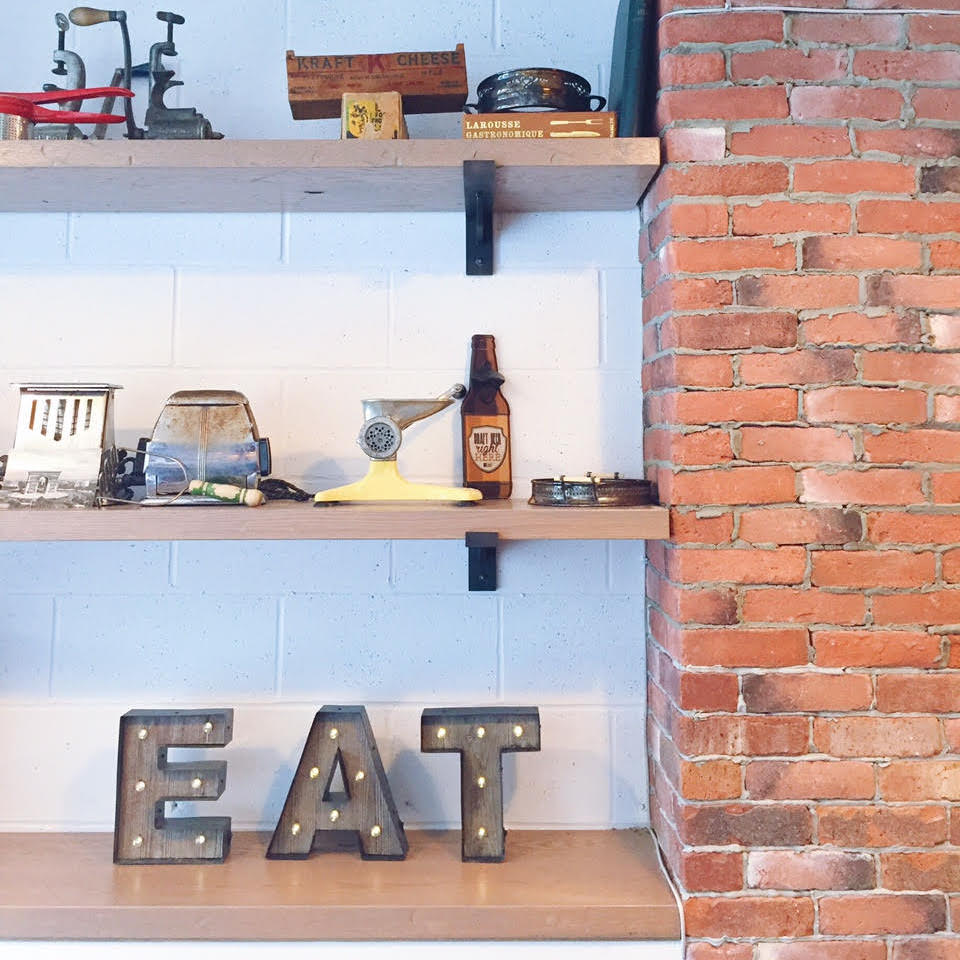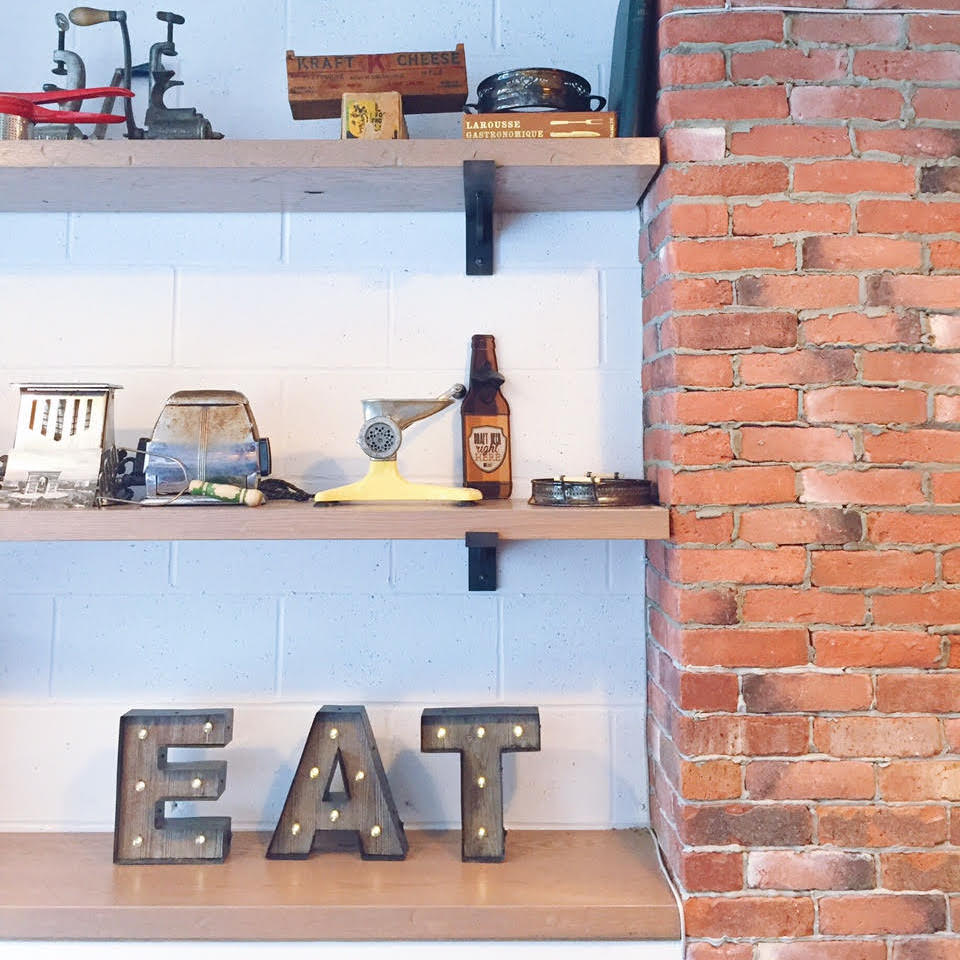 In terms of its menu, Dunn's always knew its authentic montreal smoked meat sandwiches were delicious – nothing has changed about that, but what they felt was missing was a community-focused approach to dining, like sharing platters which brings a group of friends together.
When Modern Mix Vancouver visited Dunn's on the weekend for lunch, between two people, we shared the Smoked Meat Platter which includes a pound of smoked meat, rye bread (from Brekka Cafe), fries, coleslaw, pickles and a variety of mustards.  Although the Montreal Smoked Meat Sandwich is Dunn's signature menu item, what I loved about the platter format was the ability to build your own sandwich and share among friends.
Dunn's offers the only hand-sliced Montreal smoked meat in Vancouver.  We learned that hand-slicing is an art form that takes years to perfect and, in many cases, is passed down through generations.  According to restaurant Head Chef & Operations Manager Alex Brown (whom we met in person at the restaurant) hand-slicing is superior to machine slicing as the latter results in a tougher, more chewy product for two reasons: the meat is cooked for a shorter period of time to ensure it can hold up against the slicer, and it creates uniform slices that does not always follow the best practise of slicing 'against the grain'.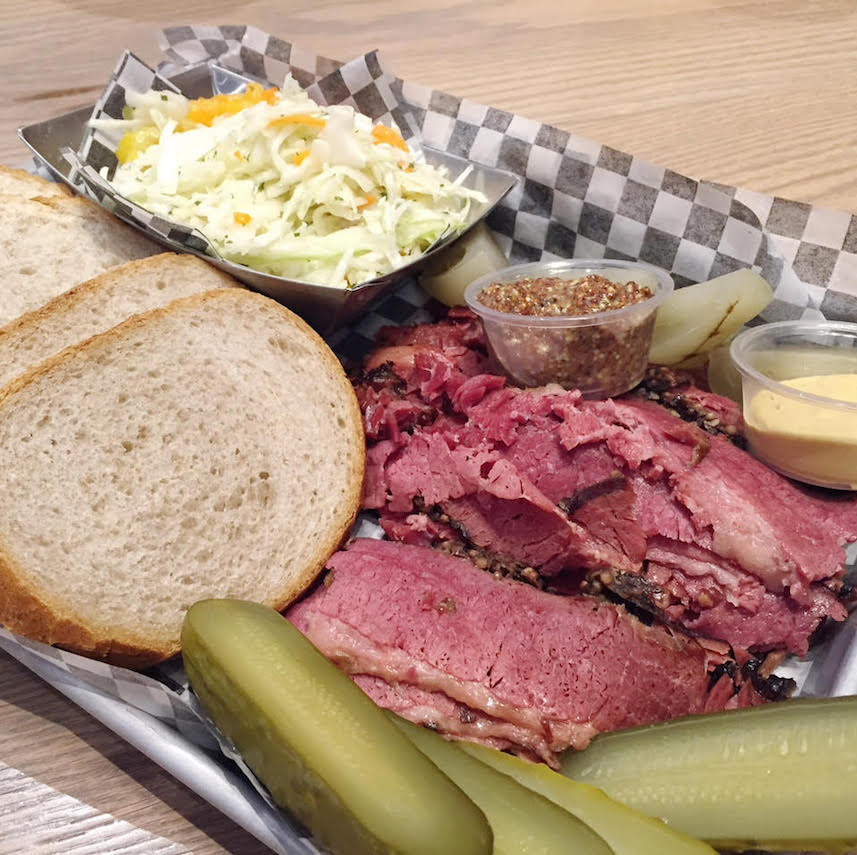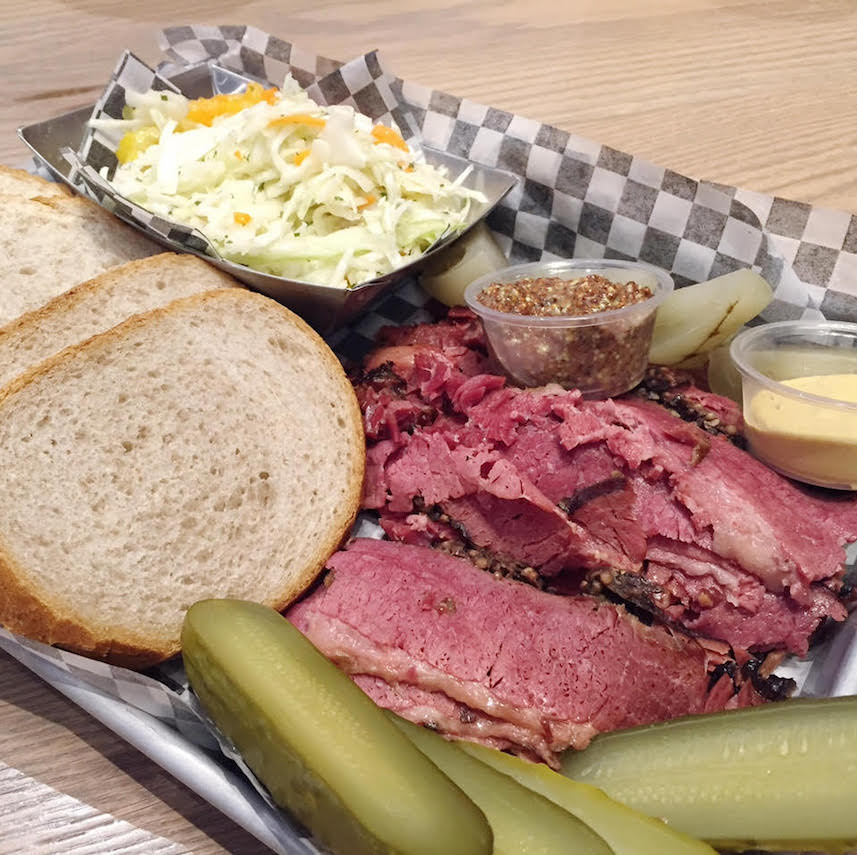 In substitution of fries, we had the Quebecois Poutine, with BBQ gravy made from scratch using roasted beef bones, and cheese curds from Quebec.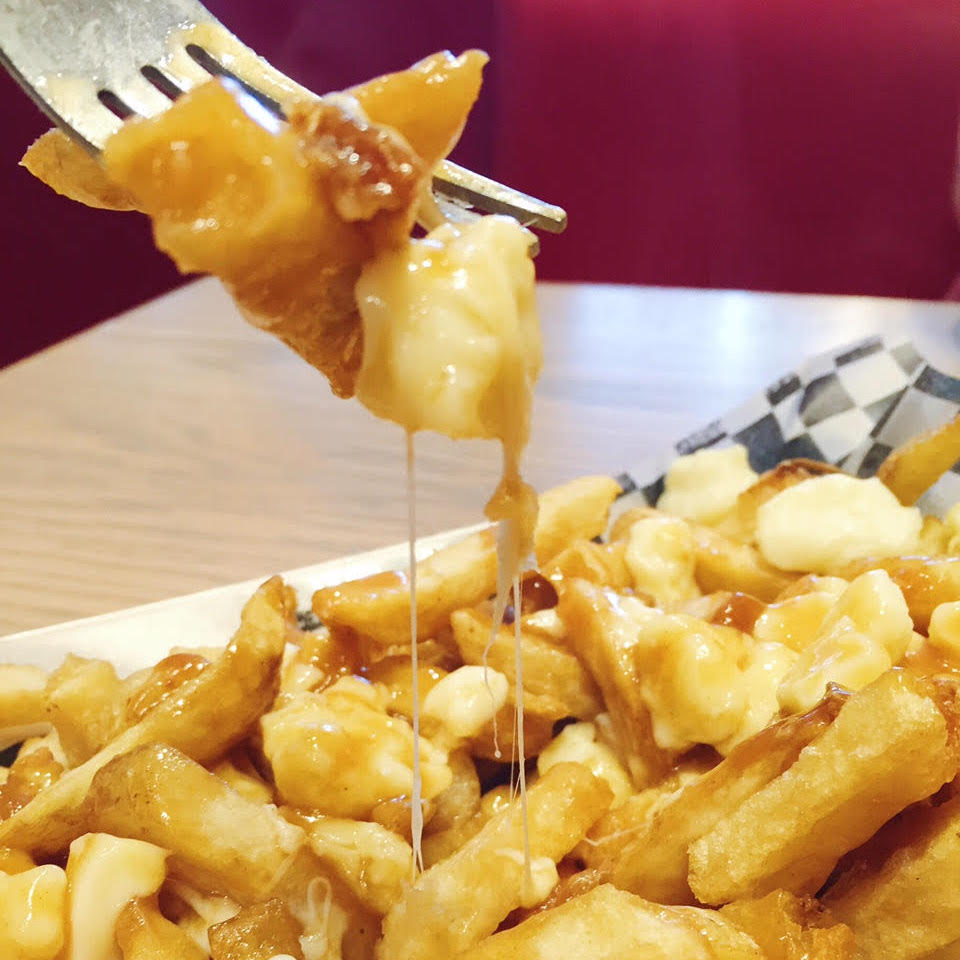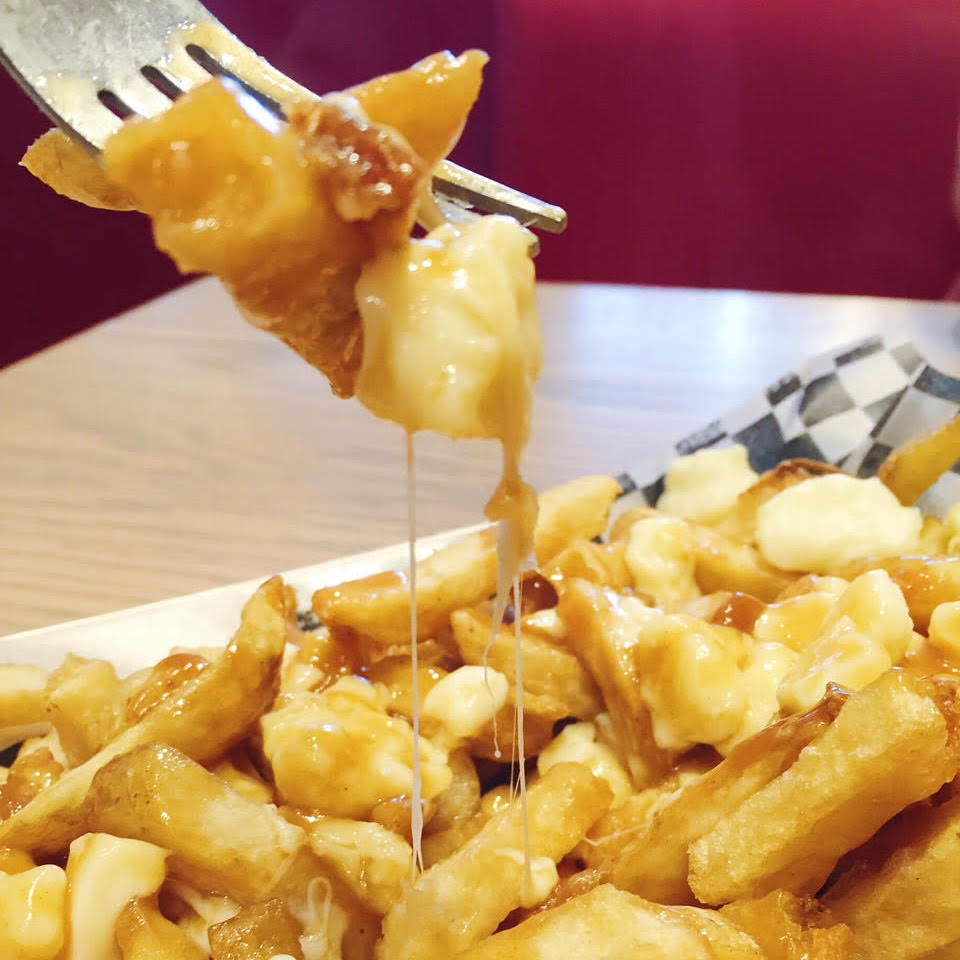 Another notable change to Dunn's Famous is its newly created deli counter up front where guests can purchase items such as pickles, sauerkraut, fresh deli salads, and a range of meats to enjoy at home (including coffee-infused deli meat, featuring We Love Van coffee roasters).
"We want our new deli to bring our guets an authentic taste of Montreal, right here in Vancouver, at any time of day, whether they are looking for a quick, hearty bite to eat at lunchtime or an authentic, artisanal sit-down meal for dinner" – Cindy Heaven, owner of Dunn's Famous Vancouver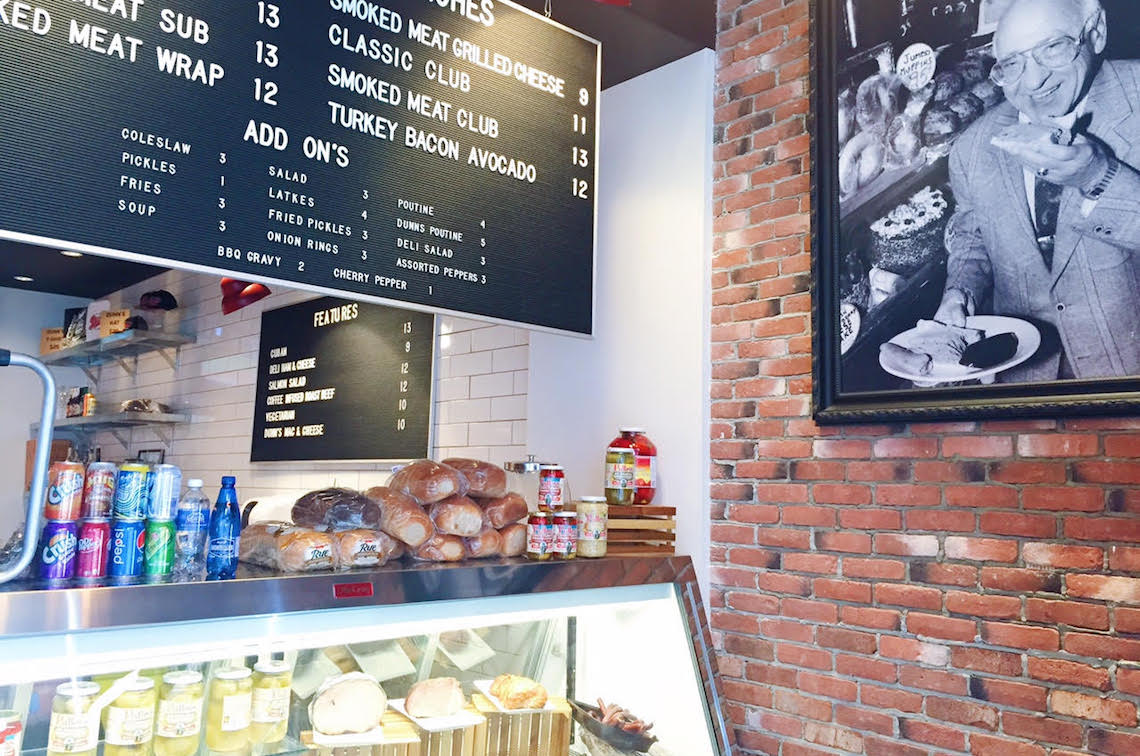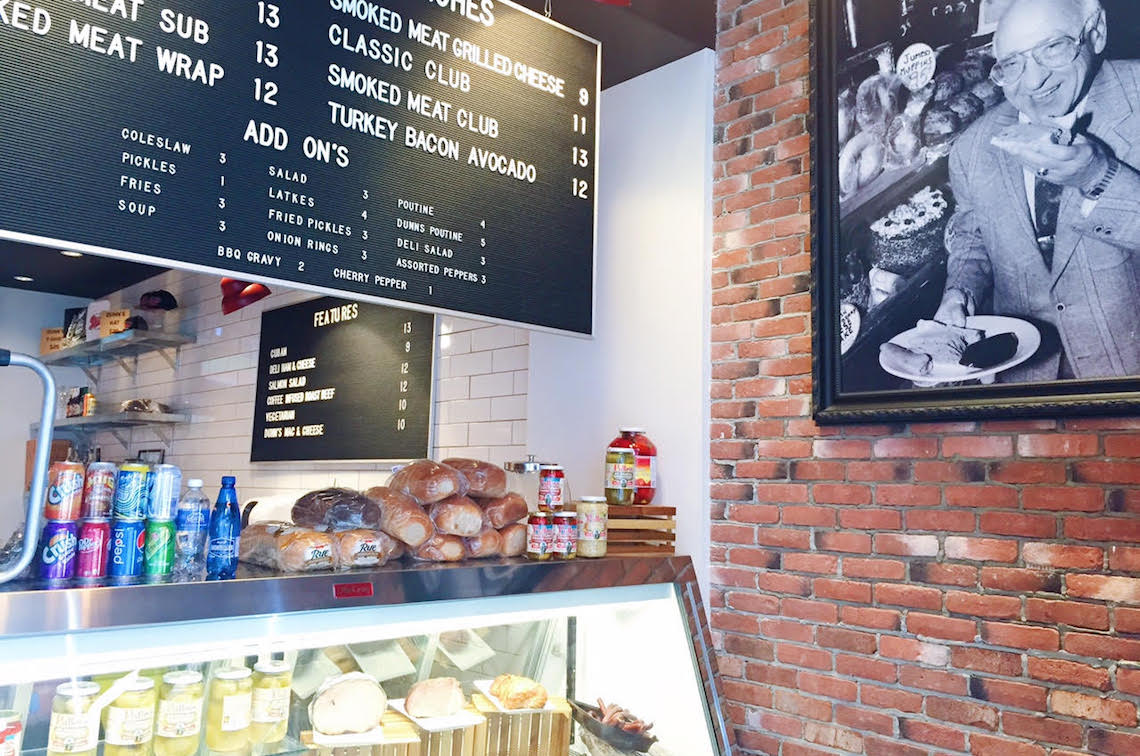 Given the expertise Dunn's has in creating Montreal smoked meat, and the rich heritage of the brand, it's great to finally see the restaurant ambience match the quality of its food and history.   For more information about Dunn's Famous, see its menu online: dunnsfamousbc.com, or visit them in person at 827 Seymour Street.