From purifying clays to luxurious oils to decadent creams, indulge in the exotic scents of The Body Shop's new spa collection…you'll feel like you've traveled the world without ever leaving Vancouver!
Here are five destinations that The Body Shop Spa of the World collection highlights:
Morocco
The tightening effect of mineral-rich clay has long been used by Moroccan women to firm up the skin. The Body Shop's Moroccan Rhassoul Body Clay is a mask for the body. Apply a thin layer on the body for ten minutes, rinse with cold water, and you'll instantly feel a tightness and lifting on your skin.
Thailand
If you're a fan of Thai cuisine, you'll know that lemongrass is a common ingredient found in everything from tea to curry to salad. This fragrant ingredient is found in The Body Shop's Thai Lemongrass Massage Oil, and is used for its invigorating and energizing effect on the body and mind. Massage into the skin, and breath deepy to feel instantly revitalized and energetic.
The Dead Sea
Did you know that if you swim in The Dead Sea, you'll naturally float? That's because the density of salt in this body of water offers a natural buoyancy. The Body Shop has taken coarse salt from this sea, and created the Dead Sea Salt Scrub, an exfoliating product that'll revitalize the skin, giving it the ultimate wake up call.
Hawaii
A destination closer to home (but still a tropical getaway, nonetheless), Hawaii is known for its sunshine. As Hawaiian women have been exposed to the relentless sun for generations, their secret ingredient for nurturing the skin is kukui oil. The Body Shop's Hawaiian Kukui Cream is a rich and nourishing body cream, which restores suppleness to the skin, giving you that hydrated glow year-round.
Egypt
Milk and honey in the bath is renowned as a beauty tradition used by Cleopatra in ancient Egypt. The Body Shop's Egyptian Milk & Honey Bath is a powdered version of this ritual which'll turn your bathwater into a smooth and luxurious indulgence. This is the only product in the Spa of the World collection which comes in a rustic pouch with a cute wooden scoop for measurement. You can certainly reuse the wooden scoop for other products in the collection…especially the Dead Sea Salt Scrub!
The Body Shop x Modern Mix Vancouver Giveaway: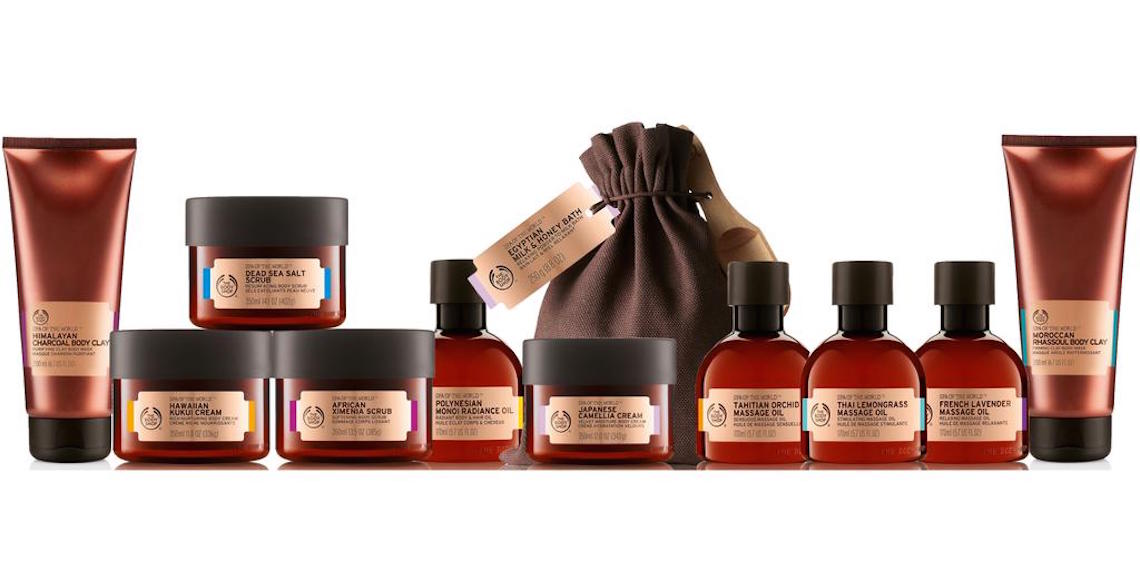 Win a The Body Shop "Spa of the World" prize pack worth $107 from Modern Mix Vancouver. Open to readers with a Canadian mailing address:
Dead Sea Salt Scrub: $30.00 CAD
Polynesian Monoi Radiance Oil: $20.00
Japanese Camellia Cream: $35.00 CAD
Himalayan Charcoal Body Clay: $22.00 CAD
Total Value of Giveaway: $107.00 CAD