La Maison Simons, the 175-year-old family-owned fashion retailer from Quebec City, has opened its first Vancouver location in West Vancouver.  The Park Royal location is Simons' eleventh store, the second outside of its home province of Quebec. The two-storey, 100,000 square foot location sits prominently in the redeveloped area of Park Royal South.
"We strive to create compelling, original shopping environments that speak to the local community. Nowhere have we achieved this more than at Park Royal. We hope to inspire the Vancouver market through Simons' unique shopping experience which integrates fashion, art and architecture."  Peter Simons, CEO.
Modern Mix Vancouver was invited to the media preview of the new department store this week.  This being our first time setting foot into a Simons location, I enjoyed the look and feel of a beautifully designed space with tasteful yet interesting artwork adorning the 100,000sqft location.  In fact, all Simons stores are known to be compelling, original environments that inspire customers through fashion, art and architecture.
See photos from Simons Park Royal below: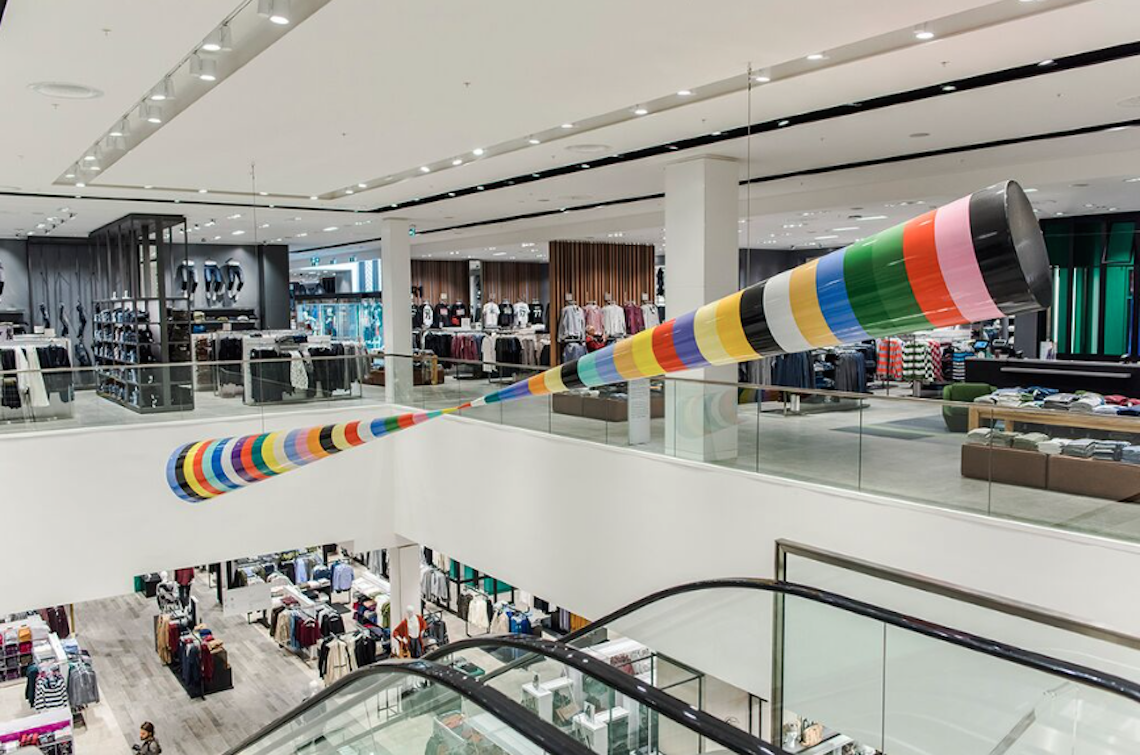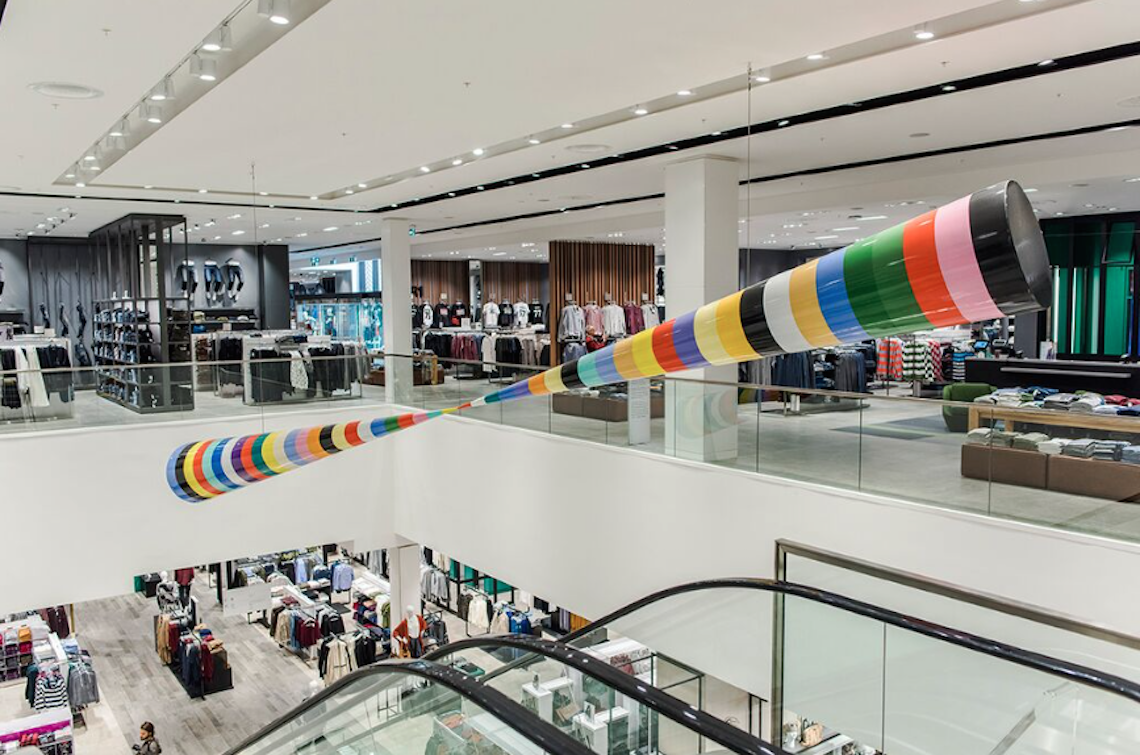 The Bow Tie sculpture by Douglas Coupland fills Simons' two-storey central atrium. Two brightly coloured striped cones meet at a nearly imperceptible point, providing a stunning reference to fashion as well as culture and engineering. Douglas Coupland is a novelist, visual artist and designer based in West Vancouver.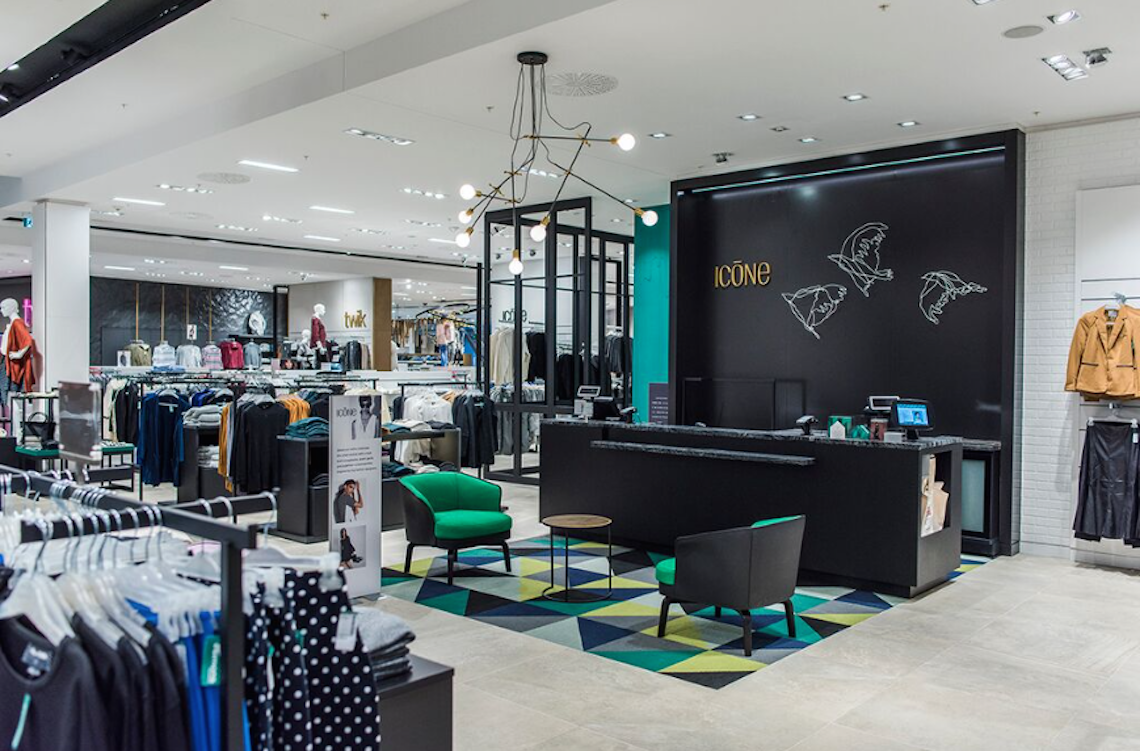 Icône features contemporary clothing for women, and is designed with warm with natural stone and wood finishes accented with bright pops of green.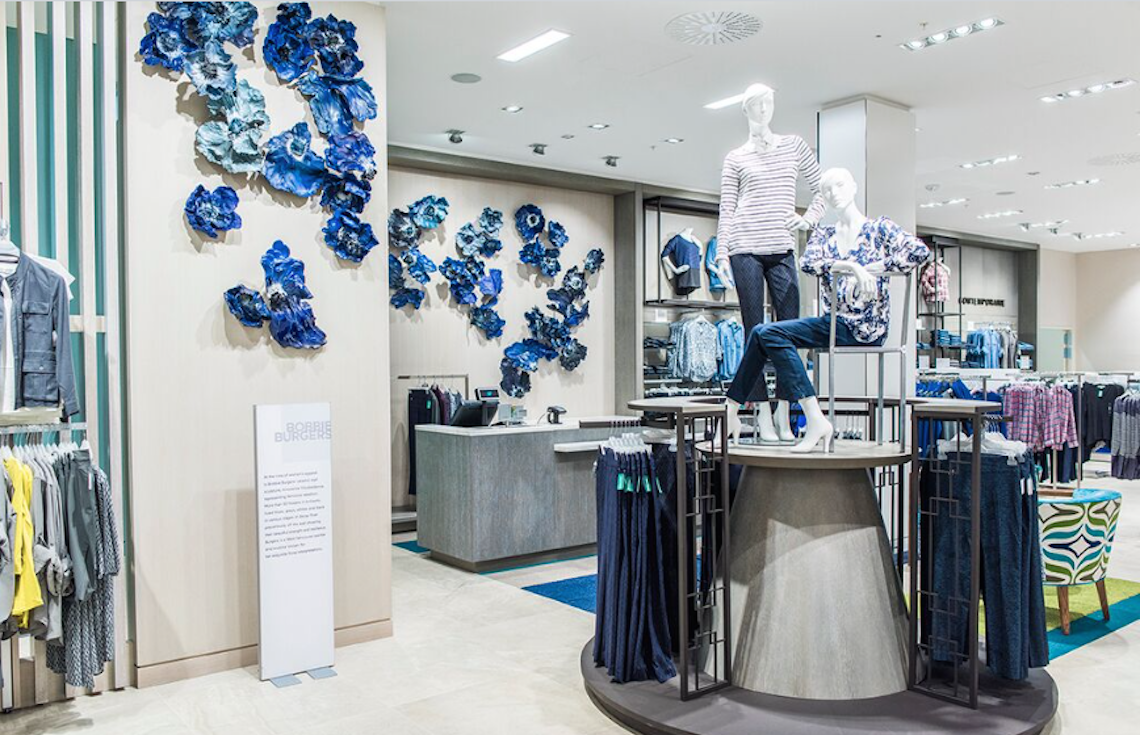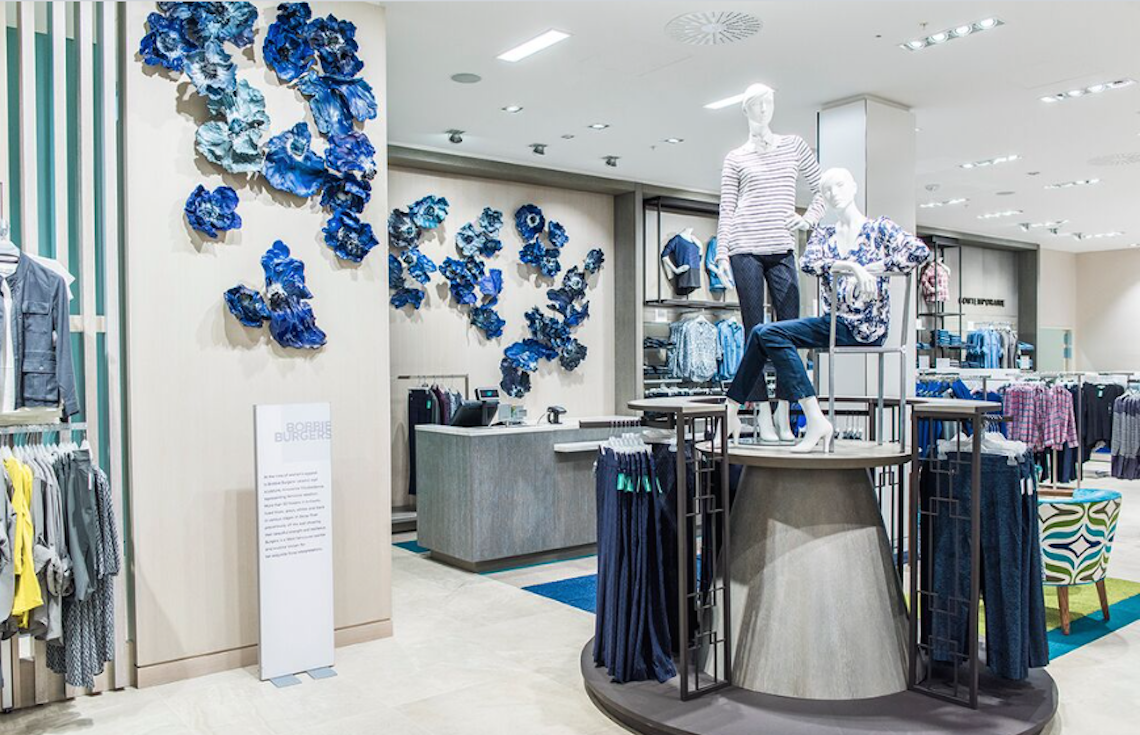 At the core of women's apparel is Bobbie Burgers' ceramic wall sculpture, Innocence Disobedience, representing feminine rebellion. More than 50 flowers in brilliantly hued blues, greys, whites and black in various stages of decay float precariously off the wall showing their beautiful strength and resilience. Burgers is a West Vancouver painter and sculptor known for her exquisite floral interpretations.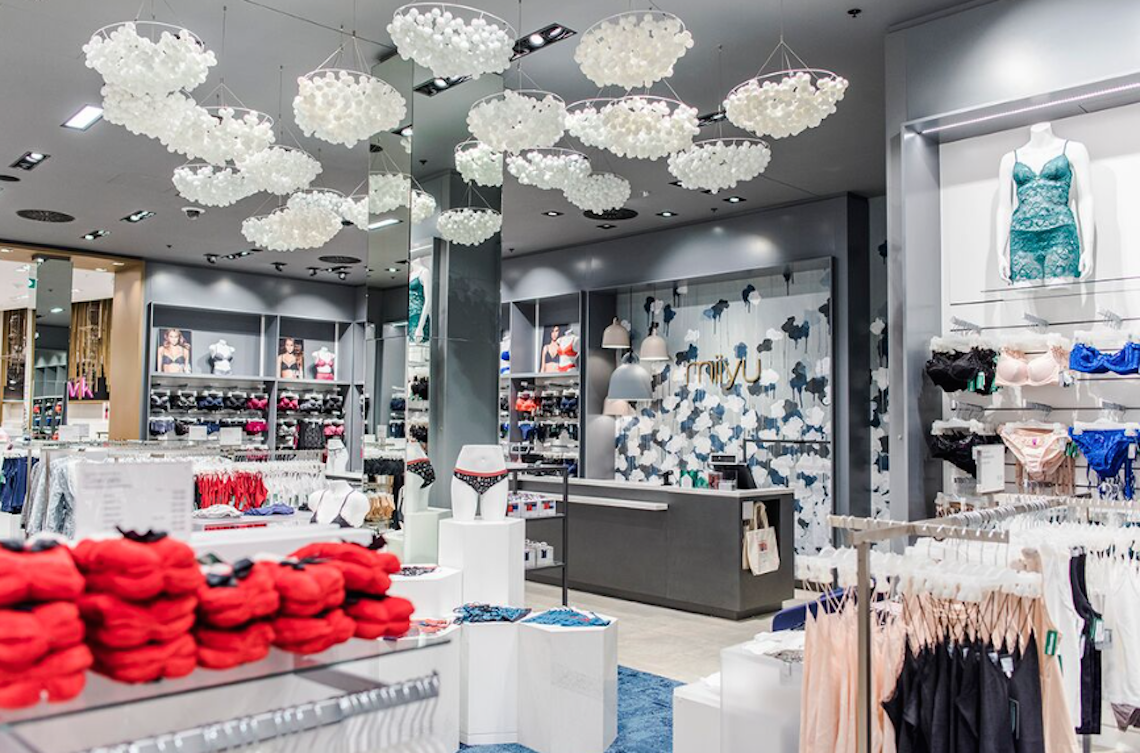 Miiyu, the women's lingerie boutique, is set apart by brass framed portals leading into an intimate dark grey and blue space which features a feminine but fun canopy ceiling fixture composed of ping pong balls.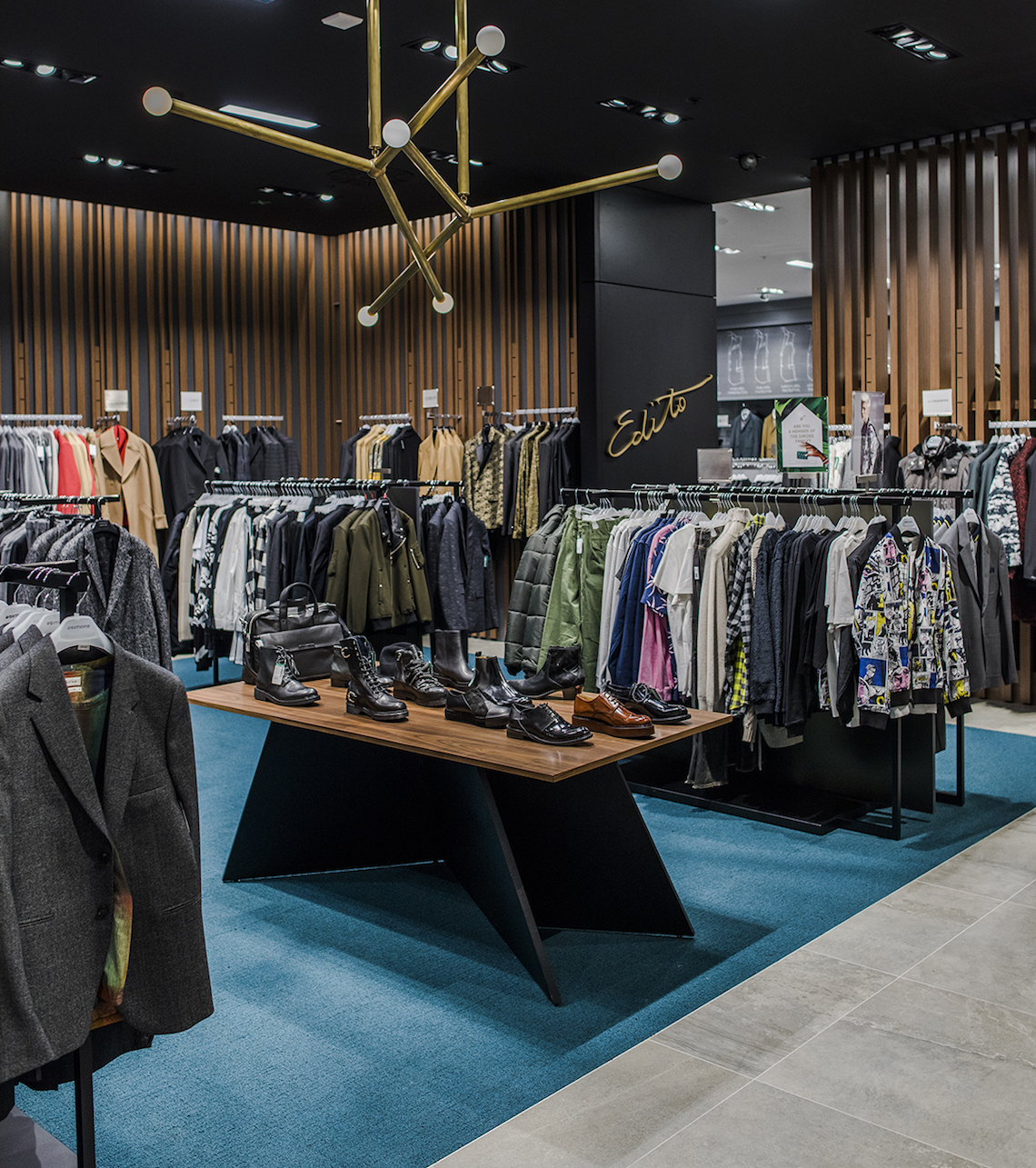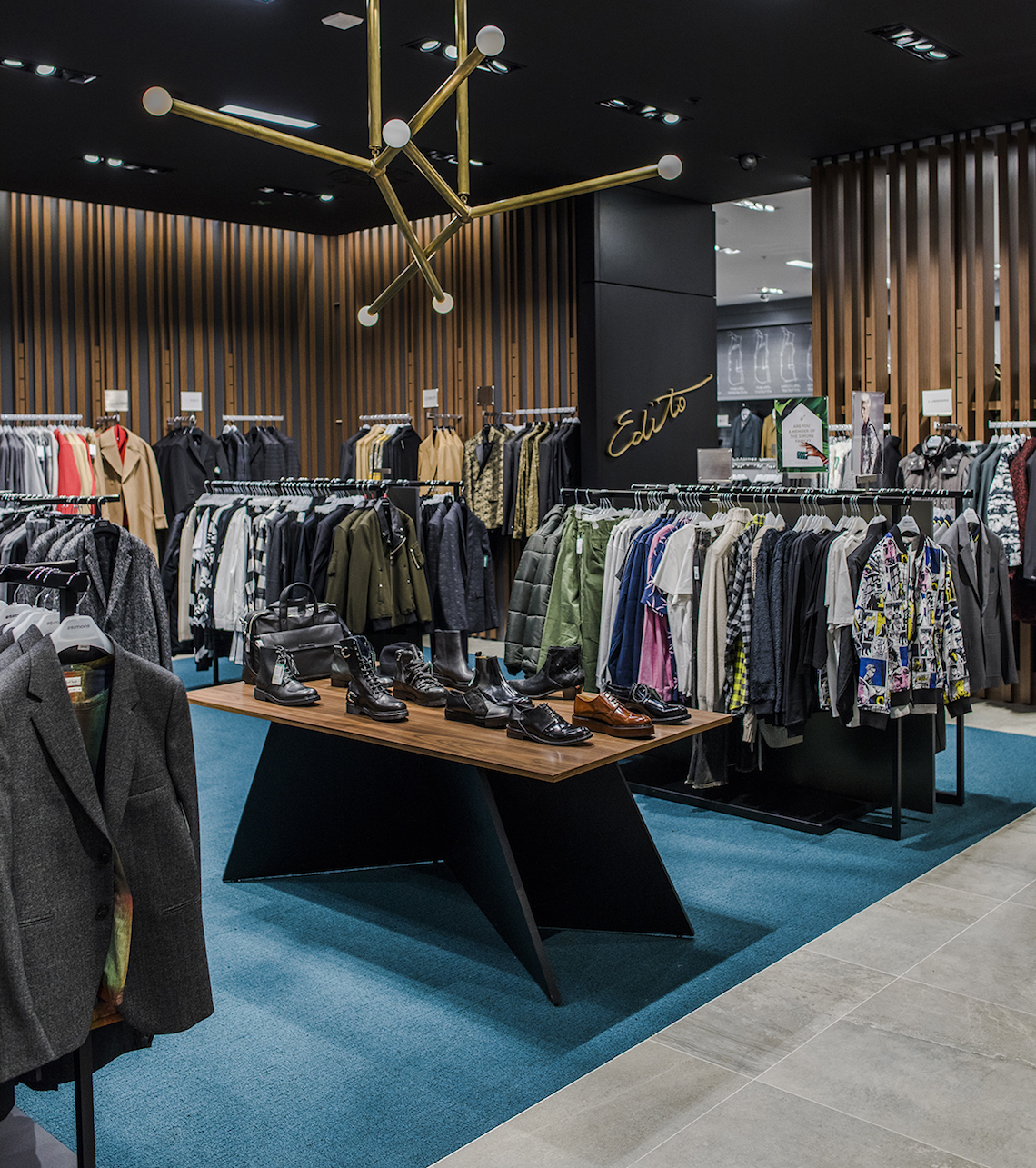 On each floor Edito boutiques house Simons' bold selections from international designers including 3.1 Phillip Lim, Kenzo and Balmain. Wood backdrops and sophisticated black detailing help create a special experience for designer shopping.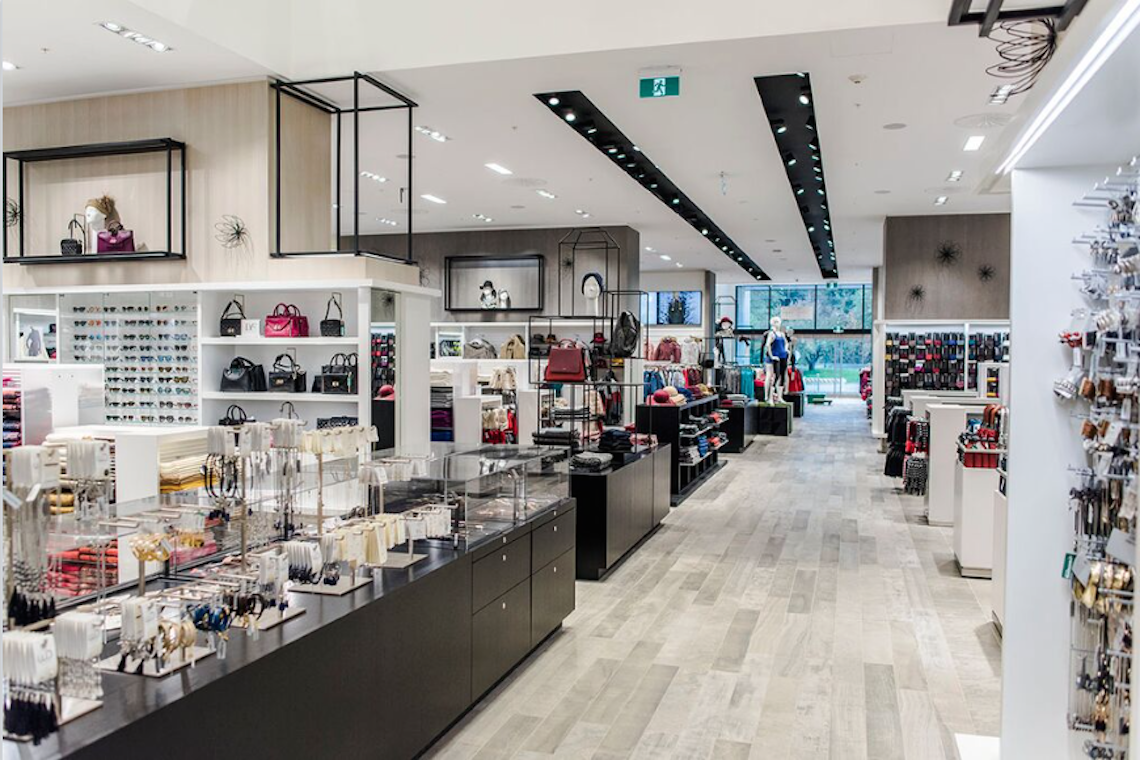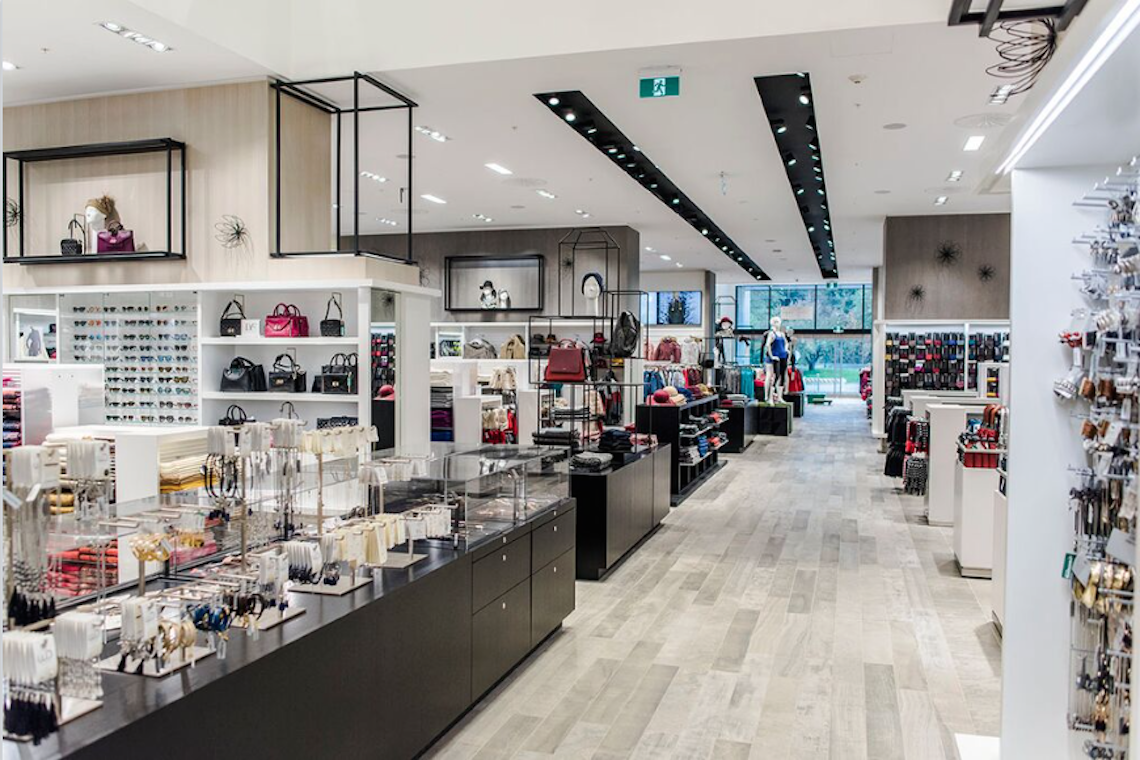 Simons' extensive collection of accessories acts as a pivot point in the centre of each floor.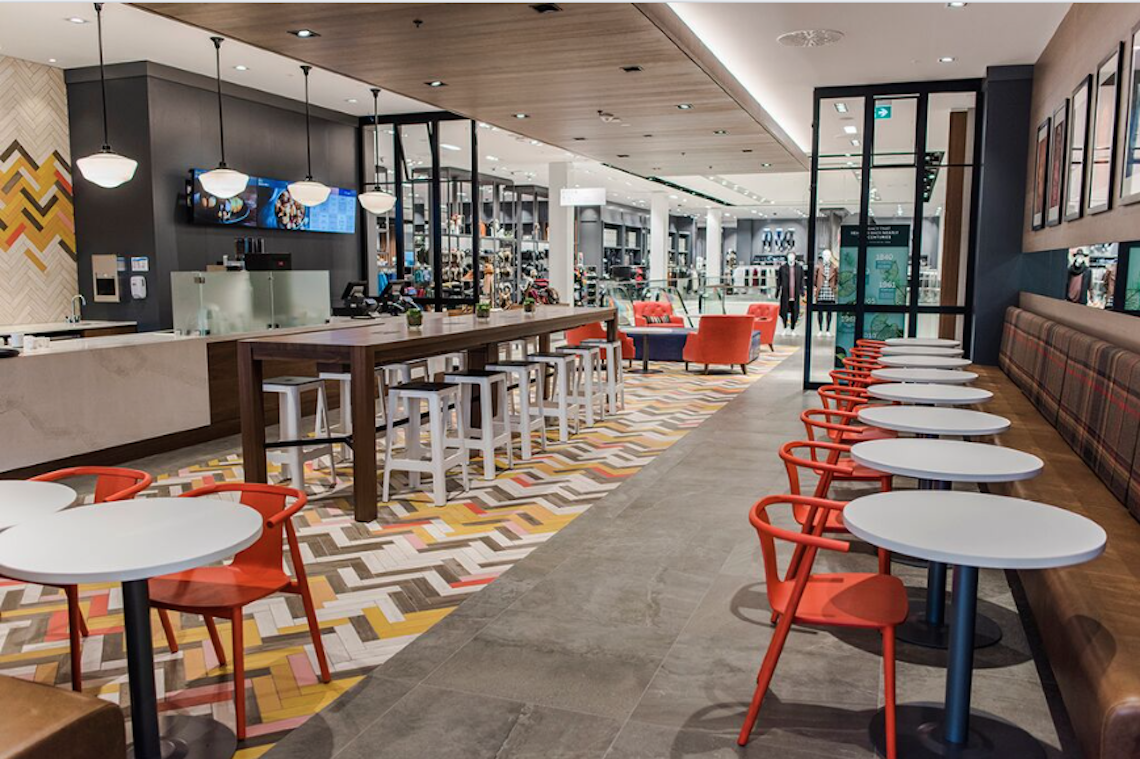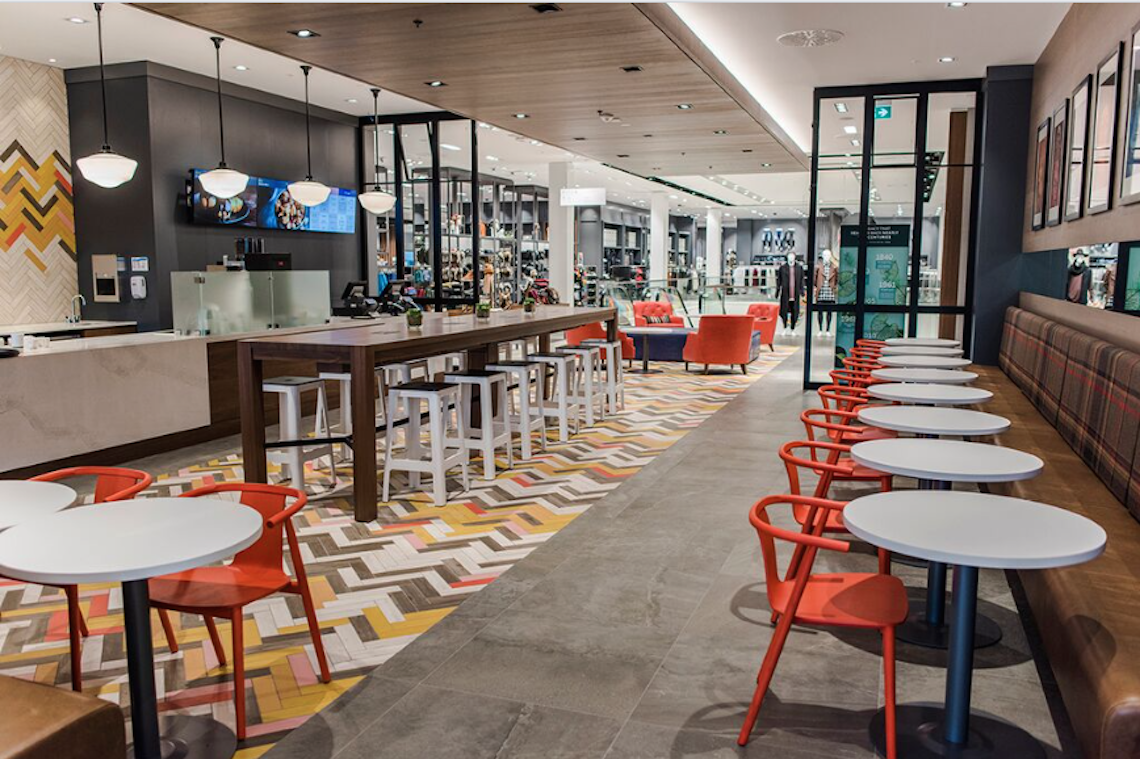 Those wanting to take a break from shopping can lounge at Ève, Simons' 50-seat café, which mixes bright mosaic tiles with plaid banquets and orange chairs for a cozy, welcoming feel.  The menu offers French-Canadian inspired items including bagels, French onion soup, chicken fricassee and treats like beignes. With its second floor, south facing location, Ève offers views of Lions Gate Bridge and Ambleside Park.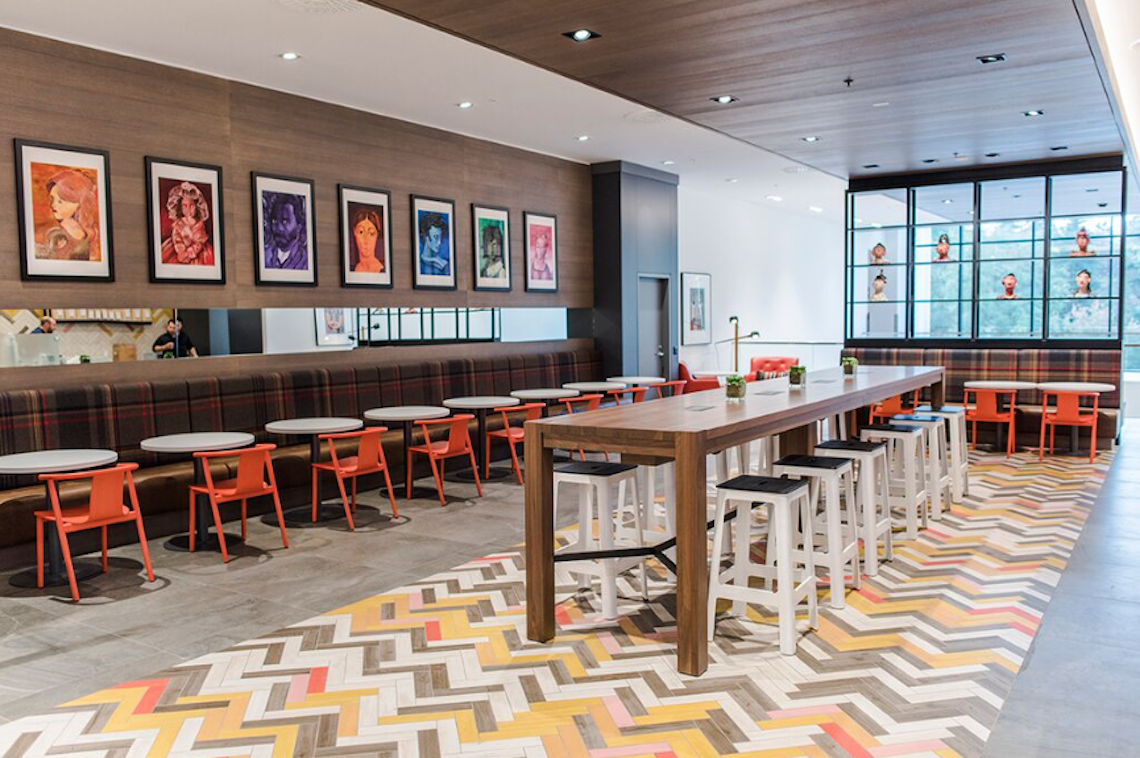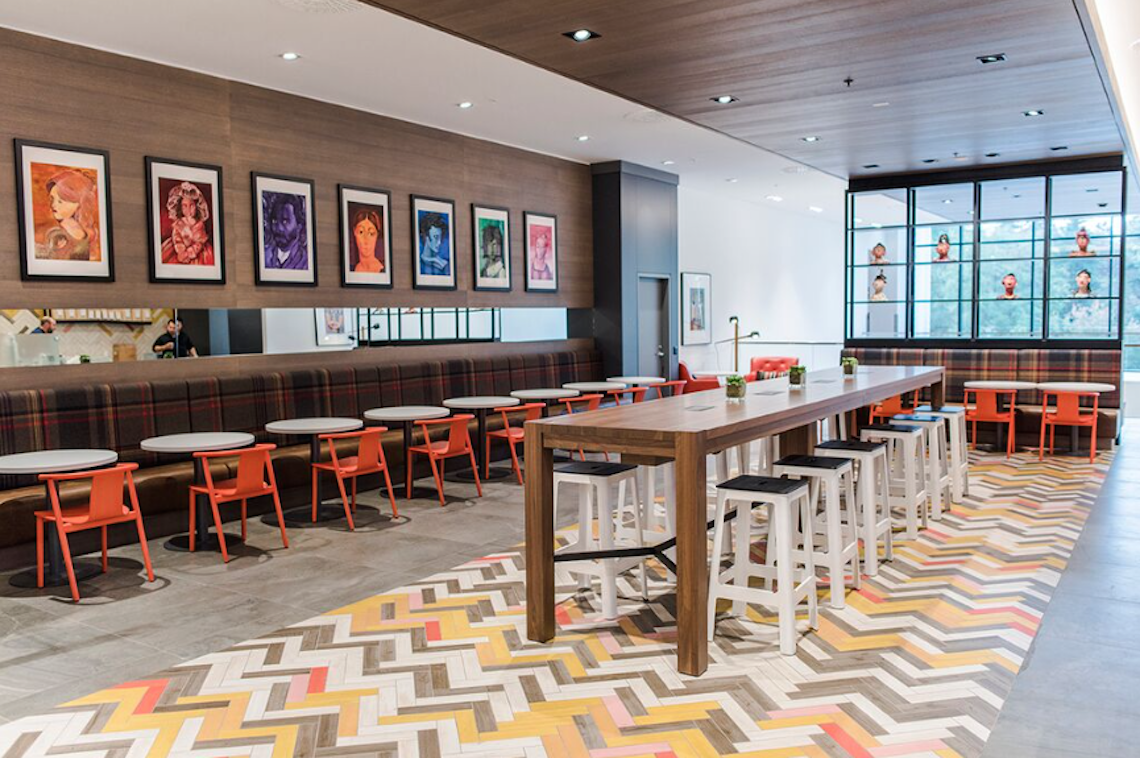 Ève is also home to an exhibit of 15 pieces of student art from Arts Umbrella, a Vancouver-based not- for-profit organization where young people, ages 2 to 19, cultivate creativity through performance, visual and media arts programs. As part of its support of the local art community, Simons has made a three-year commitment to the Arts Umbrella Art Lending Program.
For shoppers wanting to visit Simons on opening weekend (October 17 & 18), there will be special festivities throughout the store, including local graffiti artist NaksOne painting a mural at the Simons entrance, live music by Bellostar, custom calligraphy place cards by Written Word Calligraphy and Design in the home department (until 3pm), and complimentary tastings at Ève Cafe.
For more information about La Maison Simons, visit: simons.ca, or join in the conversation with the hashtag #SimonsVancouver.