For two weeks in October, the Taste of Yaletown dining festival brings together foodies by offering featured menus, special tastings and innovative pairings from Yaletown restaurants.  This year, there are 26 participating restaurants, each with a special set menu offering at price points of: $25, $35 or $45.  As most foodies love scouring through menus and food photos before choosing a restaurant, Modern Mix Vancouver is thrilled to be able to offer our readers a sneak peek at Yaletown Brewing Company's Taste of Yaletown 2015 menu, before the start of this annual festival on October 15th.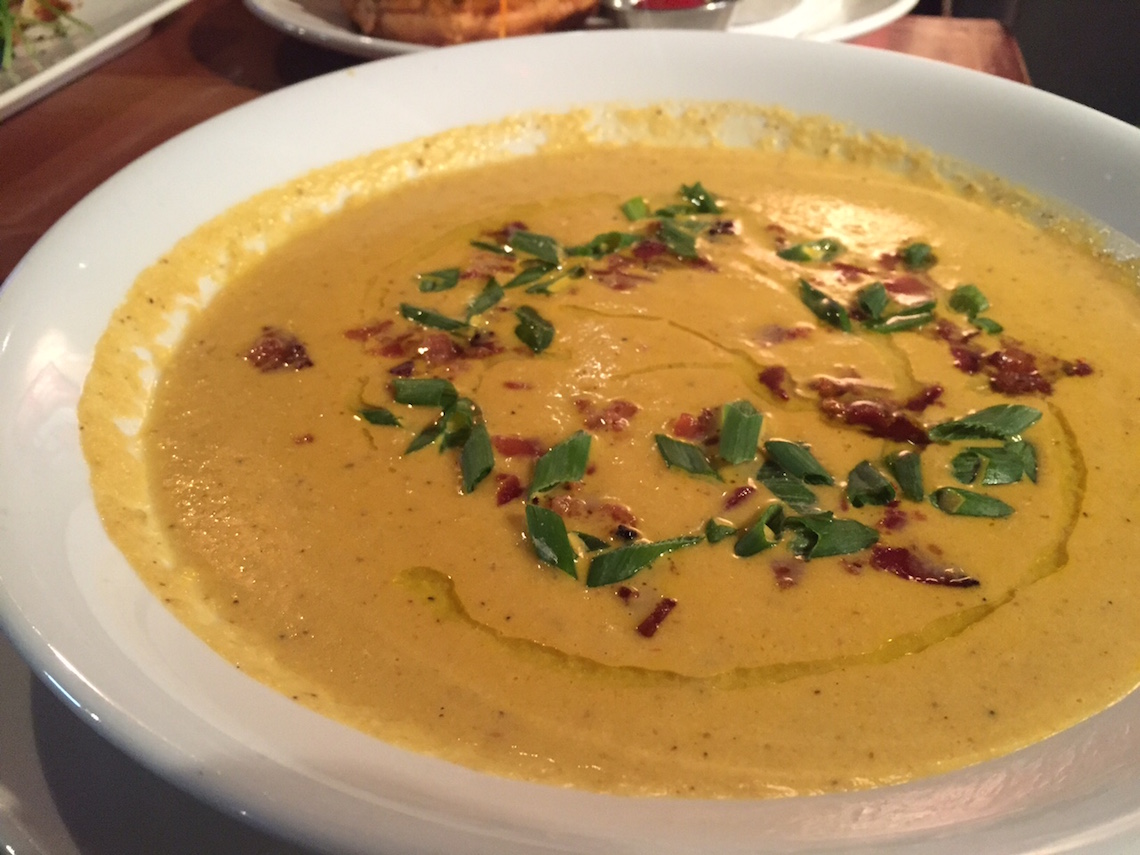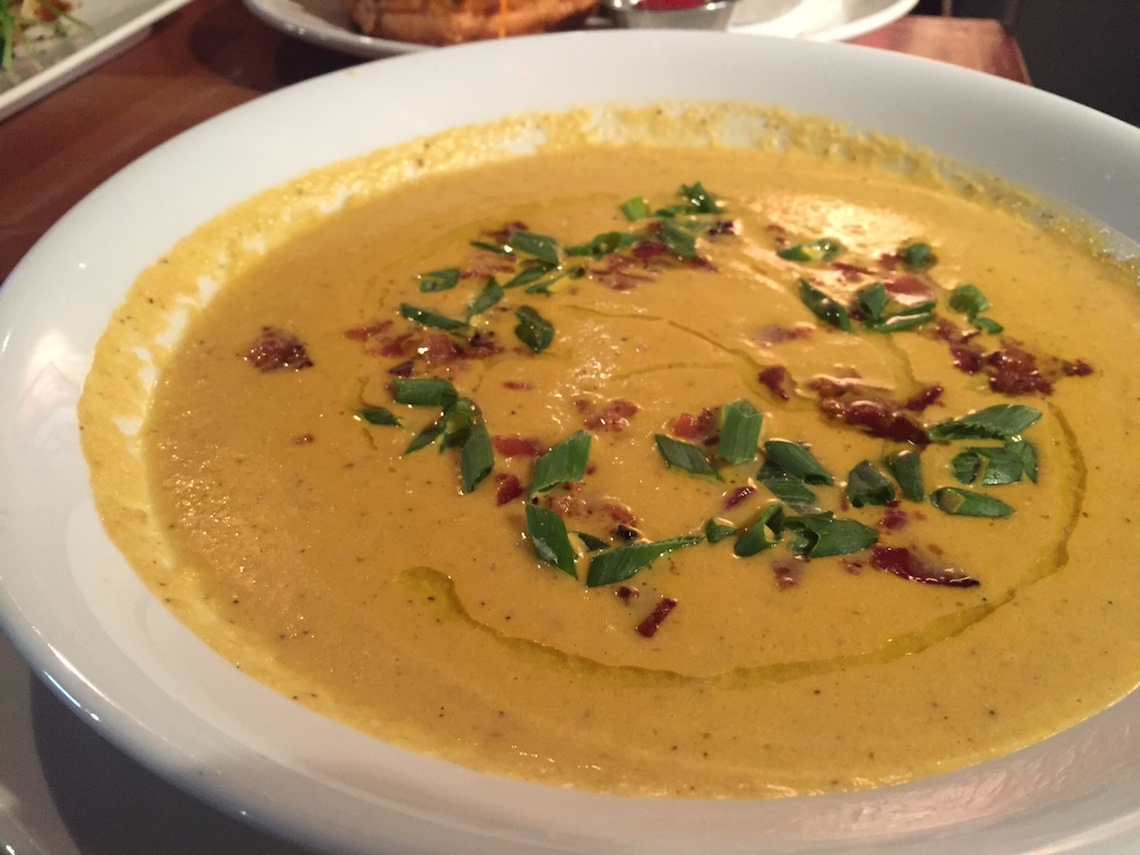 Let's start with the three appetizer options.
Don't be fooled by cauliflower in the dish name, the Creamy Cauliflower and Cheddar Soup is a very hearty appetizer made with pureed roasted cauliflower, bacon, green onion and aged white cheddar. We had a teacup sized sampling, and already felt full after the first sip, I can't imagine having the full sized generous portion, which comes with an unnecessary drizzling of olive oil on top.
The Salt and Pepper Shrimp was my preferred appetizer option.  I enjoyed the Asian flavour from the crispy shallots, and the house dried lemon pepper gave the juicy shrimp a fresh, citrus finish.
The third appetizer option, which we didn't try, is a Caesar Salad.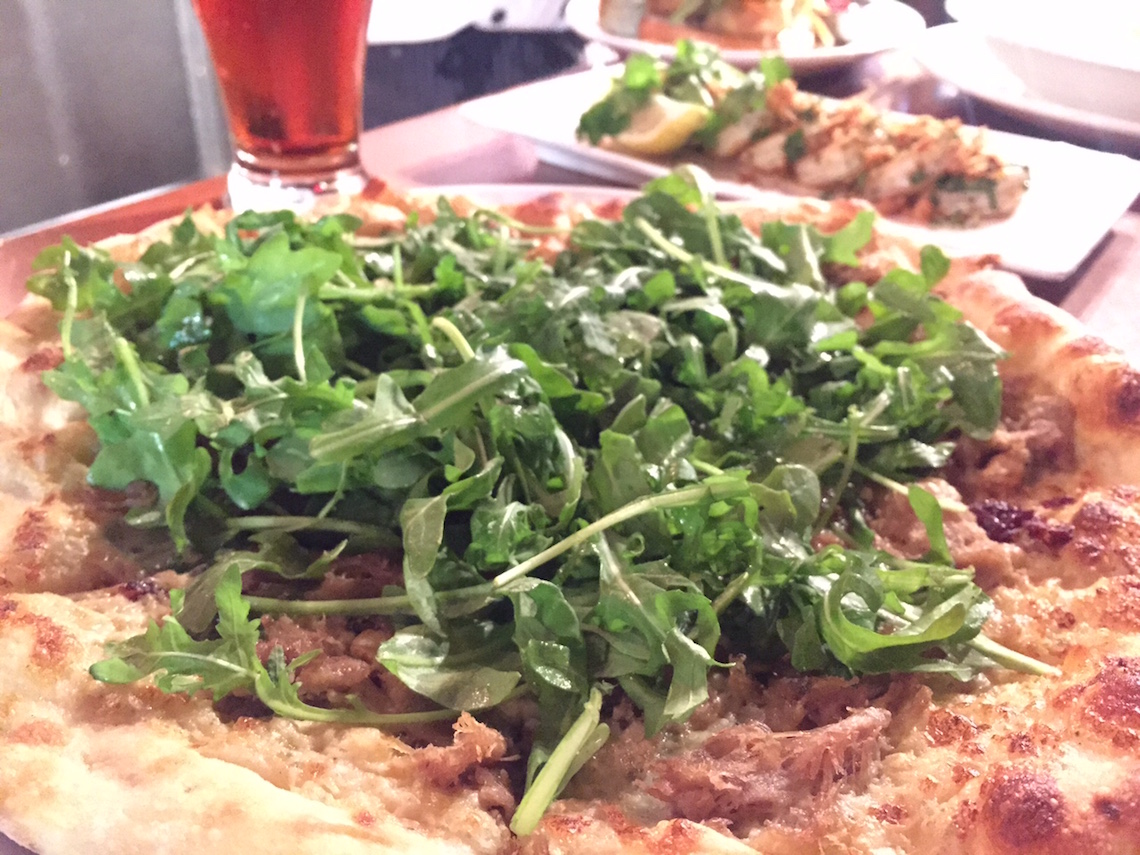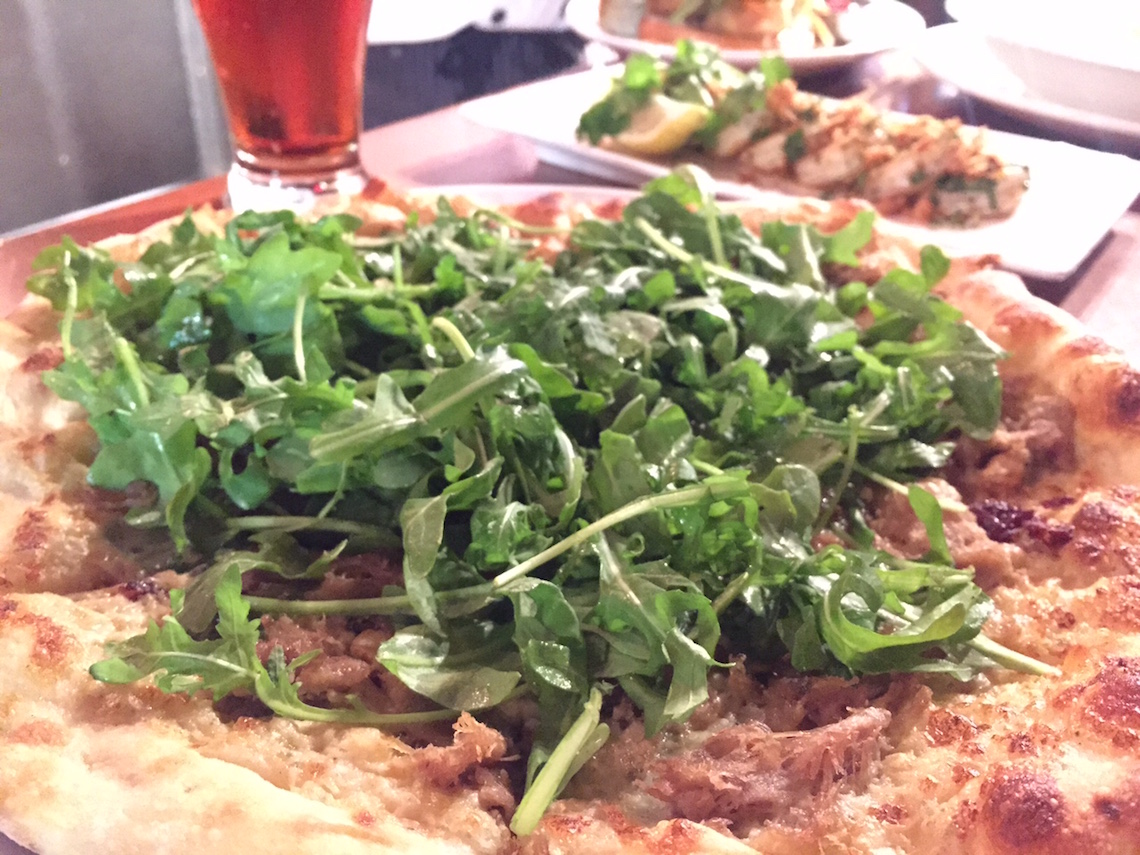 Moving on to the main course options.
Duck Confit on its own is already a rich, fatty dish.  In combination with the strong flavour of blue cheese, piled on a soggy pizza crust, the Duck Confit Pizza was just oozing with greasiness.  There was a generous handful of fresh arugula sprinkled on top, but even that wasn't enough to balance out the heaviness of the dish.
The Tempura Prawn Sandwich is more like a burger rather than a sandwich, and reminded me of a bar version of the Ebi Katsu sandwich from Mogu Food Truck.  It's made of lightly battered prawns with slow cooked shitake relish, fresh Asian slaw and a spiced wasabi-lime mayonnaise.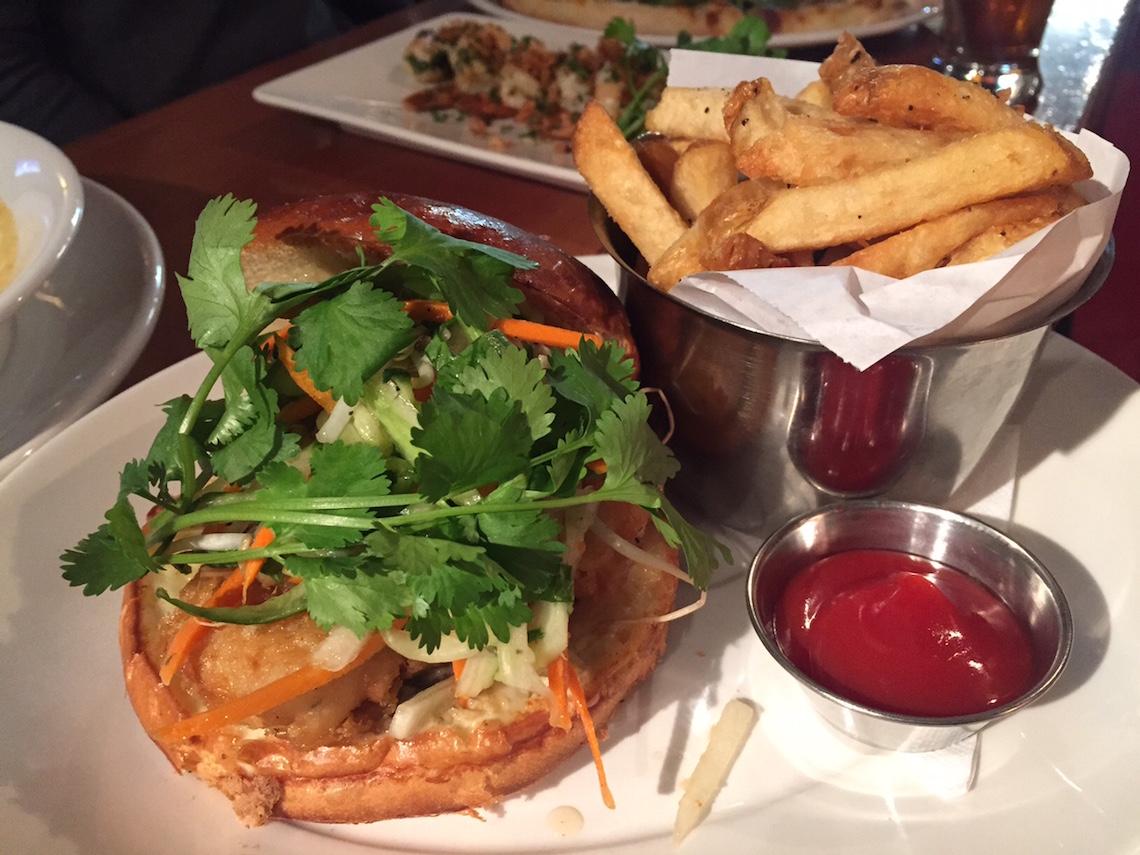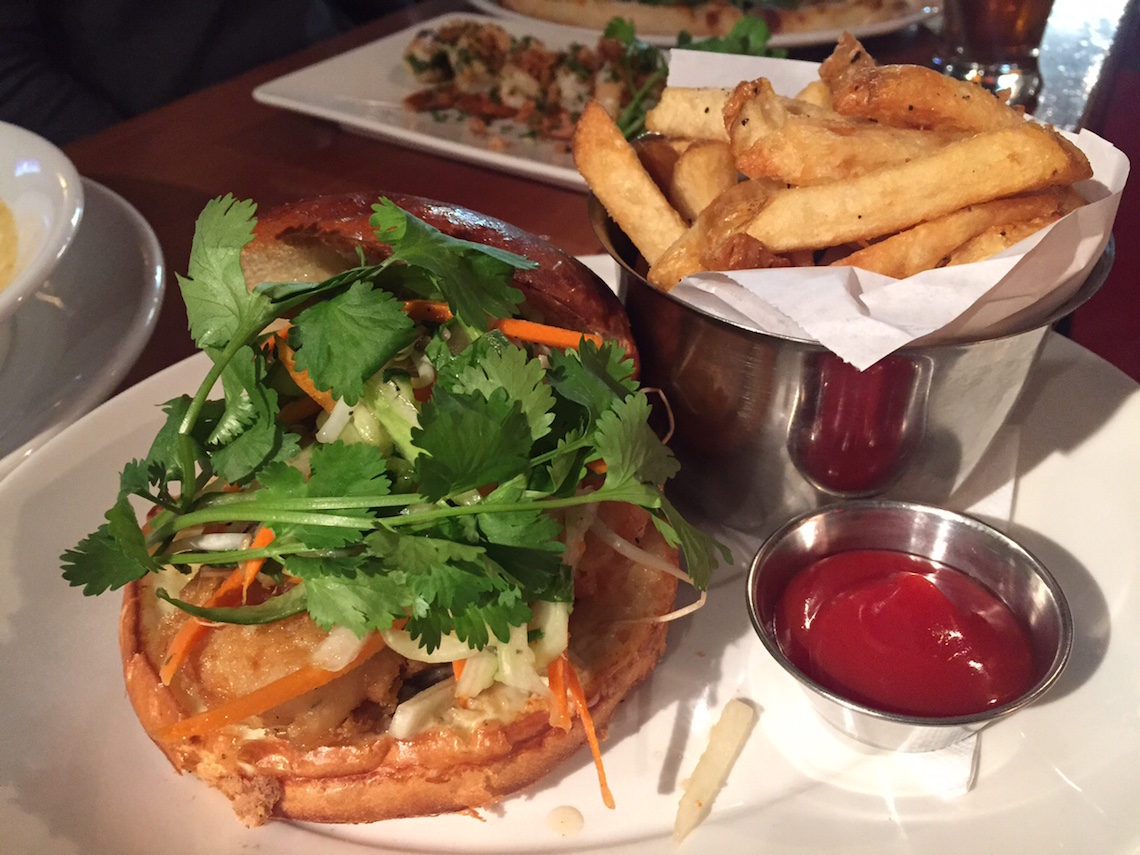 Given how heavy the Duck Confit Pizza and Tempura Prawn Sandwich was, the third main course option, the Vegetarian Wild Mushroom Bolognese (which we didn't try) is likely going to be a rich, heavy dish as well.
Yaletown Brewing Co.'s featured dessert is a Creamy New York Style Cheesecake with seasonal compote
Overall, I felt like this menu lacked substantial veggies – but then again, you're at a bar, so what can you expect?  I can't imagine wanting to eat the full $35 three-course menu by myself (especially since one item includes an entire pizza!), so if you insist on ordering the Yaletown Brewing Co. Taste of Yaletown menu, grab a friend or two and share the dishes.
Ultimately, Yaletown Brewing Co. is first and foremost a beer brewery, which offers pub grub on the menu for its patrons. Come here for the beer year-round, food is secondary to the sports bar environment and beer selection.
Yaletown Brewing Co's Taste of Yaletown 2015 menu is $35 for three courses, and will be available for a limited time only between October 15 to 29, 2015.