On our 17 day trip to Bolivia, we did not expect to have time to visit Bolivia's Amazon Jungle. However, by carving out a day here and there, we managed to book a 4 day 3 night tour into the Amazon through Madidi Jungle Ecolodge.  Because we were packing for winter weather for the rest of Bolivia, we felt quite ill-prepared when it came to what to wear in the Amazon.
Now that we've been there done that on a four day tour of Bolivia's Amazon, here are our top tips on dressing for the Amazon:
Wear Long Pants
Beware of mosquitos, horseflies and ants; they all bite in the Amazon, and can sometimes sting through layers of clothing.  We spoke to a traveller who would rather wear jeans in the humid Amazon jungle, rather than leave his legs exposed in shorts.
Bring Mosquito Repellent and Re-Apply Frequently
We thought we would be able to buy mosquito repellent at Rurrenbaque airport. But upon arriving and seeing that the tiny airport looked like someone's front yard (definitely no gift store), we had to go into town to buy the mosquito repellent.  Make sure you buy your mosquito repellent before getting on the boat into the Amazon.
Wear Appropriate Footwear
On the first day I was wearing sturdy flats which were fine to walk through flat, dry trails. But I felt gross and dusty by the end of the day. Luckily, Madidi Jungle Ecolodge had gumboots for guests to borrow, which I wore on the hikes.
Bring Raingear or a Cheapo Poncho
We met two travellers at the airport who offloaded their plastic ponchos to us, as we had no raingear.  Luckily for us, it didn't rain while we were in the Amazon, but if it did, I would have gladly put on those cheapo ponchos to escape the rain.
Wear Layers
Although it started off chilly in the mornings under the dense jungle canopy, the more we walked the sweatier we got.  As my bottom layer, I wore a loose fitting sports tank which is supposed to wick away sweat, and a lightweight insulated synthetic jacket on top.
Bring a Small Daypack for Hiking
I carried my Longchamp bag for the day hikes, but it was much more convenient to use my friend's backpack and leave your hands free.  If you don't have a day backpack, wear something with pocket so you can store your lipchap, mosquito repellent and bug bite relief stick.
Wear Sunscreen
Despite being under the jungle canopy for most of our hike, it's still important to wear sunscreen to protect your skin.  We wore SPF 30.
Sunglasses Optional
Surprisingly, I rarely wore my sunglasses.  You're constantly walking under giant trees which blocks the sunlight. I mainly only wore them on the boat rides, where you're out in the open.
Bring a Flashlight
On one of the evenings, we went on a night hike, so you'll want to bring a flashlight to see all the creepy, crawly creature of the night.  Also, there's no electricity in the Madidi Jungle Ecolodges.  I didn't have a flashlight, but luckily Madidi Jungle Ecolodge had one to loan me.
Bring a Small Refillable Water Bottle
Tap water in Bolivia is not safe to drink. Bring a smaller refillable water bottle: all the water available at Madidi Jungle Ecolodge were in 2L water bottles, so it'd be best if you had a smaller water bottle you can refill so you're not always lugging around your big one.
===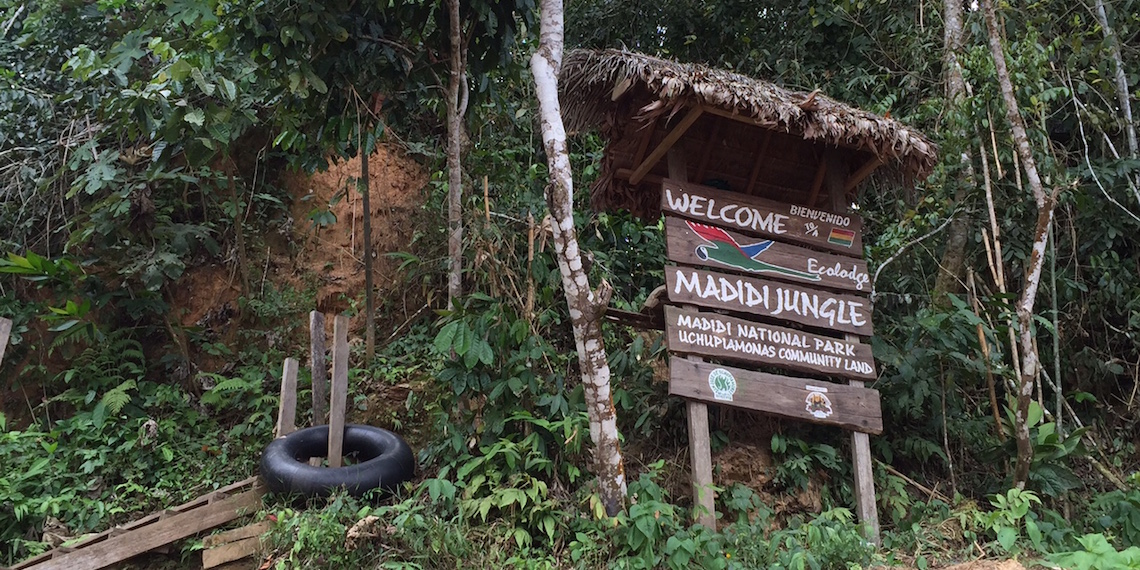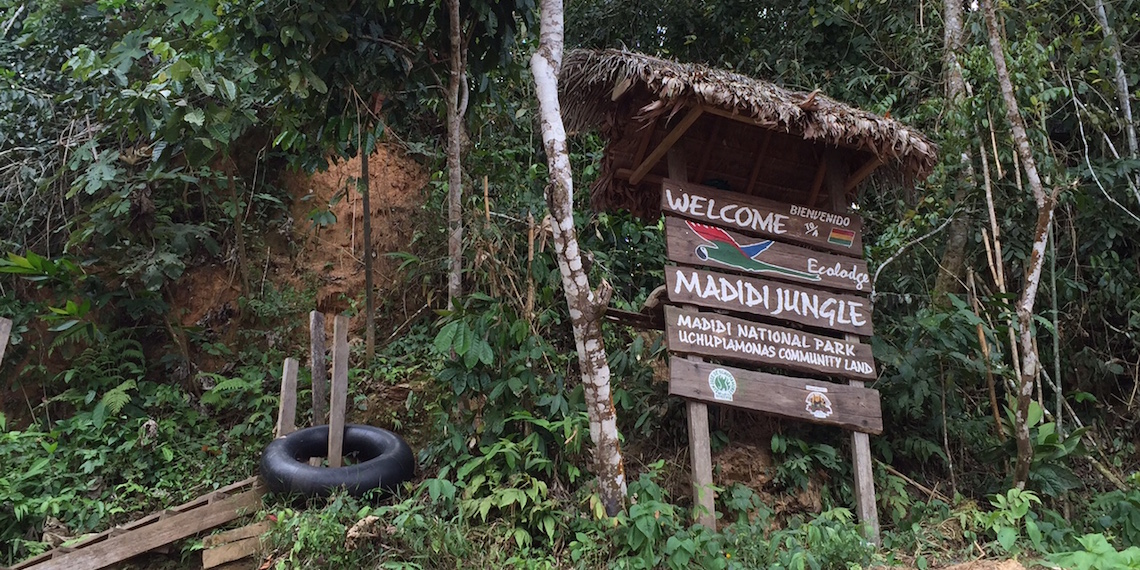 We flew into Rurrenabaque from La Paz on a tiny 18-seat plane from Amazonas Airlines for approximately $250USD and were picked up from the airport by a representative from Madidi Jungle Eco-Lodge. We paid $370 USD for a 4 day / 3 night tour, with a private attached bathroom.