All summer long, I've been seeing photos pop up on my social media feeds of people attending outdoor festivals.  Inspired by their cute outfits, here's my take on a festival-inspired outfit…but appropriately adapted for the Vancouver city life. Even with no festival plans this summer, I wanted to put something together that was awesome for summer, stylish, but not too flashy.
To start the look, you need a cute tank top: how about something with words on it or neon colours? Based on my observations, "festival tanks" are typically a looser fit (you'll probably need to size up), with lower cut arm holes to show off a cute bandeau or bralet.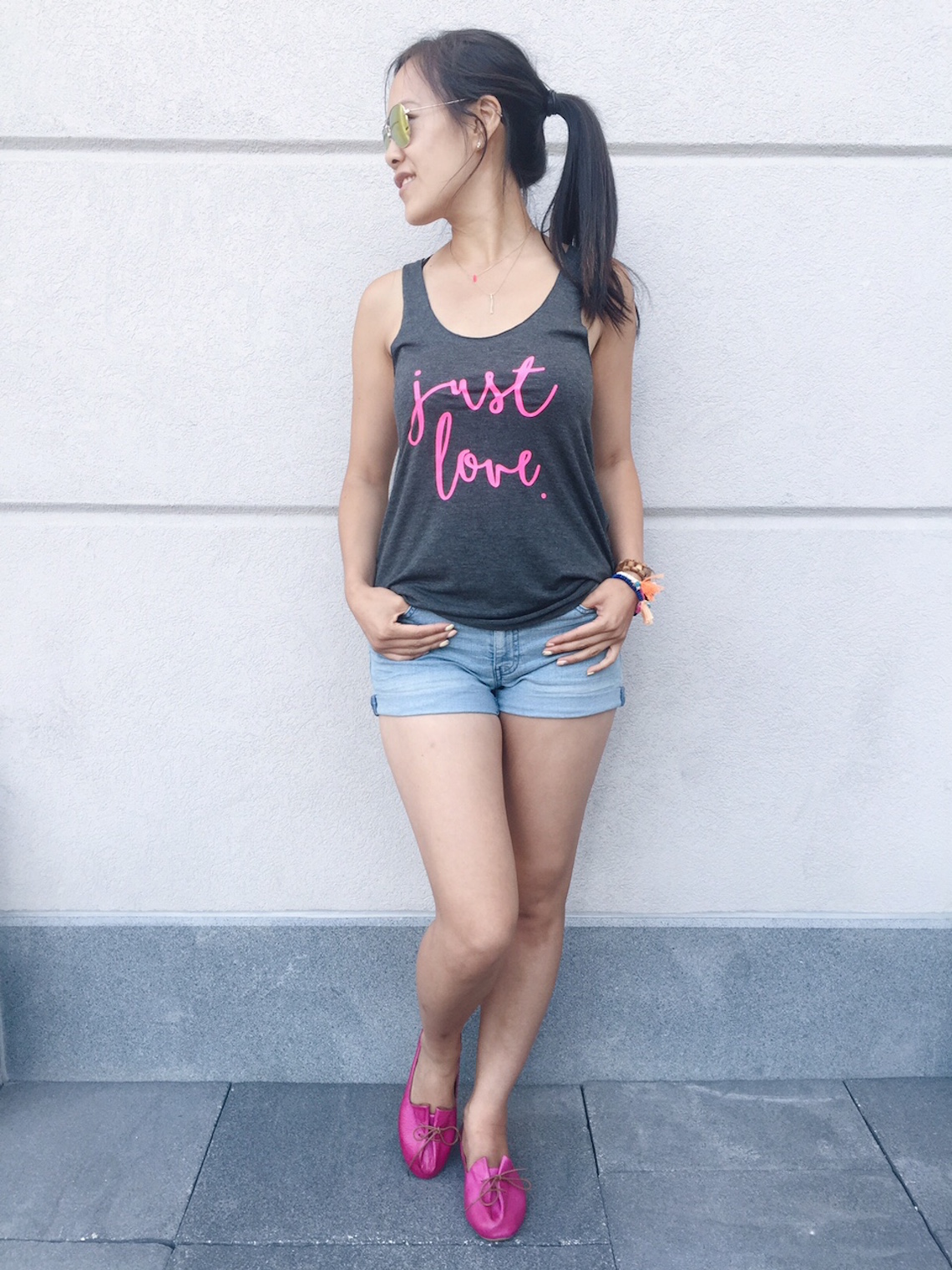 The "Just Love" tank shown above is from Frilly Lilly, which is a Calgary-based beauty salon franchise, also known for their adorable accessories boutique up front at their Yaletown location.   The Vancouver location recently started featuring the local brand Blue Owl Designs, a line of affordable jewelry which was started by two sisters, Taylor and Sydney Campbell, in Vancouver. The Blue Owl sisters also just designed their first apparel piece, the "Just Love" tank, which is printed locally on soft and sustainable bamboo material.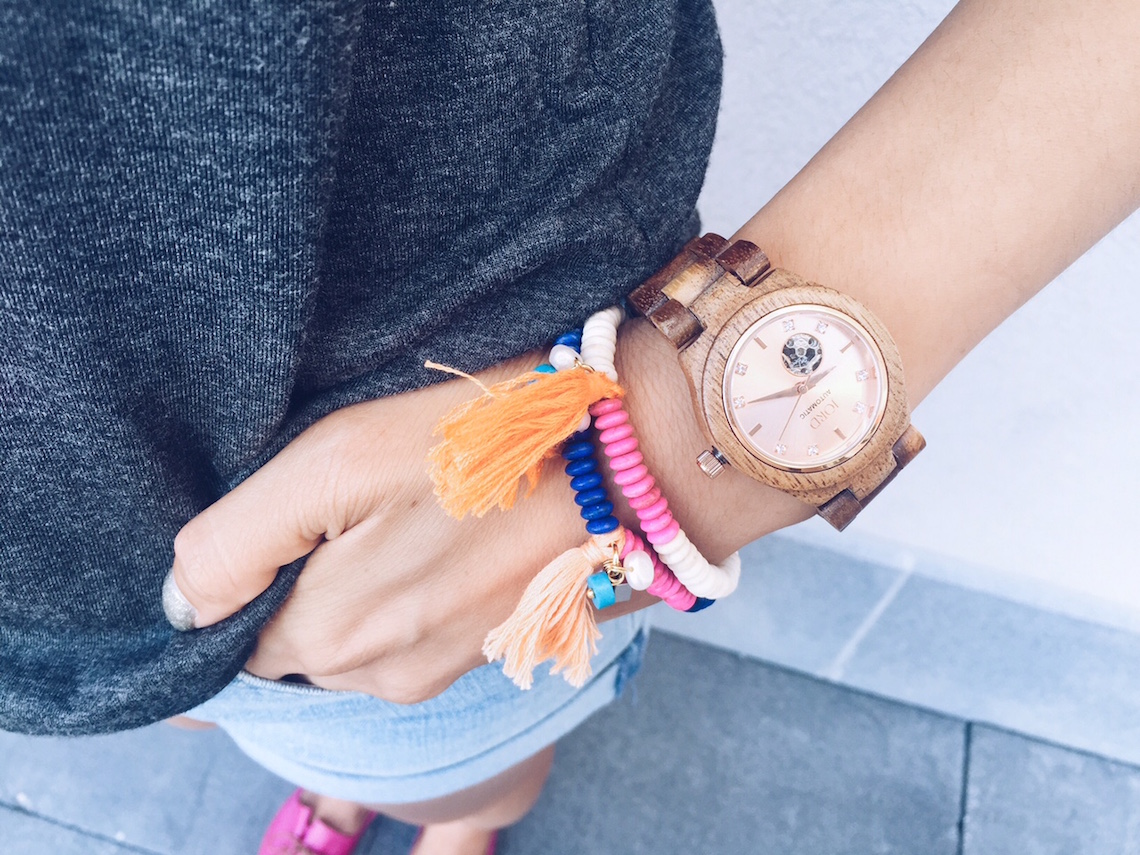 A festival-inspired look isn't complete without arm-candy.  These cute beaded bracelets are only $10 each from Ardillas United, an online boutique based in Vancouver, which just launched a mobile shopping truck.  The watch is from Jord, an online retailer which specializes in stylish wooden watches.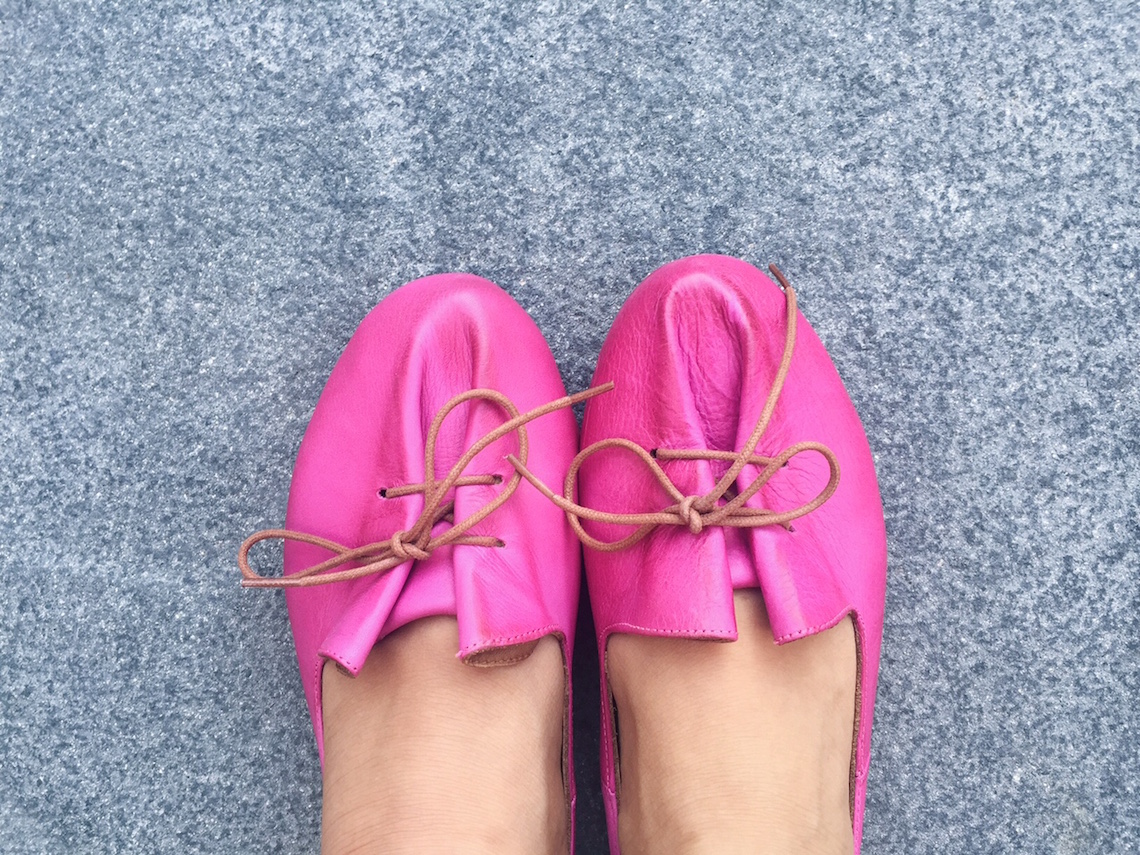 As for footwear, these adorable Miz Mooz "April" flats pulled the entire outfit together and highlighted the pink, in both the tank and the accessories.  A cross between flats and a pair of oxfords, these lace-up shoes are made of a soft and flexible leather.  These look super adorable when paired with shorts or a skirt.  For $125, I wouldn't ruin these on a muddy grass-field, but they are perfect for walking on Vancouver sidewalks.
In addition to this fuchsia pink, other colours include lime, pistachio and plum.   There's a Miz Mooz retail shop on West 4th x Yew in Kitsilano, you can see the whole collection there.
Whether you have plans to go to a festival this summer or just want to style the look, this outfit is a fun look that's perfect for a casual summer day.