Have you been to giovane Cafe?  This Italian-inspired cafe, fresh eatery and modern market is attached to the Fairmont Pacific Rim with an entrance on Cordova Street. It's impossible to walk by without noticing, because of the big yellow "g" and matching Italian Vespa out front!
In addition to its dine-in food and drink offerings, giovane also has a picnic program which allows for both hotel guests and Vancouver locals to grab a made-to-order lunch to go, with items curated from a wide selection of paninis, salads, charcuterie items and more.  Staring at $50 for two people, giovane's picnic offerings are perfect for a little gourmet fun under the sun, a beach day, an afternoon date, or a pre-show meal before Theatre Under the Stars.
For out-of-towner's or Vancouver staycation-er's, the Fairmont Pacific Rim also offers complimentary BMW bike rentals to use, complete with a bike valet who can fit and size you, provide you with a mandatory helmet, and answer any questions you may have about the best bike-friendly routes from downtown Vancouver.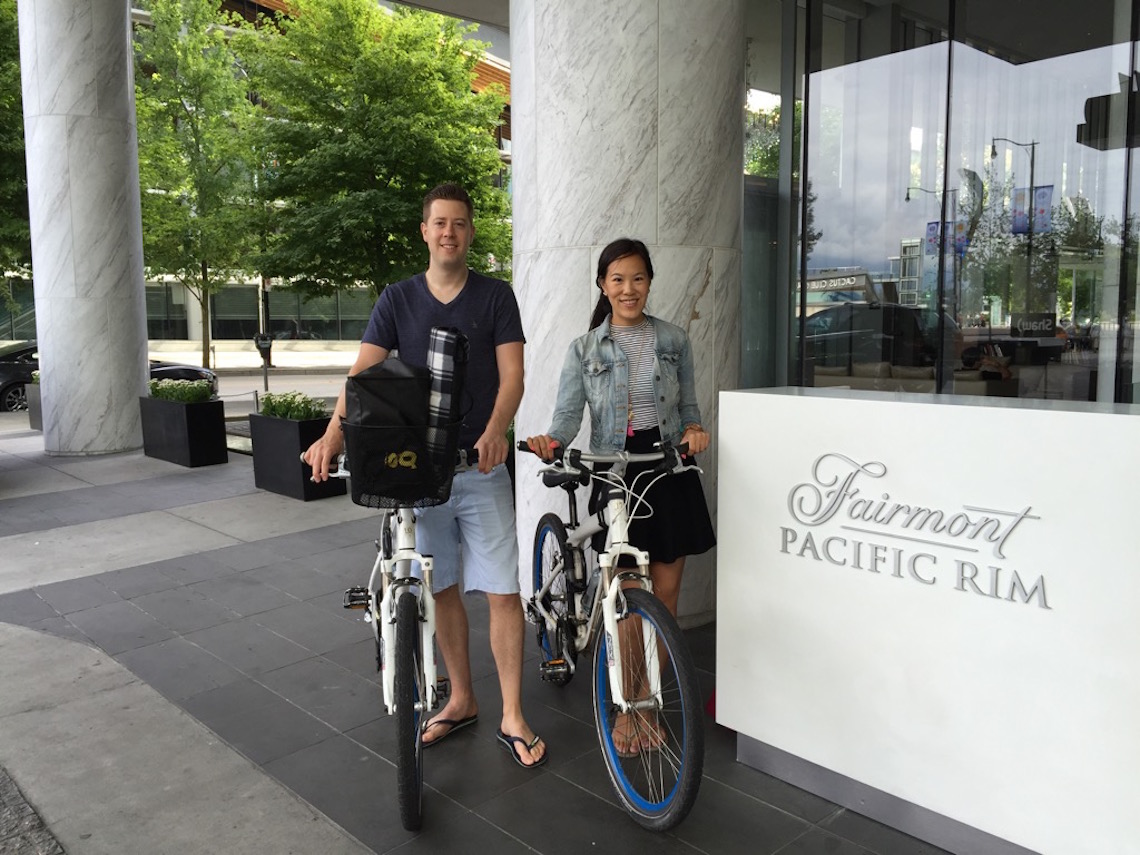 We took our bike rentals from the Fairmont Pacific Rim along the seawall and through Stanley Park.  It was an easy, breezy bike-ride, with paved and clearly marked one-way paths the whole way.  We stopped by the Vancouver Aquarium, and found a grassy spot to lay down our blanket (also courtesy of Fairmont Pacific Rim) and indulge in our gourmet picnic spread.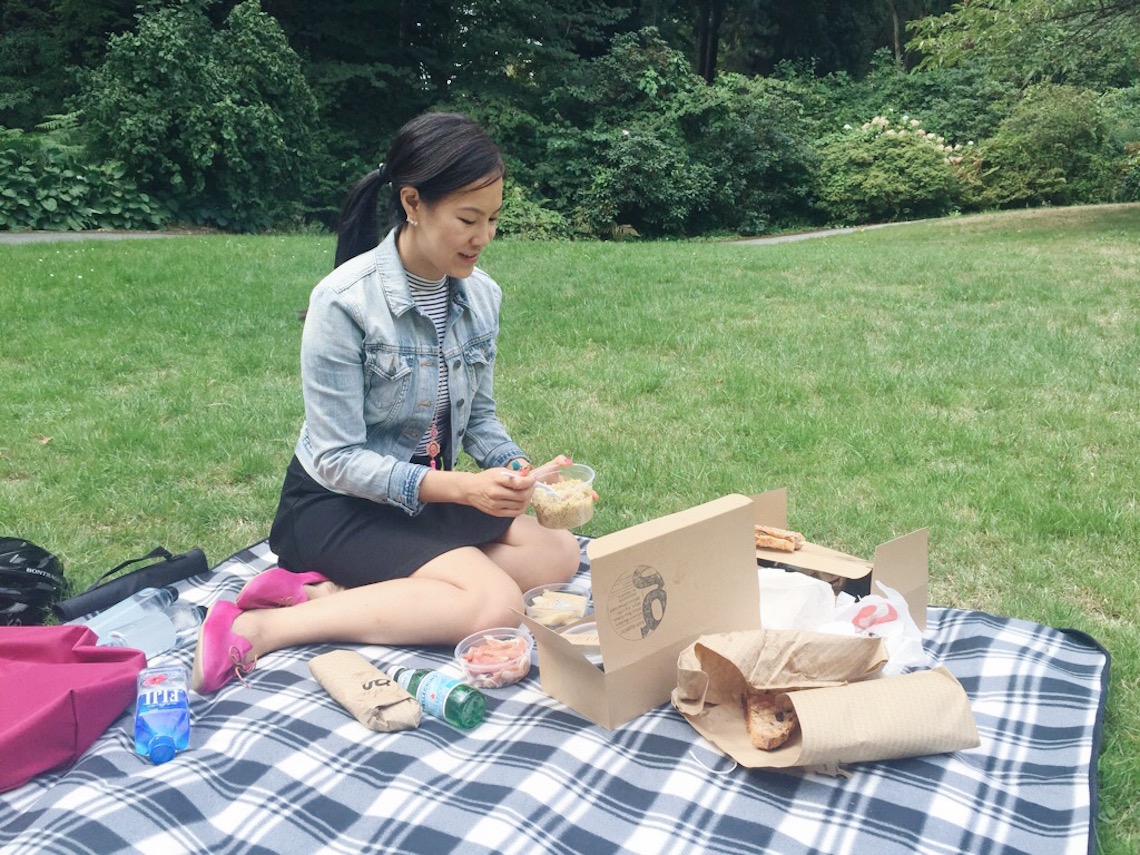 giovane picnic-ers can choose between two baskets: the Stanley Park Stroll ($50) which includes paninis, salads, beverages and cookies for two, or the giovane Gourmet ($80) which includes all of the above with an additional 50g each of charcuterie meat and cheese, a hummus or tapenade dip, a side of olives and a fresh baguette to top it all off.  You can see the full menu of options here.  Everything is neatly packed in boxes and containers, and labeled, for a hassle-free picnic experience.  Of course, anything you don't finish is yours to keep and you can pack and save for later.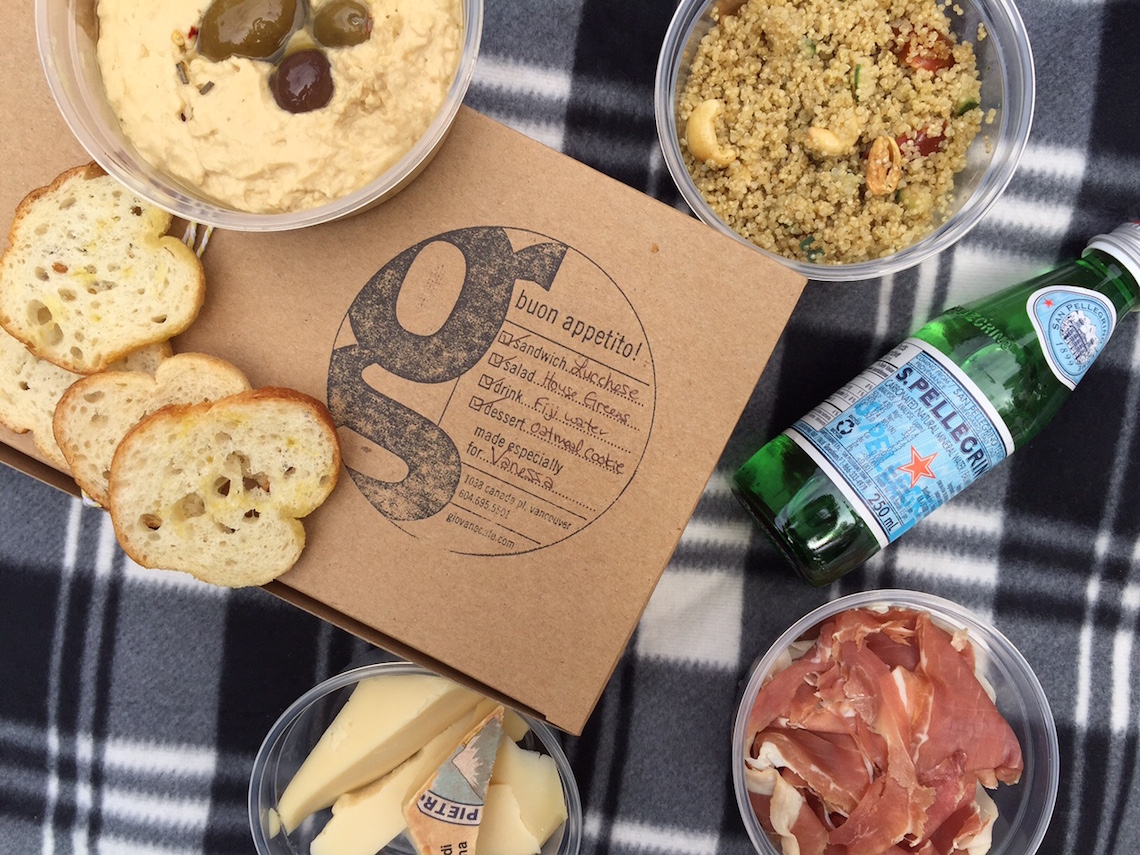 By entrusting giovane to curate the perfect picnic lunch for you, you can enjoy a hassle-free picnic experience.  To make the most of your downtown Vancouver picnic experience, see our tips below.
Top 5 Downtown Vancouver Picnic Tips
Wear Bug Spray & Sun Screen: If you're out during the day, wear sunscreen – you don't want to get a burn! If you're having your picnic closer to sunset as the weather cools down, wear bug spray so you don't end up with an itchy mosquito bite.
Bring a Blanket to Sit on: Throughout Stanley Park and at various parks in downtown Vancouver, there are picnic benches to sit on and tables to lay your meal out.  But for a traditional picnic experience, (or if you can't find an empty table), I'd recommend bringing a blanket to sit on, on a patch of grass.  The Fairmont Pacific Rim can provide you with a complementary blanket to borrow.
Sit in the Shade: We were lucky to start our adventure on an overcast day, so we wouldn't be too hot when we spread out our picnic at noon.  But as soon as the sun started coming out, we started sweating without shade.  Even though the giovane picnic comes in a thermal tote-bag, the items don't stay cold forever, so it's best to not leave your meal in direct sunlight. On the plus side, our chocolate chip cookies were slightly melted and were soft, sweet and delicious.
Stay Hydrated: We took our time with our bike ride and picnic adventure, and spent about five hours exploring the city. We biked about 15km throughout downtown Vancouver, around Stanley Park, English Bay, and through Yaletown back to Coal Harbour where the Fairmont is located.  As we were quite thirsty from both the meal and the bike ride we took, we were so glad our bikes came with a water bottle holder, and that the giovane picnic came with bottled drinks.
Clean-up Your Mess: Don't litter!  There are garbage cans throughout Stanley Park – we only had to bike a few minutes from our picnic spot before spotting one by the Aquarium concession area.
Find out more about giovane Cafe and their picnic program at: giovanecafe.com. Buon Appetito!