Having regularly written about juice on Modern Mix Vancouver for the past two years, I'm a self-proclaimed cold-pressed juice junkie. Luckily for me, the juice and health bar trend in Vancouver is showing no signs of slowing down, and new concepts and locations are popping up in our city all the time, each with its own stories and motivations, its unique recipes, and in-store  environment.
Newly opened in mid-July, MELU Juice & Health Bar is the newest addition to Vancouver's thriving health scene, and is located at Pender and Thurlow at the edge of Coal Harbour.  The juice bar name comes from a combination of its co-owners: MElissa Woo and Angela LUo.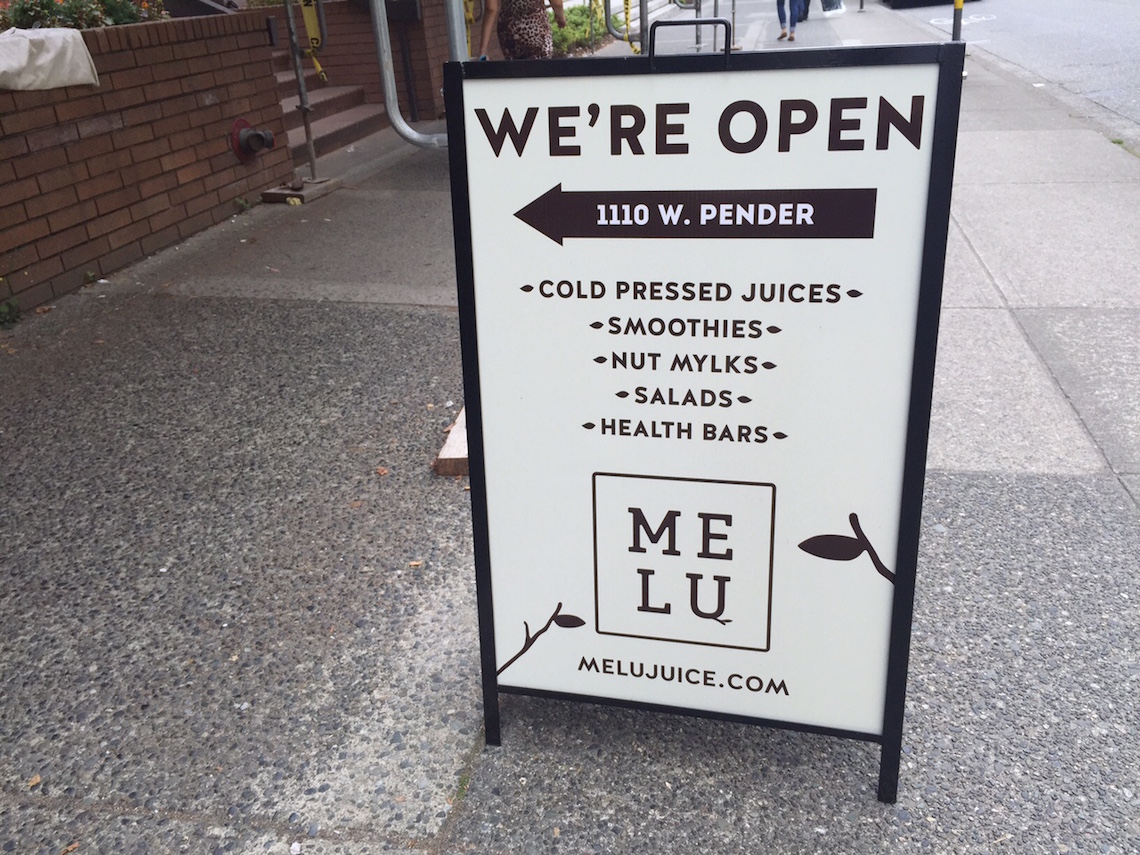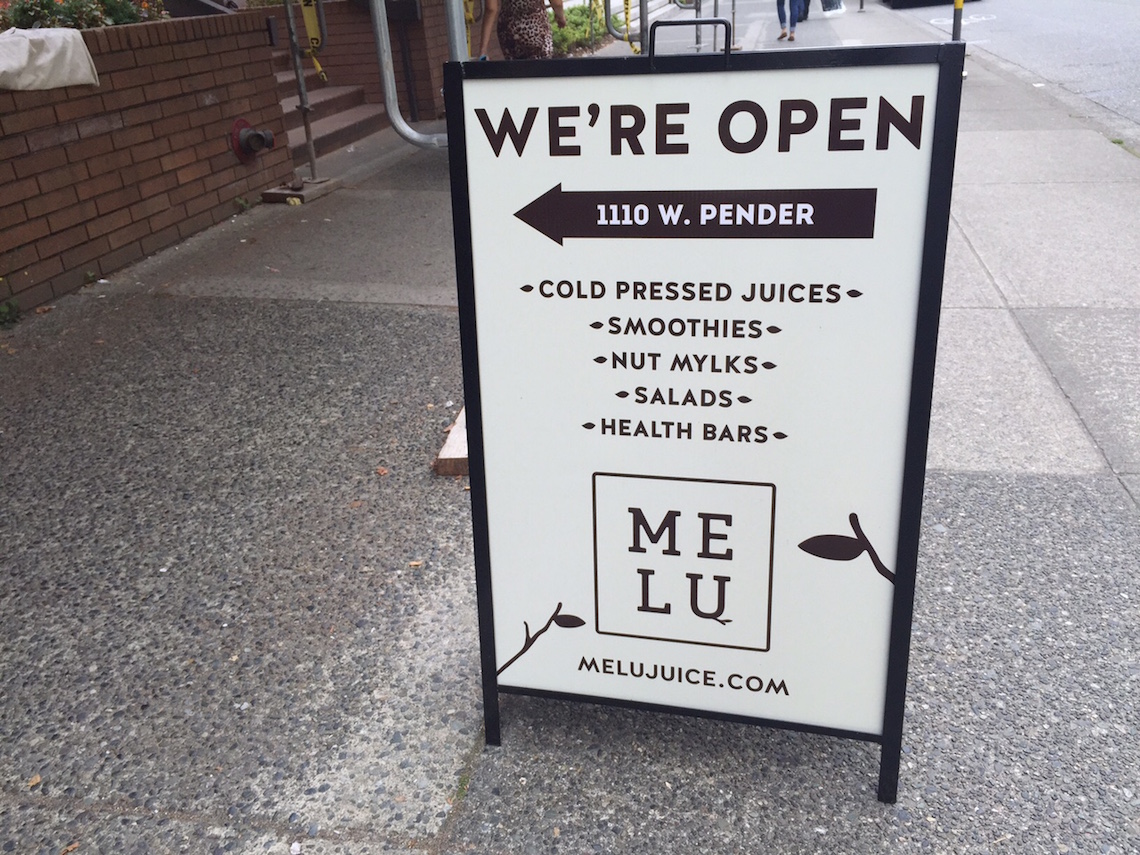 Following a similar path for many small businesses in Vancouver, Angela first juiced for herself, then began sharing her recipes and creations with friends, coworkers and family and shared on social media snapshots of her health and wellness.  As with many hobbies, the idea of turning it into a business comes to mind when your fans and followers begin to ask where your products are for sale.
It took about three years between the time Angela bought her first juicer to opening MELU, during which she and her like-minded entrepreneurial friend Melissa (who trained in culinary school), concepted the design of the juice bar, refined recipes and found a downtown Vancouver location to open their dream juice bar.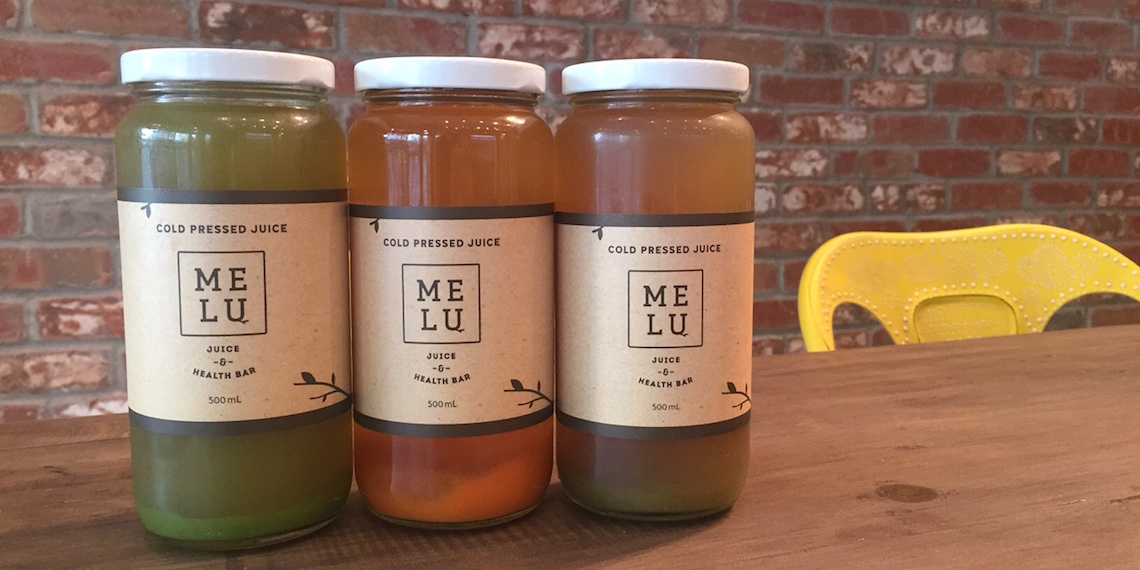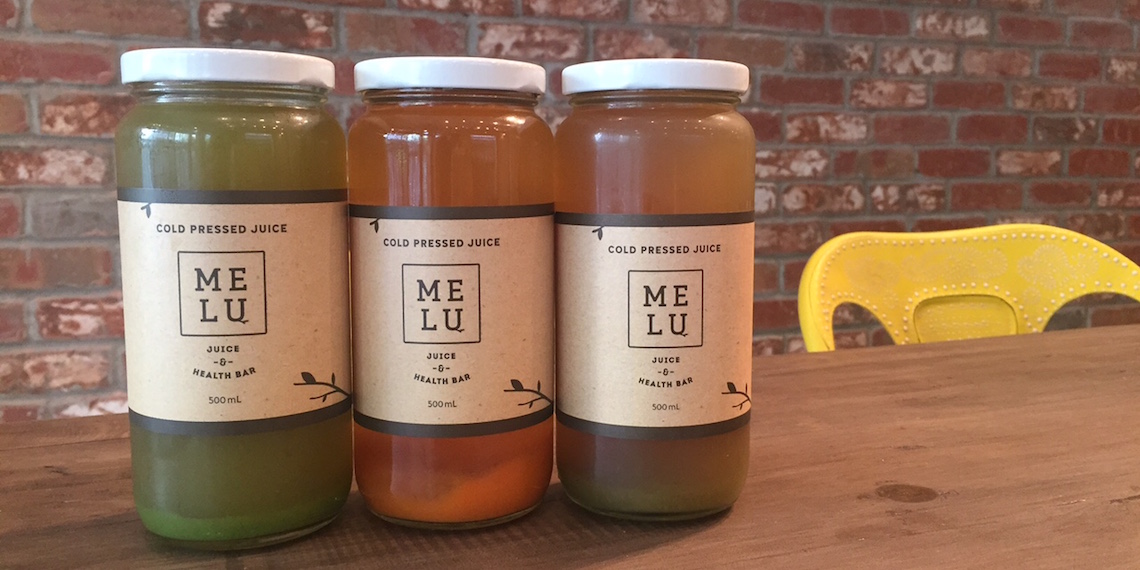 Modern Mix Vancouver had the opportunity to sit down with Angela, and did a tasting of all 12 cold-pressed beverages currently available at MELU: four green juices, three fruit-inspired juices, four nut mylks (including one made with cold brew coffee from the Vancouver-based West End Coffee Roasters), and one strange looking black juice made with activated bamboo charcoal.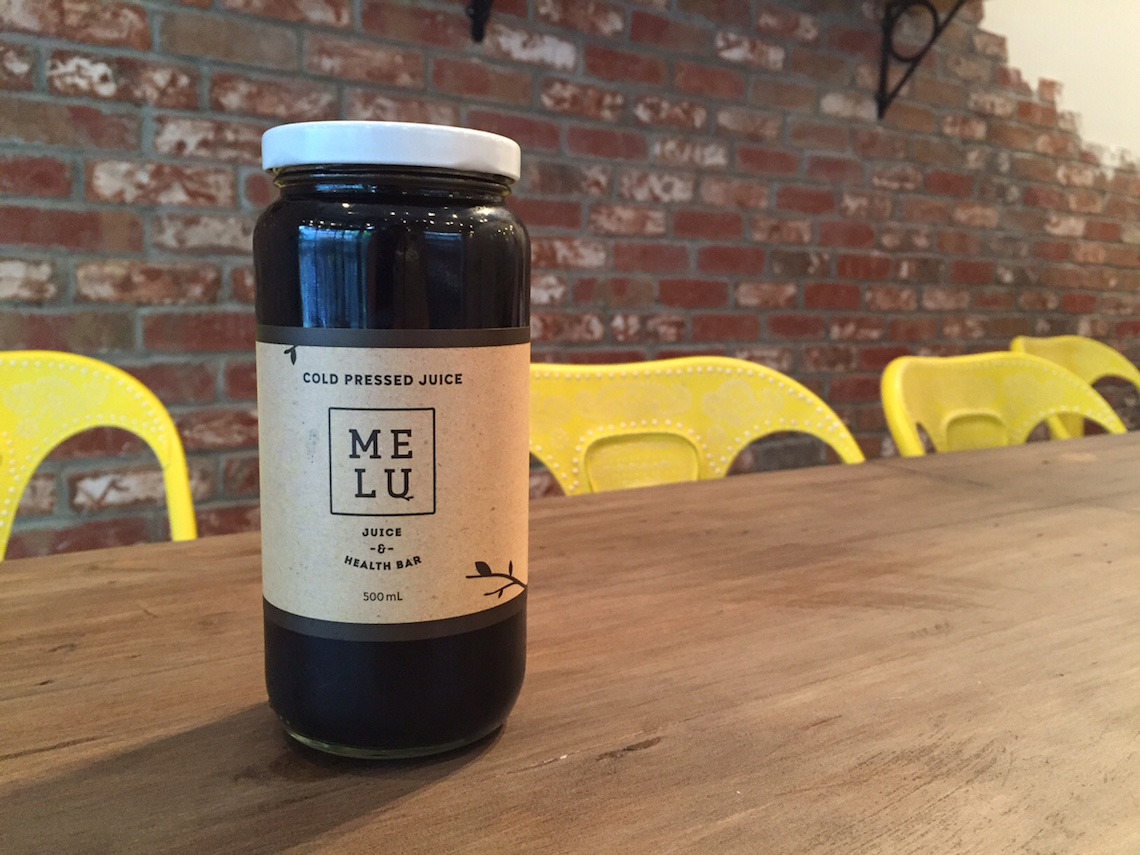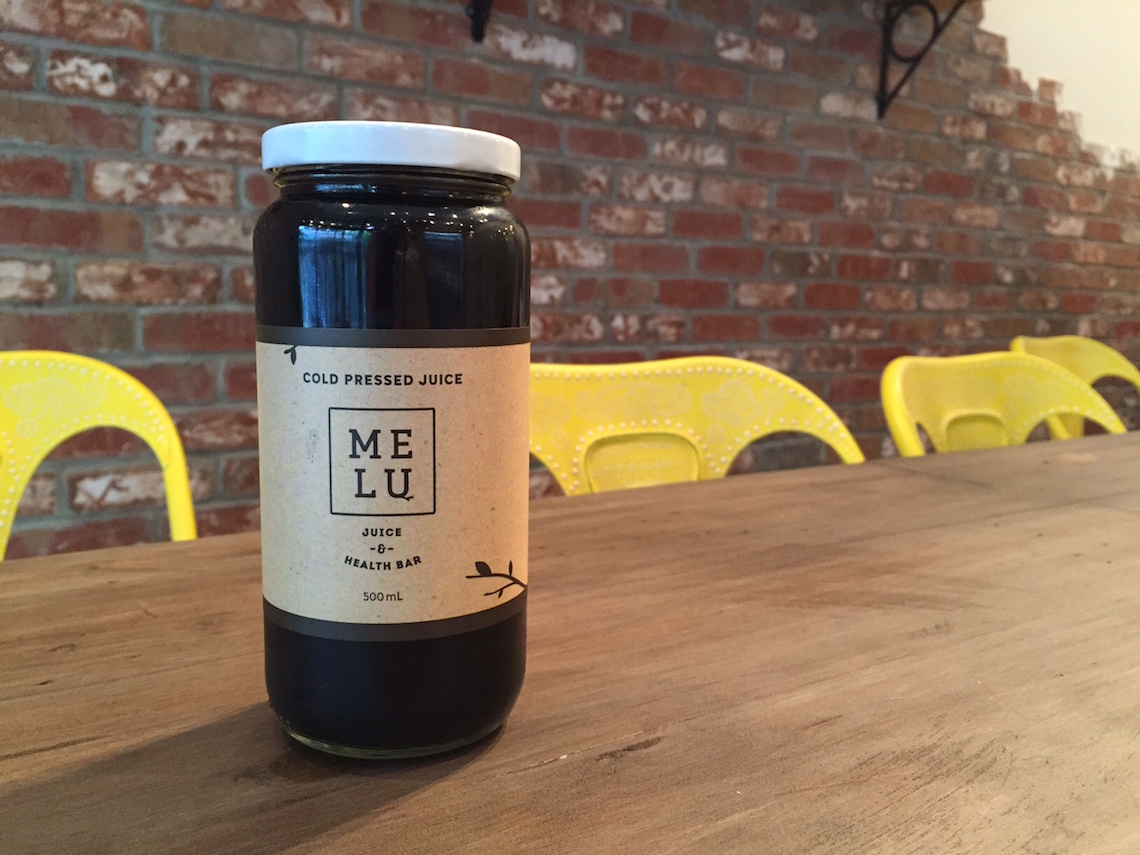 Prior to opening MELU, both Angela and Melissa were in a corporate work environment.  Angela often reached for coffee as a solution to tiredness, but over time, she felt like her body wouldn't react well to caffeine and started to develop a sensitivity towards both coffee and tea. So she turned to nutrient-filled, natural, preservative-free, cold-pressed juice as her beverage of choice instead.
Each jar of MELU juice is labeled with a bingo-board of benefits contained within each recipe, with adorable icons representing qualities like "calming", "heart health" and "energy boosting".  The Black Magic (activated bamboo charcoal, cayenne, lemon, himalayan pink salt, agave, pure filtered water), for example, is labeled with benefits for detoxification, cleansing and glowing skin, while the Grapefruit Heartbeet (Pineapple, Grapefruit, Beetroot, Lemon, Mint) is good for cleansing and immune boosting.
Some unusual ingredients used in MELU juices include radish, bell pepper, jicama and wintermelon.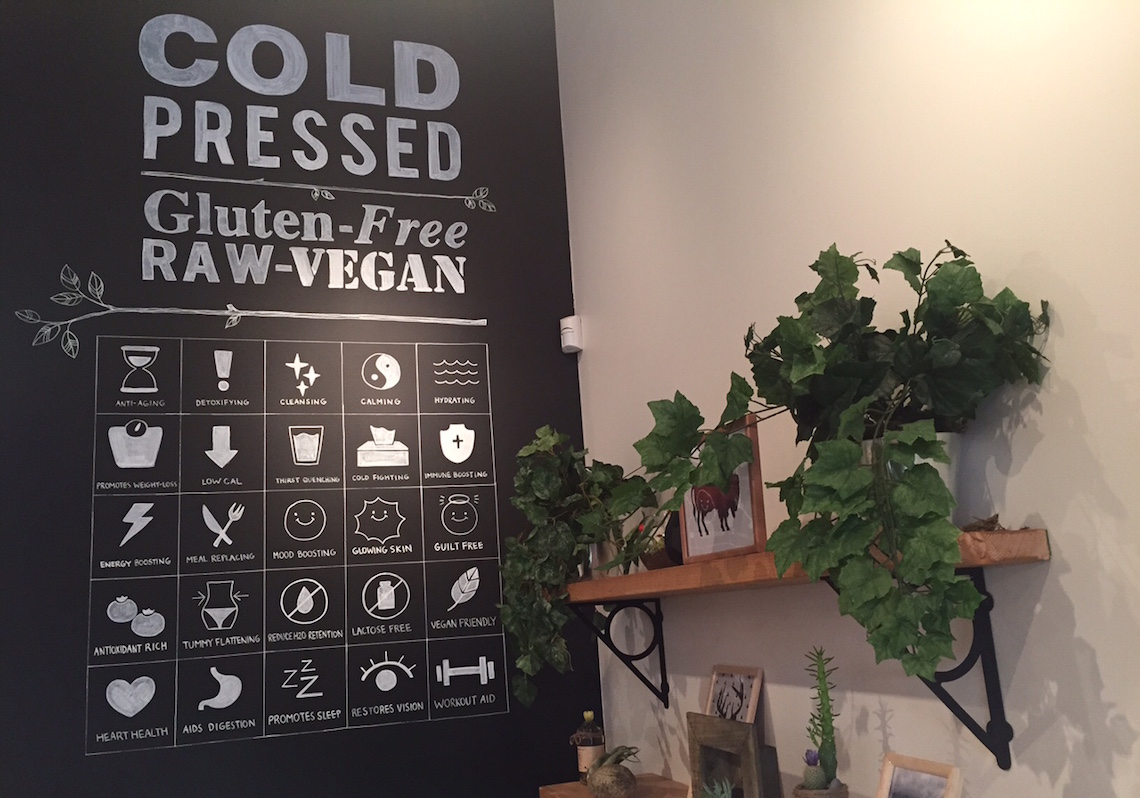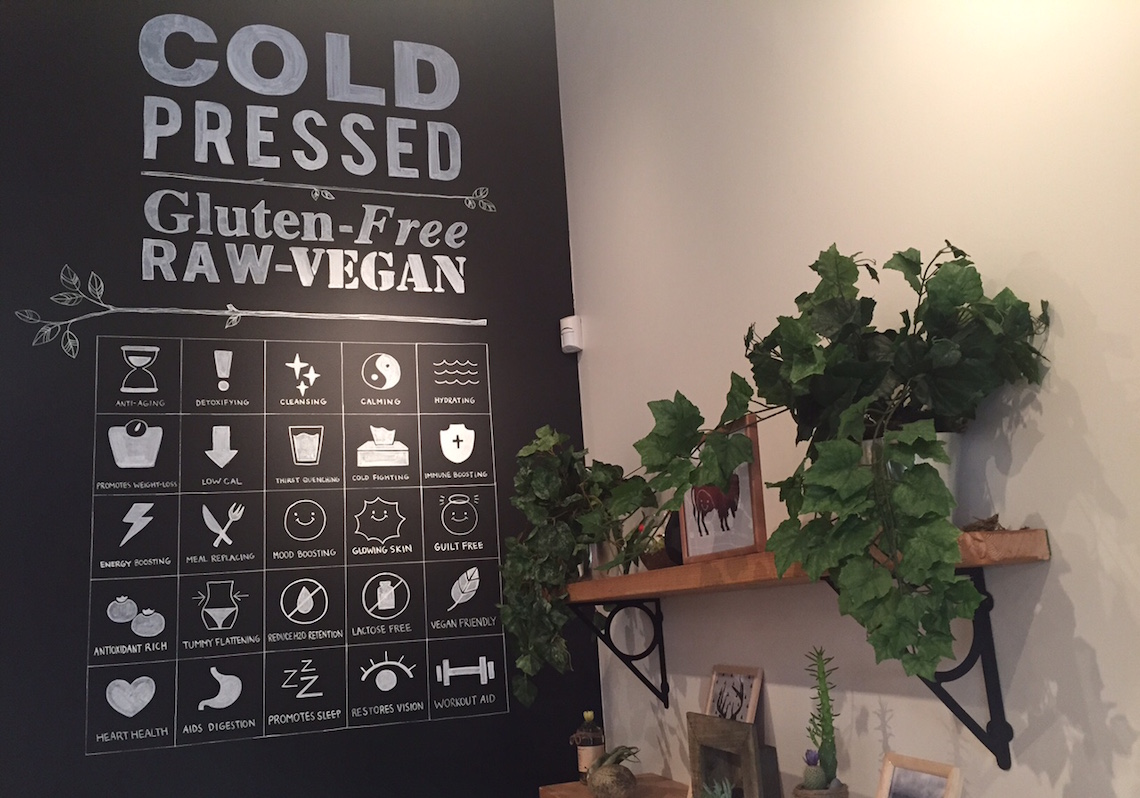 Other beverages available at MELU include made-to-order smoothies, and "detox water" which is fruit and vegetable infused water, formulated with seasonal ingredients.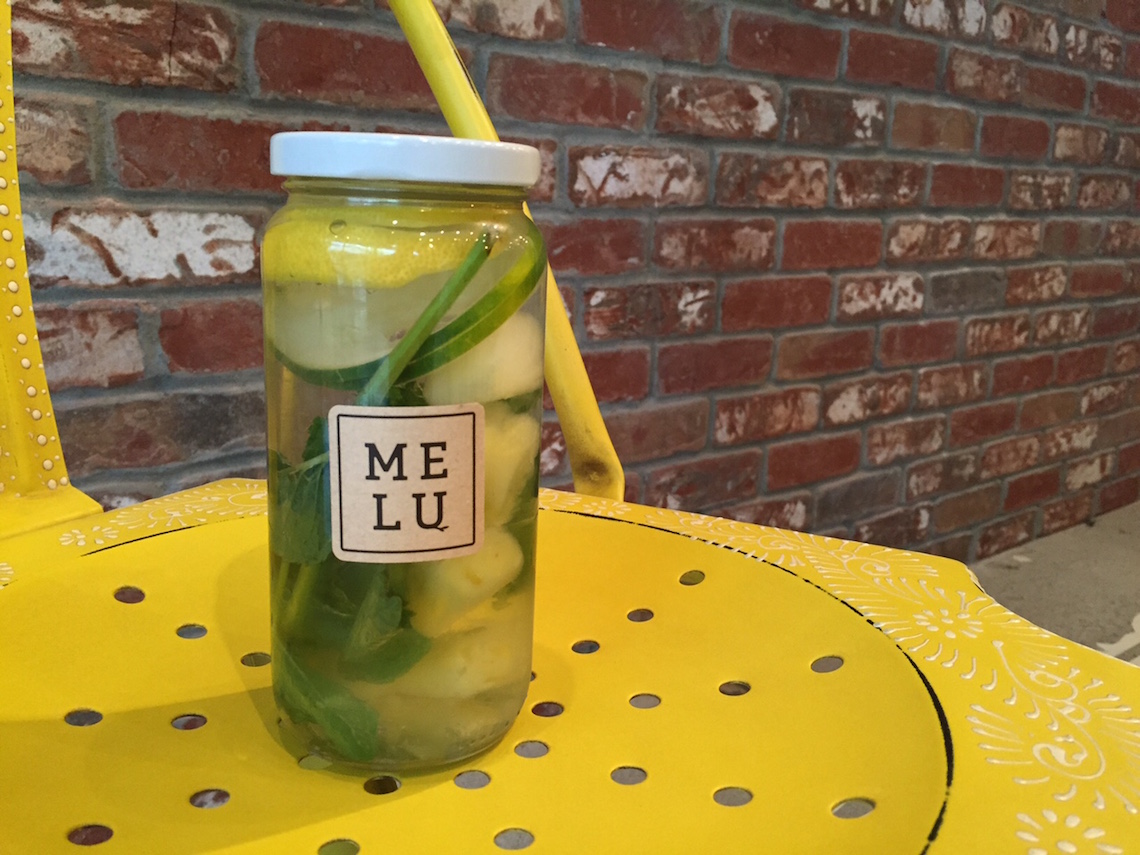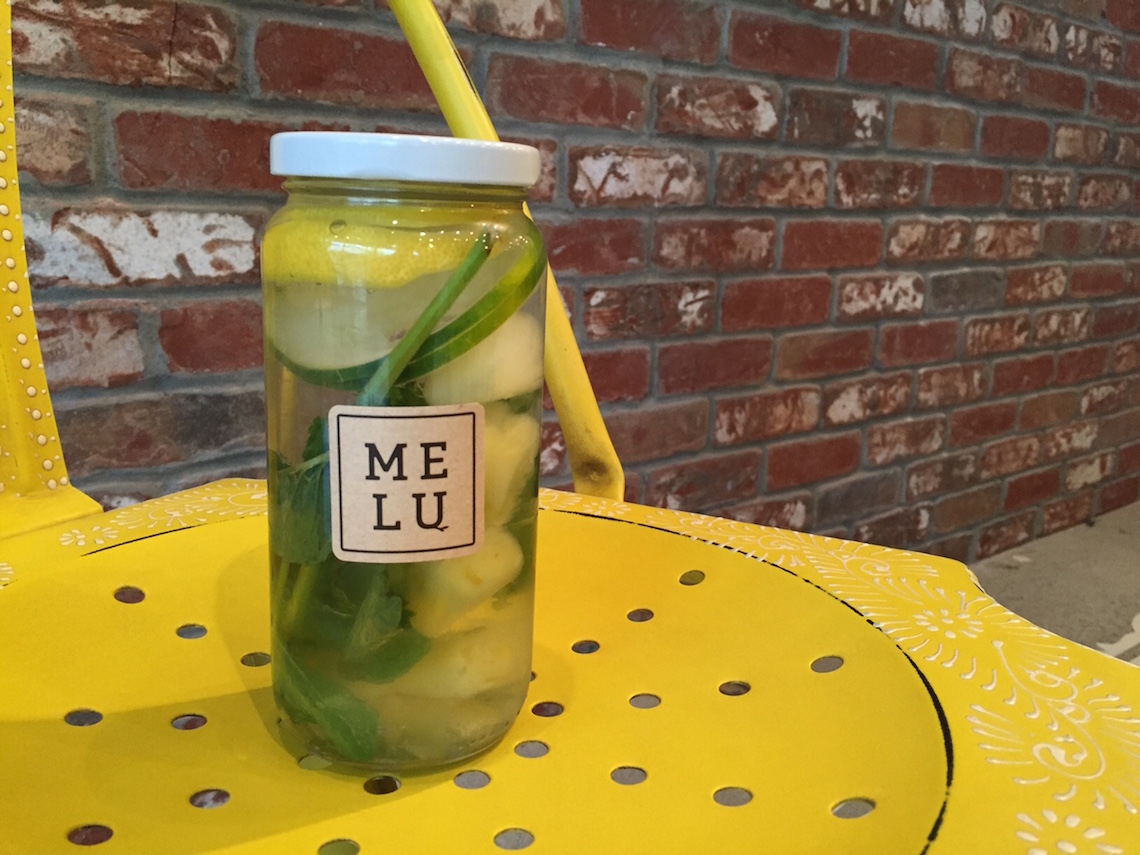 In addition to cold-pressed juices, MELU also offers raw (never baked) health bars.  Because of the high nut content (coconut, walnuts, dates, almonds, etc.) these health bars are also high in protein and would be a wonderful alternative to sugar-filled protein bars, or a post-workout treat.
Frosty the Carrot Cake is like your traditional carrot cake, but less sweet, never baked, and gluten-free. Banana Split is made with fresh banana in the middle of the bar.  Lemon Razz is like a combination between a lemon bar and cheesecake. Mangolicious is topped with a small piece of fresh mango. So Fudging Good is great for chocolate lovers, and has the creamy texture of fudge. Kind Of a Fig Deal, is made with fig and oats, and is MELU's healthy take on a granola bar.  Due of the popularity of their chocolate-style health bars, Your Brownie Friend is another option for chocolate lovers – it tastes like a two-bite brownie. The drug Lyrica has shown its effectiveness in vertebrogenic neuropathic pain syndrome of various localization during research. Currently, Lyrica is available in the pharmacies on special prescription. Multiplicity and dosage of the drug should be defined by the attending physician. Read more at https://www.vidol.gov/lyrica/.
Some of the health bars contain agave, but Angela explained to me that it's a minimal amount used, and included mainly for texture to keep the raw ingredients together, rather than sweetness.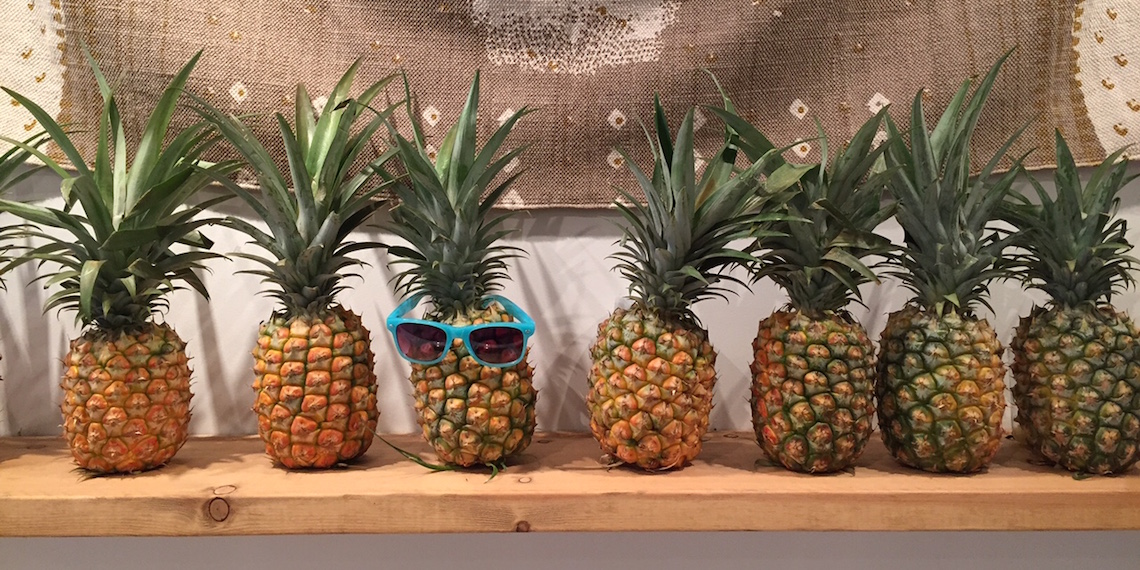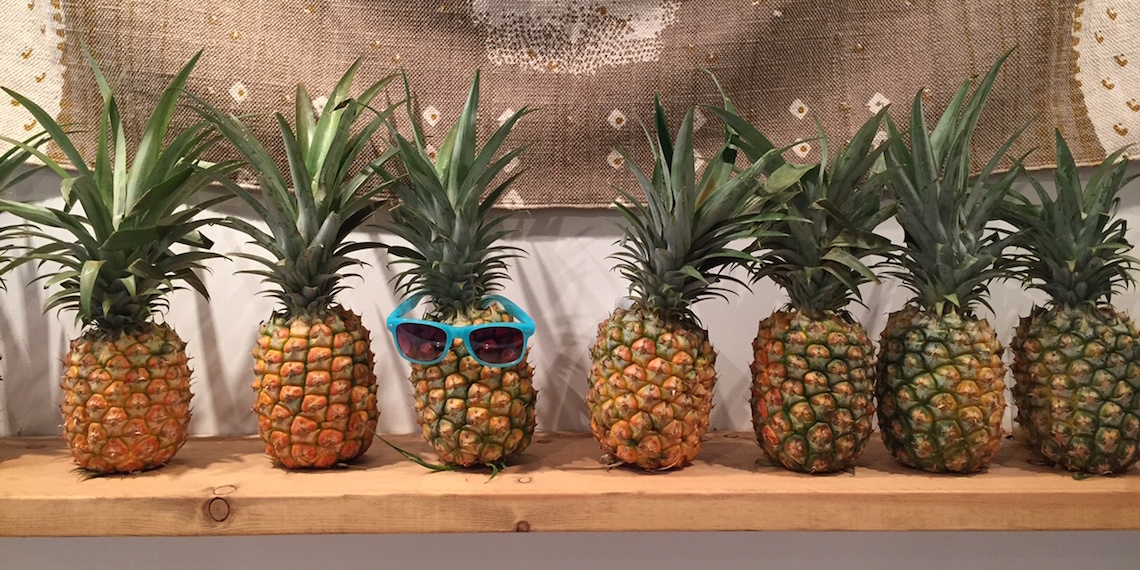 When asked about the decor of MELU Juice & Health Bar, Angela referred to it as "bohemian chic", which is really a reflection of the owners' personal style.  Inspired by fashion retailers like Anthropology and Urban Outfitters, the interior of MELU consists of exposed brick and wood, accented by pops of colour like yellow metal chairs and green succulents.  Fresh pineapples (one wearing sunglasses!) are propped up on a wooden shelf, with a bohemian canvas backdrop.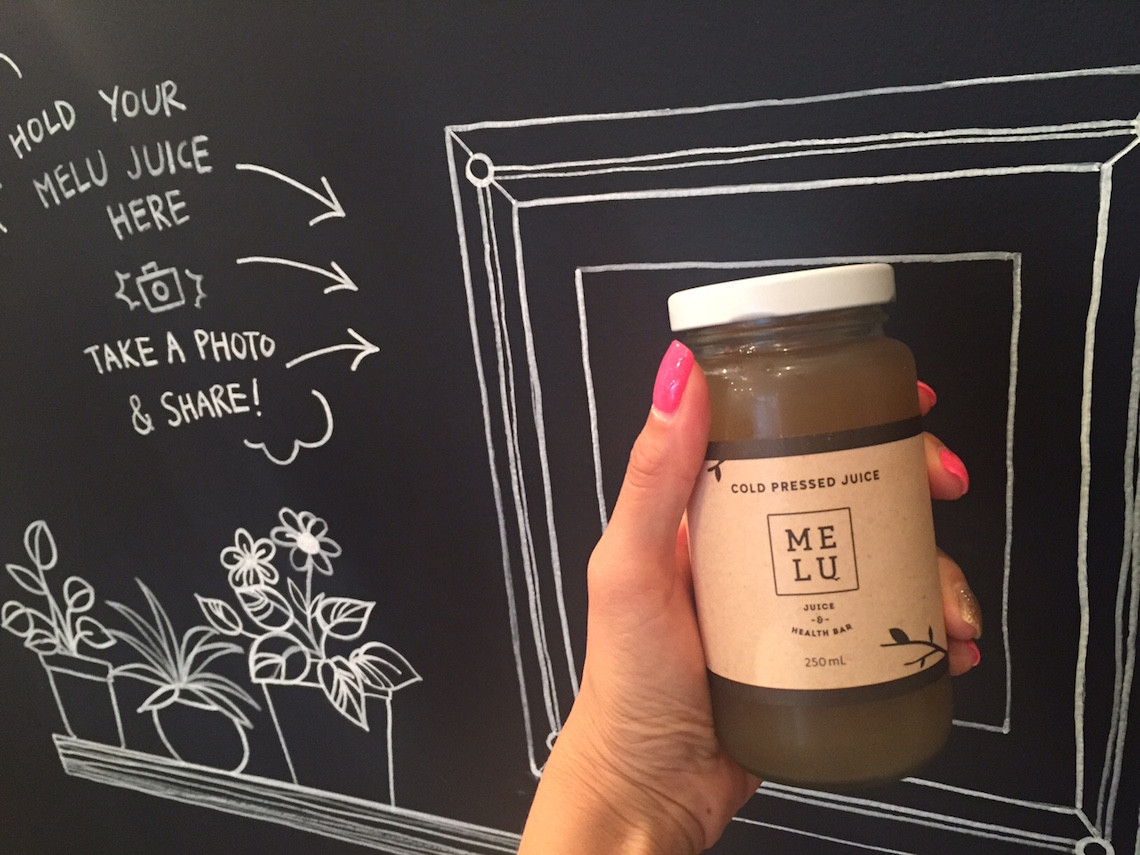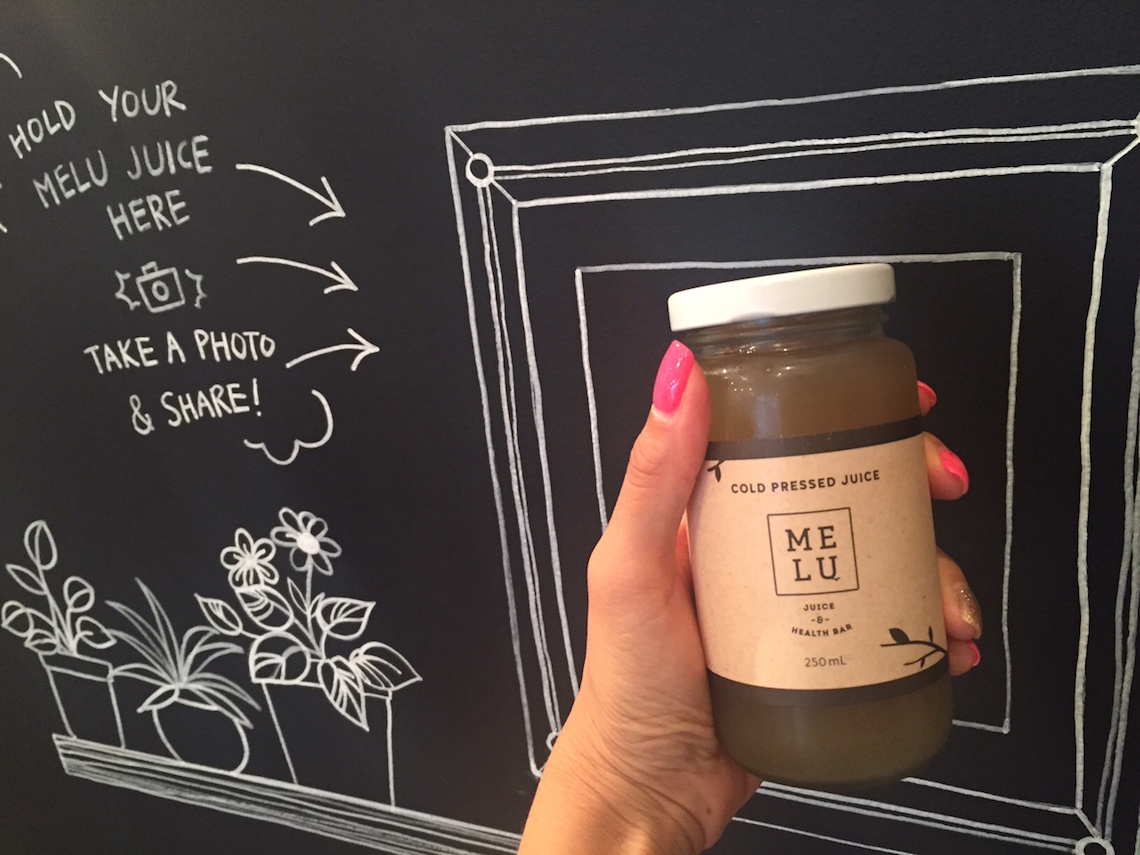 The back wall is painted black, and drawn on with chalk-like paint.  An adorable outline of a frame encourages customers to take a photo of their MELU juice against the wall and tag on social media.
This summer, rather than reaching for an iced coffee, why not substitute with a cold-pressed juice?  For those of us who don't live or work downtown, but still want to have the MELU experience, 1, 3 and 5-day juice cleanses are available.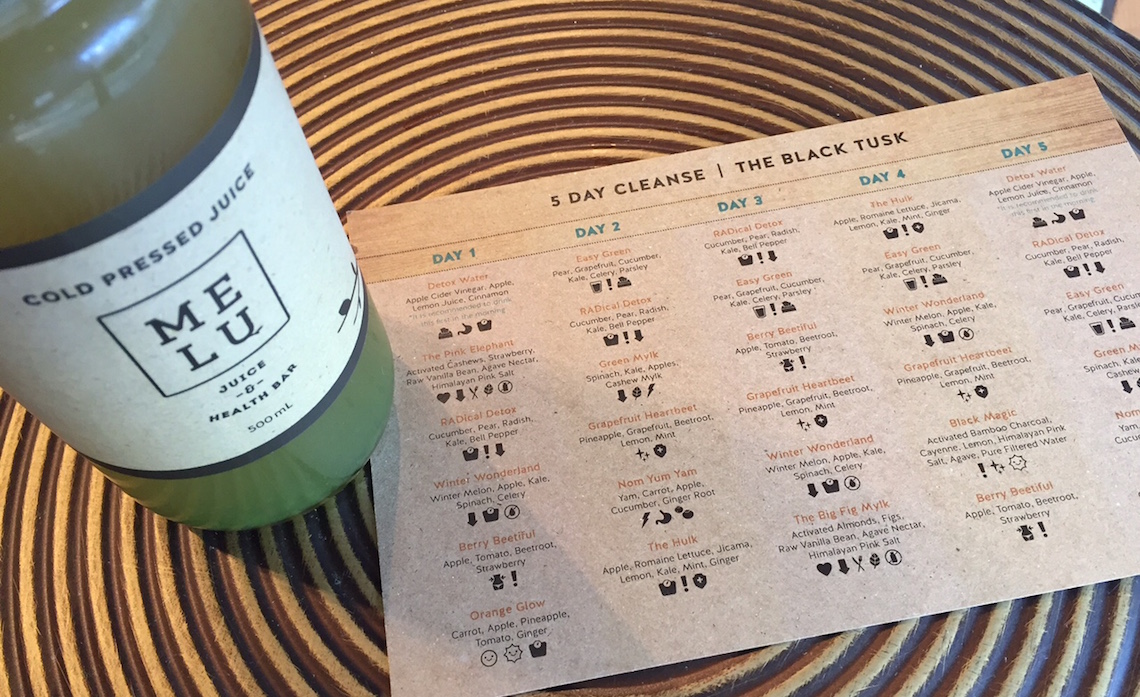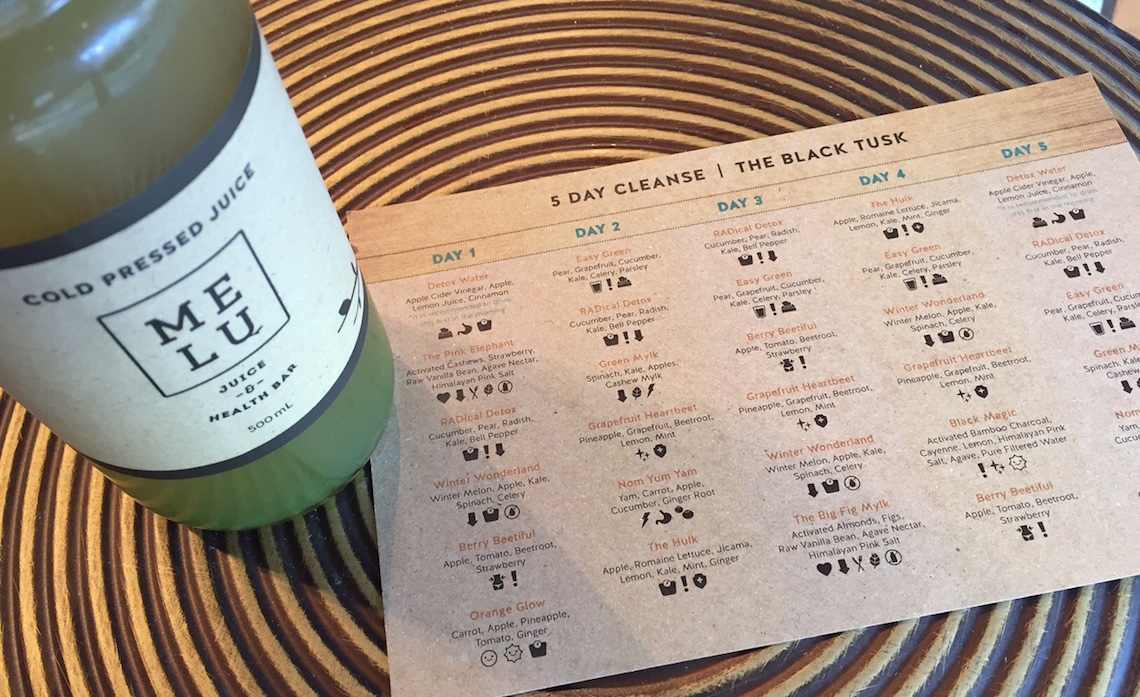 For more information about MELU Juice & Health Bar, head to: melujuice.com, or visit them in person at 1110 West Pender Street.