Most of us in Vancouver know Bliss as a body and skincare product line with a signature baby blue packaging that we've seen at Sephora or The Bay. However, what I recently found out, is that Bliss actually first started out as a line of spas (the first opened in New York City in 1996), now with over 20 locations around the world.
The products we know are inspired by the company's spa treatments, and many of them are meant to allow customers to recreate the spa experience at home.  One of Bliss Spa's most sought-after services is the Triple Oxygen Treatment,
Why the focus on oxygen?  According to Bliss, oxygen is necessary for proper cell metabolism, and, as we age, our oxygen levels decrease drastically, which is bad news for collagen and elastin production. After giving tons of triple oxygen facials, Bliss Spa customers started to ask for ways beyond the spa to protect their skin against environmental damage, so Bliss developed a multi-action C.P.R. technology which 'C'larifies, 'P'rotects and 'R'evitalizes the skin.
The Bliss Triple Oxygen Instant Energizing Foaming Mask ($64) is the at-home version of Bliss Spa's Triple Oxygen Treatment.  The product is a self-activating mask formulated with CPR technology, vitamins C & E, and grape seed extract to protect against environmental aggressors and instantly revitalize, energize and supercharge skin's natural defenses, resulting in healthy, glowing, youthful skin.
The product begins as a pearly pink squirt on damp skin with the texture of liquid soap.  Then you gently massage the product onto the skin and after about 30 seconds it'll start foaming like a shaving cream.  You leave on for 5 minutes and wash off thoroughly.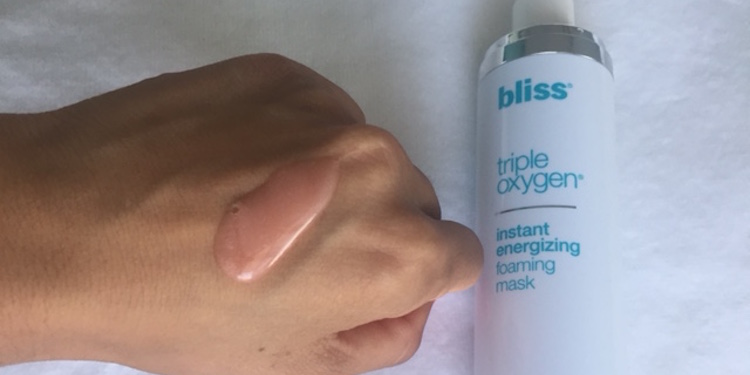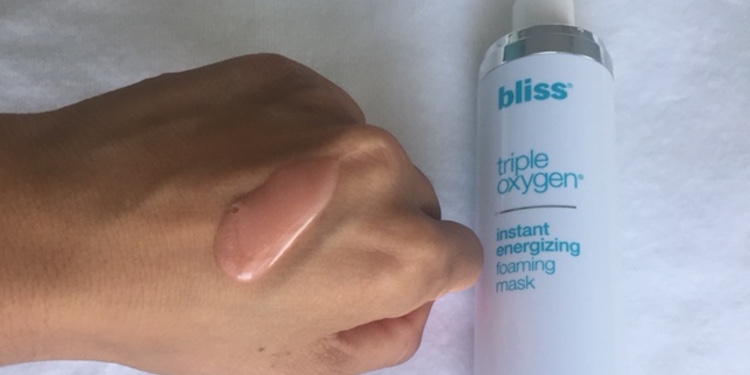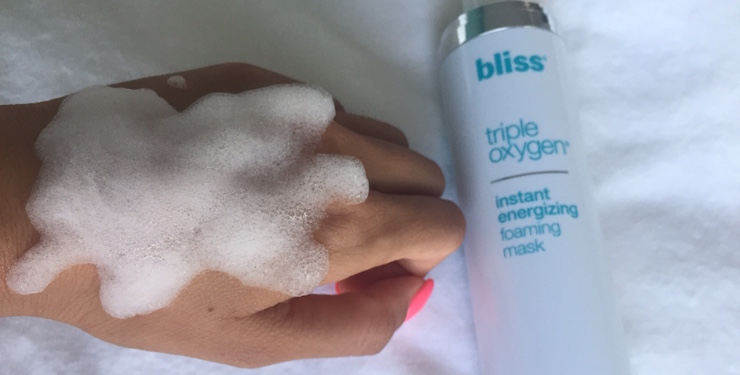 My skin did feel cleaner and maybe a little bit brighter and softer after using the product, but it didn't feel hydrated.  That's why it's important to always follow up with a moisturizer, like the new Bliss Triple Oxygen Radiant Protection Energizing Serum ($71) which is a luxurious and lightweight serum that defends skin against environmental aggressors, signs of aging and stress while restoring radiance for a beautiful, healthy and youthful glow.
For an added boost of radiance and a "sun-kissed," youthful glow, apply a small amount of Triple Oxygen Radiant Protection Energizing Serum over cheekbones, temples, and chin prior to or immediately after applying foundation or tinted moisturizer.
In addition to the Foaming Mask and Energizing Serum, the Bliss Triple Oxygen collection also includes the cleansing foam, face mask, eye mask, eye gel, energizing cream, ex-'glow'-sion moisturizer, + glow stick beauty supplements.
Bliss products can be found in Vancouver at Sephora and The Bay.