Fable Naturals is a Vancouver-based skincare company which offers handmade products bursting with goodness in so many ways.
With so many unnecessary fragrances and chemicals in skincare products, Vancouverites Chris and Gwen saw an opportunity in the skincare industry to create a healthy beauty alternative made with organic ingredients and no paragons, SLS or petrochemicals.  After a trip to a small farm in the mountains of Peru in 2013, the duo were inspired by the love and care the farmers they had met put into producing organic organic cocoa and coffee.  The unforgettable passion of the farmers made an impression on Chris and Gwen, because they cared so much about their environment and the products they harvested and produced, which ultimately lead to a higher quality end product.
Chris and Gwen then returned to Vancouver and started Fable Naturals, which, not only is a natural and organic skincare line, but also supports the farmers they had met and around the world with Fairtrade practises.
To give you an idea of the diverse geographic regions that their ingredients are sourced from, the olive oil in Fable Natural products are from family farms in Palestine, the cocoa butter is from farmer cooperatives in the Dominican Republic, the quinoa is from Bolivian cooperatives. A portion of proceeds from each product sold goes to projects in developing countries.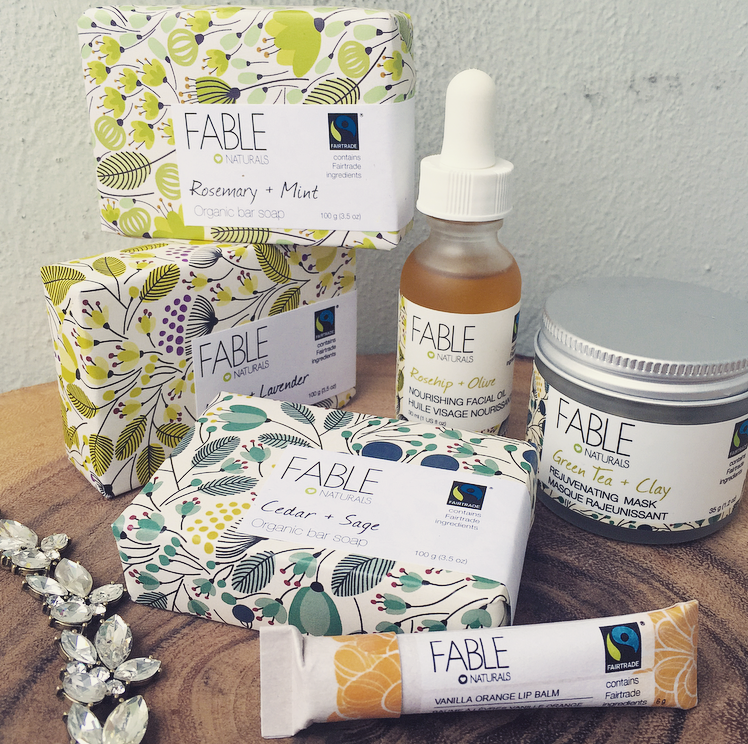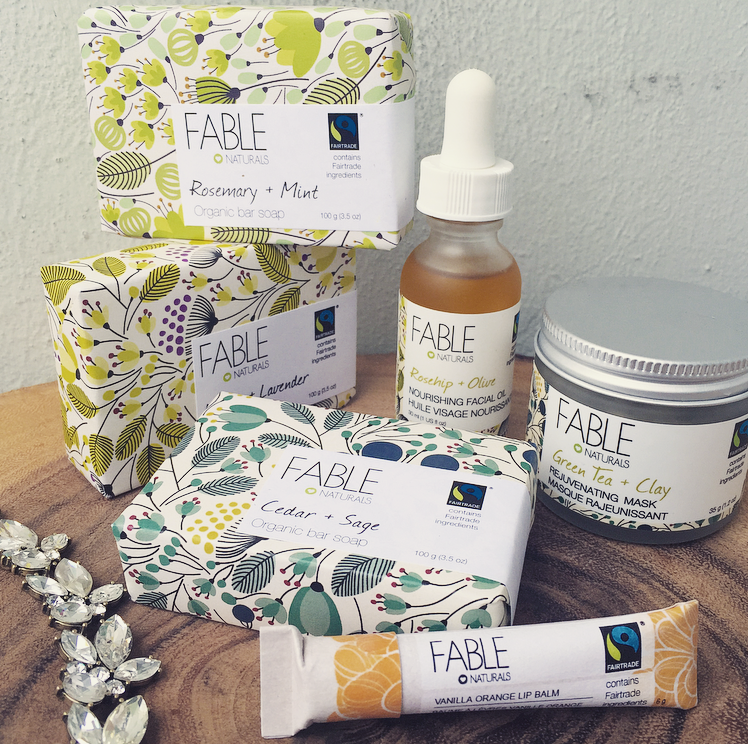 In addition to all the nourishing, organic and fair-trade properties that Fable Natural offers, let's not forget the beautiful scents and pretty floral packaging.
The plant-based essential oils which scent the Rosemary + Mint Organic Bar Soap is refreshing, the Lemon + Lavender is a very feminine scent, while the Cedar + Saje is more earthy.  The pretty paper packaging is gift-worthy and almost too beautiful to open.  The Rosehip + Olive Nourishing Facial Oil quickly absorbs into the skin, giving a long-lasting moisture, ideal for overnight use.  Meanwhile, the Green Tea + Clay Rejuvenating Mask cleanses and detoxifies, leaving skin tightened and refreshed.  Finally, their unconventionally packaged Lip Balms are sealed in 100% compostable tubes.
For more information about Fable Naturals and all the goodness it offers, visit: fablenaturals.com. Or, discover their products in-stores at Choices Markets in Yaletown, Pomme Natural Market on Davie Street, Ten Thousand Villages on Granville Island, Just Yoga on E. Broadway or Much and Little on Main Street.