There's a new trend gaining popularity in the yoga community: it's called Acroyoga, and the photo opps are endless! Acroyoga combines acrobatics and yoga, and is practised with a minimum of two people.  Like yoga, you rely on strength, posture, stability and balance to strike a pose, but instead of flying solo, you practise Acroyoga with a partner and balance on each other to form artistic, acrobats-inspired poses.
I was recently invited to join a few friends at George Wainborn Park at the edge of Yaletown to "do some acro at the park".  I've only ever seen photos of this daunting practise, so it piqued my curiosity to have the opportunity to observe in real life.  I scooped up my pup Teddy Bear for a walk and we headed out to the meeting spot with the intention of only being observers.
Little did we know that both of us (yes, me and my dog Teddy) would be having our first Acroyoga experience.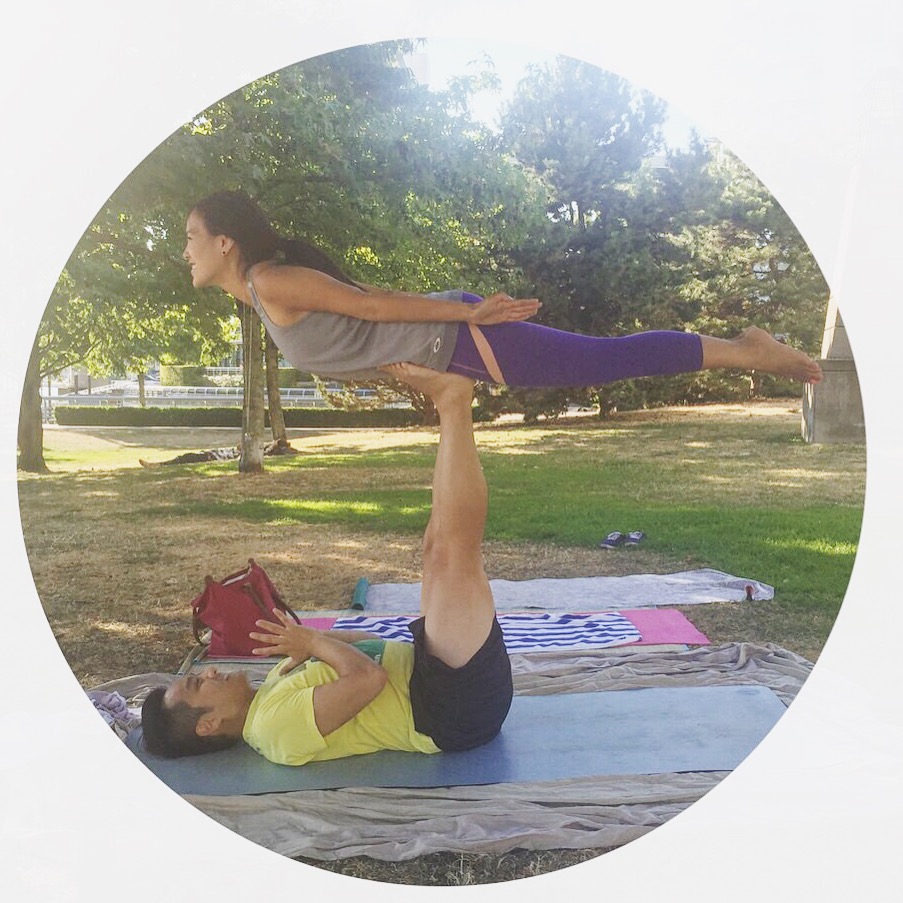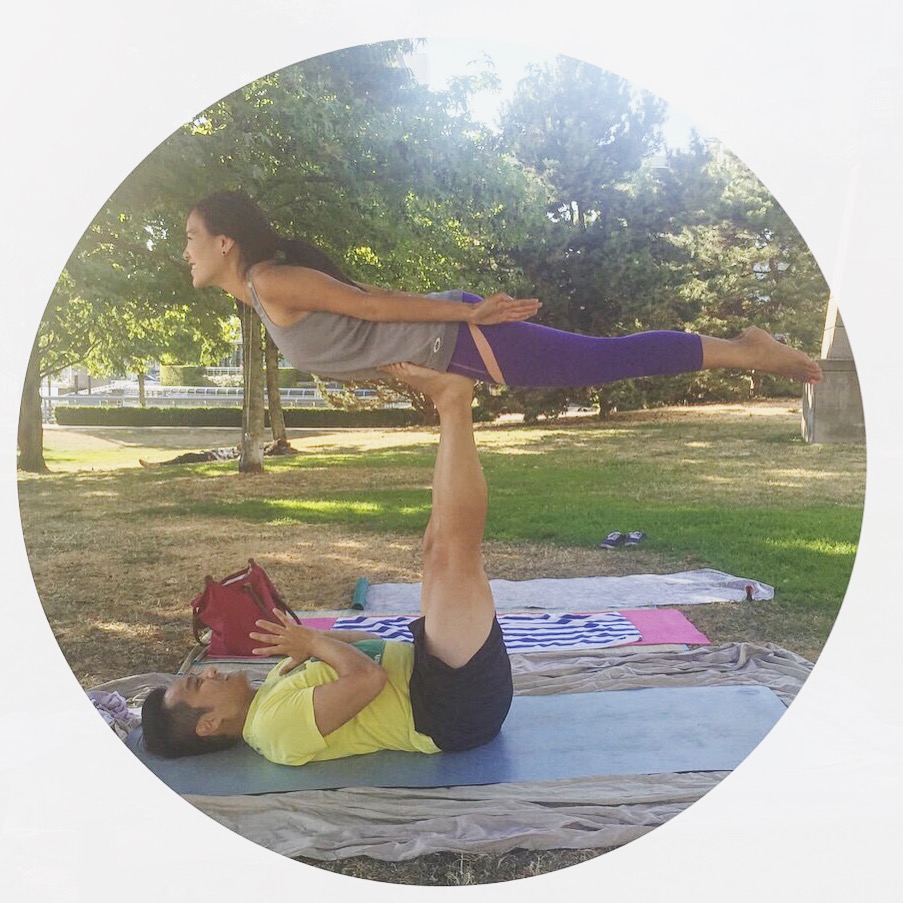 I'll admit,  I had it easy.  The strength in the simple beginner poses pretty much comes completely from the person on the bottom.  As the person balancing on top, your job is to be as flat, stable and non-wobbly as possible.  My hip bones are balanced on the soles of my friend's feet, so it's ideal if he can get them to be as flat as possible; or "parallel to the earth" as they say in yoga.
Of course, when you advance in difficulty, the flyer will partake in much more challenging opportunities.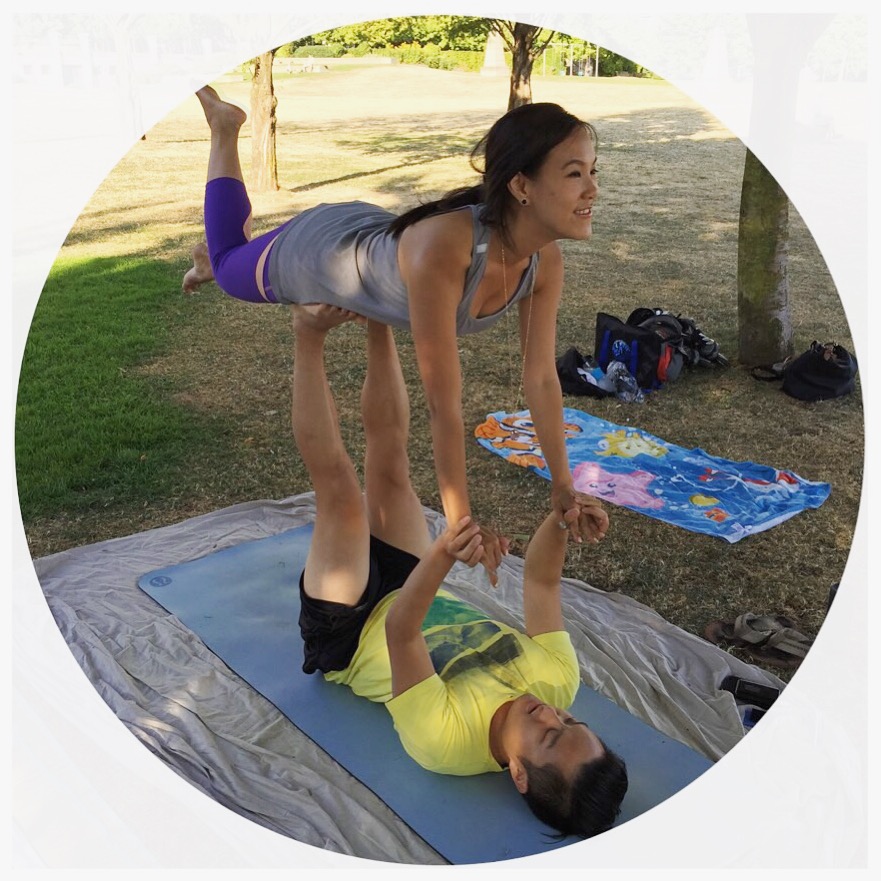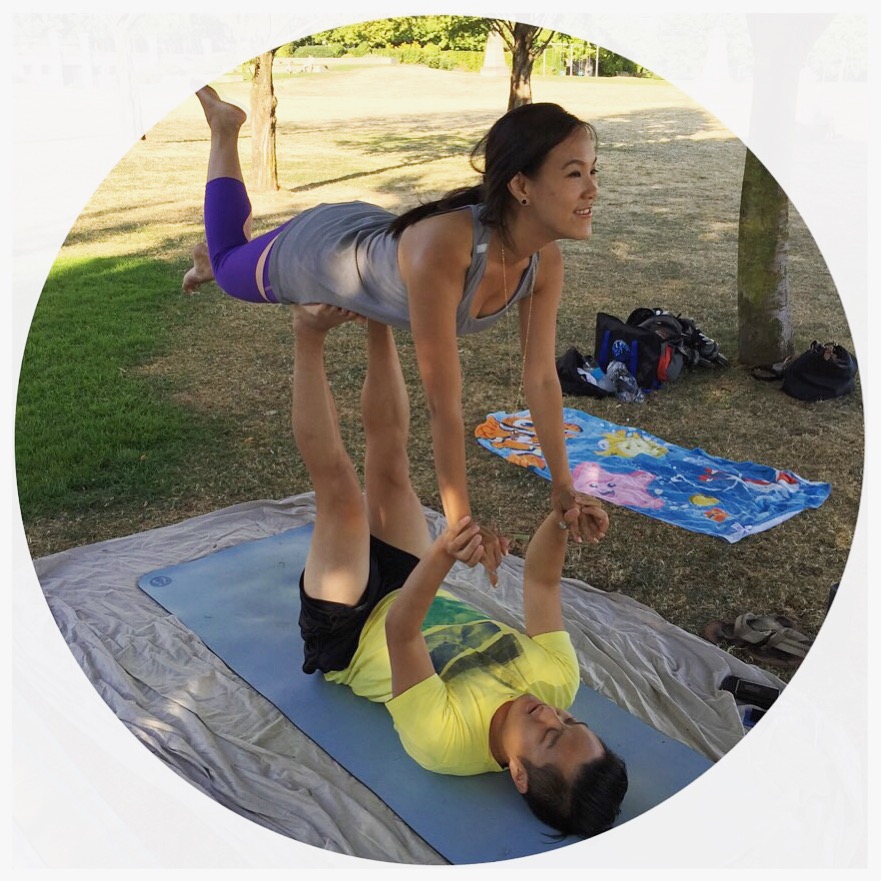 Unlike traditional yoga where you only rely on yourself, and push your own limits, there's certainly an element of trust required in Acroyoga.  It's important to flow slowly into poses and communicate with your yoga partner.  While setting up for a pose, we had people on either side of me as spotters to make sure I don't topple over.  Once you are properly balanced in a pose, it's relatively effortless to remain in that position.  I love how graceful and harmonious the poses look.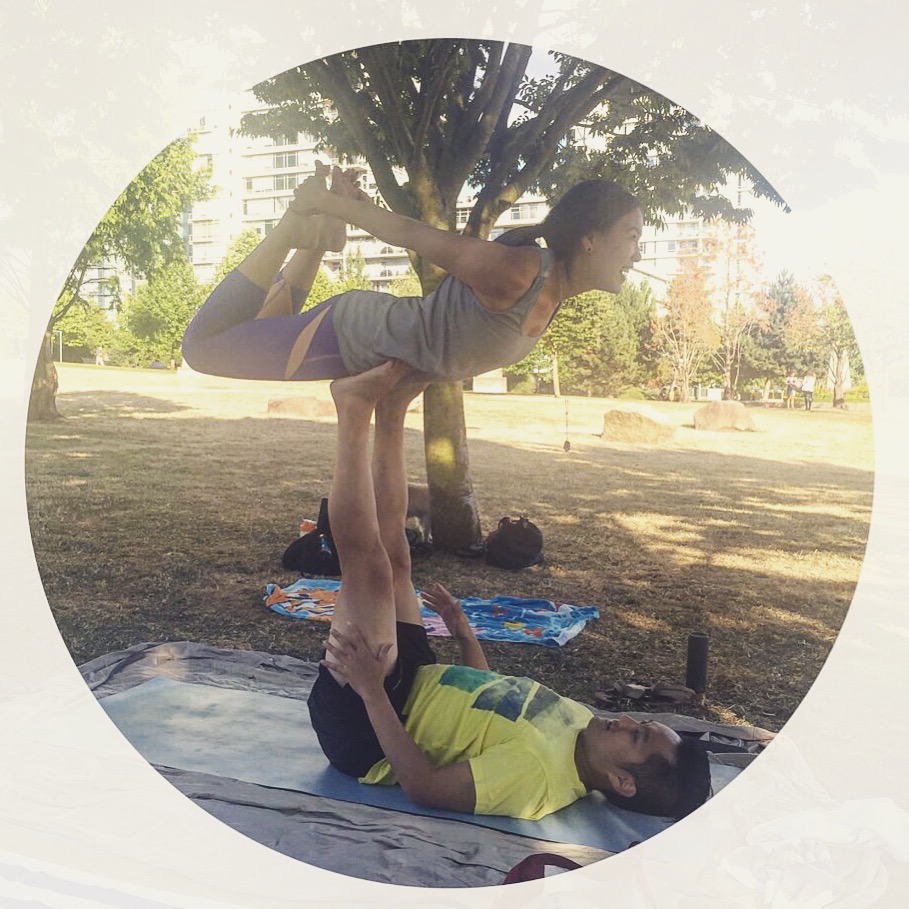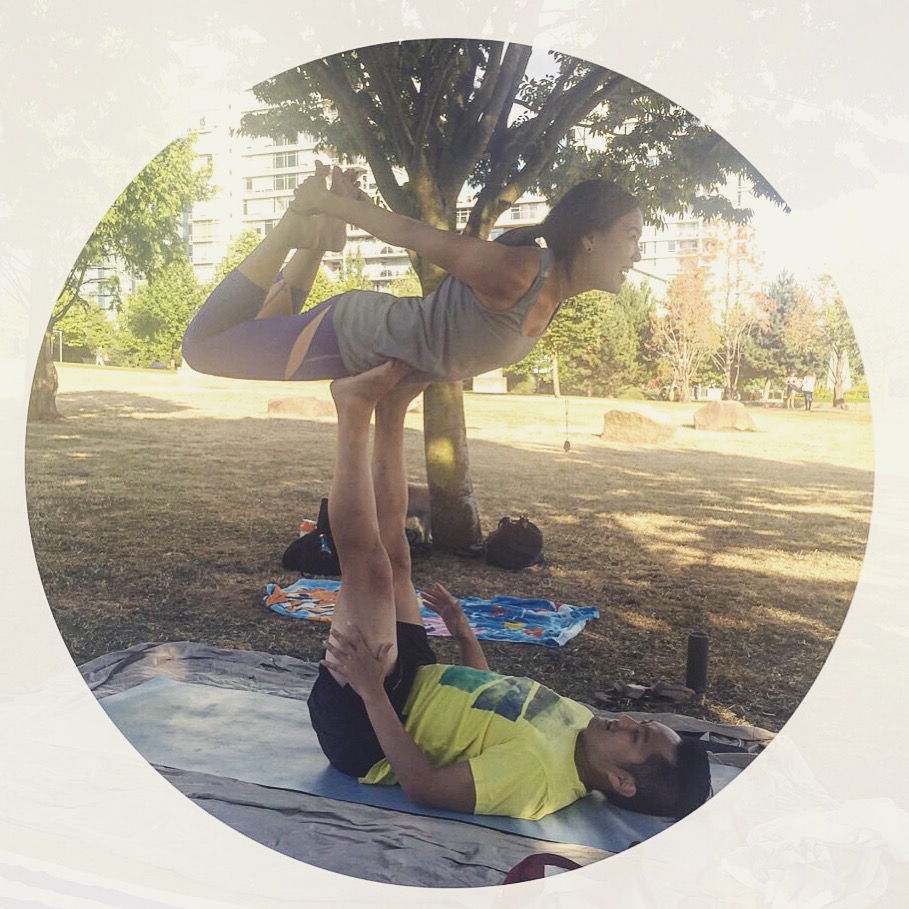 Do you need traditional yoga experience to do this?  Not really.  One person in our group had only done yoga once, and she was able to be both the base and the flyer.  For me, as the person on top, I found my yoga experience helpful because I knew how to  efficiently mimic yoga poses.  When my friend said "arch up like in cobra" or "grab your feet like in bow pose", I knew what he was instructing me to do, without him actually having to walk me through the steps.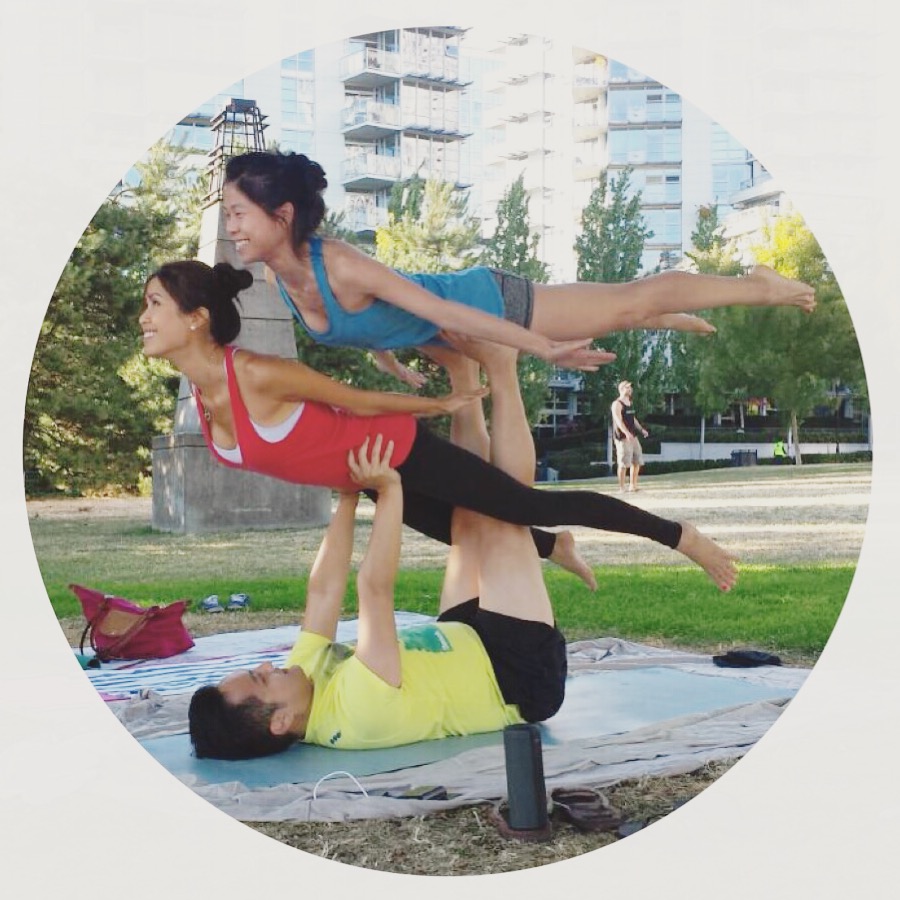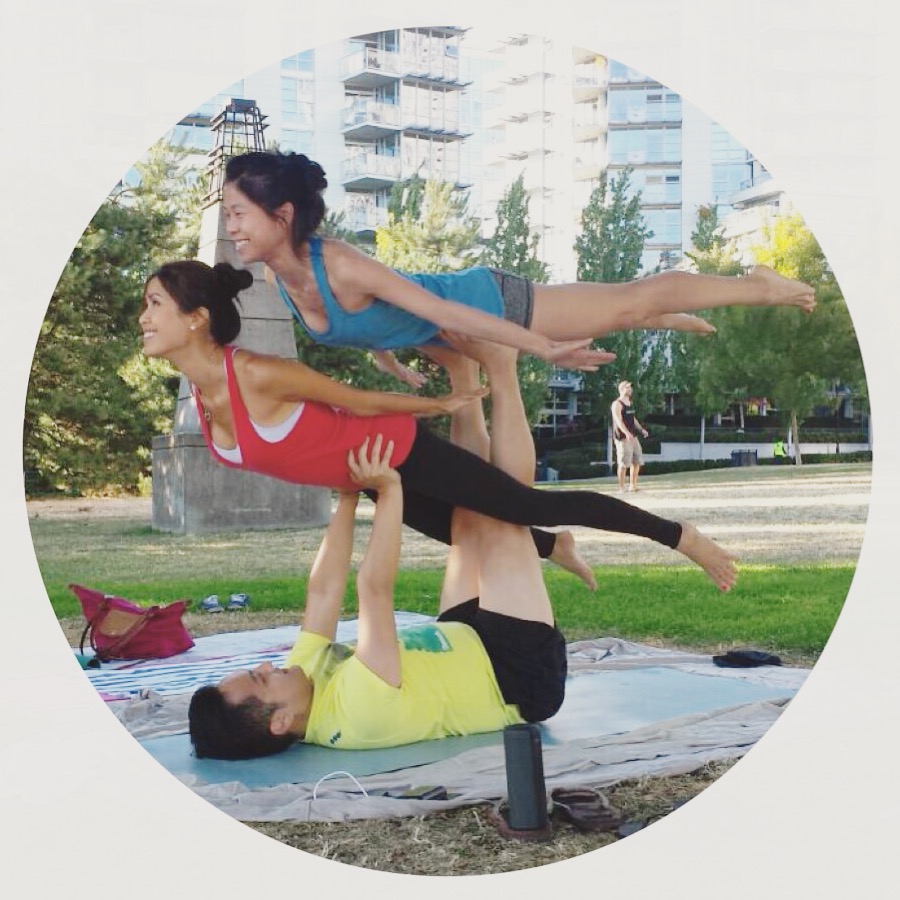 By the way, have you noticed that the pattern on my Balini Sports LoveWithin Capris make a heart shape on my calves?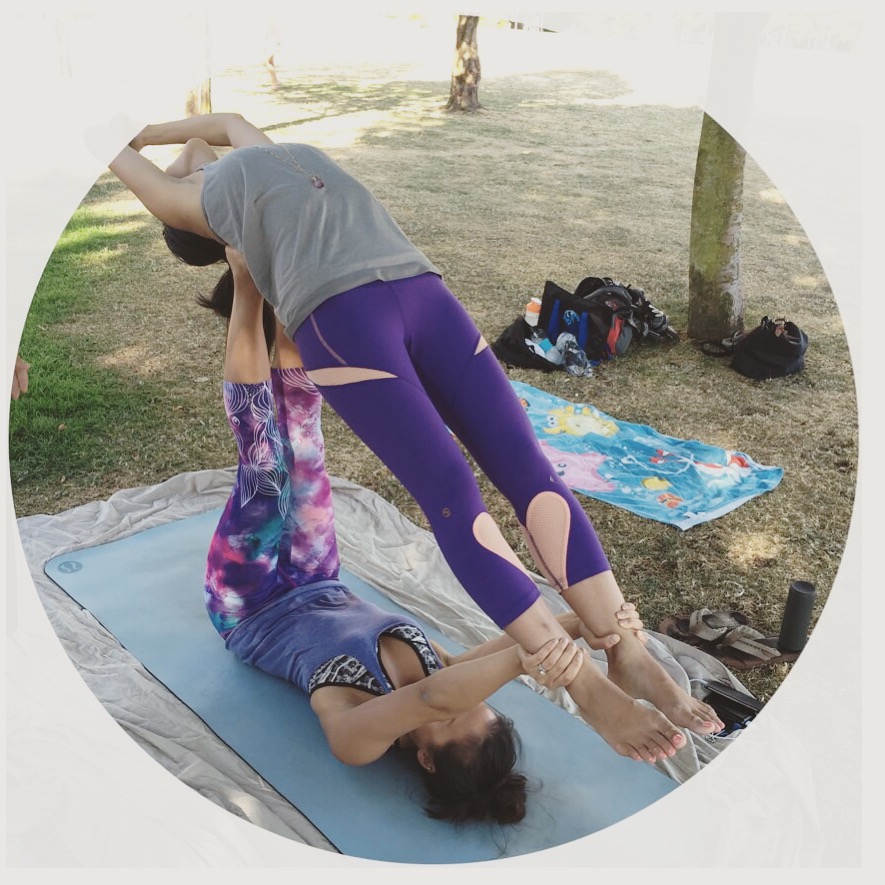 If you are new to Acroyoga, I would definitely recommend partnering with someone who knows what they are doing.  You can also watch Youtube videos or search up #Acroyoga on Instagram for inspiration and instructions.
Here's Teddy and I joining in on the fun!
Interested in learning more?  Dharma Yoga in Yaletown offers an Acroyoga class every Sunday from 12:00pm to 1:30pm for a $20 drop-in fee.